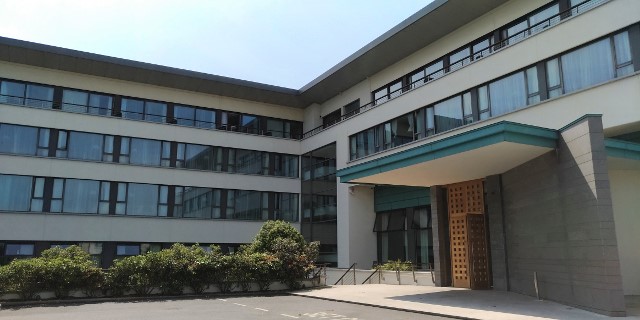 A Stay at Seafield Hotel & Spa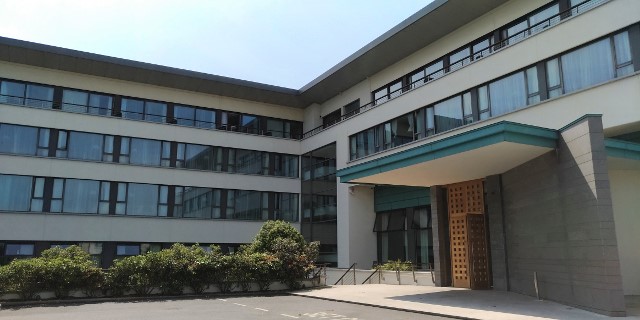 My visit back home to Ireland this time was quite special as it was my first visit home since turning 30 (yikes…) and the schedule through the first week was purely hectic; Ireland for 2 days, Amsterdam, Dusseldorf for 2 days, Munich for 2 days, Karlsruhe for 2 days and then back to Ireland; for sure, leaving me exhausted.
Since my time in Ireland is also ordinarily planned and scheduled nearly down to the minute (I wish I could say I was joking, but I'm not), taking time out is something I always mean to do, but never get around to. Thankfully, by way of a belated 30th birthday present-meets-family time out, my mother had organised just the cure; a trip down south away from Dublin for a few days, with nothing on the agenda other than good food, good drink and a big relax.
Seafield Hotel & Spa was to be the venue – pretty much one of my first 'upmarket' trips at home in the last few years since I'm nearly always staying at people's houses or my own when I'm back – so how did we get on?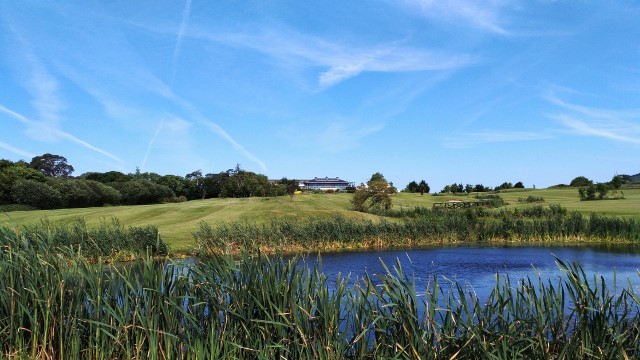 The drive down took less than an hour and before long, we were driving up the driveway. First impressions count and I will say (note I'm also 'borrowing' some of my mothers' feedback for this too) that the – what I suppose you would charitably call – holiday homes detract wildly from the overall first glance. The hotel is modern and pretty funky in appearance, but comes after a minute of driving past what looks like an untended housing estate, with many of the houses in need of a lick of paint.
Check-in was quick and we were assigned rooms – after some confusion where the receptionist gave us cards for one room even though we'd definitely booked two; eh…we're not that close – one floor up. Now, another cautionary note; the lift (singular) is the only sole lift for the whole hotel and can be so jammed and held up that my mother even experienced the lift playing a pre-recorded announcement apologising for the delay. Not a problem for us, as after all the good food, we were only too happy to ply the stairs – but something to consider if travelling with kids and/or especially elderlies.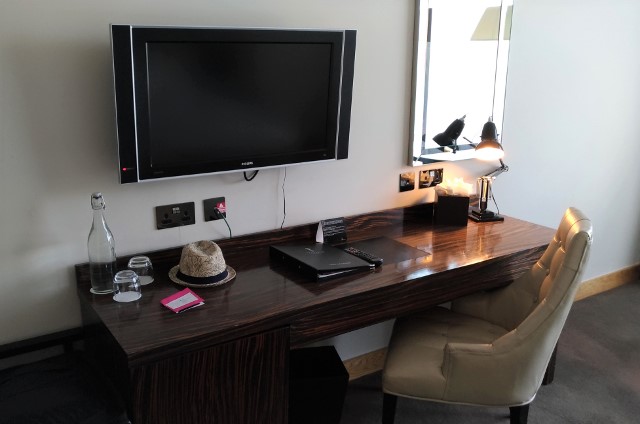 The room was definitely up to the mark – it was well-sized, the windows opened amply to allow in fresh air (Ireland was in the midst of enjoying our 5 days of summer), the Wifi worked well once you got past an irritating login page and the bed was so comfy I was fit to nap in it straight from the off.
Into the bathroom meanwhile, it was also similarly very well sized and kept stocked with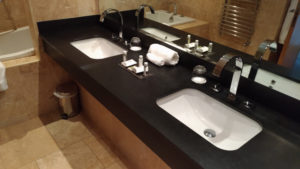 toiletries throughout. One note here is that the cleaning service time-wise was a touch inconsistent; the first morning, I went out of my way to mark the room ready to be serviced, but it didn't see sight of a folded towel until quite late in the day. The next day I didn't bother and the room was cleaned by the time we'd had breakfast and come back from a quick walk down to the beach.
The big highlights for me of this hotel was firstly, access to the beach. The marked walk was lovely and went down a gravel path backwards and forwards across streams before suddenly arriving at the top of the beach, with a gentle ramp down to go. Alternatively, since the golf club somewhat worryingly has closed down, you can now also traipse straight across the golf course directly down the hill to the beach. The beach itself is gravelly (that word seems to exist, so let's go with it) but plenty of sand, plenty of areas to plant yourself down for an afternoon and of course lovely ice-cold water to swim in if you've nerves of steel – I didn't.
The second was without doubt, the food and drink. It was great. OK, the bar menu was slightly confusing as it seemed to suggest there were either cocktails, a handful of craft beers (Ireland appears to be caught in a major hipster craft beer obsession at the moment, I couldn't help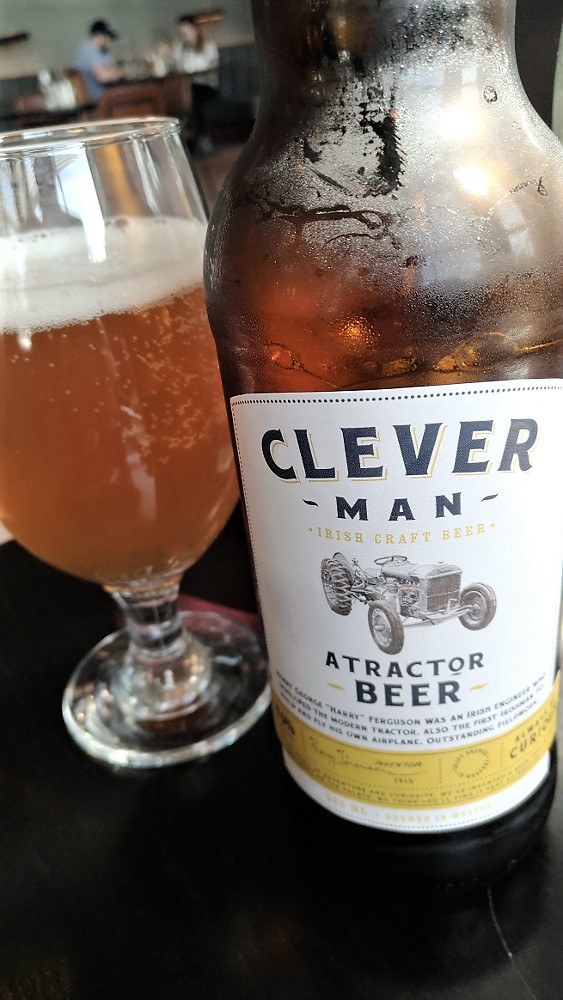 but notice) and then the food; when in fact there's a full bar. As I say, there's nothing I can comment on with the food here other than to say that everything I ate was delicious. Perhaps you might get a bit tired of the breakfast if you stayed too many days, but that's true for nearly any hotel – that's honestly the only criticism I could make of it.
Last of all, but definitely not the least, was the spa – upon which, I suppose, the whole property stakes much of its reputation. I didn't take pictures as we were asked to refrain from bringing or using mobile phones – not that this stopped others – but take it from me, it was beautifully done and a very relaxing space to be for a few hours. There turned out to be nothing I enjoyed more than grabbing an ice-cold facecloth, sticking it over my face, and then lying in one of the heated sunbeds and grabbing a snooze. The massage I had there was also excellent – relaxing, just the right pressure and decanted into a 'relaxation room' afterwards rather than back out into the fray like you usually encounter.
So all in all, it was a wonderful stay with some gems to this hotel; beach, the hotel itself is very pleasant, food & drink, and the wonderful spa. In terms of negatives, I suppose the one thing you'd have to immediately raise was the staff who across the board seemed to lack any procedure or processes to follow, or any initiative. In the bar for example, they could be sometimes difficult to get; I'm not sure this was their fault, and more down to lack of staff – or what, I'm not sure. But you could definitely get in, sit down and then sit. Likewise at breakfast there was an apparent total lack of order; nobody would be manning the entrance, while on one morning three guys stood around looking into a crate – while a line developed at the entrance. Coffee would be forgotten, someone would be sat at a table by the staff that someone else had already been just placed at; very basic things. This, unfortunately, was definitely not a lack of staff so much as a lack of useful staff and an apparent lack of a floor manager to direct everyone.
Rounding off this one complaint was our receptionist at check-out. One thing Ireland I find struggles badly with is customer service and ability to take feedback (it's our problem for always saying 'the stay was lovely' even when it wasn't I suppose) and she was definitely a struggler in this regard. My mother passed comment that it was a bit irritating not to be presented with a copy of the room charges at the bar, restaurant, etc. The receptionist insisted that was always the case, even though we literally just told her that no it wasn't. Anyway she argued the point back and forth before finally relenting and saying she'd 'make sure' they were giving out copies in future and anyway it wasn't really an issue because 'you can just ask' (meaning in my interpretation, yeah, they probably don't give copies unless asked – but that can be difficult as above re staff at the bar).
My final issue was around the hotel processes; if there are any that staff are supposed to follow, they're not clear. We've already discussed the cleaner cleaning every room on the corridor except the one I'd kindly marked as ready to be cleaned and the major difficulty around getting receipt copies. In addition to that, bar staff on at least one occasion actually said we could just go without a signature and it would be charged to us regardless – leaving us wondering how open to abuse this system was on both sides. Likewise after our massage experience at the spa, we were told to pay back up at reception. The receptionist (the same one again as earlier…lord help us and save us) insisted that wasn't even possible. And again, we had to insist that either we weren't paying or she could check quickly – sure enough, the bills were there on our room number even though we'd checked out. As I say, staff, if there are any, clearly had zero idea what the process or procedure was for nearly anything.
So what do I say in conclusion? For Ireland; Seafield is right up there, with a wonderful property (once you get past the holiday homes), very pleasant rooms, a lovely beach and awesome food and drink offerings. But they could honestly do with getting legitimate, experienced hotel management in to figure out how to make it work and get the staff on-board; for me, this would take it to the absolute next level it could so easily reach.