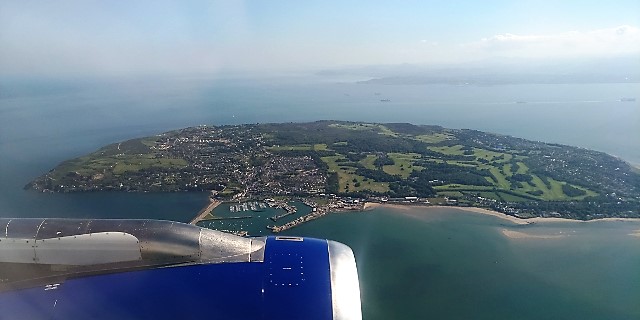 On my return journey back from a fantastic week in Germany, I flew via London Heathrow to rack up a few extra points and miles with British Airways. The journey took me from Stuttgart to London Heathrow, to the First Galleries lounge (which I'll write up on another time,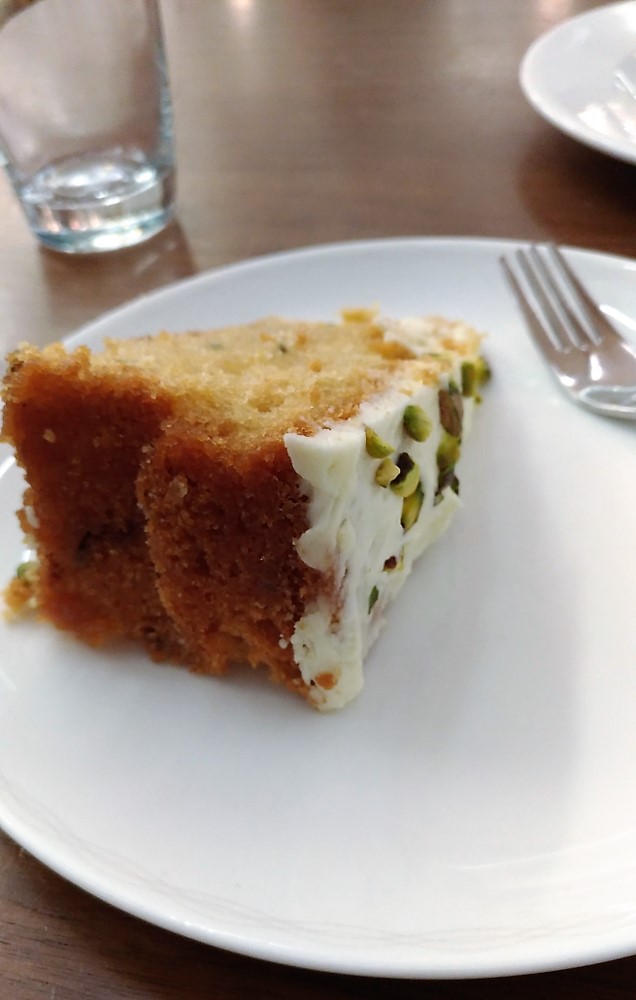 but suffice to say as pictured I spent most of my time hanging close to the food counters and constantly grazing), before the onwards flight which became from slightly to moderately delayed as the day wore on.
When I reached the boarding counter, my boarding pass rejected at the auto-gates and I was told to "seek assistance". I actually presumed this was more a case of a boarding pass having timed out or been misread (or an overbooked flight), but a new one was duly printed with barely a word said and I was on my way. It was only as I wandered down one of Terminal 5's never-ending corridors to the plane, I realised I had struck every frequent flyers' dream world; an upgrade. Gone was my emergency exit row seat down the back, replaced instead by 5A.
So, as always, how was it? Well, you know, we had a rough start. It wasn't so obvious during boarding but London was experiencing an absolute beauty of a day and the sun was splitting; our plane however,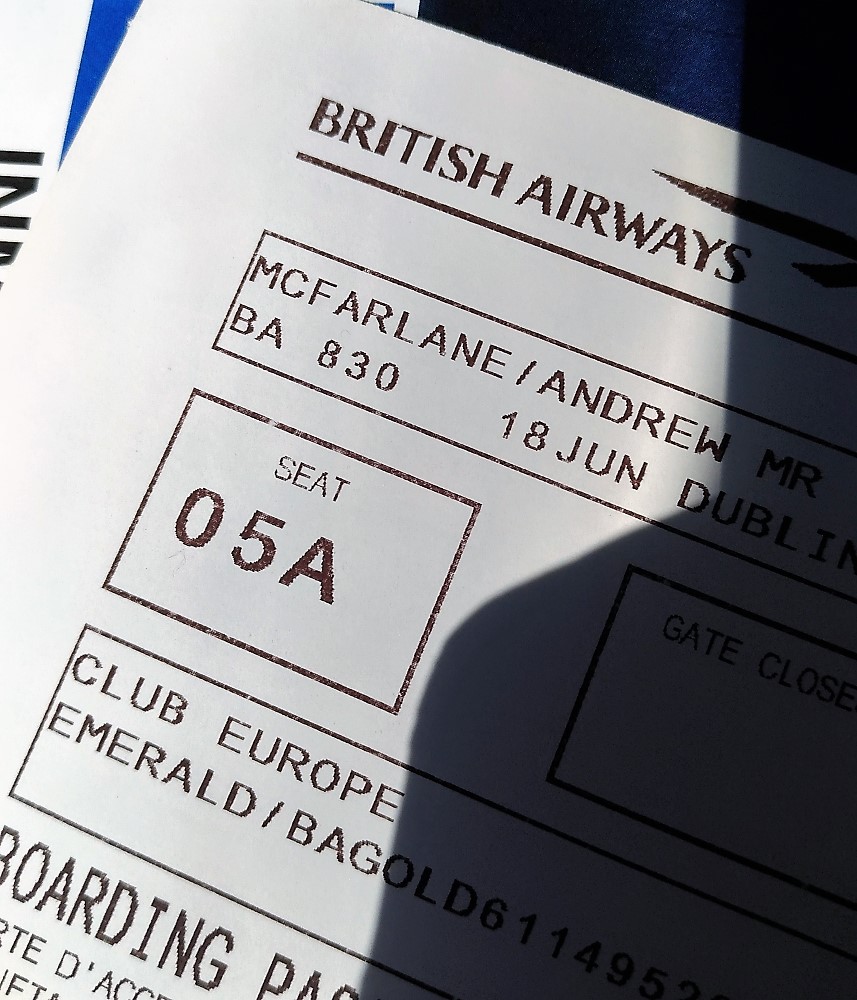 had some pretty major issue with the air-con, which we were told eventually (by which stage my shirt was dripping already with sweat) could only be run once the engines were turned on, but that ground air-con simply wasn't working. That, and what became a long delay to get off our stand, meant that it was searing inside the cabin with even cabin crew visibly sweating and not a single tray of water being passed around.
From a purely Club Europe-perspective though, what can we say? I find the BA speedbird logo and muted greys and silvers all very classy. It really is such a shame though that European short-haul business class products are effectively the same seat as behind the curtain in economy; in my case it meant that the legroom I got was actually far less than my originally booked emergency exit row seat for example. Moreover I can imagine what a disappointment this must be particularly for connecting passengers; decanting from a decent business class product on a long-haul flight, to this economy-seat-with-a-meal product for the last mile of the journey.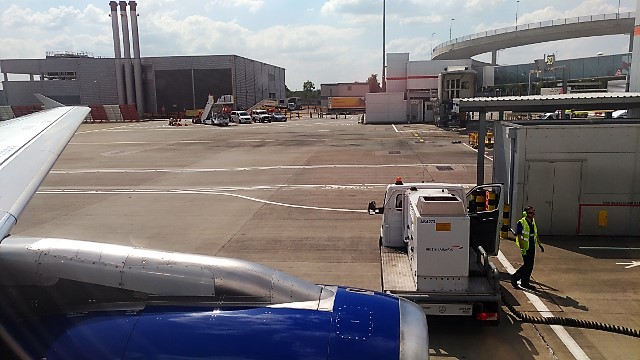 Somehow it made a lot of sense to me then how Emirates and Etihad, etc. can be so successful regionally, when you can step on to the 'first flight' and already be in a global business class product.
But let's move on. One of my small disappointments here was that there's no newspaper or drink service offered after boarding/pre-departure. Particularly in this case where the cabin was burning up, I would not have been impressed to have paid the full fare and only be offered my first beverage some full hour after boarding up in the air.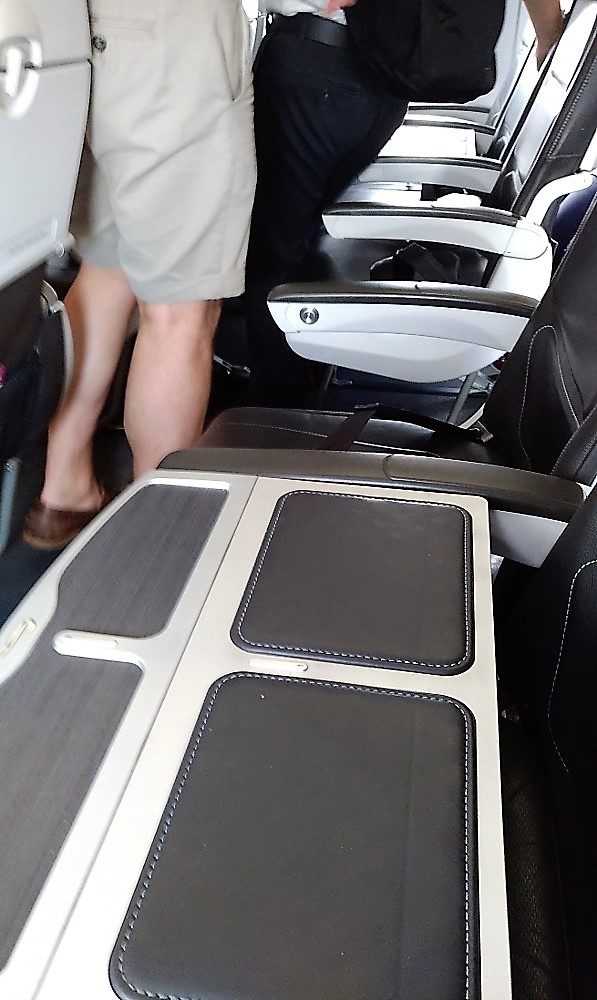 Having said all that, once we got up in the air, the meal service was presented (which is now a buy-on-board offering in economy) and that did go some distance to redeem the whole situation; it was effectively afternoon tea, with some finger sandwiches and whatnot. Nevertheless, on a flight lasting roughly 50 minutes once airborne, it did the trick and where BA do go right is probably the sophistication and design elements put into the whole thing.
They certainly wouldn't win any prizes for worlds' best short-haul business class hard product, or for that matter most well thought-out service elements either. But, the execution by the crew is as good as it can be and they were mostly attentive and caring. Nevertheless, that doesn't take away from the fact that between the searing cabin, the lack of any drinks on the ground (even water) and the hard product which is effectively economy with a blocked middle seat, would certainly make me only use this product on a long-haul connection rather than a dedicated short-haul sector.
All the same, what an awesome free treat and after nearly dying on the ground from the heat inside the cabin, check out this awesome view coming in to land in Dublin…