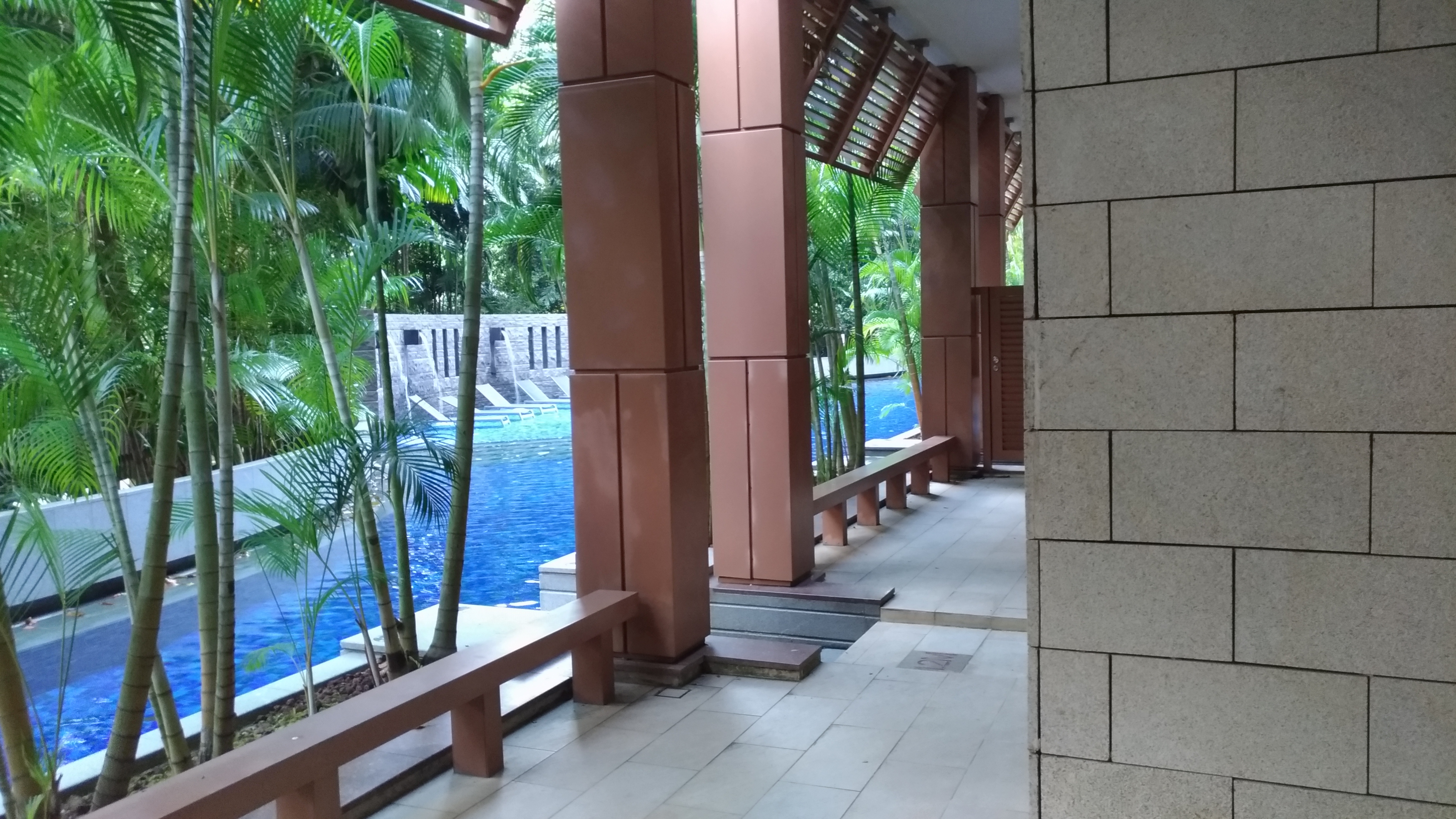 My First RWS Hotel; Equarius Hotel
With a one-night stay in Singapore required to make it to the Universal Studios VIP Experience the next morning, I knew from the outset that I had zero intention whatsoever of staying in Singapore itself and that a stay at Sentosa would be a far better idea in terms of location, convenience and – if I'm honest – my general boredom with Singapore CBD, having been there so many times!
At first, I took a look at a whole bunch of brand hotels around Sentosa, including my favourite Shangri-La, reckoning that a proper "non-theme park" hotel would be far more a premium experience than a resort-operated hotel. Honestly though, it was not clear how far or the distances involved in terms of getting from the monorail station to any of the hotels or back to Universal Studios itself. I also knew from experience that Hotel Michael, one of the more amenable options price-wise, is located literally on top of the RWS downtown 'canopy' and was most likely to experience noise at all hours, so it didn't really appeal either. Similarly, I've frequently heard negative things about Hard Rock Hotel chains, and reckoned this would be no different. So in the end, running rapidly out of options that appeared to tick all my boxes, I settled on the Equarius Hotel.
Getting there incidentally proved somewhat challenging – from the first monorail station, one actually has to wander up towards the casino/Festive Hotel and find the bus stop, but the signage unfortunately was found to be lacking in this regard and also, the RWS info kiosks appear to have largely lost their touch sensitivity. In the end, one of the staff kindly took pity on us and drove us up to the hotel in a golf cart.
The hotel is set well back from theme park-mania, and if location is your only concern, over and above serenity and calmness, then this will not be the hotel for you as you do realistically need to wait for the shuttle bus. My feeling – which continued throughout the stay – was that this was the Sentosa theme park hotel for grown-ups; sophisticated, quiet and luxurious.
Entering the hotel, one encounters the concierge and one of the restaurants to the left, a very well-placed beer tap facing you at the bar opposite the entrance, and the reception area off to the right. The check-in appeared to have two equally empty lines; one for regulars, like myself, and one for RWS Invites members. Unfortunately, manners – and subsequent enforcement by staff – was very sorely lacking and while I entered the queue line, two others just immediately jumped in front of me rudely and were seen to by the staff, rather than sent back into the queue as you would have hoped for. In the end, I also departed the queue and stood awkwardly around the front of the check-in desk.
Check-in seemed to be quite an involved process and took some time, but ultimately my patience was richly rewarded with our receptionist, James, giving us what would turn to be the ultimate mother of all room upgrades (not that I realized it on the spot). Wandering the corridors of the first floor, I knew I was in for a surprising treat when the bedroom door was actually double-doors, as if entering a large function hall rather than a guest bedroom.
OK, so let's be honest here – I will probably never be able to afford a room like this again ever in my life, but it was unbelievably stunning.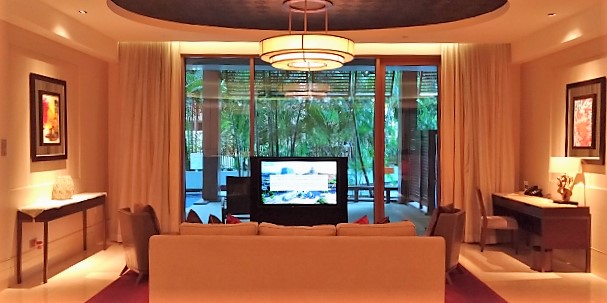 At first glance was a whopper living room, with a clear view of the pool running along behind outside. I can't underestimate the sheer size of this living space; a couple could happily have a domestic and not need to see each other again until check-out the next day! On the right was a bathroom, while to the left was a small kitchenette area with a fully-stocked minibar, wine fridge and a coffee maker and selection of premium coffee pods and TWG teas.
Moving along to the outdoors of the room first, the suite – which I late came to realise from the website was a Deluxe Pool Suite – had an extra-large veranda, with steps out into the lap pool through which you could swim around the hotel, or simply go find one of the set-in deckchairs and laze about for a few hours.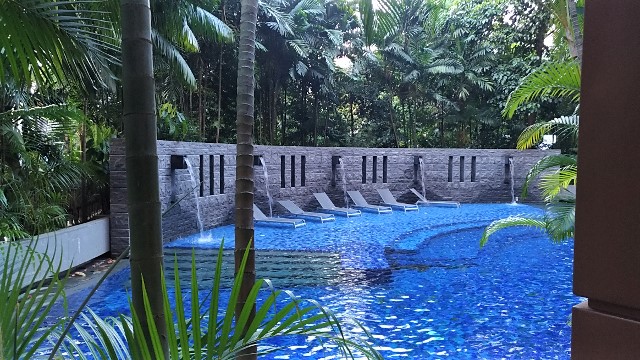 I never thought I would say this about a theme park resort-owned hotel, but the Equarius was surprisingly stunning. The balcony was more suited to a business function than a few people rolling around, and yet surprisingly, considering it backed onto a swimming pool, it was very private and peaceful.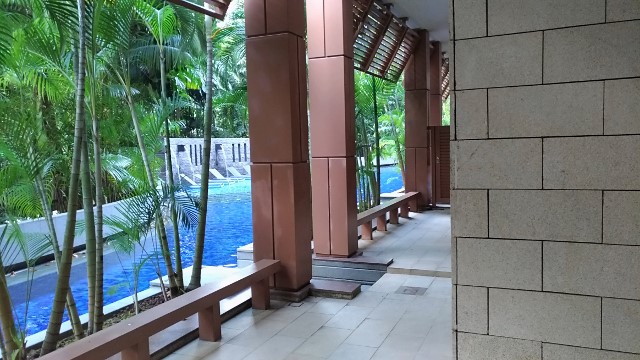 Back inside meanwhile, another set of double doors opened up to reveal the master bedroom. Once again, this room was probably the exact same size of the outsize living room next door, and had similarly stunning views out to the lap pool and gardens outdoors, along with yet another flatscreen TV and what can be best described as one of the comfiest beds I've slept in, in a long time – in fact, my only criticism here was the need to check-out of this amazing room the next morning to go see the theme park!
Even the bathroom was an exercise in extreme opulence with his-and-hers sinks, a well-sized bathtub, a shower that seemed capable of doubling as a sauna using the thermostat outside, and an entirely separate cubicle for the shower.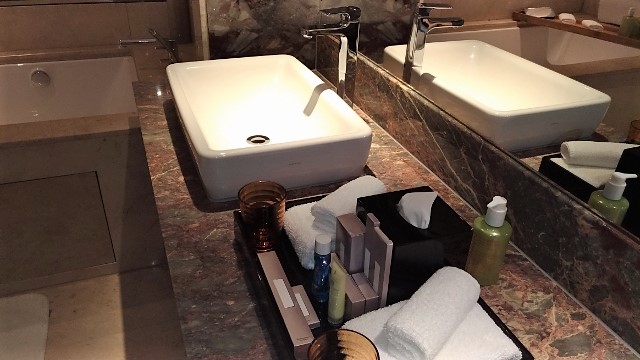 So thoughts on Equarius Hotel? The room was unbeatable – truly stunning, and something I will not soon forget (again, thanks to James and whoever in the Upgrade Gods looked kindly down on me for that one!), while the hotel itself was generally in excellent shape and was, as I had hoped, more sophisticated, calm and serene vs. staying in the Sentosa entertainment district "central".
Small areas of improvement for me would be towards staff availability; it seemed like, while they were all very kind and delightful, perhaps they were slightly short-staffed (across all RWS interactions, not just this hotel) and the need to take the shuttle bus which was invariably later than expected and manned by some of the grumpiest colleagues ever.
But ultimately would I ever turn down this chance to have a suite larger than my actual apartment, with a lap pool just out the back door? Definitely not – it was, to my great surprise, a stay never to be forgotten!