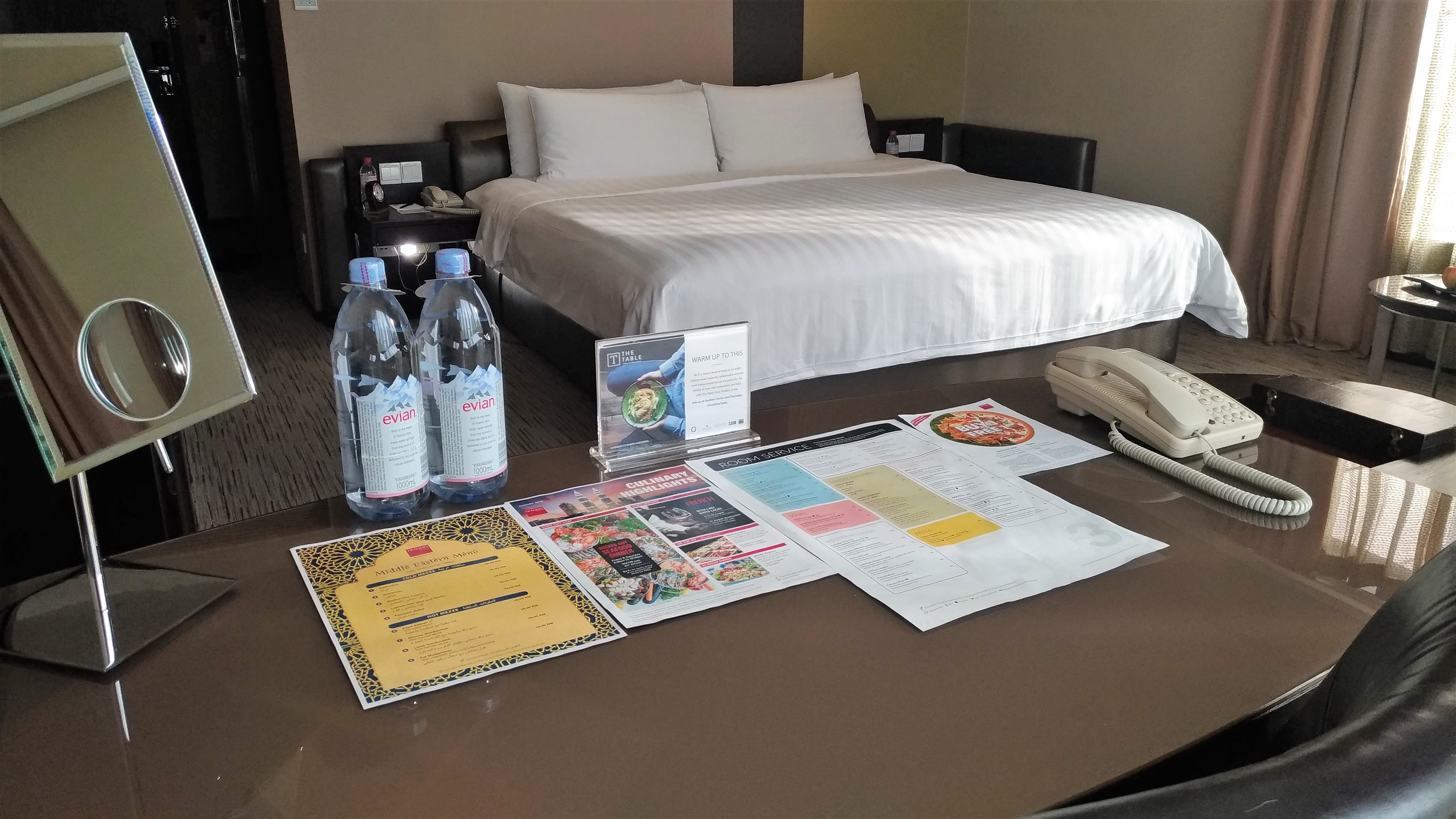 Over the years, as an expat living in a foreign country, I believe I've done a pretty solid job of keeping abreast of all upcoming public holidays – and planning breaks around the sweeping majority. I was even convinced – with my two upcoming weekends away in September – that I had the next few months all figured out. But then a colleague told me "it's a short week next week" and it dawned on me that yes, Malaysia does just have too many public holidays to keep track of.
There was no time (or money, if I'm honest) to make a solid getaway from the city so the next best thing I could come up with was booking into Traders Hotel, Kuala Lumpur; a hotel I have long envied for its unbelievably prime location overlooking the KLCC park and across to the famous Petronas twin towers. I've only been previously to go and nurse a few expensive drinks at the rooftop Skybar, well-known for its incredible views of the KL skyline.
First things first, Shangri-La properties have stepped up their security efforts – I am actually fine with it, considering recent events in Sri Lanka – but was a bit disappointed for all the showmanship to be just waved in, luggage and all, at the car park.
Even at a club floor room like mine, one must transfer lifts coming from the car park regardless, so I stopped in at reception to ask how to get to the club floor for check-in. Perhaps because it was quiet (the opposite to how reception was to be found on most other occasions) but the guy almost insisted check-in be done downstairs at the main desk instead of at the club lounge.
To be honest, while well meaning, it took quite a while all the same and seemed littered with issues; he seemed so excited to get us on track that he struggled to think of all the relevant details of the room and club floor benefits, waved us off with the cards before coming after me to ask – belatedly – for the credit card deposit (600RM by the way).
The room meanwhile, a Traders Club Executive Twin Towers View room, was pretty spectacular. Located down at the very farthest reaches of the – dark – hotel corridor, the room did encapsulate wonderful top to toe views of the twin towers and the surrounding skyline. Especially in the evening, it looked fantastic.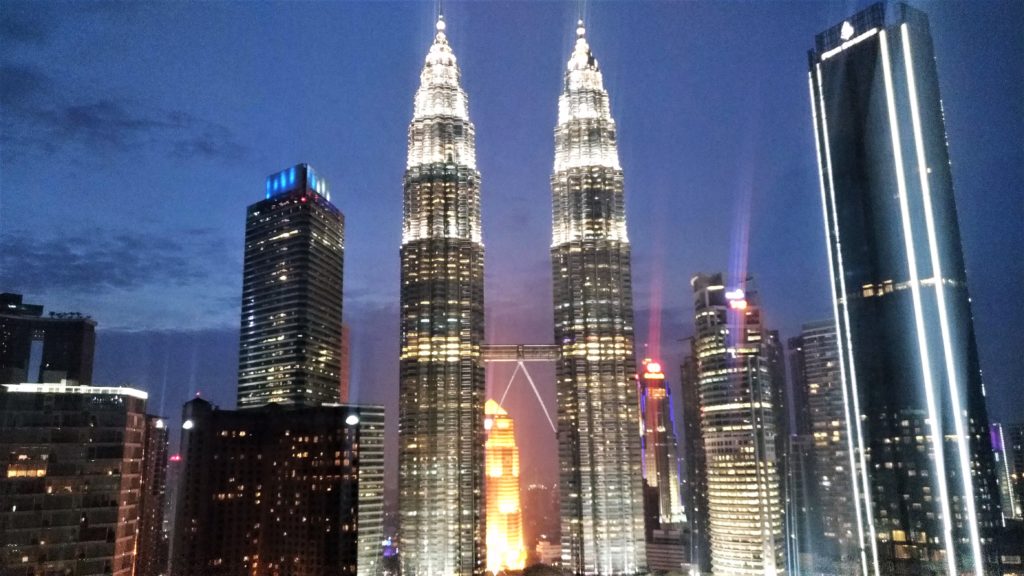 The room was also a good size, well-proportioned with a lovely bathroom with under-lit sink. Air conditioning was reasonably quiet and there was a very grand, presidential desk tucked towards the window with the iconic view behind. The only big shame here was that, when seated working, the view you would want to see the most would be behind you.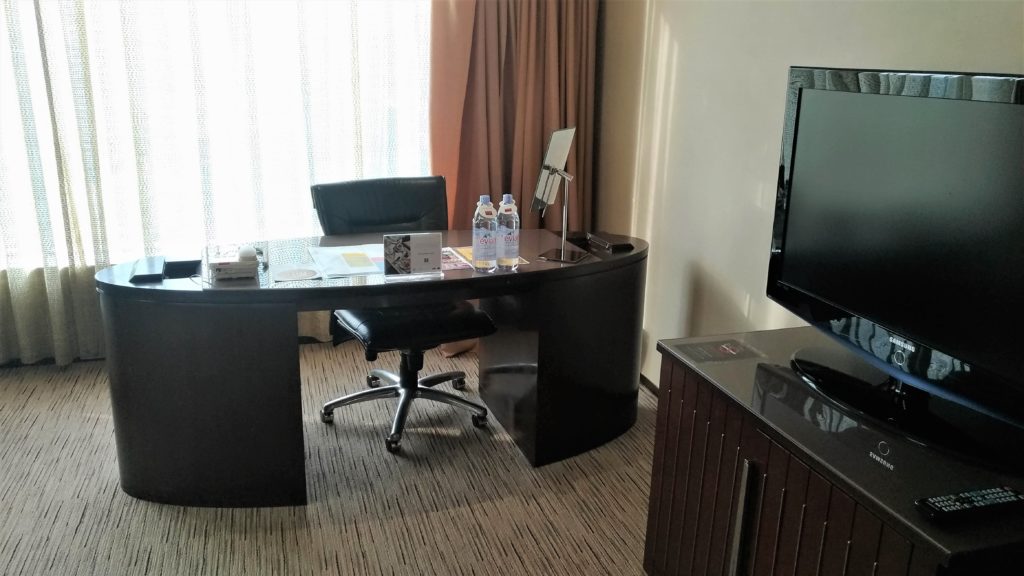 The lounge was reasonable – but I'm going to be honest, it tended more towards 'corporate' than relaxing or fun; and I really felt this wasn't especially helped by the at-times almost militant lounge staff. The first two nights, there was a lounge host actively offering to make drinks during cocktail hour (which were fabulous), but he was certainly a lone ranger and nobody else was too troubled to pro-actively offer or make anyone a drink. In fact, in this regard, one of the biggest let-downs of the lounge at all times of the day was that the element of service they seemed to be most pro-active about, seemed to be stopping service (breakfast, cocktail hour, etc.) at or even slightly before the appointed hour; and with cocktail hour especially, letting bottles dry up in the last 15 minutes. Considering the price range of this place, I felt this was a little unnecessary – I know plenty of properties worldwide that actively encourage last orders, not try and put a stop to the madness ASAP, as it seemed!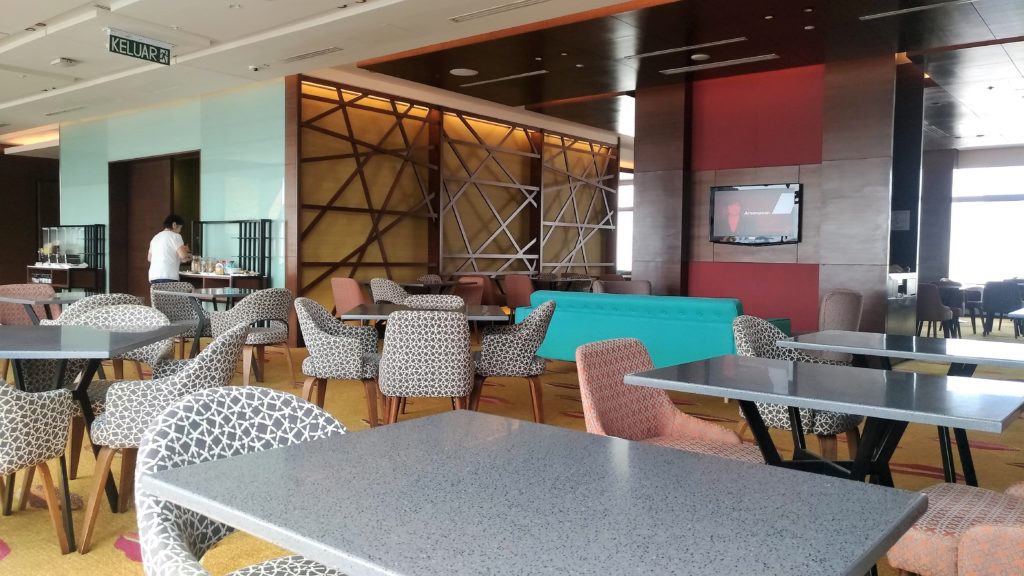 Wondering was this because they were letting people make a start early, I ventured up early one evening to secure a window seat, around 4.40. Sure enough, no it wasn't; the canape and drink service areas were opened – according to both my phone and laptop – only at precisely 5pm on the dot.
This un-lounge-like service aspect pervaded through to breakfast, where upon arriving one morning at 10.45, we were asked before sitting down if we wanted anything from the kitchen as it would be closing but the hot food buffet options would still be available "until 11am". It would have all been one thing had the hot food buffet actually been hot, but in general, it seemed lukewarm at best and nothing to truly write home about.
In good weather – which we did not enjoy last weekend, due to the haze – the pool upstairs however provides a suitable place to chill out for the afternoon with great big floor-to-ceiling windows out across the park and the skyline, and a long – but slightly narrow – pool lining through the centre of the floor. Unfortunately this area also serves as the hotels' Skybar at night, so I believe it does close to guests around 7pm. Nevertheless, it is a spectacular setting, but a big shame in inclement – or unbreathable – weather.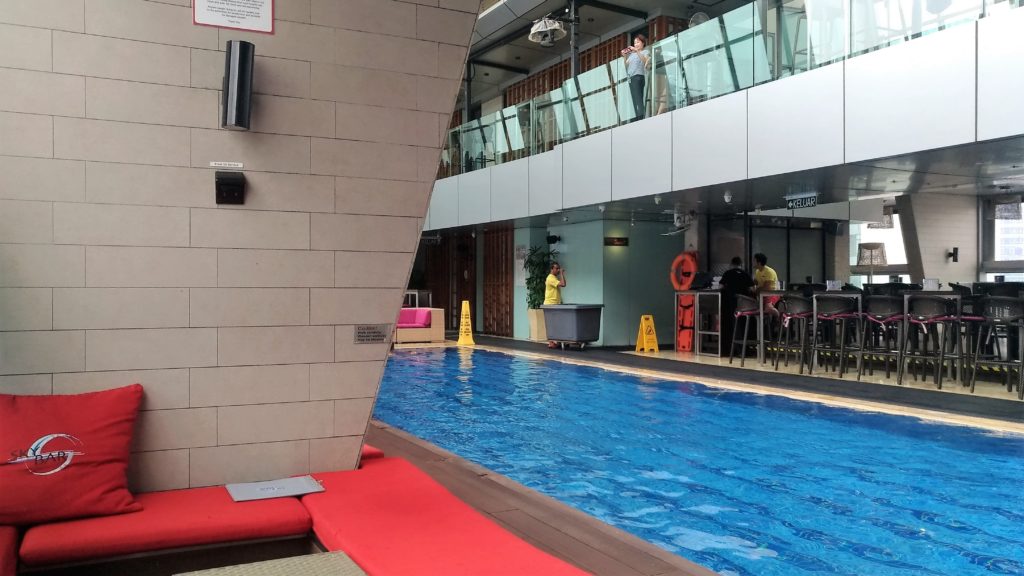 I made sure to perform check-out in the lounge; once again, while friendly and pleasant (not negative or harsh), the interaction felt incredibly scripted 'Where next; do you need any transport; etc.' until my card chip couldn't be read in the first machine she had. I suggested perhaps to try 'wave' or swipe, but the response was "No, your card's got problem". Amazingly, when she tried it with another machine, it worked fine – but no apology was forthcoming for the mistake. In addition, there was no car park validator at the lounge so another trip had to be made to the ground floor concierge, who was initially outside talking with his associates (there was now 2 of us needing the ticket validated standing there). While the staff were generally pleasant in person, it doesn't make sense for these mishaps or for the Concierge to be standing outside in the first place.
With the exception of the extremely friendly associate who brought in-room dining, it served to remind me of the lounge (and all) staff's apparent main priority of – as pleasantly as possible – enforcing rules and manners, rather than creating a natural, hospitable environment for guests to want to come and hang out anytime. As a result, while the hotel undoubtedly feels like a business travellers' venue of choice in terms of setting, interior and design, it wouldn't put me off going back for that view, the pool (in good weather) or the room; but it was the staff who most contributed to making me feel like I was in a business hotel and not kicking back having fun for a weekend that would make me hesitate. And please, please heat up some of the lounge food and replace wine bottles a little more liberally…