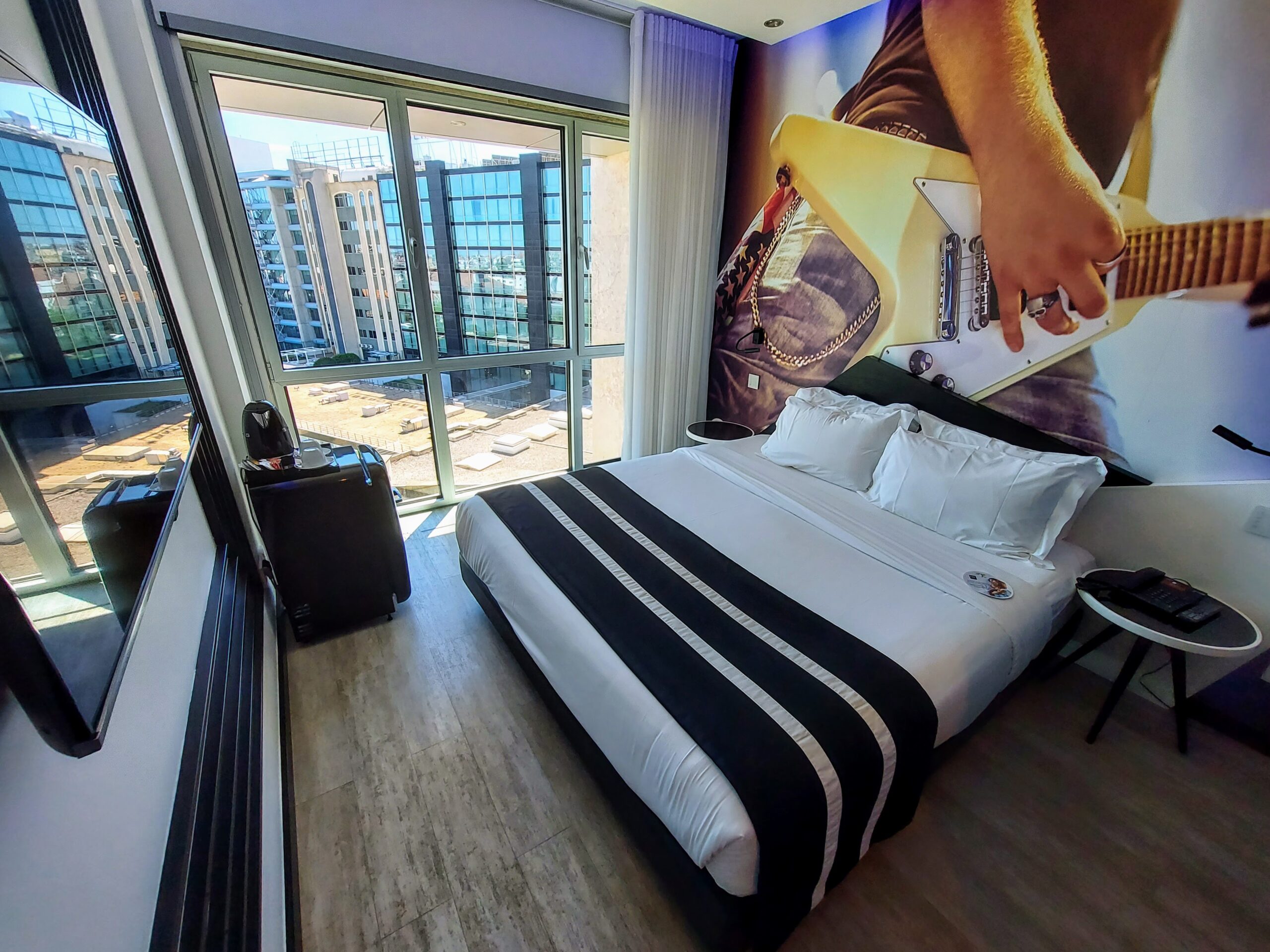 With summer travel prices a total horror here in Europe, the most reasonable, well-located hotel I sourced for our long weekend was the HF Fenix Music. Ostensibly boasting a 'musical experience', as well as a top floor pool and great city views, it sounded just ideal for the 3-night stay.
With that in mind, I also booked the standard double bed with no additional perks or frivolities – and went with correspondingly tempered expectations. Besides anything, I'm never too sure if I absolutely detest theme hotels, so this would be a good trial.
First things first – the location is quite excellent, right up at the top of Lisbon's main street, located on an impossibly steep hill and right next to the HF Fenix Lisboa. If arriving by vehicle, as we were, the turn off the road is incredibly abrupt.
Wandering into the hotel, we were amused by the red carpet and faux-paparazzi effect of a half-dozen strobe lights all going off as you approach the doorway. I stopped to have a few pictures taken but sadly, as I face the wrong side of my 30's, none are particularly shareable.
Check-in was quick, and carried out surrounded by an assortment of music and concert paraphernalia.
The room itself was a good size, and more than suitable for the 3-night stay. There was a mini Smeg fridge by the window, which itself was full size and the room offered decent views towards the river on the left – and, less glamorously, the back of some neighbouring buildings to the front and right, as you can see above.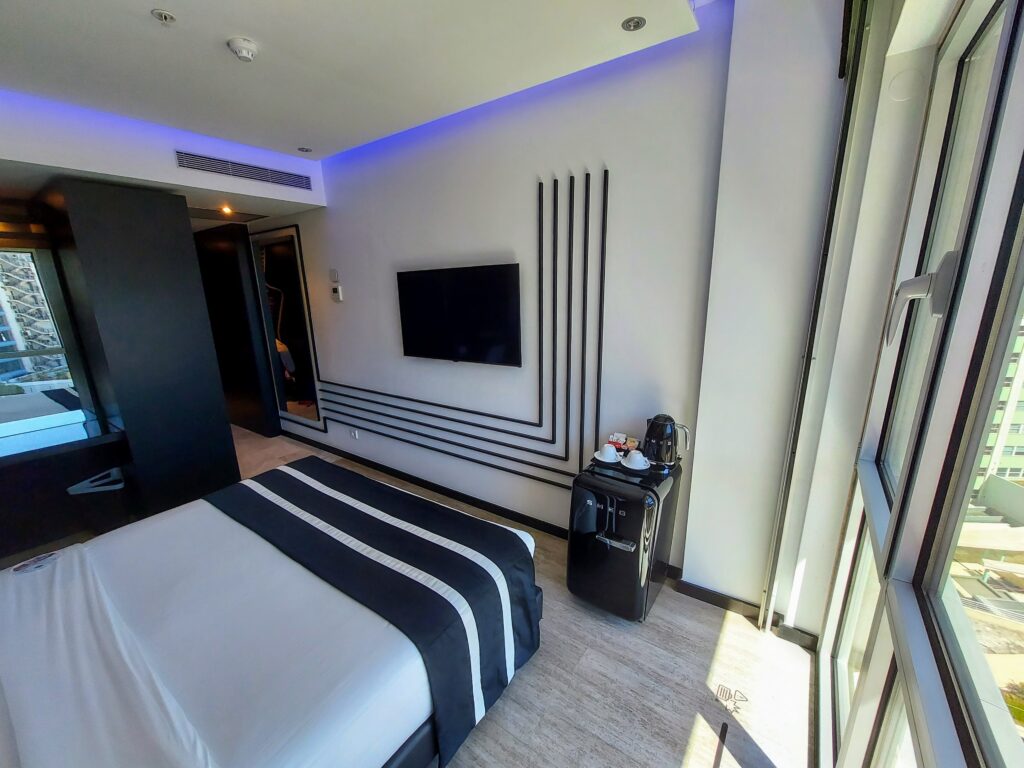 Beside the bed, there was a little desk area, which would've been more than adequate for those writing a sub-standard travel blog, if indeed I had bothered and not waited until a few months after returning.
There was also complimentary water (first day only, not replenished) – and who, of course, can ignore that outsize wallpaper of someone holding a guitar?
The lights also came with a number of very funky colour and depth settings, which allowed me to attempt to create my very own late-30's nightclub and remember what it was like when I could party until 5am and still turn up to work at 8am the next morning, as opposed to going to bed at 8pm and wanting to sleep until 5pm the next evening. Oh, how times have changed!
Anyway, let's get back to it – the bathroom is partly exposed to the room, but thankfully both the shower and toilet are tucked behind their own separate doors. Toiletries were provided (wall-mounted at both sink and shower) , and seemed of good quality.
Now, the pool – sadly, it was jam-packed every time we went near it. And I mean, very full. So full that sadly I can't really comment because it appeared that a huge amount of Europeans & Americans had gone to Lisbon only for the rooftop pool! Maybe next time…
Breakfast was also good, and had a wide selection – it was a buffet event, and had plenty of variety that seemed to change a little each day.
One minor gripe, if I could make one – maybe two, was that the two coffee machines worked quite slowly and sometimes accumulated a bit of a crowd; and when it was at its busiest (presumably before everyone decanted to the pool), food replenishment could sometimes take some time. In particular one morning I joined an almost rugby scrum-like melee for a piece of bacon moments after the server placed it at the buffet.
On our final evening, knowing that it was a special birthday, HF Hotels very kindly also left us this tray of goodies –  which we duly devoured, and – in all honesty – having already consumed more than our fair share of alcohol in Portugal, packed the bottle and it is now in the fridge downstairs awaiting a special occasion.
So how about HF Hotel Fenix Music? Well, I had pretty minimal expectations going in, but I actually found this hotel just perfect for our long weekend. There's no doubt the location is second to none, the facilities are great (if you can get near the pool that of course assumes), and all the staff we interacted with were very pleasant.