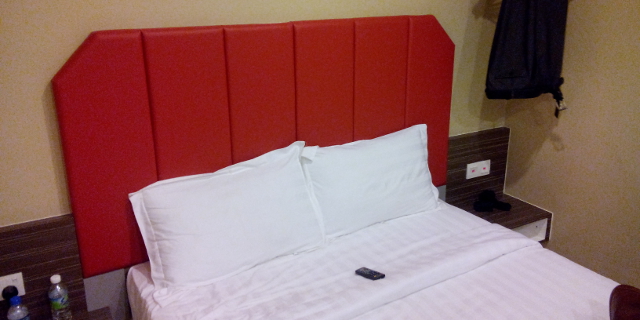 A Review: Happy 92 Hotel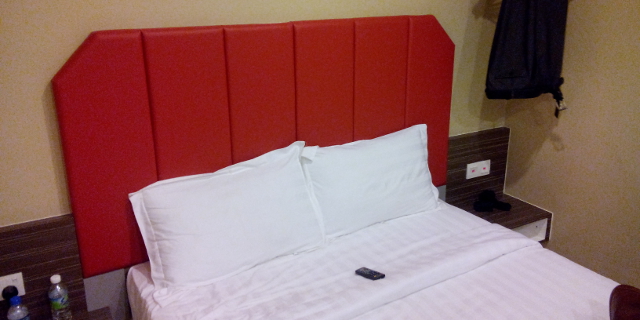 First, let me apologise for frightening one and all with that bedhead. I too was in shock at first…
Following on from my detailed experience at the Hotel Malaysia in Penang back in July, what I had failed so far to mention was where we stayed the following evening. Following a lengthy detour – it turns out Waze should be trusted over and above local drivers – we arrived to the township of Lumut, a small coastal town facing out to Pulau Pangkor.
As before, we drove around in search of somewhere suitable to everyone's budget before finally settling on this place, the Happy 92 Hotel. Guests will note it's located towards the back of the town, hidden almost in a shoplot and facing out onto a car park. Never mind I thought, at least the opportunities to get some sleep are greatly improved.
On the inside, the staircase is very confusingly located not at all where you expect it to be and my room was right at the top of the stairs, close enough almost to fall into.
The room itself though, was a great improvement over the previous night. I really mean it, what a world away. Now, it had no window and this definitely wouldn't be everyone – normally including myself, but I reasoned that a night of total darkness and hopefully silence would make up for the horrors of the previous night's karaoke outside.
Otherwise, there's not much to be told – I'm not sure what it is about toilets here, but while clean, they frequently still smell of recent use, while the desk to work at was literally the size of my Surface and nothing more, so good luck with a laptop. That was also after I removed the kettle and basket. Similarly, my TV came equipped with no English channels, though I did eventually locate some cartoons being very charitably aired in English (and let's face it, we can all make do when needs be, so I sat down and relived my youth, or whatever may be left of it).
Possibly the highlight of the stay however, was the outstanding availability of 'air corn', more commonly known as air-con in many other hotels. It was marked, to ensure no mistake with its similarly-named counterpart, twice on the button and let me assure you, it delivered extremely powerful gusts of cold corn as you would hope.
Lumut itself is worth a visit – I get the impression it's frequently overlooked or only passed through as a transit point to head out to the island, but it really is quite pleasant by itself. Our dining options were limited to eating at a stall at the local bus stop, before walking the coast and chatting with the local fishermen who were firing their nets in hoping to catch something.
Back in the town meanwhile, the night market was in full swing with stallholders trying their hardest to make sure this tourist parted with some cash – if only they'd known how hard that job is!
The night's sleep ended up being mediocre…guests (or staff) running up and down the stairs during the night put an end to the much-anticipated peace and quiet, but at least there was darkness.
Still, far better than the previous night and with no windows, bordering on impossible to get up the next morning. Eventually though, it was time to move on and I wandered out into the daylight, eyes recoiling from the first sight of natural light in hours…