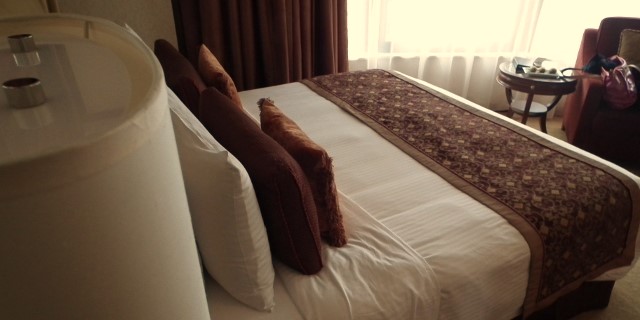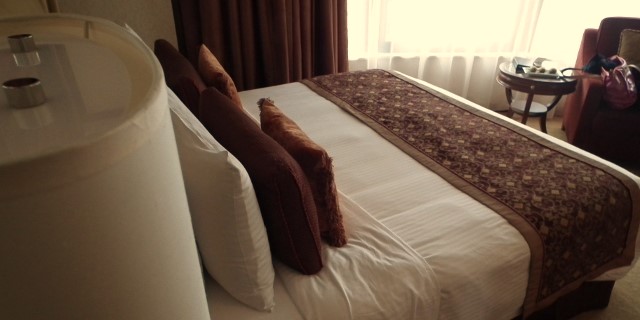 Staying in the Shangri-La Kuala Lumpur, a hotel not more than 10 minutes drive from my apartment was unusual purely because of how close to home it was. However, needs must and I was more than happy to spend a night or two in different surroundings, and it always surprises me how much of a tourist you can feel in a city you otherwise live in, by just staying the night somewhere else.
The Shangri-La Kuala Lumpur commands a corner plot facing the monorail and across to Jalan P. Ramlee, an area I know well due to the Irish Pub, Healy Mac's and (though I am pleased to confess not having attended in all my time in KL) the 'beach club', which is infamous for a host of reasons. The building itself is dated, no doubt about that but in very good shape.
We arrived by car and I would advise everyone where possible not to – the car park (like many in KL) is extremely narrow and tight, with my ageing Proton Wira barely clearing the entrance and exit ramp corners. Unfortunately, and I have to mention this because it is a bit daft, the car park for the hotel deposits you not in the hotel but in a neighbouring building without through-access so you have to walk out onto a footpath outside and walk along past waiting taxi's belching exhaust fumes into your face. It's not the grand entrance you would hope for at a Shangri-La and a far sight away from our experience in the same brand up in Penang.
Our room meanwhile was a corner unit. I don't measure (or care at all) about room sizes, but my impression would be that these corner rooms are probably very slightly smaller than a normal room – but actually, if you enjoy privacy (as I strongly do), this is by far the best room in the house. The corner window made me feel like we were had a control tower-like view over KL, while the bathroom was way back behind the cupboards/safe/etc. and also felt like a world away.
I won't lie to you – I have only one specific test in hotels, which is how intensely tucked in is the bed. I don't know why hotels/housekeeping do this but so many hotels have the sheets nearly glued to the bed so tightly that it takes intense physical exertion to free the duvet or top sheets from the rest of the bed. I don't know if perhaps someone locked me in a bed in an earlier life or what, but I can't stand beds made like this; I want to rest not to have a full cardio workout trying to free the sheets. I am very pleased, odd point as it may sound, that the Shangri-La's bed sheets therefore were already reasonably loose. Excellent – it's the simple things.
Moving on, the bathroom shower (no bath) was large enough you could have had a small team meeting in there, such was the amount of space. As I didn't have a team, there was no meeting but I did hop in and stay there for a suitable amount of time to enjoy the shower completely. As I say, the bathroom was suitably far enough from the bed/TV area also, which is a second major win for me as even if you're sharing with your nearest and dearest, I hate having the bathroom so close to the bed that you feel you can't truly…make use shall we say.
Then it was Room Service time. I'm also quite fussy about room service – it goes without saying that my fussiness increases exponentially relative to the price, and at nearly 50RM for a hamburger, I was really holding out for something quite incredible – and I can say that this also didn't disappoint. The food was carried up in some kind of magic heating box so that it was still burning hot when it arrived. The magic box also doubled up as a full-size dining table on white linen, with a glass of iced water to go along with it. The burger was very juicy indeed and tasted like something from a serious restaurant (i.e. not the occasionally soggy offerings you get from hotels passing as room service from time to time).
My sleep (and I was anxious to make full use of the bed) was also top rate and I was disappointed to the hilt when the alarm went off (I did consider sleeping in, but reasoned it being a Monday morning I better get on with it). Breakfast downstairs was similarly top notch, with lots of little cabins and counters with varying foods between Western, egg station, Asian, fresh bakery, etc.
Honestly, with the exception of the terrible car park entrance and exit and what I found to be a lack of hospitality among many of the staff (reception and concierge particularly), which bordered nearly on surliness, the hotel was otherwise a great stay and I would gladly recommend the Shangri-La Kuala Lumpur – if I didn't live so close to it myself.