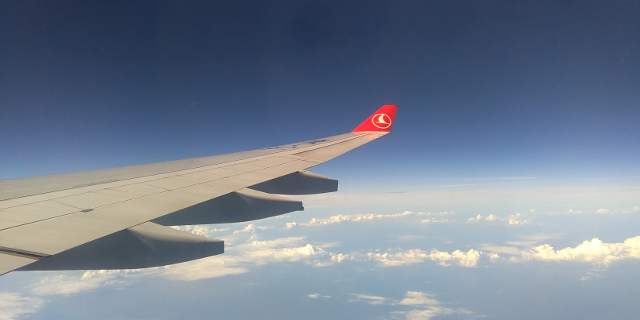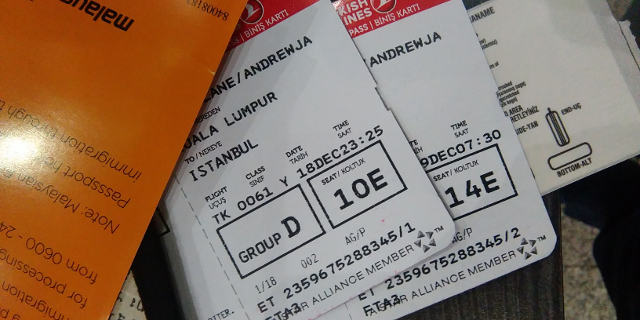 Finally, after months of waiting it was time for my trip properly home to Dublin, Ireland and coming back to KL from Dusseldorf, Germany. Turkish Airlines puts a hell of a lot into its global marketing campaign (footballers springing about the business class cabin comes to mind) and I know people on both sides of the Turkish Airlines love/hate fence. So, I was eager to see it for myself.
I actually don't know where to start; I'll preface this by saying that they didn't lose my luggage and thanks, I would suggest, to my own physical fitness, made all flights, nor did I get unduly ripped off or have something terrible happen. It's just – well – for an airline that puts itself out there as Europe's 'award-winner' and has such a major marketing budget, perhaps there are so many, possibly hundreds, of other issues they could better use that budget to fix first.
I will admit straight up that my first impressions weren't good; their website doesn't allow seat selection until check-in, when mysteriously the seat map was already close to full. Then, for such a global airline, the English standard across the website is hit and miss in the check-in and other back-end areas.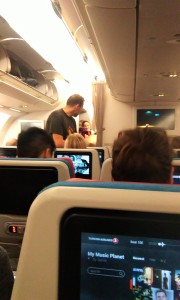 Nevertheless, I persevered and finally had the online check-in mastered. At the airport (KL), there was a terrible scene; one economy class check-in desk (ONE!), one online check-in desk and then two business class desks. In a sight not seen until the day itself, the online check-in agent we got performed slower than the unchecked-in economy class passengers and the two business class desk agents…actually just sat and chatted while the economy class queue became slowly unmanageable in any sort of decent time frame. Guess what? They just continued chatting. Meanwhile, no business class passengers were to be had – wait, I lie, two did show up at one stage, were checked-in and away in minutes and then the chatting resumed. I've never seen a situation where two agents on paid time do nothing and one agent is literally left to crumble.
In their defence, this same situation didn't occur in Dusseldorf, where the business class agent actually did accept us when she was free…as is normal in 99.99% of all other cases.
Our first flight was (who am I kidding…ALL flights were) very late and though I knew that hours earlier having had a look at the inbound flight, somehow the agents in KL were completely oblivious to this and ended up being more irate than the passengers when the plane was an hour late on the ground being turned around. There were some words of apology (though not much) from KL ground staff before what can only be described as a chaotic boarding procedure took place, all of us funneling through the gate opening from various directions. I wish I could say the boarding procedure was a problem confined to KL as an outstation only, but as it turns out, that would be probably the most sophisticated method to be seen during the full four flights with TK.
Onto the flight itself and there were less apologies or information on missed connections (JOKE…there were none, whatsoever…during the entire flight, despite what ended up being a near-2hour delay) and far more gruff unhappy faces, like we'd forced every last crew member to get out of bed and do something they deeply regretted and that the actions and bad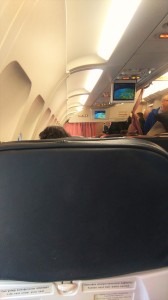 feeling of their lives were showing…on their faces. Comically, this resulted in a situation on the return flight to KL where I actively tried to engage them with good cheer, by practically shouting 'THANK YOU' for every request no matter how small – that did, shockingly, return frequent rounds of 'Your Welcome' as if turning up the volume a few times over jolted the crew back into how they were supposed to be acting.
The positives, if I may indulge myself for what will surely only be a brief moment; the plane on the way over from KL was relatively new, the seats were quite comfy and the entertainment system was very good without me needing to prod my finger nearly into the middle of next week to select an option (note; the following flight to Dublin the entertainment system didn't work whatsoever, and the following aircraft were all of decidedly greater vintage with the flight Dusseldorf to Istanbul showing exceptional age), I found the evening meals were reasonable, certainly not all that like they go out of their way to pretend but the breakfast meals were an absolute affront to decency – see below for what can only be described as the most disgusting mixture of seemingly uncooked sausage and sponged eggs (normally scrambled, but in this case sponged seems more apt). OK then, one more positive; the "chef" I happened to bump into en-route to the bathroom let me take a few deserts cheekily from the galley and they were nice and the staff were more than happy then, in the confines of their quarters, to tell me about each one and talk pleasantly. It was nice for the few minutes it lasted.
As we arrived to Istanbul (and Istanbul again, and KL in the second series of flights), there was not so much as a word of apology for the dreadful delay, nor explanation, nor help with whether we would make connections or if planes were being held, etc. Honestly, I'm OK with flight delays (though I would suggest 4 out of 4 flights being delayed is potentially representative of not exactly a 'once-off') but the staff couldn't do a more awesome job of furnishing us with a 'couldn't care less' attitude. It was very unusual – I've always held Etihad to account for their one mandatory grouch they have working per flight, but a whole aircraft? What a new phenomenon.
Returning, sadly, was much the same – besides the ancient relic A320 they had working the Dusseldorf to Istanbul segment, which was of course late with not a word to be said about it, our onwards flight was also being serviced by something that was starting to look a bit tired – and that's before we get to the staff. This flight back to KL even had the added unwanted benefit of the two mid-cabin toilets on my side both missing their locking mechanisms so passengers feeling brave could use the facilities only by pushing their feet firmly against the door to stop someone pushing it open (I did it once and then decided it was too stressful considering the foot traffic outside). Down the back meanwhile, perhaps a Yeti took a bath or what I'm not sure, but the bathroom on one side was out of order and the other was completely flooded from ceiling to floor (and was out of every paper; hand paper, toilet paper, nothing there at all).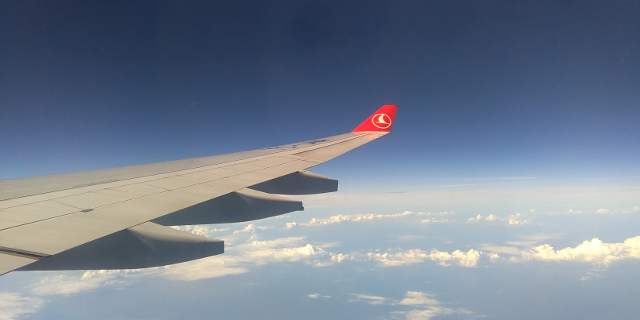 By the time the flight landed, I came dangerously close to clapping, not because of the skillful landing, but simply to bring this awful chapter to a close and hopefully not revisit Turkish Airlines again for a very long period of time.
Have you flown with Turkish? What did you make of it – did you find the staff surly or ignorant, or did you have a great journey?