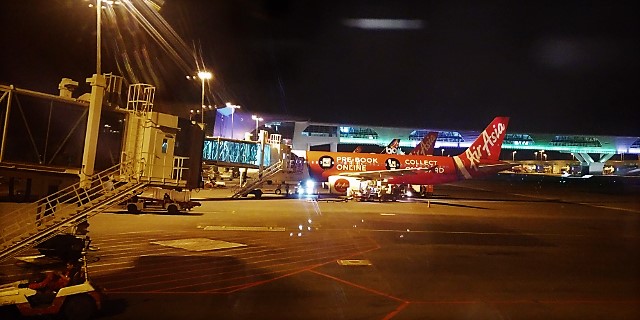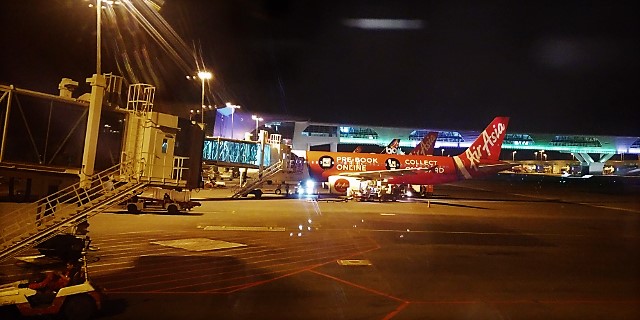 For my surprise birthday trip to Sri Lanka (more on that in a follow-up post), I was re-introduced to AirAsia after something of a long hiatus.
In recent flights, while I had never been entirely a huge fan of AirAsia in the first place, KLIA2 put the tin lid on it for me with the outsized shopping mall, poorly managed security and immigration areas and inability to nimbly get through the terminal from entrance to gate and vice-versa. So this would be a perfect test.
OK, I'll begin realistically with the biggest con; it's still their home. How anyone can justify charging the same airport usage fee for this place as the original, well thought-out and functionally-designed KLIA(1), I will never know. I know a large part of the basis for this was that the 'facilities' are parallel, but they're just not. This whole terminal seems rushed, poorly thought out and even more poorly executed. To start, the sheer volume of AA's passenger traffic means the check-in row queues back-to-back on each other in no time, there's no real apparent sense of order (that, I have to say, does include AA's staff who told us to go one place while staff there told us to go back to the original place).
Following through, considering flights are scheduled and therefore reasonably predictable, the exit immigration was a total catastrophe. Queues as far back as the entrance wall, with many held up due to shift handover/chatting at the desks. All in all, that left us basically no time whatsoever to actually eat, drink or shop in the airport itself; for which it has been seemingly purpose-built. We had time only to head to gate area…which of course, as I said before, is many miles away and hastily-added travellators (you can tell, they've got ramps leading up onto them rather than being set into the floor) do nothing for the experience other than reassure anyone in doubt that the place was very poorly thought-out.
Let's move onto the good quickly then…I think AirAsia might be one of those experiences (bar the ground experience, which due to their 'home' is just dire) – don't get me wrong, I'm not saying I'm ready to fully embrace it yet – that for me at least is just slightly misunderstood. In this case, we were seated in row 1 and staff did seem to try their hardest to board strictly by boarding order entitlement, which I always prefer. And, assuming you recognize and embrace the need to pay for absolutely everything you may want, then it's not dreadful.
Unfortunately, as first experiences go (and the return had the same issue), we ended up leaving late due to a 'guest being unable to join us' apparently and their luggage having to be turfed out of the plane. Airborne, and having myself been 'unable' to get food in the airport terminal, I was now absolutely starving. First of all, I tucked into the pocket pie or whatever pre-booked snack we had, before moving on, in a turn of what must the biggest sale in a month for that crew, to the nachos and dip, coffee, two portions of curry puffs (delicious by the way) and water just to finish it all off.
Suitably exhausted from all the digestion taking place, it was off to sleep and I had a wonderful sleep. Returning unfortunately, something very unfortunate occurred – bearing in mind the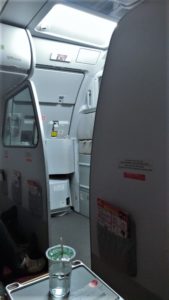 Colombo to Kuala Lumpur segment cuts right through the night like a redeye flight, but only actually lasting three and a half hours. The crew never turned the lights off, and it was nearly impossible to sleep, with me staring at the lit entryway pretty much all through the night like a zombie.
I know that may be hard to believe, so please find attached proof, which shows clearly my feelings towards a lack of sleep caused by stadium-level brightness…
And you know what? Maybe for anything over 3 hours I'm just now sure how much more I really enjoy the tightness, the having to definitely pay for everything including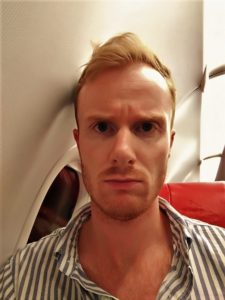 water, but I'm writing this now in Langkawi where I was able to come – literally for a day 'to write my blog in peace' – thanks to AirAsia and for these kind of short hops, you can't really complain about much. Will I abandon my loyalties and love for Malaysia Airlines? No probably not, and to be honest, much of that is also to do with the airport terminal itself besides the ability to get a free refill of water if you want.
But would I do it again trying to 'embrace it' through the acceptance of paying separately for more things on-board? Yeah, strangely, I would – for the shorter flights for now, at least.