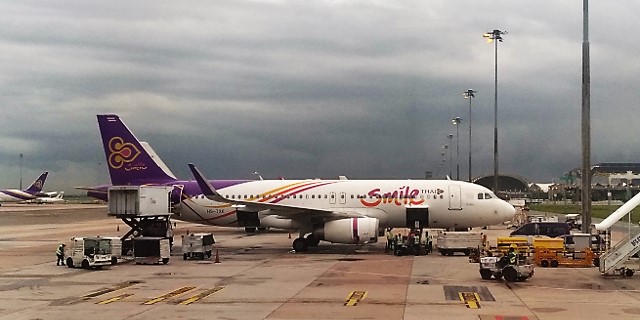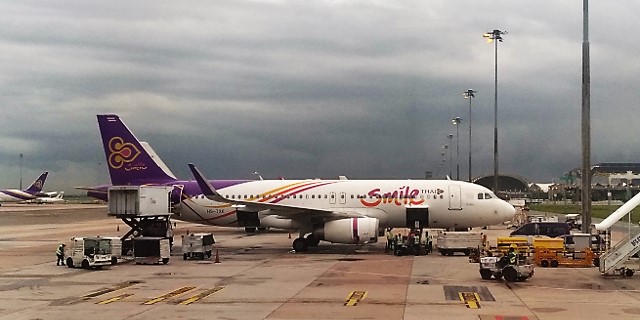 It is no lie at all to say that my recent trip to Bangkok was booked with impossibly late notice; I think it was one of the few flights in my life booked within 24 hours of the desired departure date, and let's not forget that the return was just the day after. So it should come as no surprise to anyone that my "research" into the travel options was more 'panicked' than 'calculated', and that I effectively went with whatever the absolute cheapest flight set was – that didn't involve having to pass through KLIA2 or go to and from Don "impossible to get to without a rip-off taxi" Mueang Airport in Bangkok.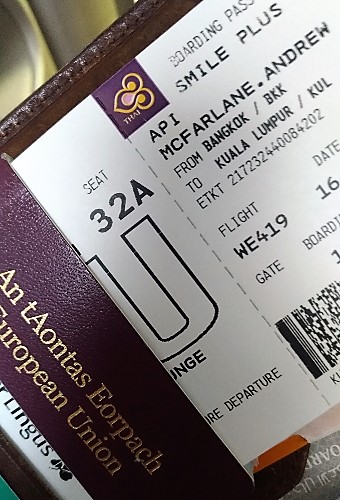 I ended up scoring a reasonable deal with Thai Airways and was overall very happy with myself; I have some kind of very low-grade Star Alliance frequent flyer membership through Aegean Airlines (a few years ago, it seemed to be like some kind of open secret that Aegean offered the best way to Star Alliance status, which I think has now disappeared, but since they were so kind to take me on in the first place, I have maintained my only *Alliance card with them since) that while not offering me lounge access or anything close, does accrue some points should I wish to one day fly from London to Athens at the lowest available fare…(*sarcasm*)
As an incredibly delightful added bonus – and maybe this is the norm – I was even able to select a seat at the emergency exit row at no additional cost with Thai Airways, on what turned out to be a slightly dilapidated, but still immaculately clean and fresh smelling 777. Unfortunately the cabin was absolutely packed to the rafters and I would later come to learn that this was due to the cancellation of an earlier Malaysia Airlines' flight, so that we now also enjoyed the addition of an entire 737-worth of passengers.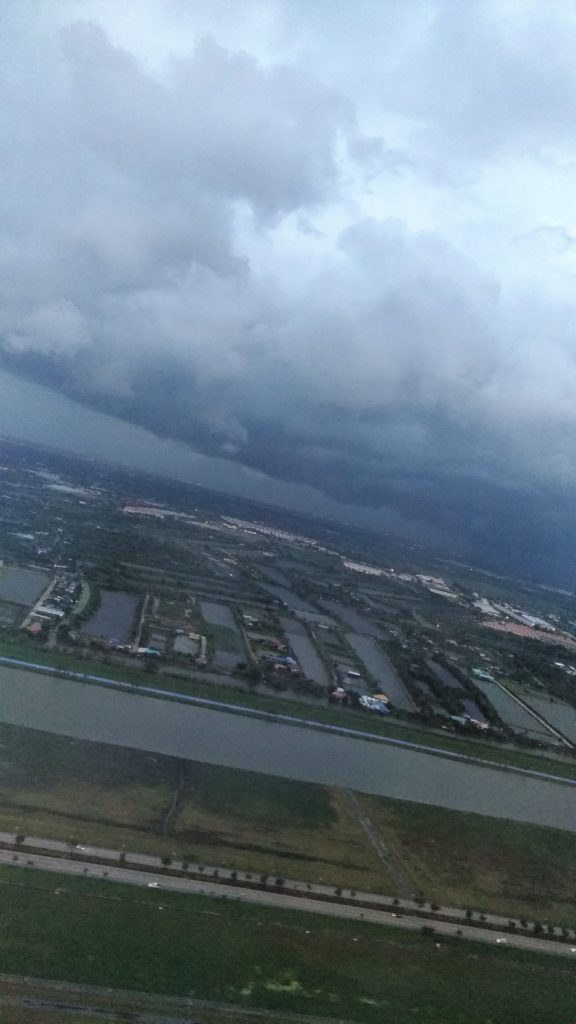 I won't comment much on the overall Thai Airways experience, other than to say that for a flight of that duration – a little over 2 hours – I found the whole experience perfectly pleasant. A decent meal was served, and while not at all proactively offered, alcohol was available and I made sure upon discovery of that fact, to consume my fair share. On the downside, I found the crew that I had to interact with pretty cranky in that sort of "I don't want to be here" kind of way, but as I say, overall it was perfectly do-able for 2 hours.
On the way back however, I was in for a most pleasant surprise. As it turns out, I had managed to book myself (on the absolute cheapest fare, as I say) not with Thai Airways, but with Thai Smile, their low-cost effort. Not only that, I had also managed to somehow end up in what is their version of 'Premium Economy'. To be honest, I was pretty floored by the extensive effort laid on for such a short flight and a slightly higher-value proposition on what was otherwise a low-cost airline.
To begin with, my boarding card – which I could scarcely believe – indicated I was invited to the Thai Royal Orchid lounge at Bangkok Airport. I went along and yes – to my great amazement – I really was welcomed in and allowed access to whatever was there. At the very least, I had expected there might be some curtailment on the alcohol or higher-value items, but nope, everything was up for grabs (and yes, I did avail for sure, the Chang beer supply dwindled almost immediately).
Because of this fantastic situation, I actually arrived to the gate towards the very end of boarding and was about number 2 in the queue. This was the one slightly ridiculous part of the experience – though I imagine this is across Thai Airways itself too – the boarding queue went incredibly slowly, like unbelievably so, and it turned out that this was because at the point of boarding pass scanning, they were asking every non-Malaysian for either their work permit, or proof of onward travel. Needless to say in my case, it took a few moments to go looking for my work permit, but in many other people's cases it became a matter of rifling through luggage to look for onward flight confirmations. All a little bit ridiculous. Downstairs meanwhile, it turned out at any rate, we needed to board a bus to drive to our very remote stand.
On-board however was the next very unusual surprise; while the plane was a fairly bog-standard A320 and the premium economy product was basically what we might call 'Club Europe without the table', it was otherwise a very European business class-like experience. Some kind of name- and description-less purple drink was served as a pre-departure beverage, while multiple food options were proffered for the meal to be served later on. It was all very like an unexpected business class.
Needless to say, once we got going and into the air, on a flight of this duration, the meal service was relatively quick to take place and I wound up with some kind of chicken pasta dish, which I couldn't complain about and was left pretty full. It goes without saying – but I will anyway – that alcohol once again wasn't readily offered, but once I made a start, compared to the previous flight, it kept coming out by itself from there on can after can of Chang. In fact, the beers were flying out the door with such frequency that the rest of my fellow seatmates, who had originally not dared to ask for anything other than a few cups of juice, decided to eventually join in.
Overall, the whole experience was unbelievably pleasant and – if I'm honest – just unbelieve to be a low-cost airline in any class. So would I do Thai Smile Premium Economy? Without a doubt I would; it made me reconsider everything I know about European short-haul 'business class' generally and challenger my perception about what a 'premium economy' should be. Go on, Thai Smile!