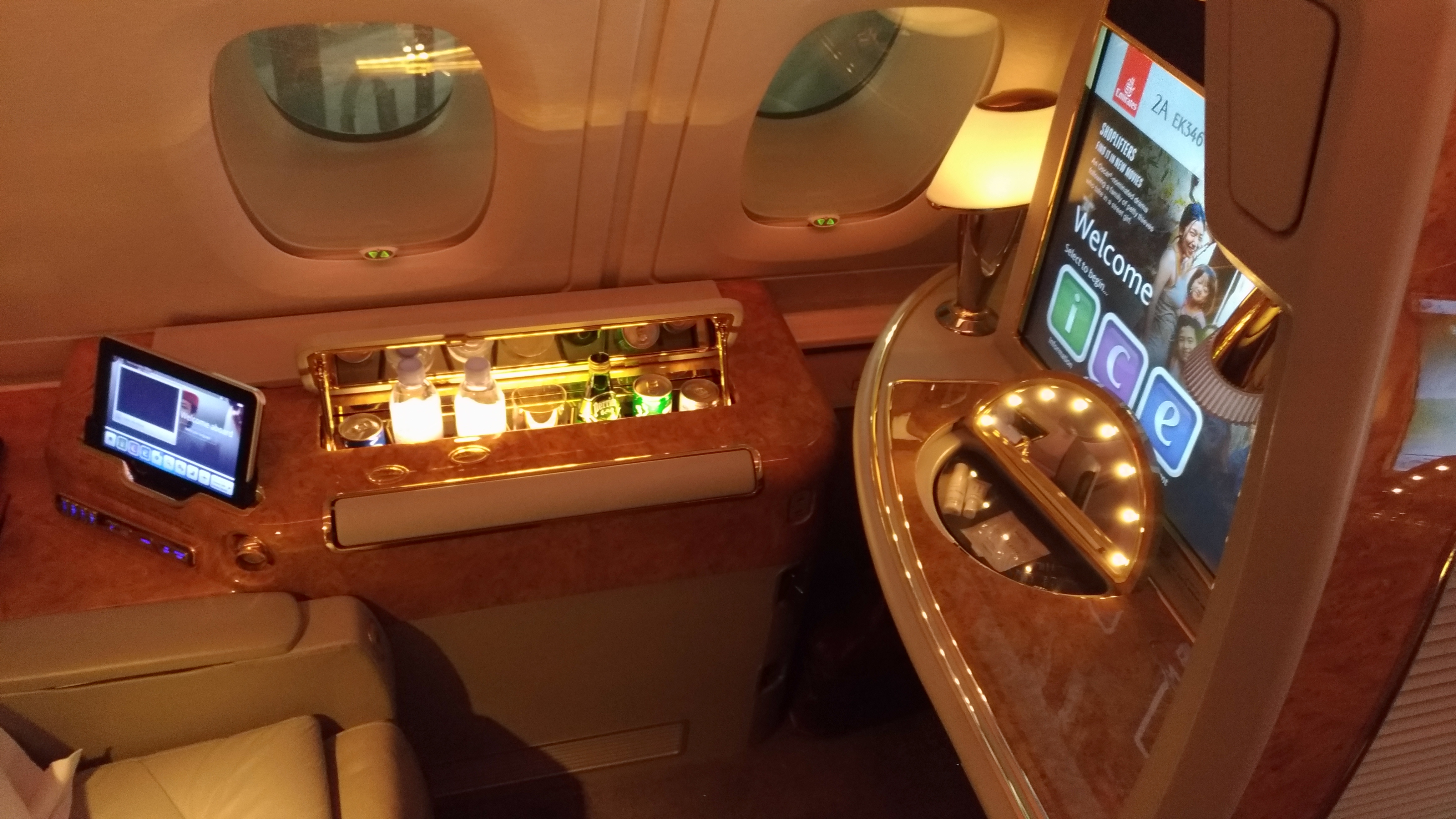 On the very – almost never-endingly – long journey back from Sao Paulo, I managed to unlock what I consider to be Level 100 of every global travellers ambitions; one of the sectors in Emirates' First Class. Promising on-board showers, a closed-door suite and more bling than you can possibly imagine, it was one of the few flights in my life that I couldn't get on board of fast enough.
The flight departed from Dubai International's Terminal 3, Concourse C. I've no idea about B, but C seems the most unglitzy way to depart on a super high-end first-class flight; it reminded me more of a low-cost terminal and thankfully due to my military marching from the A First-Class Lounge, I arrived early enough to deposit myself into the C-gates First Class Lounge for an additional 20 minutes. While this lounge was perfectly pleasant, it had nothing on the main A-gates lounge, which I'll review in another post.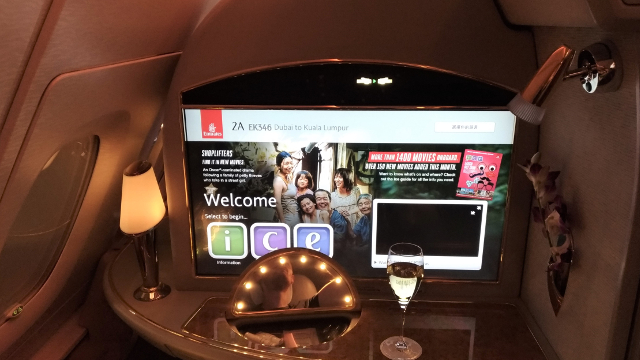 Finally boarding time was upon us and down I went, for probably the first and last time in my life, clutching my boarding pass for 2A on an Emirates A380 – determined to shower before the flight was over!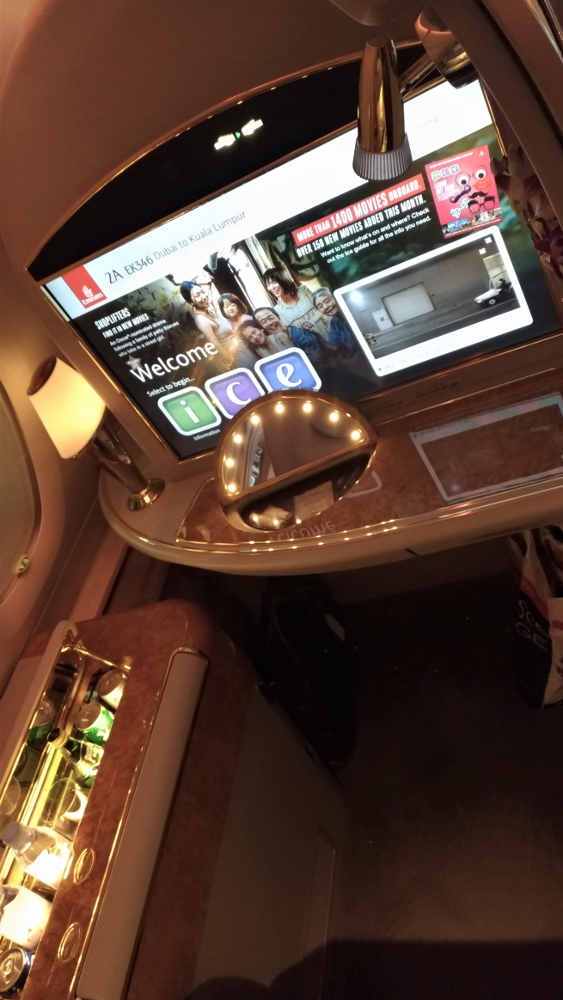 Inside the aircraft, I was escorted to my suite. Where do we start here, it's tough to know – first things first, bags go under your table. There are no overhead bins anywhere, so you just throw your bags under the seat. As I resurfaced from underneath the table, I found someone standing literally a few inches away ready to pour a glass of champagne any second, which I suppose brings me to point 2 – drink the champagne. It's some of the best you'll get on any aircraft (or possibly, anywhere) in your life. I was also offered Arabic coffee and a date, but to be honest, this just diluted the taste of the champagne – so then I had to have a second glass to remind myself of the flavor.
Shortly after that, my pyjamas turned up in a bag that was like having a whole additional hand luggage. There was a fabric bag, slippers, pyjamas that came presented in what has gone on to make a very useful laptop sleeve, and of course a premium amenity kit (in my case, sad to say, my fellow gentlemen work colleagues seem to like the amenity kits from business classes by way of a returning gift, so I was unable to open it and peek inside for fear of lessening its value in their minds).
We encountered a pretty rough ground delay heading out of around 40 minutes – and unlike business class, the champagne is poured very lovingly and liberally on the ground, such that after take-off, I was only fit for a bottle of water and a sleep.
Let me tell you – I've never been brave/obnoxious/whatever enough to ask someone to make my bed for me on a plane while I went to the bathroom, but a few glasses of champagne later and it seemed the perfect time and so off I stumbled to the bathroom to get into the PJ's, mumbling to the first member of crew I found about needing my bed made. When I got back, it had been made immaculately and I pretty much threw myself in, found the button to close the famous suite doors and fell asleep almost immediately. My only complaint? Dubai to Kuala Lumpur is just nowhere near long enough to properly enjoy every comfort of the suite.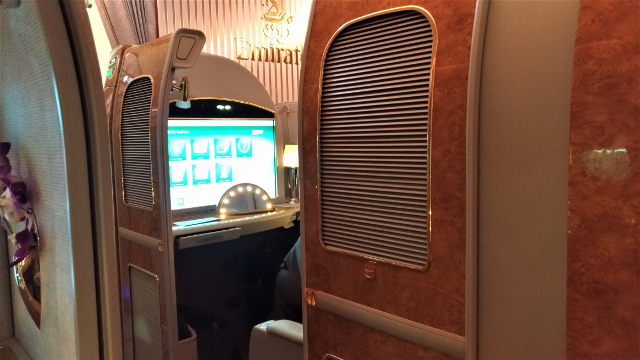 The seat itself is like having an entire executive chair to yourself; with all the trimmings you've no doubt seen in so many other travel blog posts before – the basket of snacks that gets removed before take-off and landing and then replaced; the mini-bar running alongside the window that offers you the exact same drinks you can ask for from the crew. I suppose in this accidental listicle that brings us to Point 3; the call button in this case is your friend.
The crew will basically leave you totally undisturbed during the flight and meals, drinks, and everything else is entirely up to you. Having said that, one disappointment from me was that when I did press it for breakfast the next morning – it went totally unresponded to until I actually opened the suite doors and stopped someone to ask for what I wanted, which seems to defeat the whole purpose.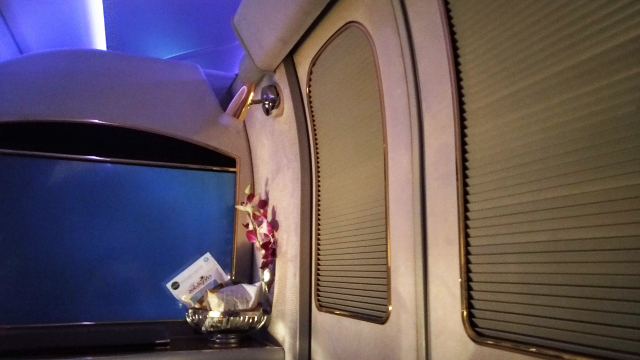 Before long, it was time for my – completely unnecessary, but desired nonetheless – on-board shower. Perhaps it was the setting-in of a severe dehydration/hangover combo, or whatever, but I found the whole experience somewhere between comical and completely mythical. The floor is heated, towels and everything you could possible need are all laid out and yet, getting into the old birthday suit in the middle of an airplane bathroom seemed faintly ridiculous.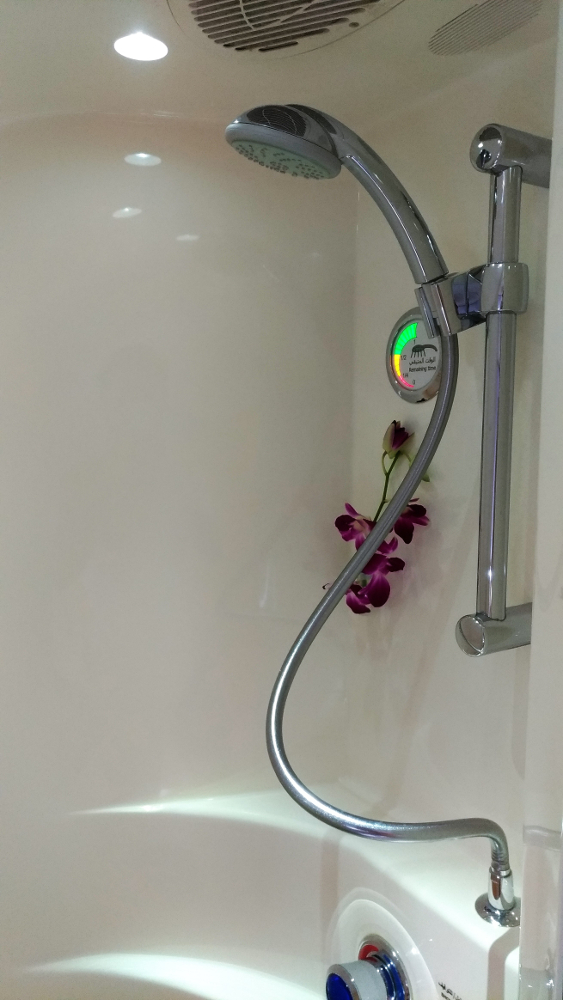 Since the cabin was so warm, I actually mostly showered at lukewarm/cooler temperatures – utilizing my 5 minutes of water with military precision. The plane took a few shudders and I paused with fear, afraid that my own internal gyroscope was so badly off-kilter that I may end up upside down at the bottom of the shower any moment. Nevertheless, the sheer novelty of having a shower while juddering back and forth on a plane was really something. Unfortunately after the intensive hours spent in the air from Sao Paulo back to Kuala Lumpur, my body decided to cap this memorable moment off with a 20-minute nosebleed which used up the remainder of my bathroom time sadly.
Overall, Emirates First was something pretty memorable – especially for a first virgin like myself – I adore privacy, so being able to shut myself off from the rest of the world was something particularly special – while I also love a drink, and top-end champagne being poured on request at my seat was also something close to a dream come true. I guess truthfully would I pay the cost of a mid-range second-hand car to fly to and from Dublin in First Class though? No, probably not – but it sure makes for a hell of a once-off experience!