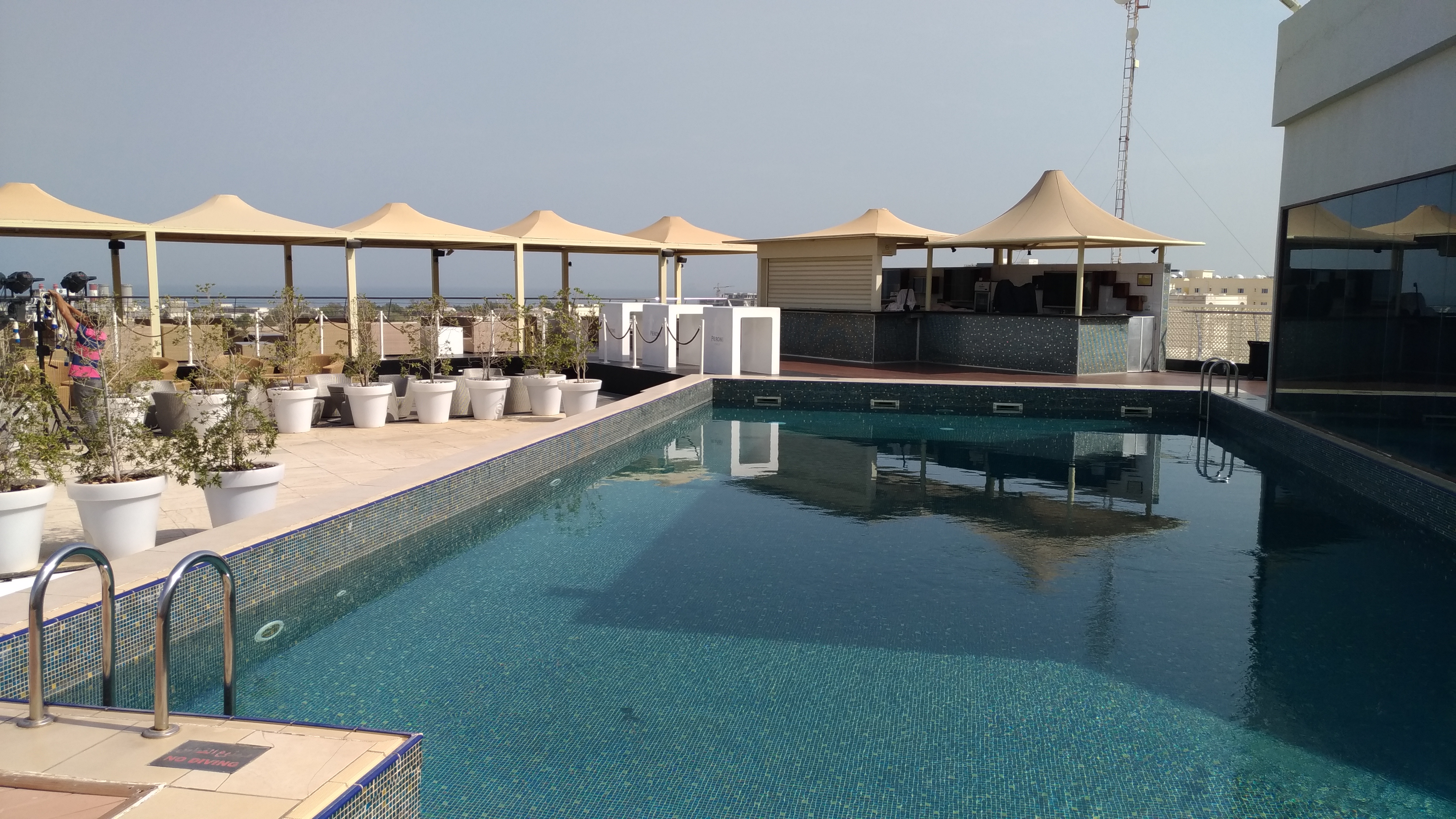 After the frankly bizarre and most fantastically inconsistent SriLankan Airlines experience I mentioned last time, we were quickly whisked to our first hotel on the 'Muscat Tour', Park Inn by Radisson Muscat. Unfortunately, if there is one thing I am not, it is a hotel loyalist of any description – other than, of course, my love/love-a-bit-less relationship with the Shangri-La – and as a result, I have never stayed in a Park Inn (or a Radisson for that matter) that I know about, in my life.
My feeling normally is that anything 'by' someone else will not be great; think about it 'Scoot by Singapore Airlines', 'Rouge by Air Canada', etc. Nope. None of it has been anything to write about – actually, scratch that, it has been something to write about it because it's been so terrible.
Well – right off the bat – expectations were severely low, and I was expecting to get a room to myself for the 4-night stay with very little, if any, pleasantries. And perhaps that's what I should try to strive at; setting low expectations, because this one really worked out. The entrance to the Park Inn by Radisson Muscat is set strangely off the main highway (which visitors to Muscat should come to love, because they'll see it multiple times) on a weird side-road, and the entrance is pretty un-grand.
But stepping into reception, the central atrium is open with a view all the way to the top of the building, with the restaurant taking up most of the ground floor area, along with some casual seating areas, the reception desk and a set of 3 of the fastest glass lifts I've ever been in – literally, you do not ever have to wait long for a lift in this place, I'm not sure what's going on.
Check-in was super straight forward and – considering I booked the rooms from the cheapest booking site I could find – apologies were majorly forthcoming that one of the rooms had to be a twin room due to a full house, but that both would be facing outdoors; yes, there does seem to be some rooms in the complex that face back into that open-air lobby, and I would definitely be keen to avoid these like the plague. By the way, no credit card deposit needed assuming you pay for whatever you consume on the spot.
The room was very respectable; a very decent size, with some signs of wear and tear in places but overall looking very good. After an aggregate 8-hour journey via Colombo, the bed (either of them, since it was a twin) was just the thing to fall into. Unlike many top-end hotels – to my great delight – I had no issues either with the aircon thermostat, or hot water from the shower. Soap, shower gel and shampoo however are delivered via a 'packet' of Dove soaps installed to the wall; and this led to my only really gripe with the whole property, that mine eventually ran out and was never replaced.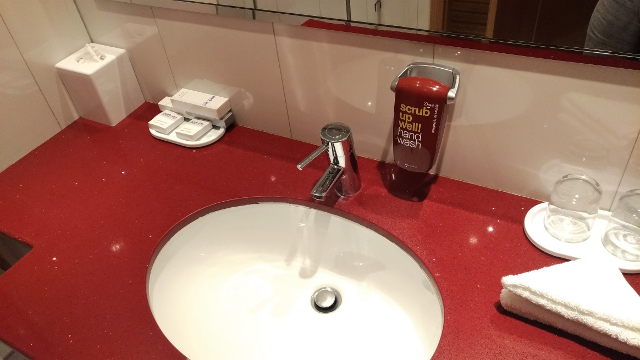 Muscat – as any visitor there for a few days will come to realise – is a city with a very indecipherable 'centre'. In other words, the whole place revolves around whatever is off the Sultan Qaboos Highway, and the area around the Muttrah Souk. So, even though it doesn't seem like it at all, this hotel is actually very conveniently located; I won't lie, because I didn't at all have any bearings for the city, my first impression on the first morning I woke up was that we were somehow in the middle of nowhere, with a Lulu Hypermarket just up the road. Even the immediate surroundings are fairly barren, with just a few apartments up the same road as the hotel. But actually – do not fear – it appears that that's just Muscat! As I say, one of the most low-rise, apparently-suburban cities you can imagine.
Meanwhile, the breakfast was a superb example of something done simply, but very well. There was a wide range of choice and it didn't come across feeling like a forced effort to put something out for guests. My only gripe – which I unfortunately shared loudly one morning with a woman beside me, who turned out not to be my mother after all – was that the delicious pain au chocolat was only available every second day (why, Park Inn, why?!). Selection was very good and only by the final day or two was I starting to wear thin on the choices.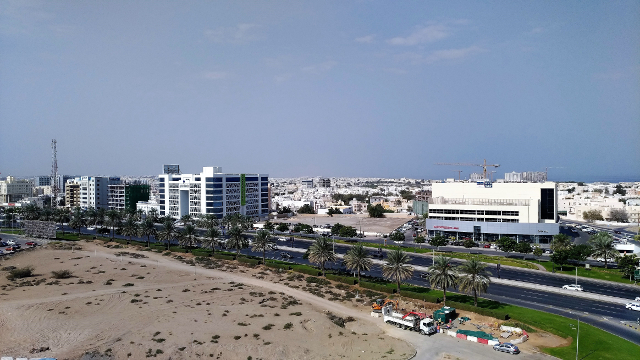 Take one of the glass lifts to the top of the building, and there was a pool. Sure, it wasn't the most stunning or beautiful surroundings – and the water seemed to be permanently Baltic, which I couldn't understand – but it was perfectly adequate, with a range of seating positions depending how much sunburn you wanted during the course of the day (in my case, every position offered it guaranteed).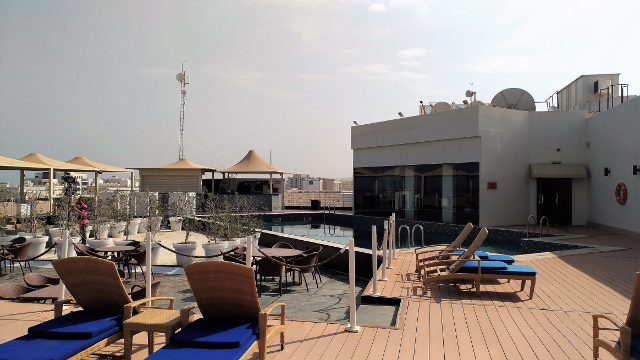 Last of all – and a true novelty in Muscat – was the bar. You will see on Tripadvisor some level of complaints that the bar only opened in the evening and yes, it sure did; definitely not at the mid-day drinking time I would have far preferred, but then again, in Muscat bars a serious rarity in the first place – so while we only went there once to nurse some free cocktails we received by virtue of joining the Radisson loyalty program, it was certainly lovely to sit and watch the sunset with a – proper – drink, poolside. So, impressions of Park Inn, this particular venue, and in general? It was so surprising – perhaps because I had built myself up to something truly terrible; but this place offered simple things, very well executed; a good gym, very respectable breakfasts and a lovely pool and bar to cap off a long day sightseeing. Last of all, the staff were ridiculously pro-active – anytime I sat even vaguely looking like I was waiting on a tour guide or a taxi driver, they were on the phone calling whoever it was nearly screaming at them to get to the hotel ASAP within a minute. Park Inn – I was truly left very positively surprised!