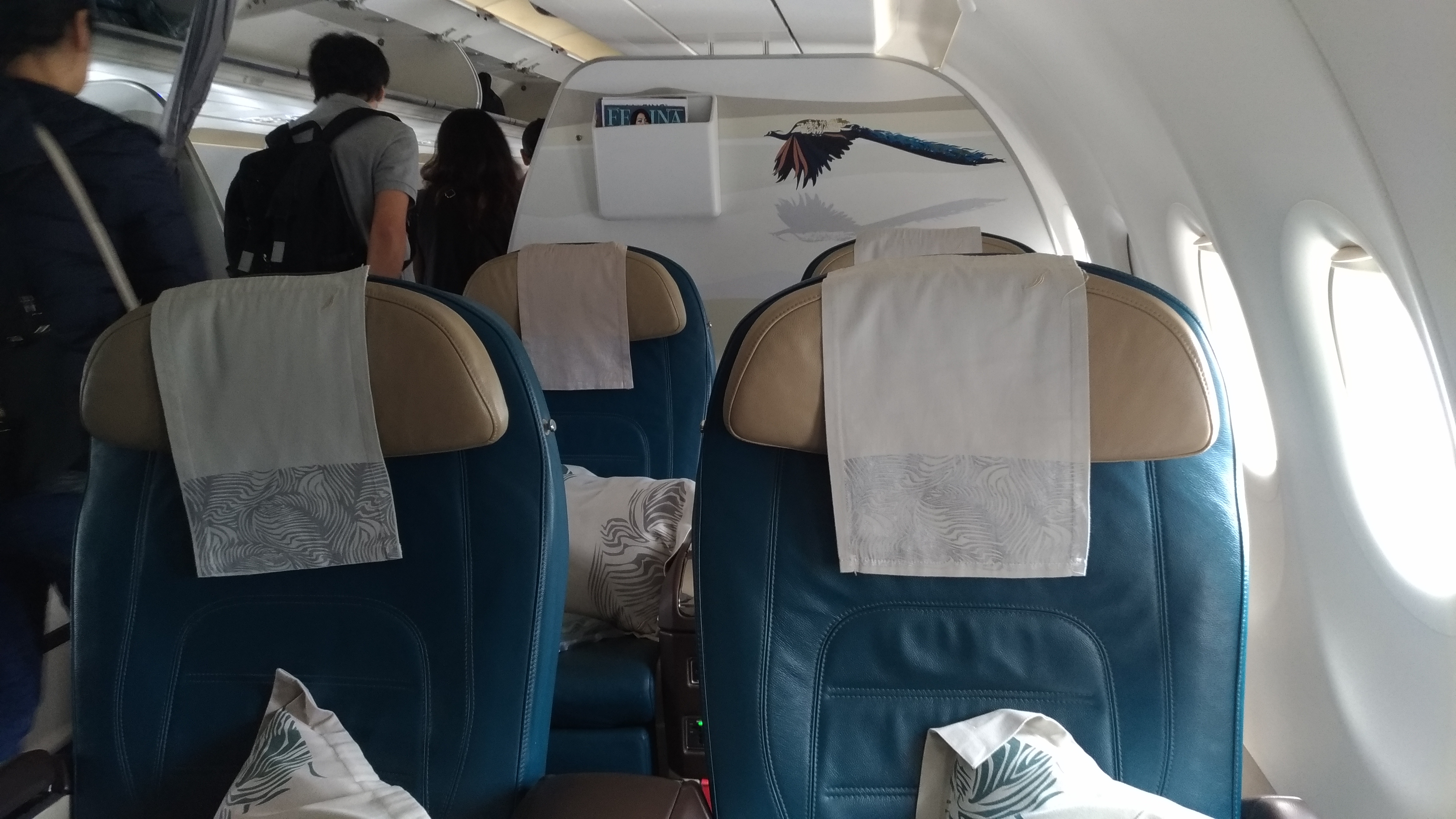 For my journey to Muscat, Oman – to belatedly celebrate Christmas with my mother through Chinese New Year, rapidly becoming something of an annual tradition – my options were heavily limited either to travelling non-stop with Oman Air (who have, as you might recall from my post a few year ago, a fantastic business class), Qatar Airways via Doha, which would've earned me BA miles but cost a monetary fortune, or get the best of both worlds with a trip via Colombo on SriLankan Airlines.


Of course, there was something of a catch – I would be effectively breaking up my journey exactly half-way and thus not having any one journey to sleep uninterrupted for more than a few hours. Second, because each flight was roughly around 4 hours, neither was serviced by a large aircraft; both were Airbus A320/A321's, much like what you might get with AirAsia or Ryanair on a short intra-European route. But – I thought to myself, as I paid for my flights – sometimes sacrifices have to be made for the points!


I arrived to KLIA during a very busy Chinese New Year departure period, but found the SriLankan Airlines desks – all of them – totally empty. I was checked-in and thanks to Malaysia's foreigner e-gates, I was through to the chosen lounge in no time. Having visited the Malaysia Airlines' lounge more times than I can remember, I decided – vastly against my better judgement – to use the SriLankan-provided lounge, the Plaza Premium lounge at KLIA1's satellite terminal.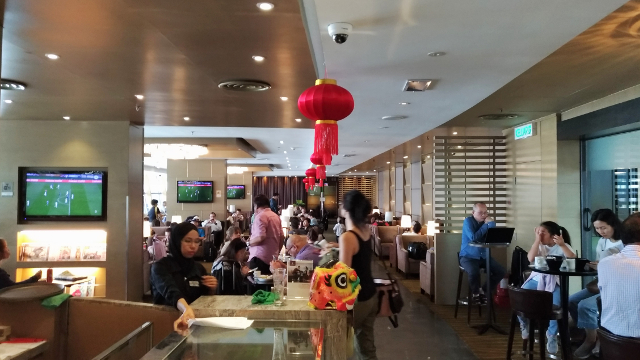 This lounge, and I will try not to be too scathing, was absolutely dire (OK, not being scathing probably isn't going to happen in this paragraph!). It was so full I nearly needed to shoehorn myself in there in the first place – you wouldn't get a gate area of passengers ready to board sat so close together. My boarding pass had been stamped with the highly-desirable 'free flow alcoholic beverages' stamp so I immediately set about getting a drink to make things better, but even there unfortunately there was a completely uncontrolled ordering system of 'whoever shouts loudest', with one bar man working, one hiding pretending to put things in a fridge, and a manager standing there I think complaining about the guests' waiting time, which she was making worse, by just standing there talking.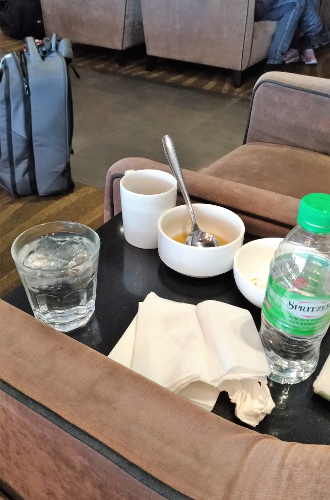 Back at my seat meanwhile – sorry, let me try again – back at the only free seat in the whole place meanwhile, a few guests' worth of rubbish had been allowed to pile up without a clean, so the whole table area was beginning to look more like a landfill than an airport premium lounge. So, sadly, I downed my G&T and called it a day – deciding the terminal would be more appealing than this lounge. A pretty poor start to the SriLankan Airlines business class experience, although it would turn out – in terms purely of ground experience – to be quite prophetic of things to come.


Finally onto the plane meanwhile and things looked up. The seats – although definitely not in the top tier of comfort, and pushing the boundaries slightly for what I would be able to find comfortable for over 8 hours of interrupted flying – were perfectly nice regional style business seats with a pretty decent recline, a footrest, and from 1A, plenty of room to the bulkhead. My one complaint with SriLankan, which unfortunately carried through all 4 flights I had with them was; shocking inconsistency. On the first flight for example, champagne was served on the ground as a pre-departure beverage, which it wasn't heading on to Muscat, nor returning from Muscat – but inexplicably once again on the 7.30am departure to Kuala Lumpur, a time when I hope very few people would want to knock back a champagne.


Similarly, my first crew were entirely full of life and very eager to please, as were the crew returning to KL – the crew to Muscat meanwhile, while not unpleasant, were definitely an example of function over sophistication; once the meal service was cleared both ways (by the one crew member; our CSM or purser was never seen depart from the galley at the front during the entire journey on the flights to/from Muscat) and wine glasses topped up once more, there was hardly a crew member to be seen until landing in Muscat or Colombo.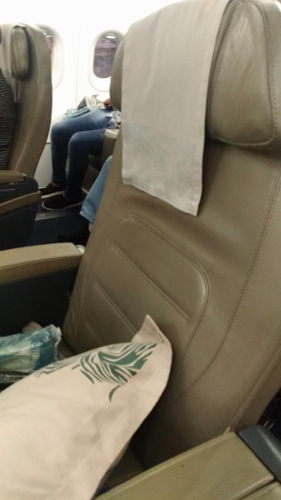 Water bottles were handed out towards the end of my first flight to Colombo, the start of the flight to Muscat, after the meal service on the way back to Colombo and only when I specifically asked on the way to Kuala Lumpur. If a practice does exist around so many aspects of these flights, then it was clearly not followed on any more than one leg of the entire journey.


Adding to this entirely inconsistent service, the two business class cabins on the two separate legs (KL – Colombo/Colombo – Muscat) were also entirely different; with the flight to and from KL having a far more pleasant green/white colour scheme, seatback screen and as I say, pleasant staff. Meanwhile, the flight to and from Muscat had a vastly more dated cabin with old grey seats, no cocktail table between seats and staff who were there more because they needed to be than anything else. Topping off this bizarre series of journeys, on one out of the four flights an amenity kit was handed out with hand lotion, lip balm, ear plugs, etc. – but only on one out of the four flights?!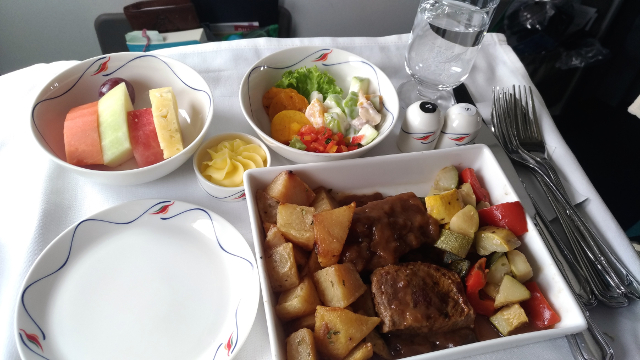 On the plus side, the food on all flights was really very good, there was no issue with requesting more drinks and being kept topped up, and I slept reasonably well for a number of 4 hour flights in a recliner-style seat. The crew – for the most part – seemed very well intentioned, if not particularly polished or with any kind of guideline to how service should be performed and water/amenities etc. to be handed out.
On the downside; just major inconsistency. Different types of cabin, different levels of interest from the crew, sometimes water bottles, sometimes not, a single amenity kit to show from all four flights, an airport (Colombo) that, though not their fault, is not pleasant and very outdated and finally – and this covers every aspect of the journey – some of the more unpleasant lounges I've ever spent time in in the form of the KLIA Plaza Premium (way too packed and not appropriate for a paid business-class traveller) and Colombo's home Serendib lounge (good offerings, but outdated and tired looking). The only one that looked decent was the PrimeClass lounge in Muscat, which unfortunately – and oddly – I was unable to guest my mother into as a OneWorld Sapphire member, so of course decided to give it a pass.


So would I do SriLankan again? For the right price, yes I would – but this is a real problem, because I only flew them this time for points and an amazing value fare over and above the likes of Qatar & Emirates, and honestly, it's the only way I would considering flying them again.