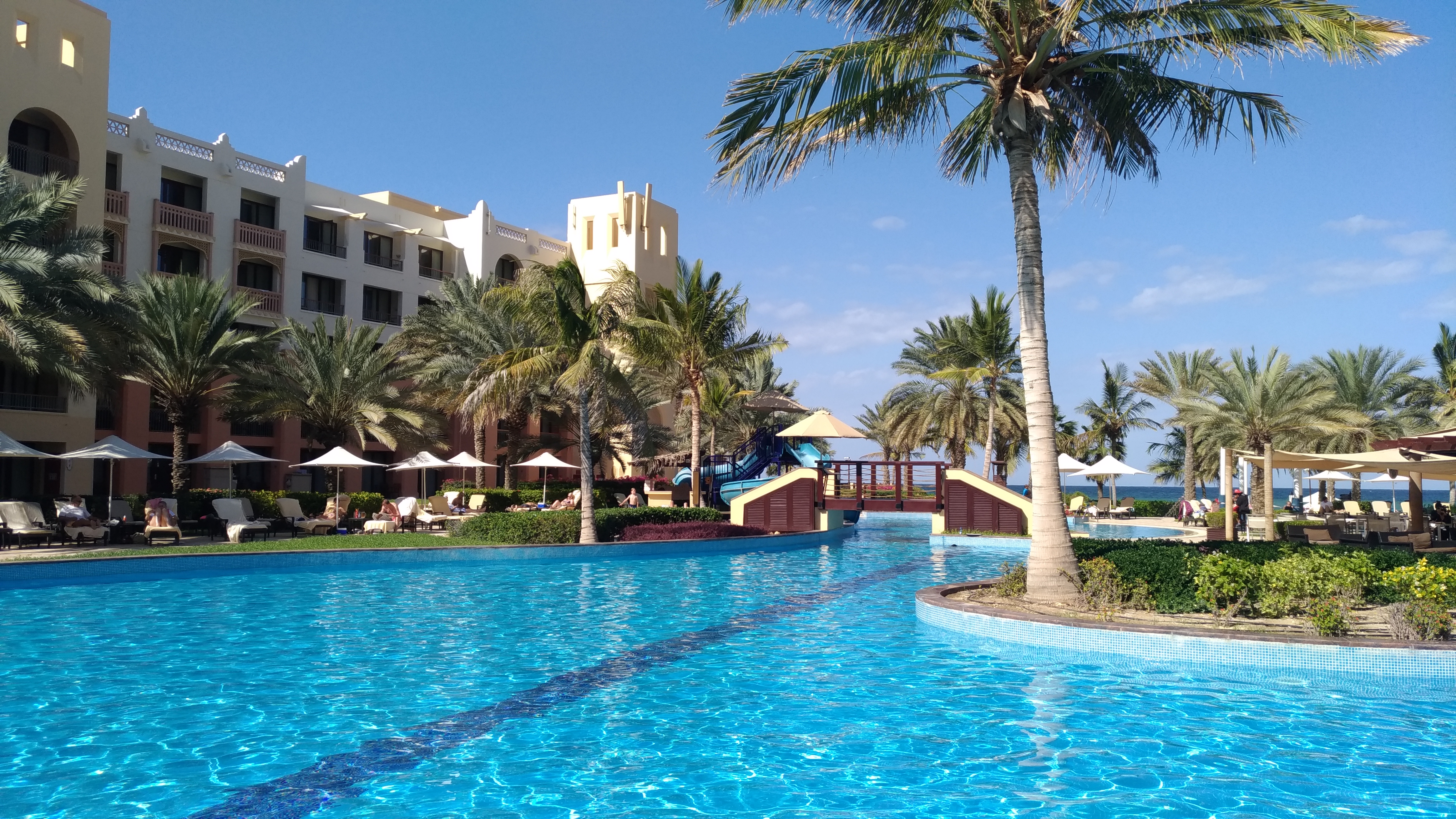 For the first-half of this years Mother/Son trip to Oman, we opted to stay downtown – as I covered earlier, at the surprising Park Inn by Radisson – and then go for total luxury for the second half, down at Muscat's Shangri-La Resort. Needless to say, things got off to a questionable start, after I decided that rather than trying my luck haggling with the local taxi's, to use the local Omani version of Uber.
The result? We were picked up off-property (as these private hire cars are not allowed use lobbies for pick-up) and driven to this stunning property in a car that felt like it had been long-since held together with sticky tape and prayers.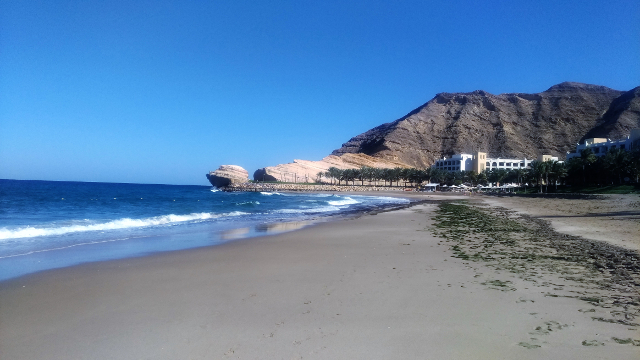 Arriving to the Shangri-La, we ran into a small problem; on-site, there is the Shangri-La Barr al Jissah and the Shangri-La Al Husn. What we didn't realise, was that within Barr al Jissah there's actually two very separate hotels; Al Waha and Al Bandar. Needless to say, we were dropped off at Al Bandar. Nevertheless, we welcomed in, given some refreshments and told to wait for a private transfer onwards.
Al Waha, while not as glamorous upon entering as Al Bandar – and also, having a much more 3-star like reception area, if I'm honest – otherwise complied beautifully to the usual Shangri-La standards of cleanliness, consistency and friendliness. Walking to our room, it definitely like the oldest of the trio and the more family-friendly; but as I say, was stunningly well-kept. My room, an Executive Sea View Room, came with beautiful sea views interrupted only by a handful of palm trees.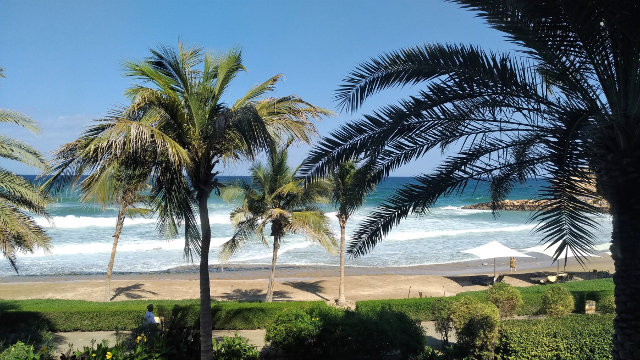 If I was to level any criticism towards the room, it would be down to small – though important, considering the price – things. The furniture for example, felt pretty old and dated – while the water, despite Shangri-La's frequent presentation of their environmental credentials, came in plastic bottles compared with the much more durable and aesthetic glass bottles of many of the other properties.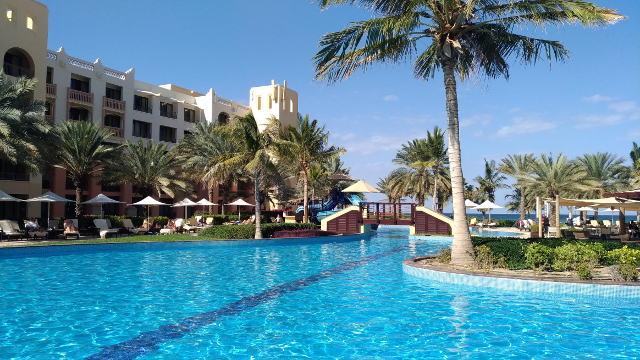 Outside meanwhile, and the facilities and surroundings spoke for themselves. The pool area was well suited to its standing as a family hotel, but did have sufficient areas where only adults seemed to venture. Needless to say that, as an Irish family on holiday, Assira, the pool bar, was one of the first stops on our tour for lunch and it too didn't disappoint. A word to the wise though; don't eat too late – what we discovered was that afternoons in Muscat cooled down rapidly into evening and by the time a late lunch was done, there may be no time left to go for another swim without suffering near-hypothermia.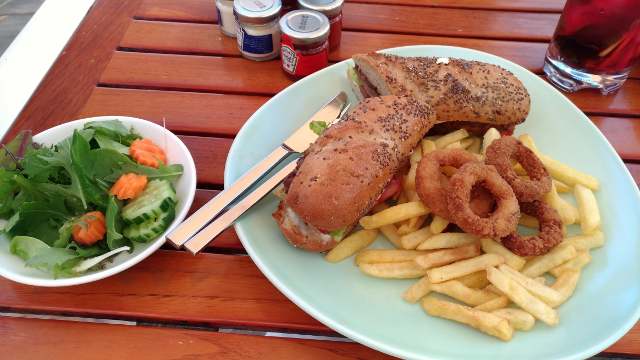 One good thing to mention about the pools by the way – in general, though you may need to ask if late in the day, is that they will also give you a cooler box of ice waters to keep you from melting in that hot Omani sun.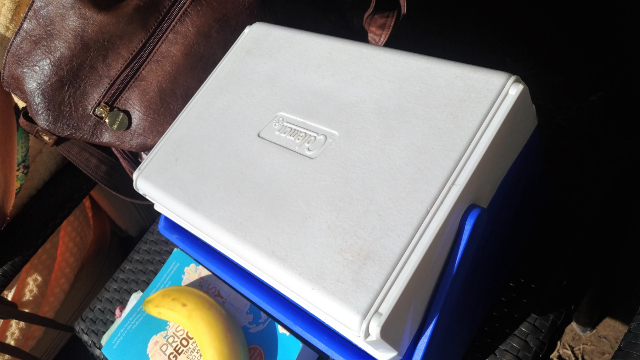 One of the greatest novelties of the entire property and worth well-mentioning, considering I used it at least twice a day, is the lazy river. You could grab a tire, sit in and spend an easy 40 minutes floating from one hotel to the other and back. Incidentally, the only two issues with the lazy river was that it took a long while to do the full tour and I frequently found myself flapping like a bird trying to take flight to hurry things up slightly considering the route runs mostly in the shade – and secondly, despite the presence of a number of huge pools right nearby, the amount of families and kids who just stood in it and walked along the channel.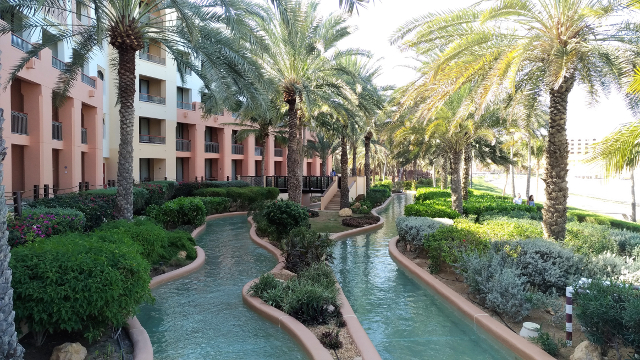 The sea views right across the entire bay were spectacular, and the property makes for truly wonderful sunsets, hemmed in as it is by that alien-like local Omani rock on all sides.
For dining, we tried Bait al Bahr, the in-house seafood restaurant. The food was spectacular – but I'm a little saddened to say that service at what was maybe only 50% occupancy was pretty poor, and we did have to keep asking to be able to order, where was the wine, etc. Considering the clientele, the price-point and the position of this restaurant, I was a little underwhelmed. Thankfully by the time our food was ready, occupancy had dropped even further and with little to do, nearly all attention fell on us as we tried to crack open our sea bass buried deeply underneath a layer of hardened sea salt (and delicious, by the way, in spite of the shady service).
The second night, we gave the buffet at Al Tahnoor a go. Likewise, service was very gentle and delicate to come by – and when we did manage to order a bottle of wine somewhere around the first course, it only showed itself somewhere around the third course. Once again, the food was fantastic and I could barely move for the rest of the evening. Al Tahnoor offers a buffet across multiple middle east-focused cuisines.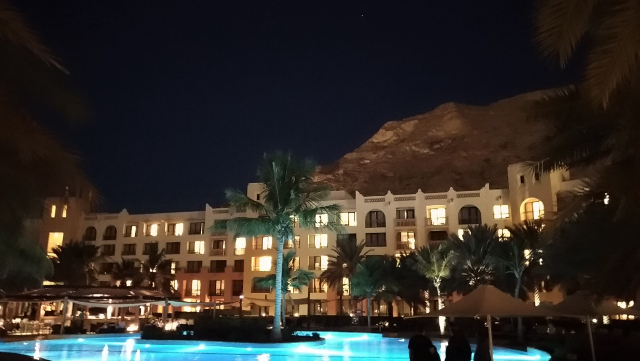 On our last day, unfortunately late check-out wasn't an option (not that I'm sure it was given much consideration either, as we were told without a second delay that it wasn't possible) and once again, lacking service for a 5-star property entered the fold; some managerial type near check-out informed me he'd 'take care' of everything including our luggage storage (I did get a ticket for that) and a taxi to the airport later that evening at 8pm and after a brief check-out, we returned to the pool with our temporary access card to use the gym, showers, etc.
So, guess what? After sitting from 7.45pm in the lobby until nearly 8.15pm, we checked with the concierge and found that there was no taxi ordered for us at all.
So, my conclusion? Brand Shangri-La have a stunning site here, with beautiful hotels that are mostly ageing well and sea views to die for. I would gladly head back any time, in spite of the eye-watering prices even vs. other Shangri-La properties. But the service level (with the exception of room-keeping, the pool bar and facilities) really needs to step it up and put some proper effort into it. Otherwise, one of the jewels in Shangri-La's crown.