I've been to Port Dickson a handful of times, and each time leaves me with the same impression; the whole place is a vaguely run-down beach town so close to Kuala Lumpur that it could be fantastic – if they found a way to do something with all the run-down, gaudy looking guesthouses lining the road, painted in multiple garish colours, and preserve and maintain the fantastic coastline and beautiful beaches they do have.
In its strong favour, Port Dickson doesn't even have an obvious 'town centre' for tourists in the way that Penang has Batu Feringgi – I mean this as a compliment to Port Dickson, as it feels far more rural and less overrun with tourists.
But on the downside, there are very few upscale resorts, and the PD Waterfront area, which represents the highlight of tourist 'downtown', also seems vaguely past its prime even though it looks quite new, and doesn't have a whole lot to offer beyond international and local well-known brand eateries, and a night food market (which is where we headed).
With that rant over and done, you wouldn't imagine it would be somewhere I'd be dying to visit (and you'd be right), but after hearing there was some good hiking to be had at a place called Bukit Batu Putih that also offered some spectacular beach and ocean views, I was sold. So, off we went.
I'll write another time about the accommodation for the night – D'Wharf Hotel – right near the aforementioned PD Waterfront. In my defense, this trip was planned about 3 hours prior to arrival and prices were pretty steep considering where we were headed; even cheaper value was to be had at some extreme budget hotels, but unfortunately my preference, the Thistle, was well beyond range. Anyway, as I say, I will write a proper review another time but suffice to say that yes, it did the trick for one night, but the noise of the night market that went on right through the evening combined with the paper-thin walls throughout left me not exactly burning with desire to return.
So, onto the hike – to find the hike, the best way to get there (which we were completely unaware of) is to actually just set a course for the PNB Ilham Port Dickson, the outskirts of which (i.e. the grass verge outside) represents the sole car park for the hike trail. While I've come to accept (that's not actually true, I just argue and cause less contention than before) that I will mostly end up paying somewhere between 2 to 5 times the local entrance price in Asia generally, readers will be glad to know the 1RM entrance charge is for everyone.
The hike kicked off with a long, never-ending slope up a winding tarmac road. I keep thinking I mean to buy a drone, but only so that I can send it up and see how long some of these trails go farther for, so as to decide whether it's worth it or not.
At the very top of the trail is the lighthouse, which sadly, is closed to the public and offers zero views. But, swinging a right by a sign just about 30 – 50 meters before the steps up to the lighthouse takes you on what feels like a long, well defined (but not paved) trail along out the far reaches of the mountain top, before opening out to a rocky climb for maybe 10 meters or so to reach the peak – whatever shape you're in, do it. The journey is literally worthless without this last step of potentially death-defying exercise.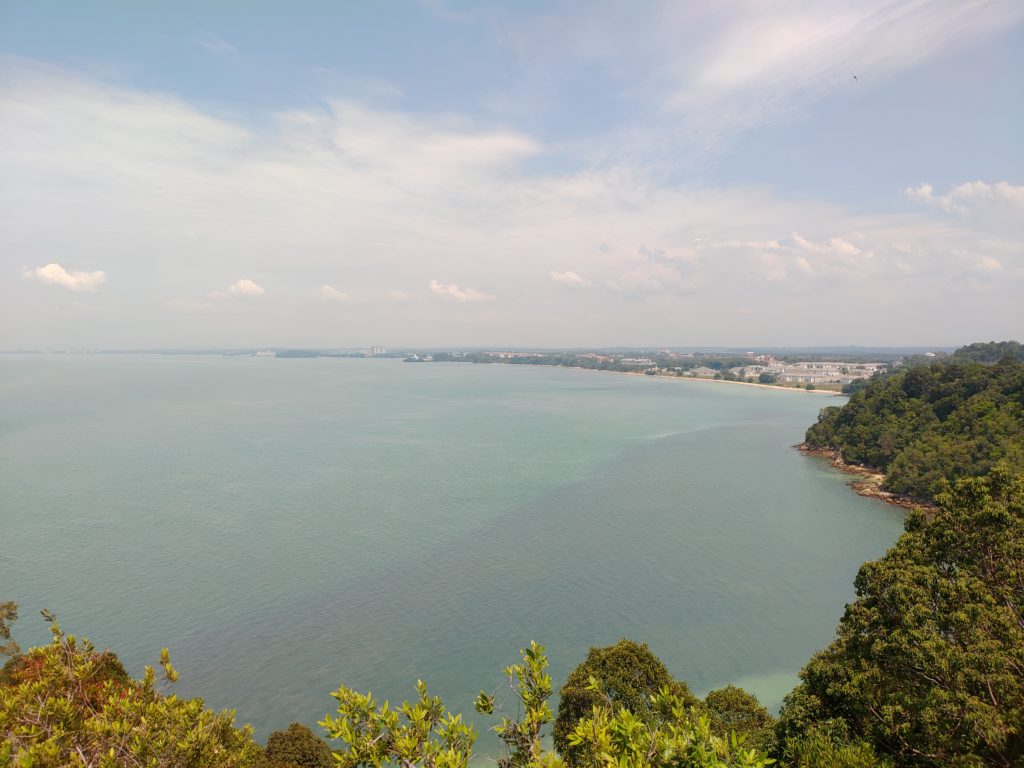 See what I mean? I actually didn't even know Port Dickson could offer such stunning views and such calm, clear waters. I'd almost be tempted to come back just for the beach.
Speaking of beach, while the picture here is lovely, the temperature was soaring and like all good pasty white Irish citizens abroad, I do not tolerate such intense heat well or attractively, and was now wandering around the rocky outcrop half blindly, with sunscreen running from my head into my eyes, looking distinctly ridiculous, arms appropriately flailing. So we needed to urgently find a way down to the beach so that I could jump in quickly and thus prevent my head from looking anymore lobster-like.
Heading back the way you came from the rocks, make a sharp left immediately after coming down off the rocks and back onto the trail. The trail down to the beach is so sharp, it looks more like a mountain bike trail, or something you might push a wealthy, elderly relative down and descending it wasn't much fun either. Despite many hikes now in Malaysia, I still clamber down slopes and hills with all the grace and panache of a debt-collector emptying out a house.
After about a 15-minute walk for my loyal readers (or 10-minutes of being the human equivalent of the ball in a pinball machine literally bouncing off random obstacles), one reaches the beach. What a beach – as I say, this visit to PD was eye-opening, as I had absolutely no idea one could find such stunning coastline and beautiful ocean in a place otherwise surrounded by hotels in dire need of a lick of paint, and random food stalls.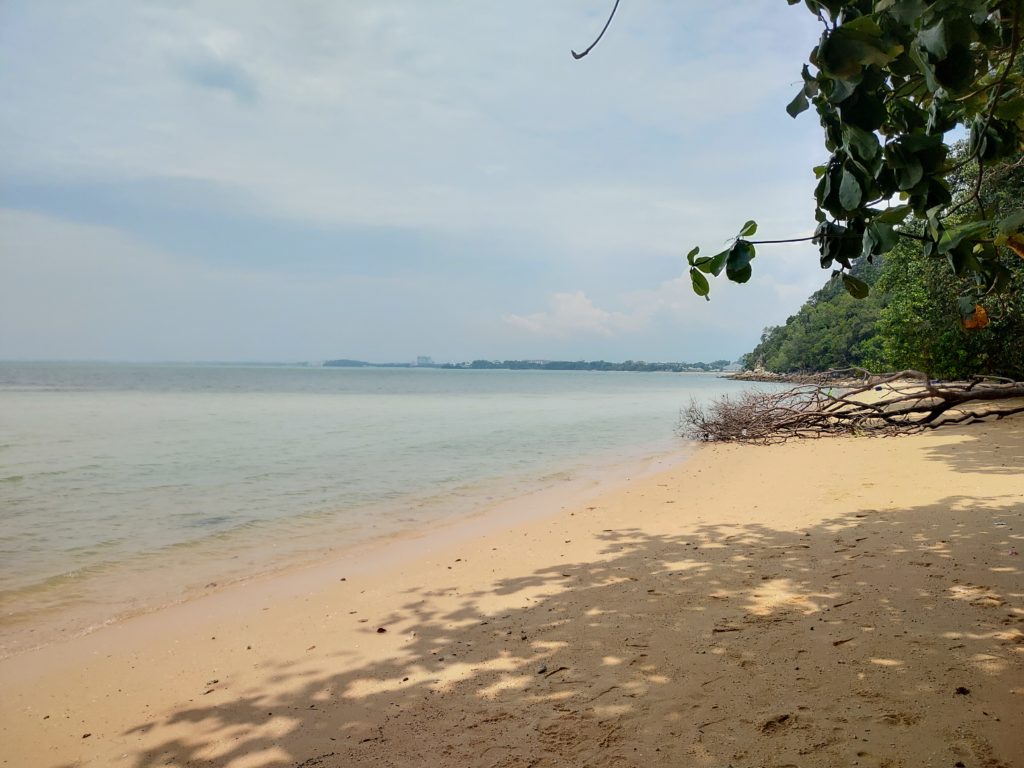 The best part of the beach – it was practically empty. From end to end, there were probably less people all together than anyone would be bothered rescuing in a high tide. So, you can sit and chill, take a book (probably take a few beers, if we're being honest), hop in the water, whatever for as long as you want – and soak in the sun and the peace and quiet.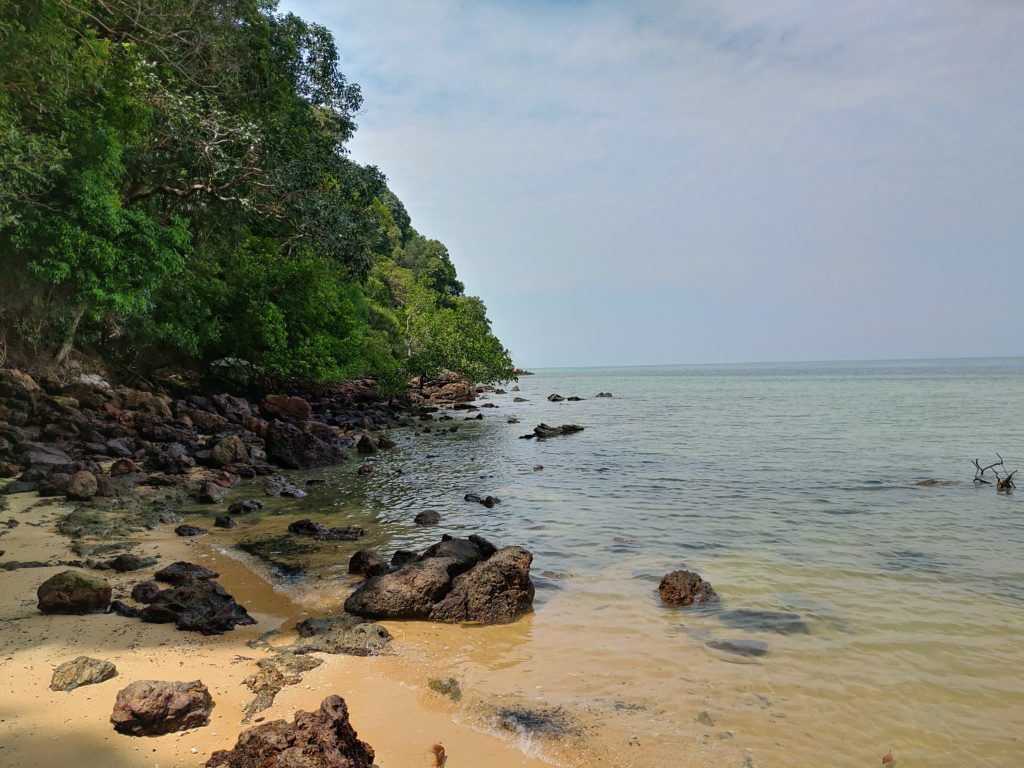 Unfortunately, with it being a working day tomorrow, we eventually had to call it a day and head back, with great sadness but I highly recommend a trip to Bukit Batu Putih whenever you find yourself in Port Dickson and fancy an escape to some beautiful, relatively untouched nature and a view of the coastline and beaches you can't even imagine would exist…