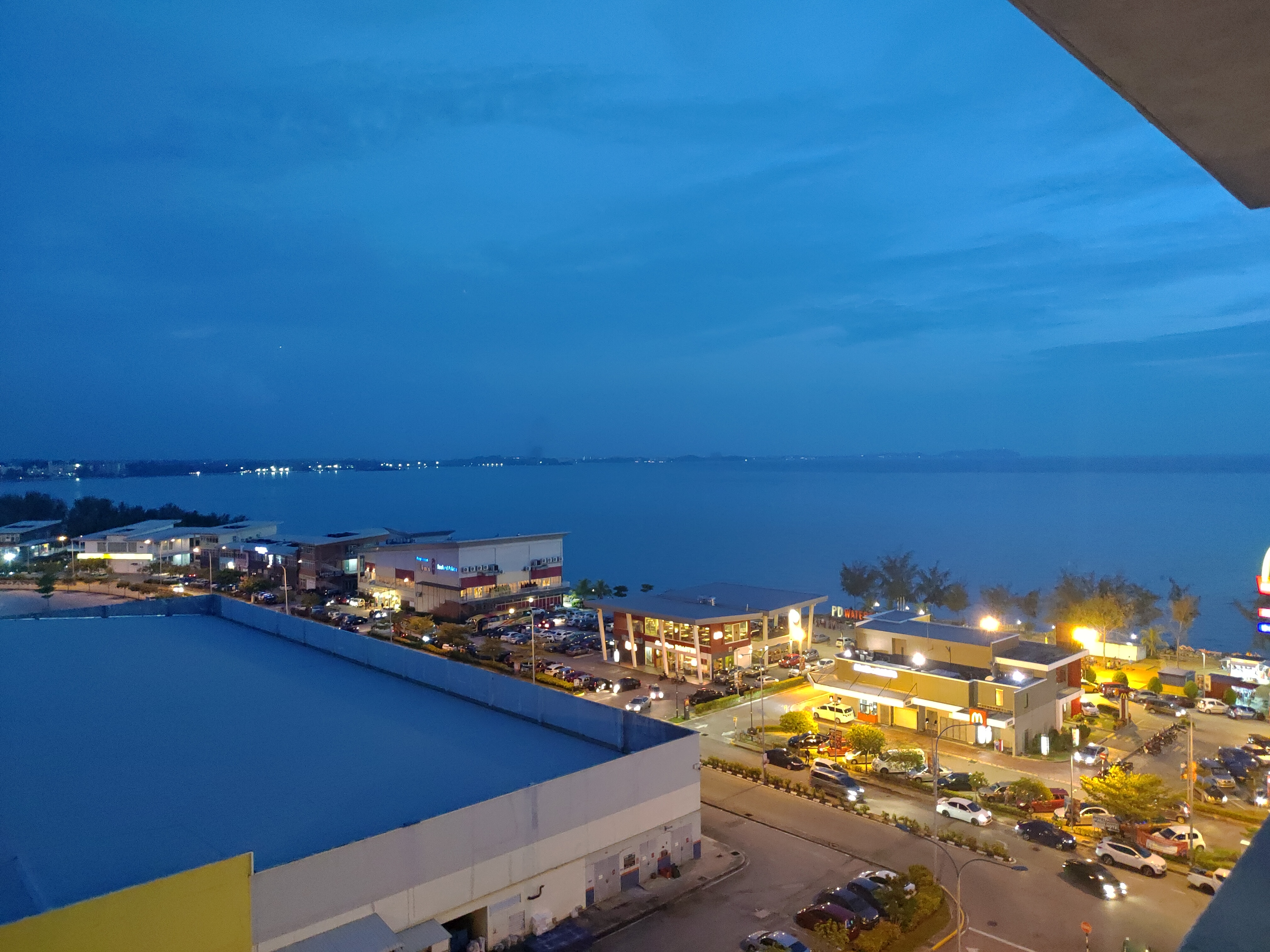 As I mentioned in my last post, a last-minute decision to hit Port Dickson, a small coastal town about an hour from Kuala Lumpur, meant that my preferred choice of residence, the Thistle, was no longer within any kind of acceptable budget – and so I had to act quickly.
It's amazing how your perception of properties can be clouded in a way opposite to what was intended; I initially looked at budget hotels within Port Dickson, but nearly all seem to have 'Oyo' branding. I'm not really sure where Oyo as a brand came from – I just know on the business-side, it has something to do with deploying standard furnishings and a single booking system across multiple formerly-independent budget hotels – but I mostly know them for the incredibly room-by-the-hour super sketchy properties in shady areas they have here in Kuala Lumpur. So, even though I think the idea is to give customers a feeling of quality or perceived expectation; it actually works the opposite for me, and put me off entirely.
So, in the end, with a pool, car parking and a decent location, I settled on the D'Wharf Hotel & Serviced Residence, which to its credit is nearly sitting in the water it's so close, right amongst the modern urban-regen shoplots of PD Waterfront.
First things first; the lifts are truly atrocious. There are two – of the world's slowest – lifts serving the reception (which is on level 3), and all room floors above, plus all rooms below down to ground-level, where everyone has to begin their journey from whether they wish to access their room, or just go to reception. Whoever thought this was a good idea should immediately give back their design qualifications – in the end, it is far faster to walk up or down the car park floors by stairs or even the ramp if you have been unable to secure a space (as we weren't) on level 3 itself. Confusingly, inside the lifts, the floors have been segregated by L1, L2, L3, etc. and then above those, 1, 2, 3, 4, etc.
Check-in was swift, no deposit was needed, but at a property of this calibre, don't expect any kind of porter service or assistance with the luggage. The building, if you can imagine it, is like a huge U, in which the middle of the U contains the swimming pool; it's a nice design overall, but makes for quite complicated wayfinding when it comes to locating your room the first time. As I would also come to learn while trying to sleep the next morning, it also allows the screams and noise of kids splashing in the pool to have far greater effect than it would otherwise.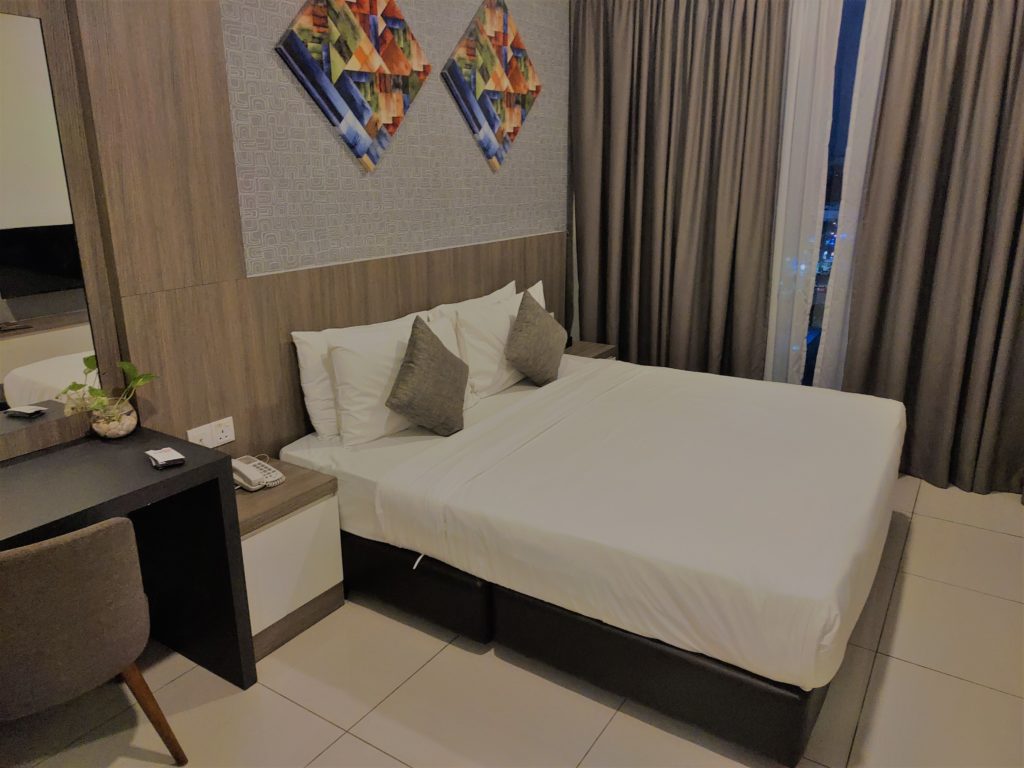 The room for the price was exactly what you might expect; pleasant, but not over-welcoming or mind-blowing by any stretch. It was clean, reasonably cheap and cheerful.
Amenities were limited to a kettle and some bottled water, while the bathroom had some shower gel, a bar of soap and a few towels that were somewhat approaching threadbare status (but still perfectly functional). Unfortunately, the drain refused to perform efficiently and the bathroom came close to a great flood until I decided to yank out the drain cover entirely.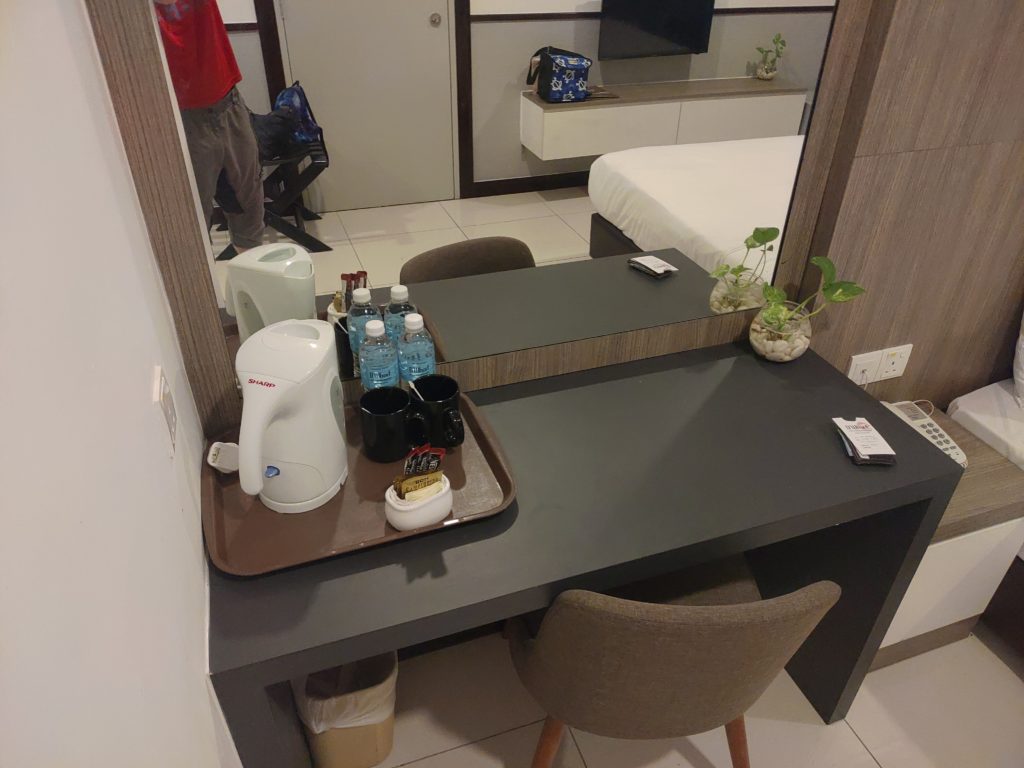 The room had a balcony, which is a very welcome amenity and something I feel like I don't generally see enough of in Malaysia, considering the climate. Unfortunately, in spite of the balcony, nobody had thought to include any chairs out there and secondly, the view was either a gigantic supermarket roof and a gravel pit nearby; or else the same gigantic supermarket roof and out towards the ocean (see the top of this post for that slightly nicer view), which was far more pleasant, even than it sounds like it should have been.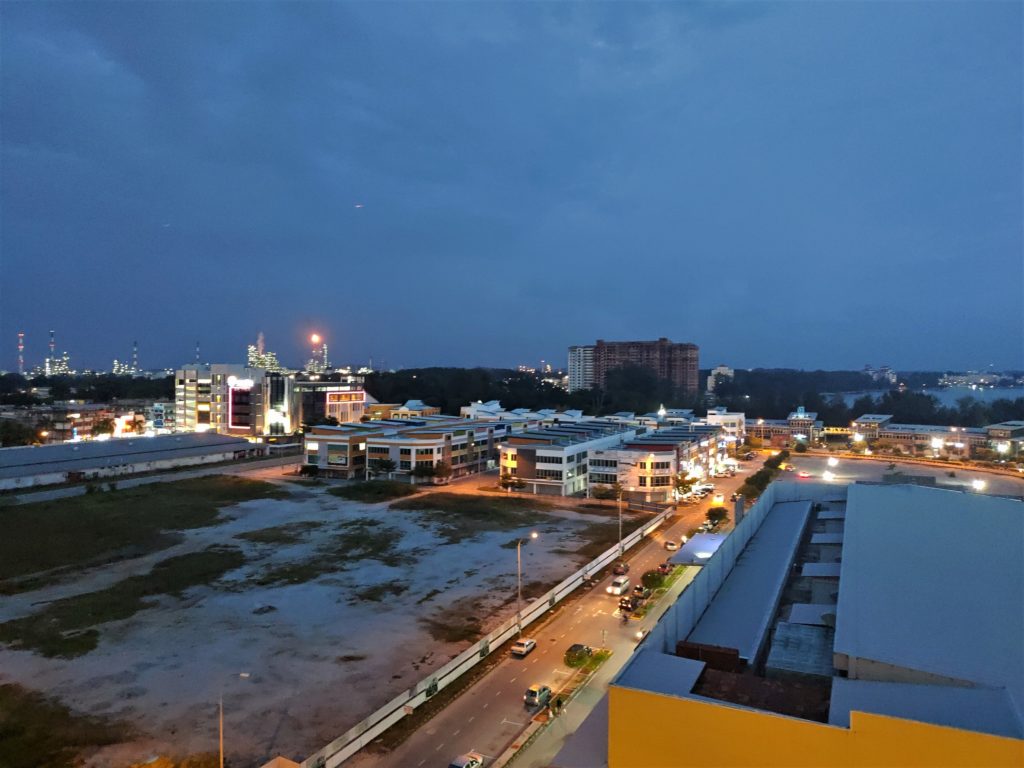 What I didn't realise however was that, while there is a pleasant food stall street literally right outside the hotel in the evening (hopefully it is limited to weekends, and you'll see why in a moment), there is also live music – most of which was reasonably pleasant. However, at a few points throughout the night, they opened up the mic to anyone who wished to serenade the crowd. By now, after dinner, I was midway through enjoying a bottle of wine on the balcony – trying, but failing to take in the sounds of nature – when this aural monstrosity began. Someone had taken the mic, and it was truly awful. The less said, sincerely the better.
But it went on and on, and even from the side of the building where the room was located, the music could be heard, occasionally interspersed with particularly awful singing, until very late in the night. Finally, it all came to an end and yielded to silence – for a few hours until the aforementioned pool noise at the crack of dawn the following morning. I think I may have packed up and left even more fatigued than originally, unfortunately… Overall though, D'Wharf Hotel offers pretty much exactly what you might expect for that price range, but was let down for me, by the ridiculous lift situation, the general maintenance around the place, and the noise so audible from within the room (I dread to think what it's like from the front of the building). Would I stay again? Maybe in a fix, and for the right price – pretty much the same situation as this time – but would I rush back? Hmm, probably not.