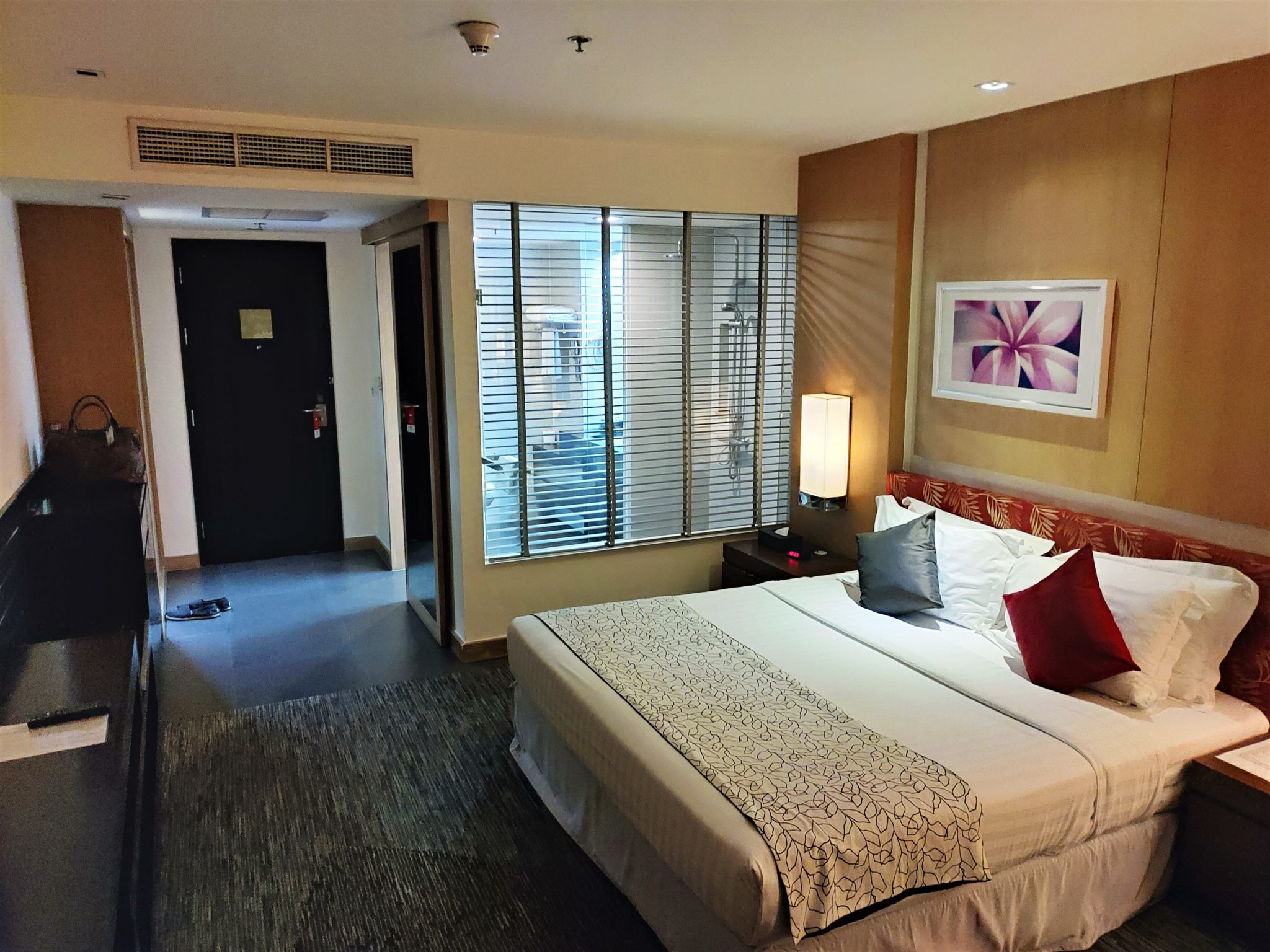 One Night in Bangkok; Amaranth Suvarnabhumi Review
Between my Royal Jordanian flight into Bangkok, I had about 8 hours exactly before needing to check-in again for my flight onward to Muscat, and then Munich. Bangkok Suvarnabhumi Airport has a Novotel within walking distance, which was really exotically priced considering prices in Thailand overall; or there were also a few 'sleep room' type-accommodations also within the airport. While my preference would've been to stay on-property, I decided to break out and save some cash by staying nearby, rather than directly at, the airport.
Enter Best Western Amaranth Suvarnabhumi – apparently nearby, much more attractively priced, with a shuttle from the airport, and looking very decent.
The shuttle driver, confusingly, was not at my exit into arrivals in the airport and I had to go for a bit of walk to find him (I didn't realise there were multiple exits), and unfortunately, there are just so many drivers and hotels waiting to receive guests in Bangkok that finding the one you're looking for is nearly always like finding the needle in the haystack (who's ever had to actually do that, by the way? I've always wondered who did this to begin with, for this expression to become accepted. Anyway…).
After another guest joined us, we made our way out to a waiting minivan and off down the road. Truthfully, the drive took about 10 to 15 minutes; it certainly wasn't right next door. More out of the airport, way down a highway for a bit, then a left and about another 10 minutes that way through some township.
Reception was jam-packed – even at this late hour – with Chinese bus tour guests milling around, and in a few cases it seemed, trying to pick arguments with the reception staff, including trying to stand in front of me when I was mid check-in.
The whole building is arranged in a big semi-circle, with reception in the middle and my room – a few floors up – towards one end of this shape, making for quite a lengthy walk.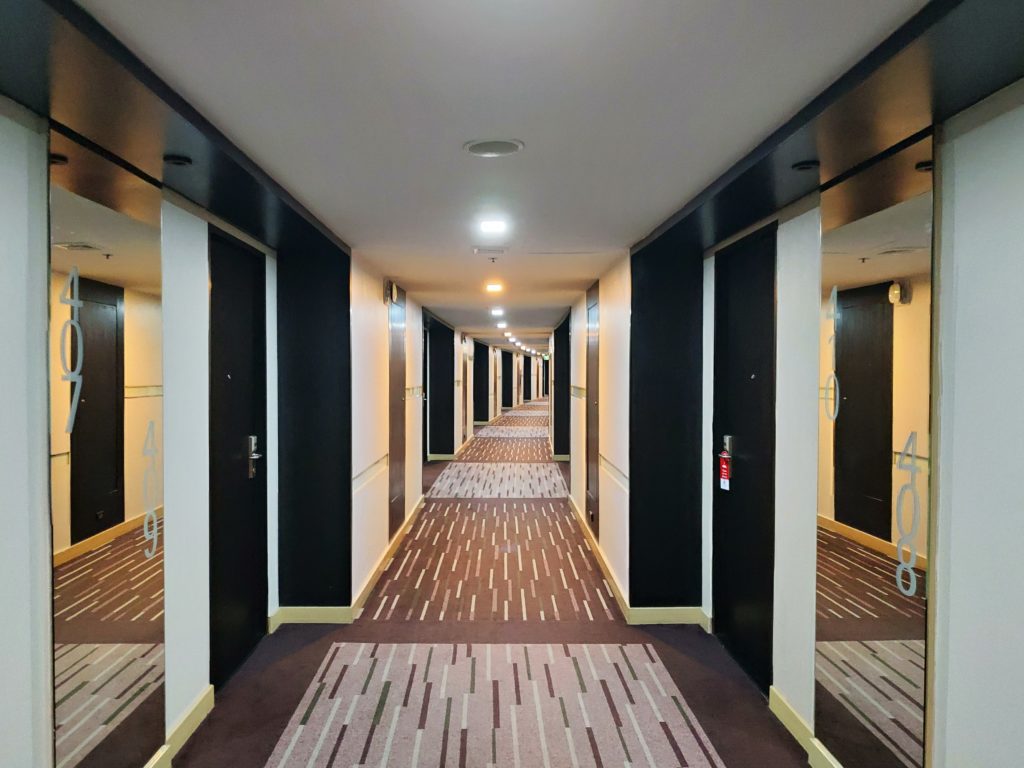 First impressions of the room – standard size, clean, and reasonably well thought-out. I'm never a huge fan of bathroom windows back out into the room, but there were blinds; along with two bottles of complimentary water, toiletries, etc. Pretty much everything you might want for one – very – short stay.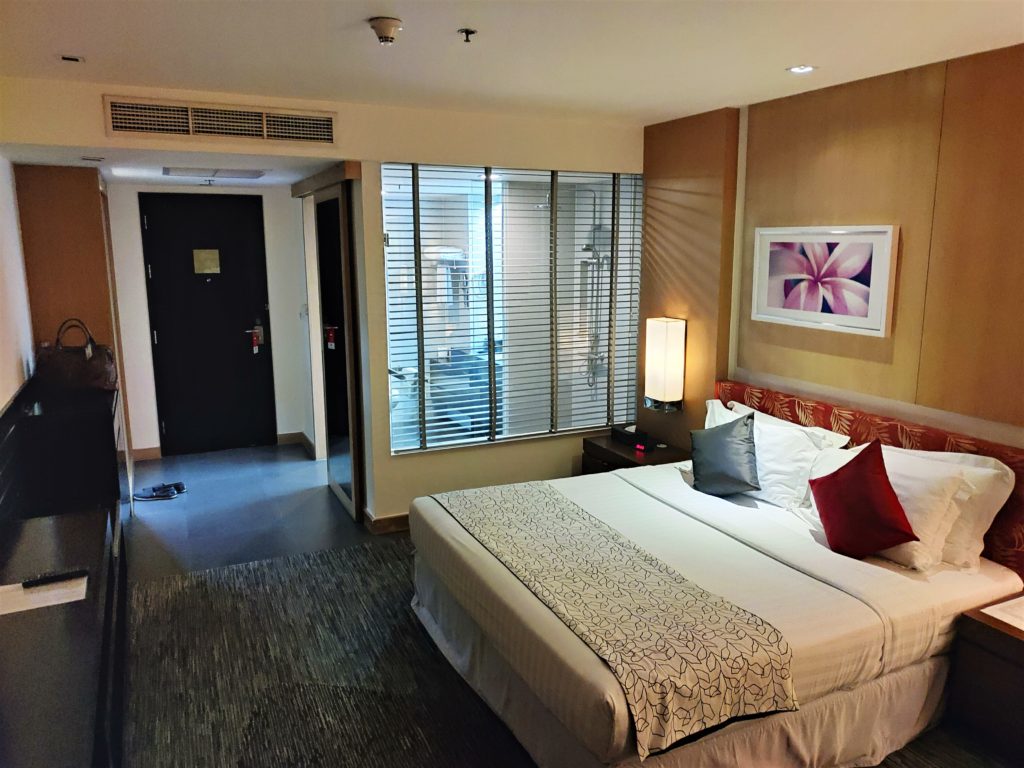 The night however, was made slightly less refreshing than I had hoped. As it turned out, there appeared to either be some kind of event (e.g. a wedding or similar) taking place, or else just some unruly guests – and I was woken on several occasions to ear-shattering renditions of songs with which I am unfamiliar sung loudly either outside or in the corridor; in my startled confusion, I couldn't really tell quickly which. It did turn out though that the hotel had some kind of conference or event building right in front of my room a few floors below (I know, because I saw some guests hanging out in there early the next morning).
I know this isn't the hotels fault, and something that's pretty difficult to control, but for a hotel putting itself out there as an alternative to an airport hotel where you almost surely are looking for a good rest, this was a big disappointment.
With sleep such an evasive commodity, I eventually hauled myself out of bed and down to the gym for a quick pre-flight workout. While the gym isn't staffed and is on the compact side, it was well fitted out and had pretty much everything you might need for a quick fitness session.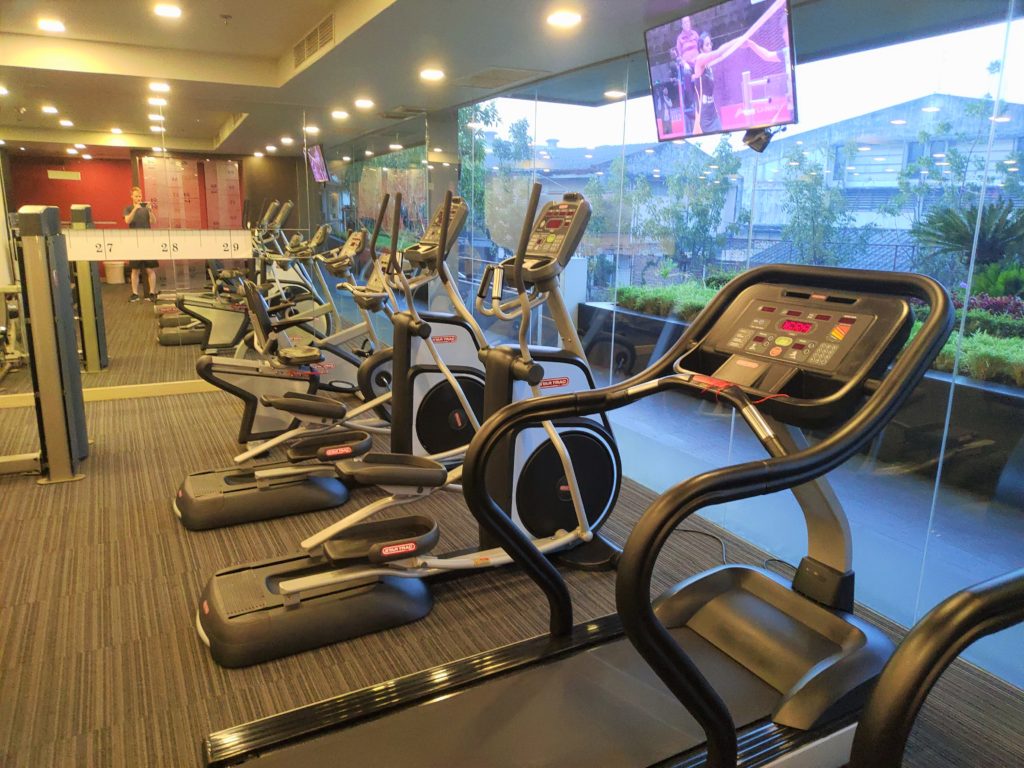 Getting to the gym also took me past the main restaurant used for breakfast (as well as the aforementioned conference venue, where a few guests continued to linger), which looked very clean and pleasant.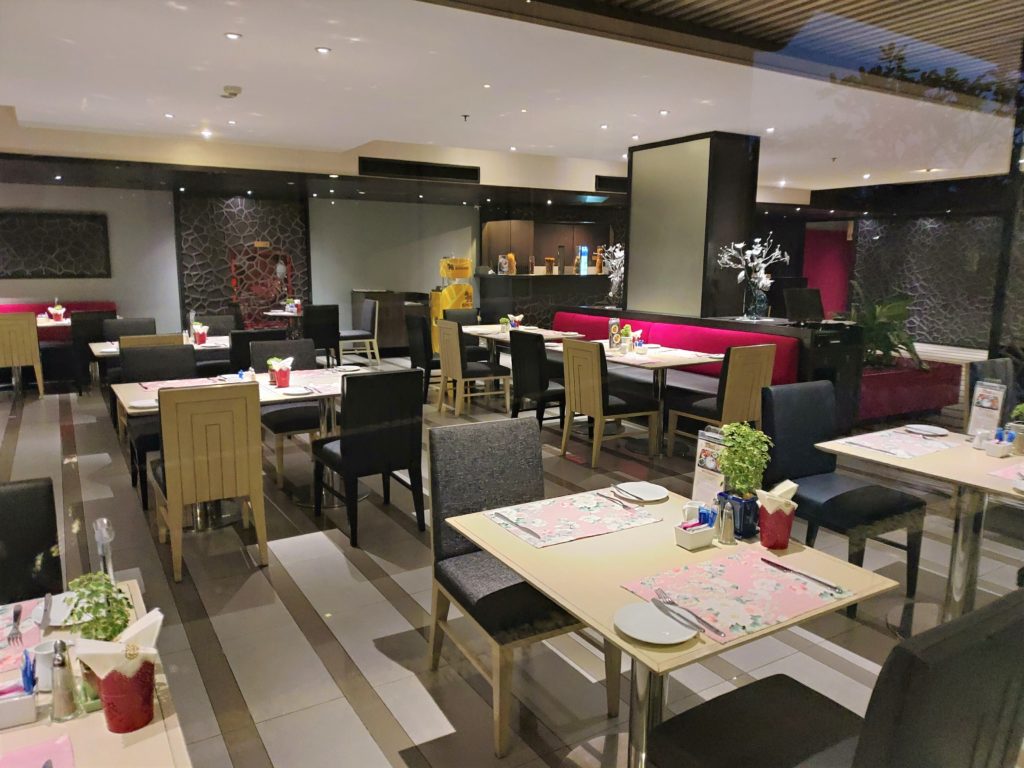 Check-out was quick and I was reconfirmed for the shuttle and told to take a seat. Already at this hour, there were 3 coaches backed up and tons of guests (it seemed like the wedding party, to be honest) milling around reception.
If the drive felt longer than expected the night before, it really seemed to take a while the next morning and was probably closer to 20 to 25 minutes' drive to the airport. Definitely something to bear in mind if your departure will have you leaving the hotel in the middle of peak hour morning traffic (as I was). So how about the Amaranth Suvarnabhumi? Overall, this hotel has everything you should need for a transit stop or a quick one-nighter between flights; clean, spacious room with good amenities, and a location not too far from the airport. Unfortunately, on my visit, it also had quite a bit of noise and a slightly longer drive than I expected (not that it caused me any problems), but on balance, considering the price I paid vs. the actual airport hotel, it was well worth the money and I'd gladly stay again if I had need to.