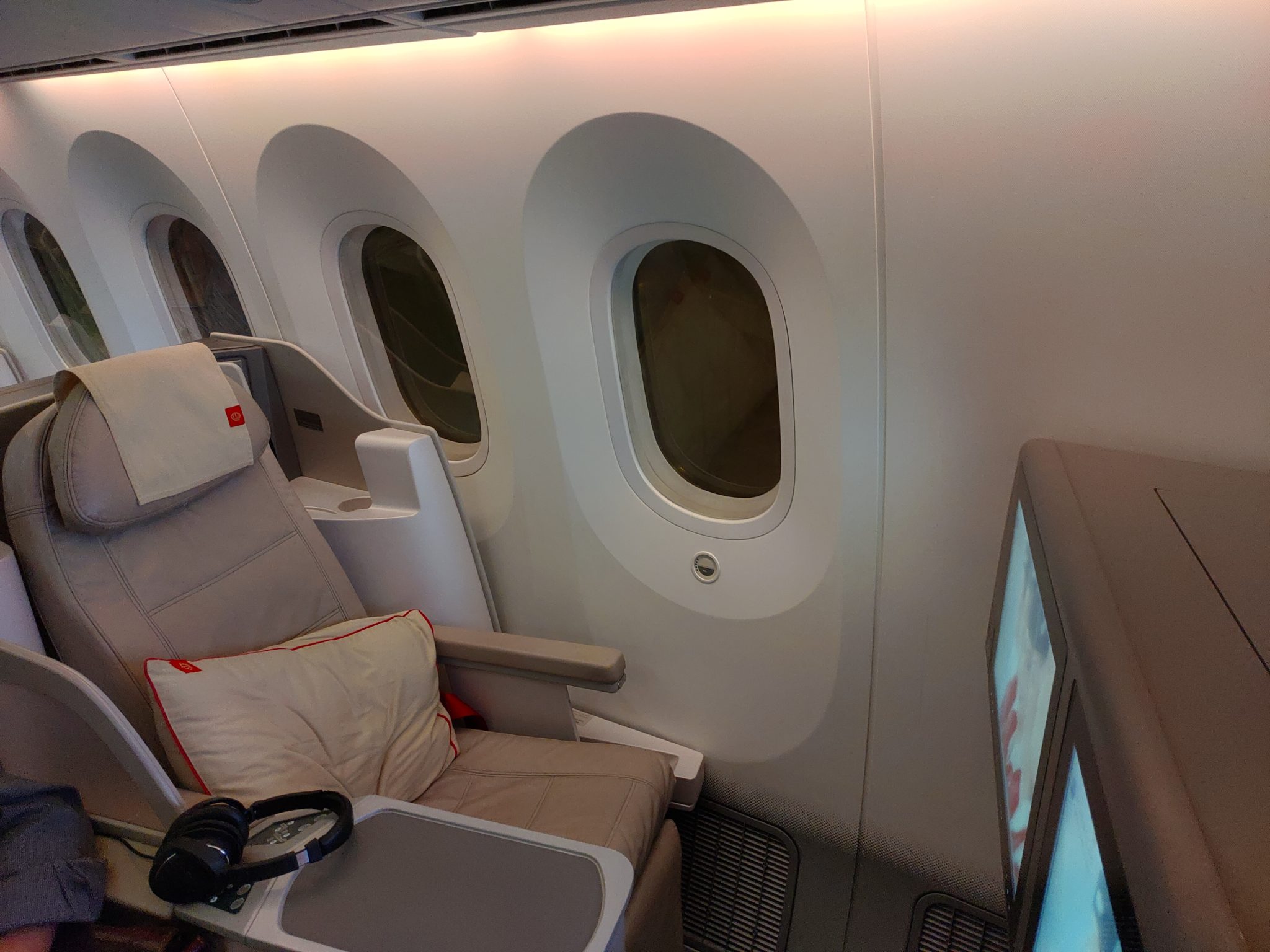 This year, my Christmas trip back to Europe had to begin (and ultimately end) in Bangkok due to the presence of an outrageously good business class fare with Oman Air, so I had to get a little creative to not spend really any more money while still travelling ideally in business cabins.
For British Airways Executive Club members like myself between Kuala Lumpur and Bangkok, the default option will be Malaysia Airlines in terms of redemption opportunities, but curiously, Royal Jordanian also offer one flight a day to Bangkok, and then on to Amman, which had business award availability – and since I so thoroughly enjoyed my last so-called fifth freedom flight a few years ago, I decided why not.
Check in didn't take long, and RJ – as they like to self-style themselves – use the Malaysia Airlines golden lounge. Normally this is my preference; especially after the absolutely ghastly Plaza Premium lounge SriLankan sent me into that was more like a prison camp than a space to relax, but in this case the Malaysia Airlines lounge was also – considering the warehouse-like size of it – struggling somewhat against the demand. Put nicely, finding a seat proved remarkably challenging.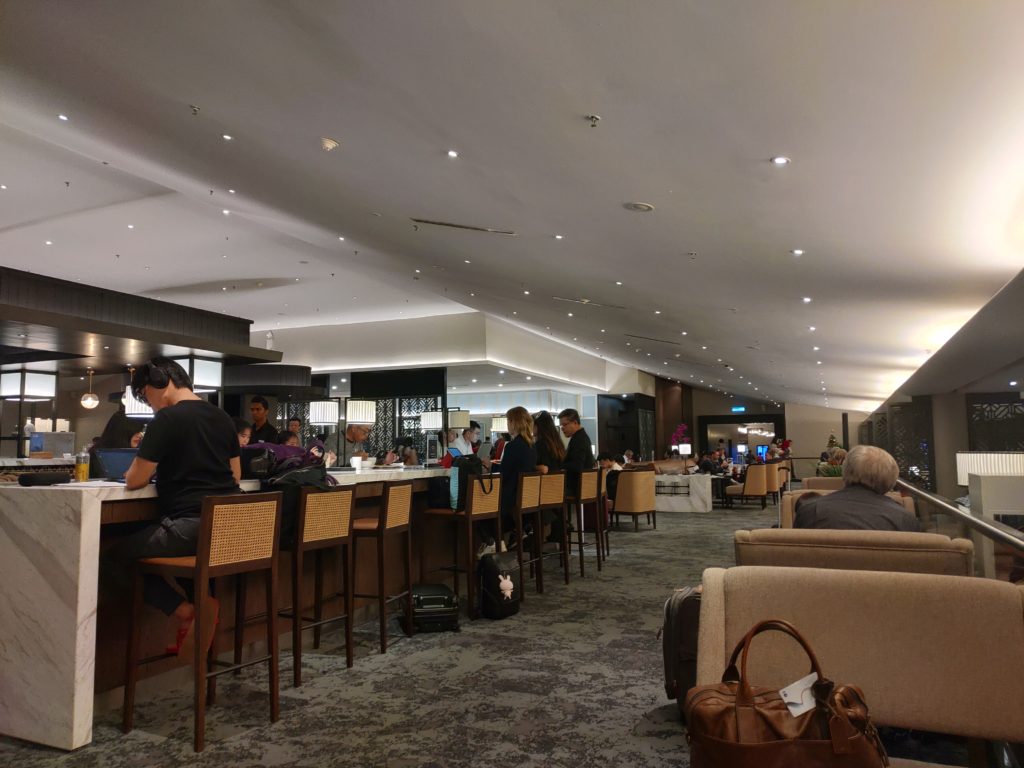 Then, to add insult to injury, the panini station, while staffed, no longer has a menu displayed so it's only really available for those 'already in the know'. Honestly, I would already allege that Malaysia Airlines' home lounge is average at best (traipsing to the dimly-lit dungeon-like bar for a drink for example, hardly yells premium airline to the western business cabin traveller does it?!), but certainly not mind-blowing; but hiding a panini menu? I'm not even sure what kind of efficiency that achieves, considering the guy was standing there – my only hope actually is that he himself had decided to hide the menu out of disinclination to work.
Mercifully by the time I had a drink (retrieved from the aforementioned dungeon, which was also packed – because I suppose nobody realized you can take your drink into the main lounge and out of that place – and had a panini, it was time for boarding anyway.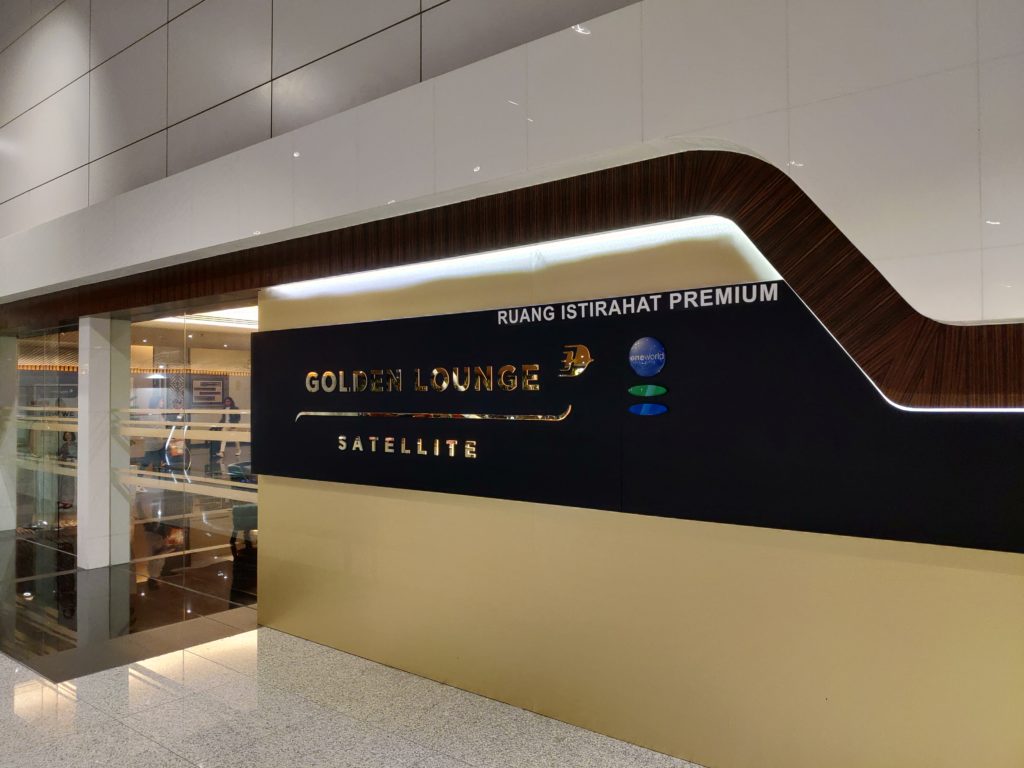 Boarding was through a single door, landing me into the back of the business cabin. I have to say, RJ have a lovely 787 entrance, with no galley or interior walls, but then you realise you're standing in an awkward buffer zone between economy and business; and considering there's at least one toilet at the back of the business cabin (it reminded me of when you see a garden shed in someone's front garden instead of the back, it was so out of place) standing there looking lonely, and I would imagine its mere presence invites plenty of economy passengers into the business cabin.
My seat was 1A on this 787-8. RJ, it must be said honestly, have installed what I consider to be a deeply uncompetitive business product – 2/2/2 across the cabin, meaning every window passenger will have to step over someone to get out. Further to that, the seats are angled slightly off forward, and I personally found this oddly disorientating; certainly much more so than BA's back-and-front business cabin.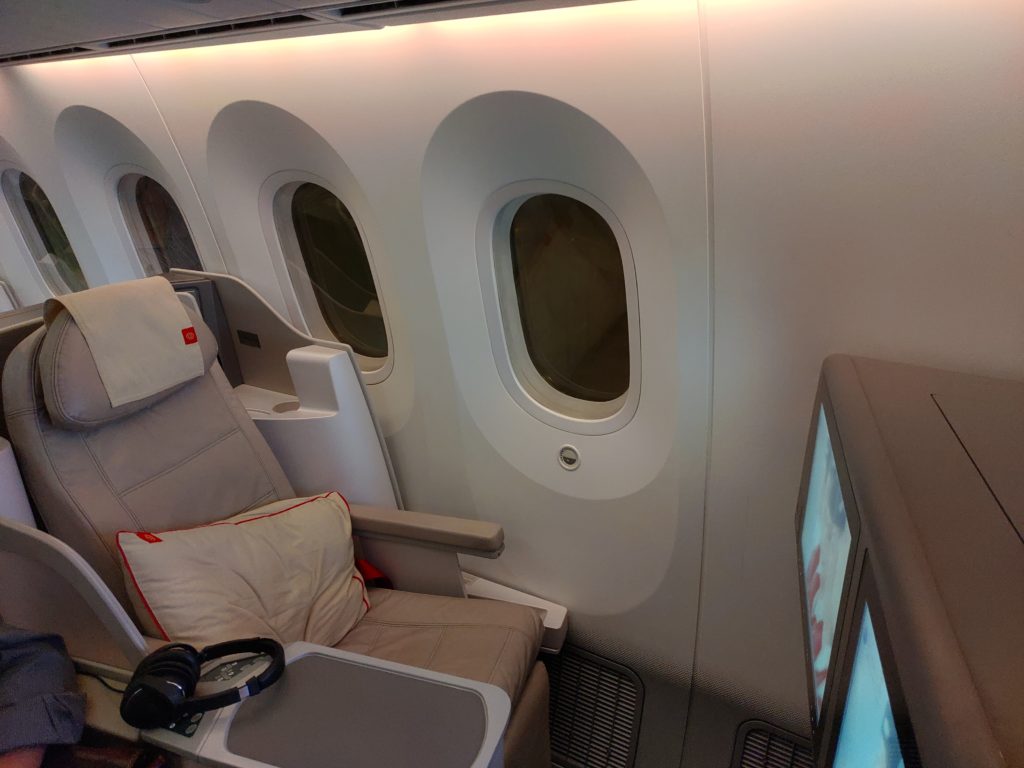 Some outrageously grumpy seatmate was already well at home in the seat beside me, and looking all the more upset to witness my presence (it was so bad in fact, that's why I didn't take many cabin pictures). Other than the weird angle of the seats, my other first impressions were that, while cleverly laid out, the seat is tight and compact – certainly I wouldn't fancy it for a long journey; and the footwell (even in row 1) was outrageously tight. You probably would only find it restful to place your feet in the cubby if you were a well-trained ballet dancer. As you can also see, it may be prudent not to watch anything distasteful, as your seatmate will instinctively see whatever it is.
Service was pretty non-existent and I got the impression that this leg is kind of a joke for the crew, who were busy taking selfies in the forward galley at one point.
Up in the air meanwhile, there was only time for a quick meal – which was some kind of very bizarre and slightly nasty cold seafood extravaganza accompanied, as you wouldn't expect, by a few slabs of salty deli meat – and a side salad of random vegetables and genetically over-engineered tomatoes. Only at this point was a drink service offered, and I was offered 'Jordanian wine' so I accepted – although clearly this was not the normal response, and the crew hesitated and said "Really? You'll try the Jordanian wine?". With respect, while it wasn't the nastiest thing I've ever had, it probably won't win any fine wine contests anytime soon.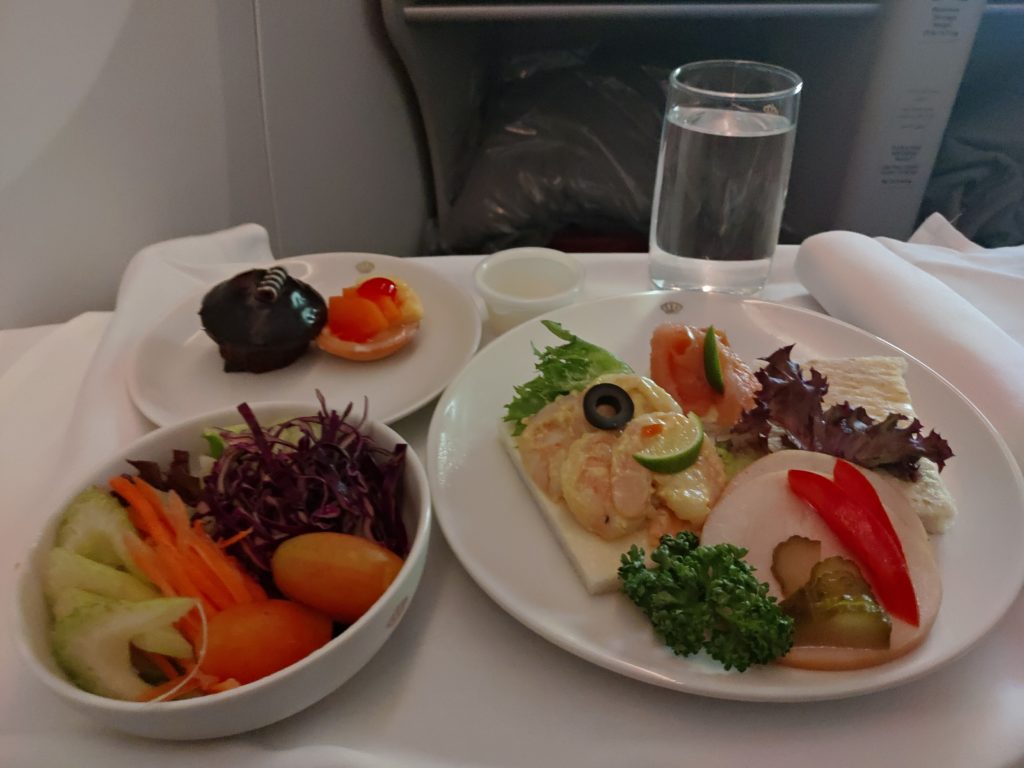 And just like that, once everyone had been fed, the crew mostly disappeared and left everyone to their own devices. I did manage to snag one or two additional glasses of the Jordanian wine – which, like all wines, improved immeasurably the more of it I drank. Other than that though, we were all left to do whatever we wanted.
Arrival into Bangkok brought a comedy of its own – those continuing to Amman were instructed to remain on the plane for the hour stopover and so I remained in place waiting for others to shift; and literally not a single other person did. I think in total looking around, maybe only 10 to 15 got off! Off the plane meanwhile, tickets needed to be produced once again to be manually ticked off a list like good schoolchildren.
So, how about 'RJ'? Well, I always find these short flights are a great way to get a feel for how good the service would likely be; and I wouldn't feel very confident about either the aircraft business cabin product, or the crew if I'd had to travel much longer. The seats, despite being new, are really old and not competitive – nor are they comfortable at all if you don't know the person next to you, Mr. Grumpy in my case. The crew meanwhile seemed to treat this as a kind of joke flight, had a good time in the galley pre-departure, did the bare essentials (i.e. serve the quite undelightful meal of cold seafood and mystery meat), and then quickly retreated back to having a good time in the galley. Based on this, I wouldn't be dying to fly them again.
Have you tried Royal Jordanian? Did I hit a spot of bad luck, or is this pretty much as expected?