Writing this review now in mid-November about a trip to Pulau Pangkor back in February feels positively surreal and a little moany considering I won't be staying at any beach resort for at least another half year. But when I stayed, back in February, this was a brand new property; literally only open a week or two, and so I thought to wrap up this review all the same, for the benefit of future guests.
Pulau Pangkor, an island off the West Malaysian coast and accessible by a short ferry ride, offers unspoilt beaches, a significantly less-touristy place to visit, by all accounts good hiking (although we never got around to doing any), and what would turn out to be incredibly feisty and aggressive monkeys – do not leave belongings unattended even for a moment. Suffice to say, my passport never came quite so close to being stolen.
What it lacks however is a wealth of upscale hotel options – and so with the Avi open a week or two, it seemed right to try it out. Following the ferry ride, our driver materialised and drove us to the property, which is located right across the other side of the island and much too far to walk.
The property is mid-size, brand new and facing out spectacularly to the ocean directly across the road. Make no mistake, beautiful sunset views are more or less guaranteed.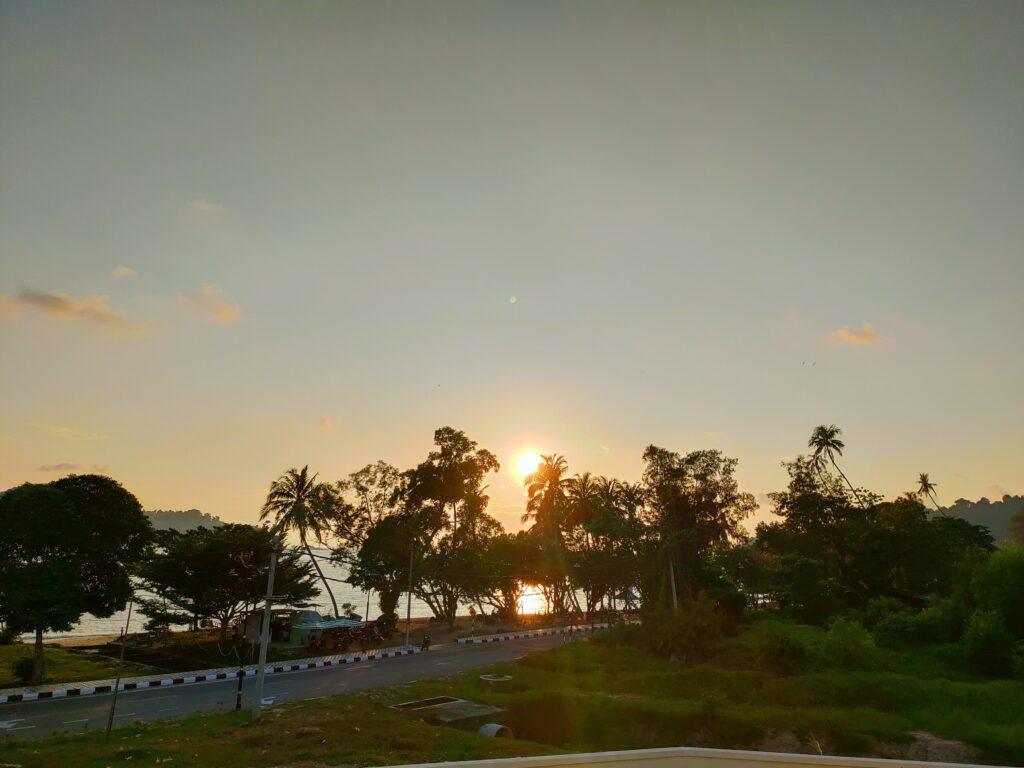 Check-in was not as straight-forward as one might hope for; the newness of the hotel seemed to introduce teething problems and consequently there was a long debate over whether my Irish passport denoted citizenship of Iran, and if not, would selecting that suffice. The deposit for the night was 100RM – strictly to be paid in cash with no option of using a card (no idea what happens if you present yourself without the requisite cash) – which had the effect of immediately reducing our spending ability for the night by the same amount, considering how few outlets nearby accepted card. Last of all, after I offered the hotel voucher, we were told no need.
It goes without saying that, moments after arriving to the room, we received a call insisting we return the hotel voucher – when I mentioned it was inconvenient and I had offered to hand it over moment earlier, the receptionist continued to insist but instead kindly volunteered to come and collect it from us. On another note, requests for a potential late check-out were met from the off with a resounding 'no'. I found this incredibly odd considering the place seemed empty, but thankfully they did agree to house our bags for us the next day while we were out and about.
Stumbling along confused in order to find our room (there were no offers of help or directions), I looked out the back, pondering why the pool – while crystal clear – was so small and seems to be backing onto a water treatment plant. In addition, there were shutters as if there should be a bar open on occasion for pool-going guests (although this was never actually open if it did exist).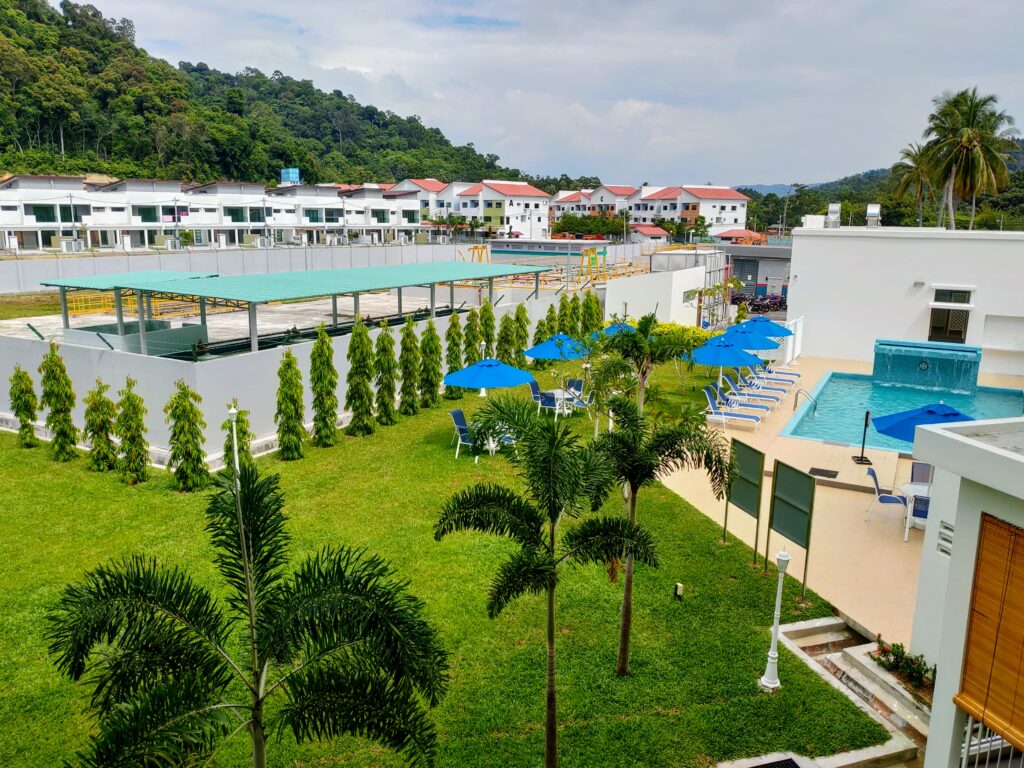 The entire venue has a kind of strange pirate theme (even though the interior décor doesn't represent pirates or pirate ships really at all beyond rooms being called 'cabins' and the odd 'Ahoy mateys'-like writing on letters from management, etc.). To me, it was a little strange – especially considering the rest of the hotel was neutral and free of any odd theming – but as a result, we were to be housed in 'Cabin 20'.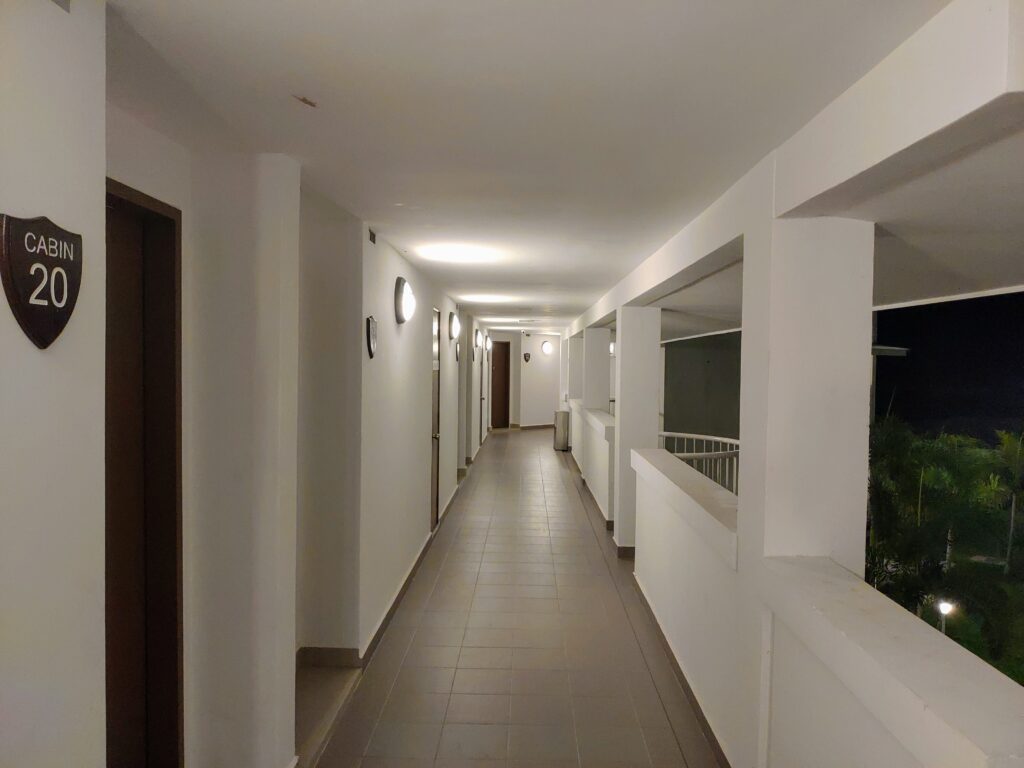 First impressions of the room were positive for a property of this price range; but one typical local issue presented itself, which I was disappointed about at such a brand-new property – upkeep and maintenance. The bathroom fan sounded like a small aircraft accelerating for take-off, one part of the balcony had been noticeably painted in a slightly different shade of paint, and the area where the door chain lock was anchored was pock-marked from the chain in a number of places already. Nothing dreadful, but not a great sign of things to come in a property open only a week or two.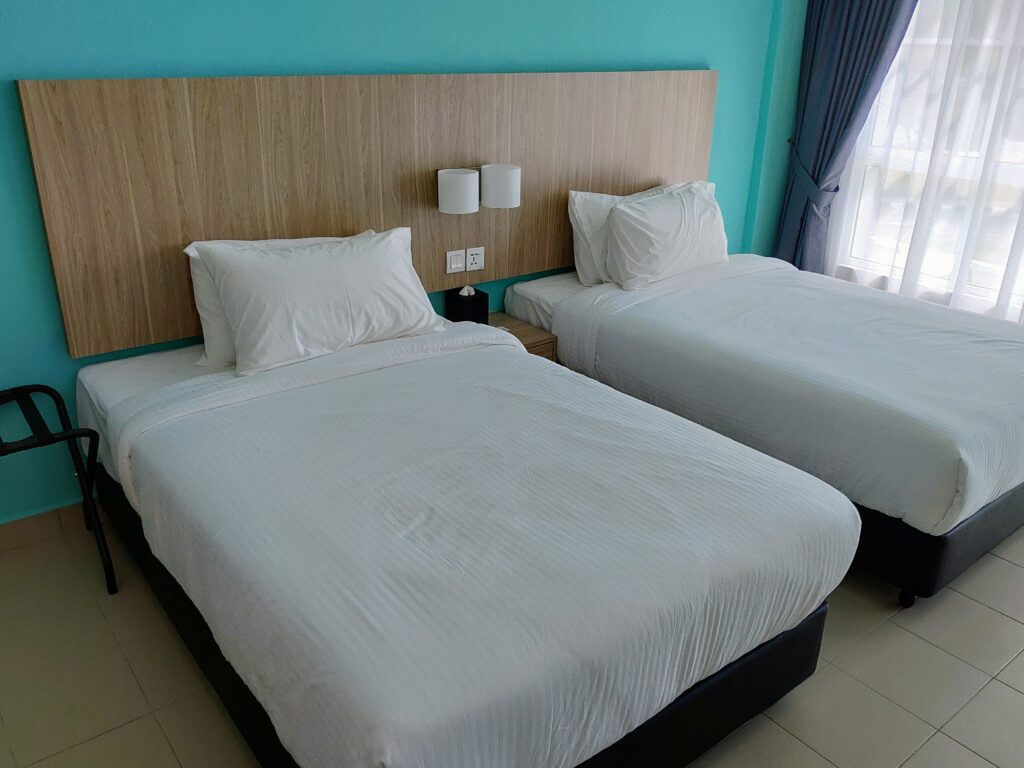 Amenities-wise, there was one single toilet roll left in the room (which ran out overnight), two bottles of water, good air conditioning and suitable toiletries for a one-night stay.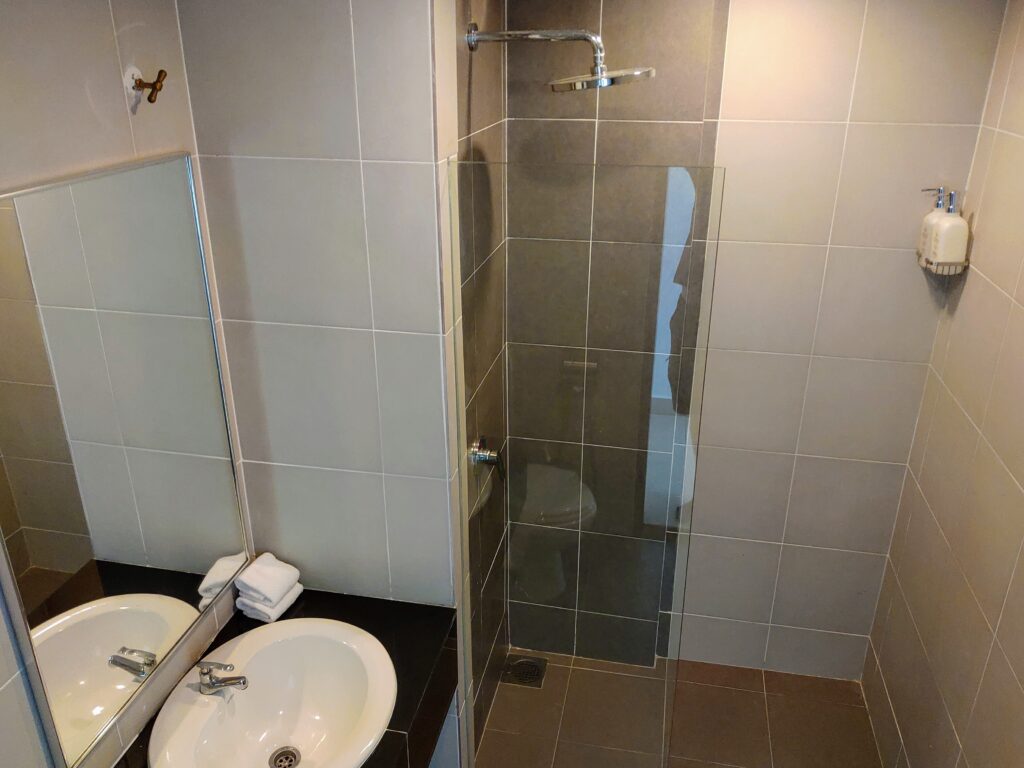 Breakfast was served the next morning, at which we were the only diners. The choice was between the local 'Nasi Lemak' or 'Western' breakfast; in the end, I mostly picked at things from the buffet. To the chef's credit, he was willing to make additional hash brows upon request. However, the butter and jams, left out in bowls in the open, were beginning to become warmed by the heat of the tropics, slightly unappealing and attracting flies; it made me worry somewhat about the storage of food that I couldn't see.
Overall, this was a pleasant stay – the hotel staff, probably due to their recent training, were slightly inflexible and unpolished but were friendly and talkative overall, and mostly eager to please; for example, driving us to and from the ferry port. When you're in Pulau Pangkor, there simply isn't a great mass of upscale hotels and Avi certainly fits in as neatly as it can – in fact, my biggest concern into the future would be whether the maintenance and upkeep of the property can keep pace with increasing guests over time; that feels like the biggest potential let-down in future.