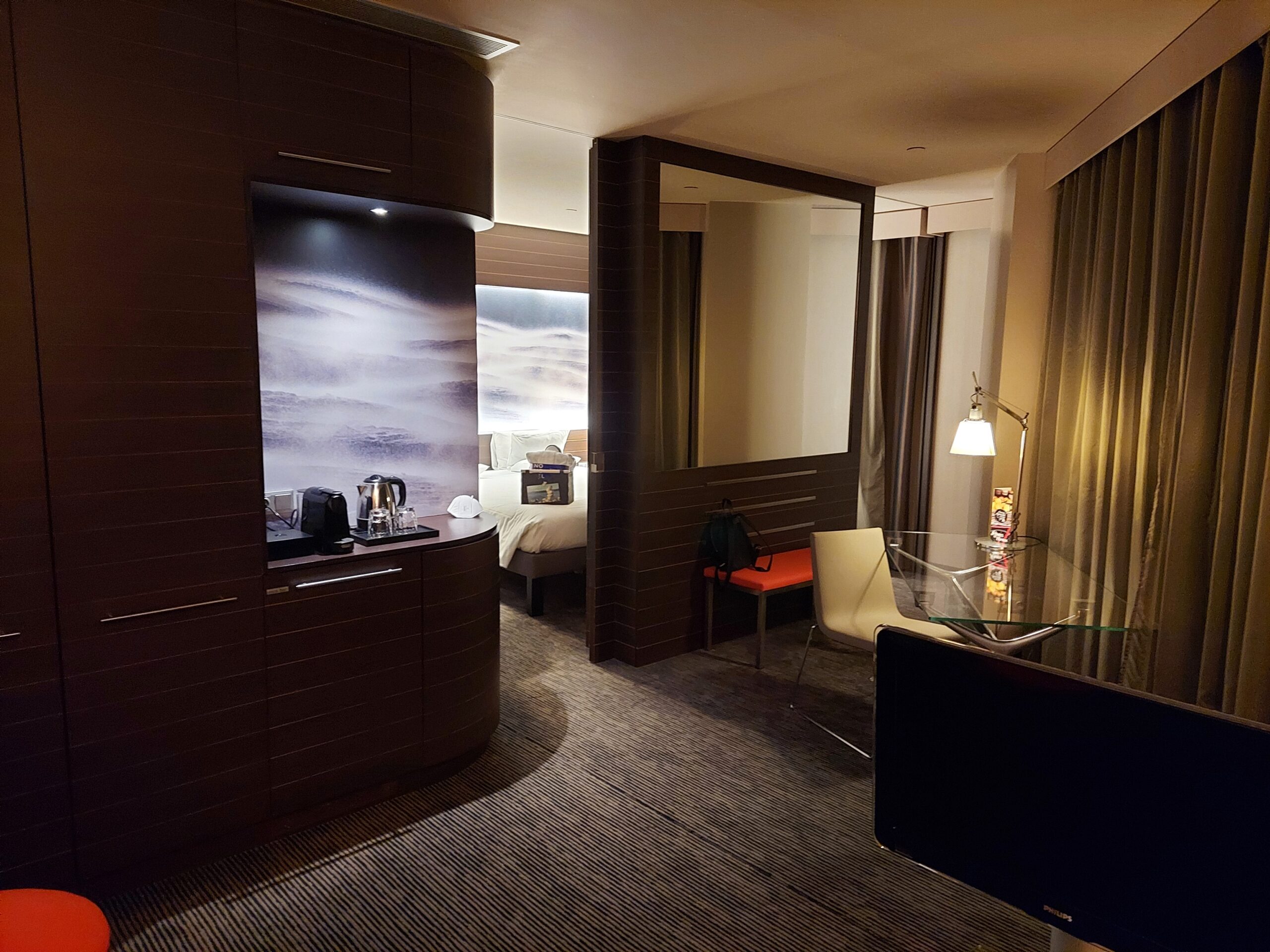 Even though Novotel is a brand that usually – for whatever unexplainable reason – just doesn't really resonate with me, the location, price and reviews for Novotel Barcelona City meant it was the most appealing choice. And so, with that, and keen to spoil myself somewhat over the weekend break, I went a step further and booked us into what would hopefully be a luxurious spoiling, the property's only 'suite', simply called 'Suite Room' according to their website.
Arrival to the hotel was a little awkward – the city has placed a cycle track right in front of the hotel's door, which means taxis need to either stop off with you emptying out into the cycle track, and thus facing the wrath of Barcelona's very angry cyclists; or instead getting out the other side of the road and having to trundle across the street with your luggage. Which is what happened.
Check-in was effortless and no deposit was needed; formalities were quickly wrapped up except for the required additional payment of the 'city tax'. I did try to elicit information on what this tax is for, or where it goes, but was told only that it was charged across all of Spain.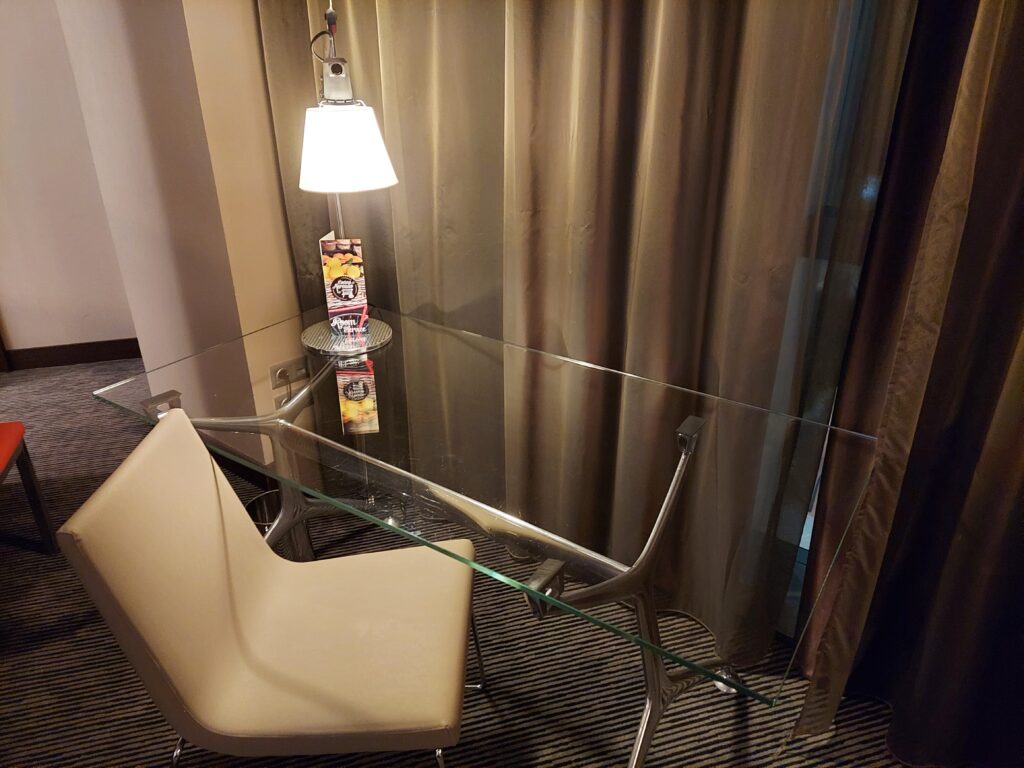 The room – on first impression – was suitably spacious, in good condition and more than acceptable for the long weekend. Clearly, the suites at Novotel Barcelona City are positioned on one 'jagged' edge of the buildings structure and thus make use of the triangle end for a living room, coffee maker/minibar and WC – while the main space is reserved behind sealable wood panel doors, for the bedroom and the main bathroom, both well appointed.
If I was to criticise the suite in any way, it would be simply that, because of our floor (7, as I recall) and possibly the positioning off all suite rooms within the building, the view wasn't anything especially amazing – rather, we glanced down over an empty urban park, occasionally watching people walk their dogs or skateboarding. It certainly isn't a view that screams culture or would be unusual in any city around the world.
In addition, the rooms are clearly beginning to age – gracefully, so far – but telltale signs like the relatively small size and degrading quality of both TV's, let me know that they weren't from today or yesterday. Similarly, while the bathroom was very well kept and amply stocked, water easily leaks while showering out the door and onto the floor outside, drenching your bath mat before you've had a chance to do it yourself.
Included in our room rate – which, unfortunately, the receptionist never mentioned but I remembered and checked – was also free daily minibar, which we made use of once we got over the fear of being charged and having to engage in a dispute over its complimentary inclusion. While we're talking about staff, while everyone was friendly and personable, we did also find the shower gels not replenished one day that they really needed to be, while tissues weren't another day. So a few small details and consistency that could perhaps be improved upon.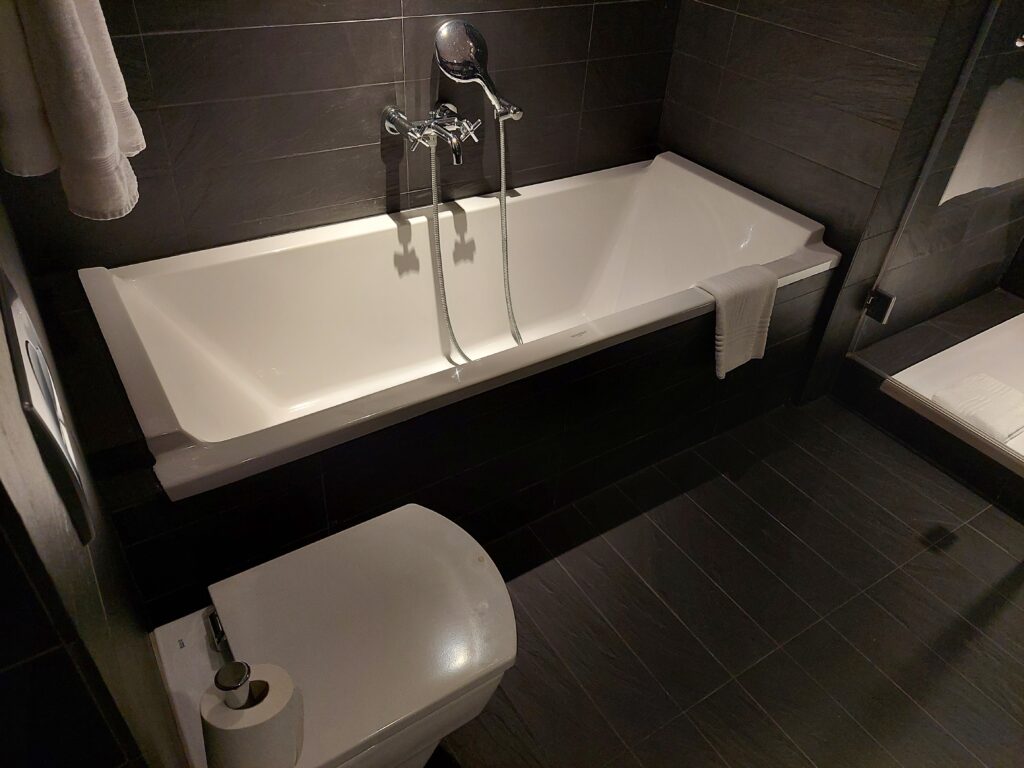 The bed however was very comfy, while the blackout curtains more than did the required job and a great sleep was had throughout the stay. Similarly, water pressure and temperature in the shower was consistent and powerful.
Included in the room rate was also complimentary breakfast, which we availed of every morning except the last – and I have to say, again, there was very little to complain about. Staff were on hand to find tables for incoming guests, and with the exception of occasional peaks and troughs at the buffet, there was plenty of local and international food to go around. In fact, the only criticism that jumps to mind was the queues that seemed to frequently build up around the three coffee machines, due to the speed and repeated button-tapping required to get them going. But overall, it'd be a thumbs up!
So, thoughts on Novotel Barcelona City overall? I couldn't really fault the hotel – it was clean, spacious, and did the job it was meant to do to provide lodging and breakfast for a long weekend visit. The area around the hotel (as of March 2022) is kind of a big construction site though, which is a little unfortunate in terms of walking places on foot – and the views to the back of the hotel, from the room, were nothing special.
But overall though, I'd happily go and stay there again and consider it well positioned to explore the city, and yet have amenities right nearby if you need to do a quick shop, grab some food or get further into the city.