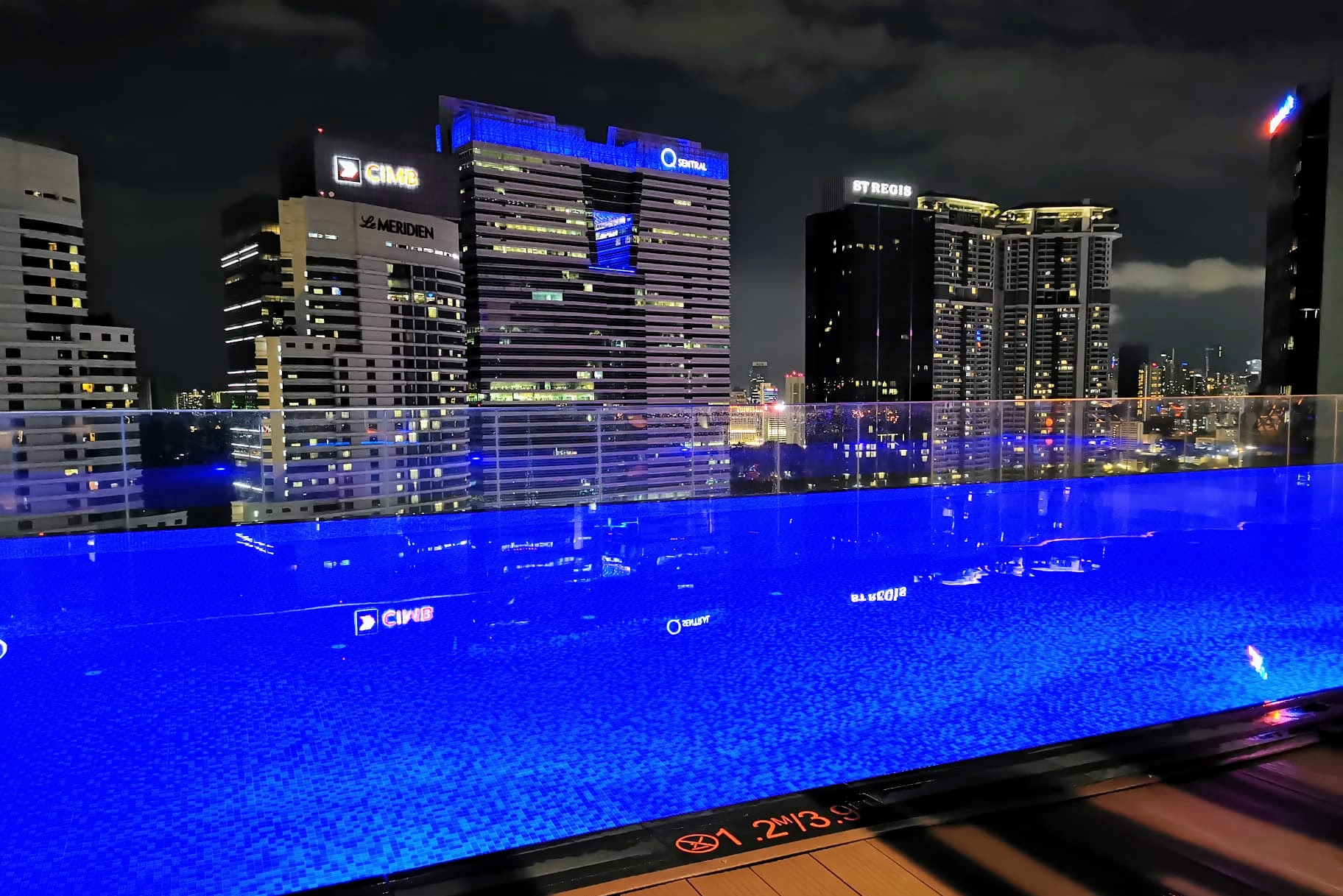 With a great one night stay behind us at the Aloft KL Sentral back in December, I was delighted to give it another go, for a few more nights, this time to review one of their 'breezy' suites – the property's top line of guest accommodations, along with the duplex suite.
Located on the very upper floors of the property, the suite opened up at first into a combined kitchenette, dining and living space – of some serious size.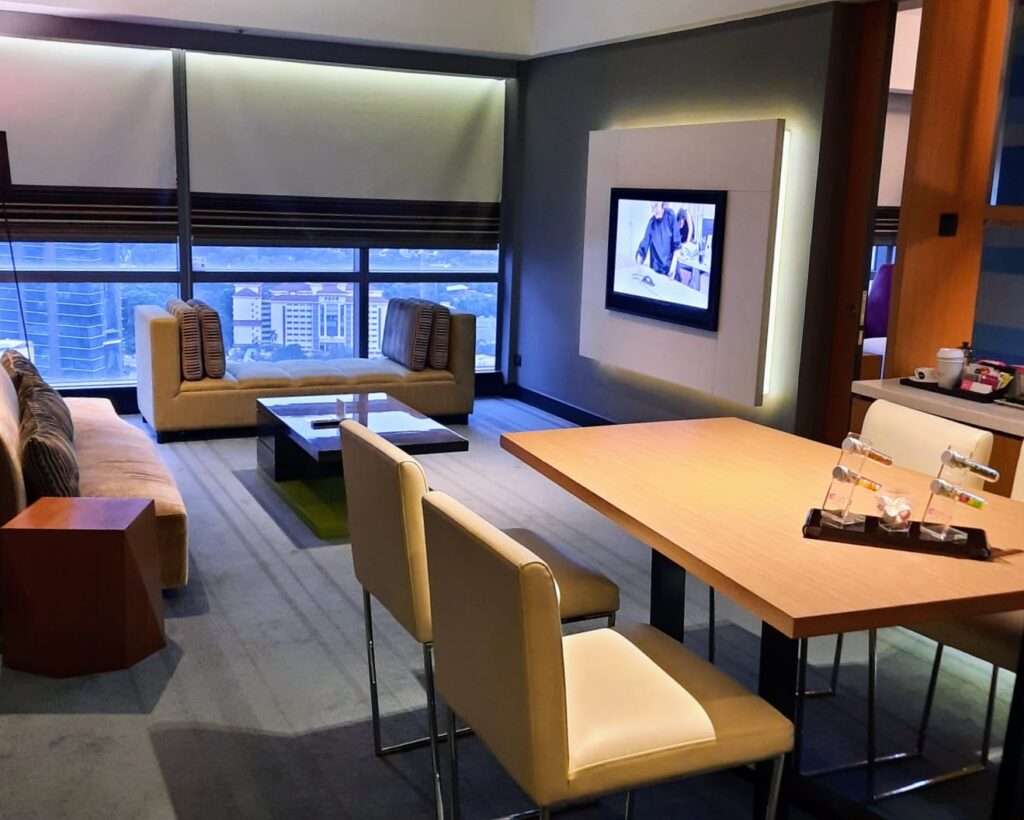 As you can see, various test tubes of jelly beans were also left as a treat, along with a complimentary minibar, coffee machine, as well as views from the sofa's out over neighbouring Brickfields and across to KL Sentral.
Unfortunately, because of development at KL Sentral, there are no true 'KL City' views to be had from, I would imagine, any room at the property.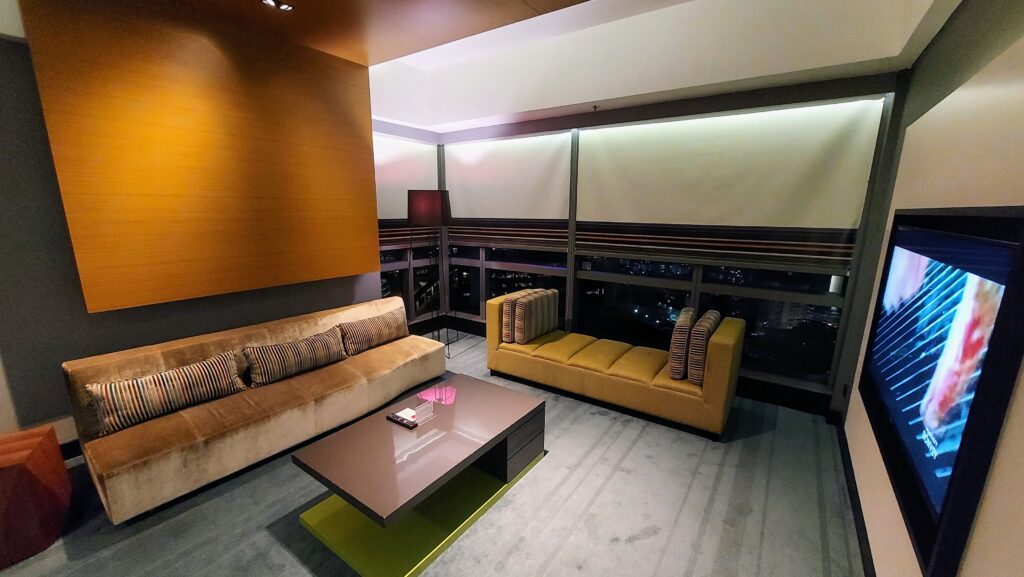 Tucked in behind the kitchenette was a bathroom (no shower, just a toilet and sink), which was handy.
Into the bedroom, and what a palatial space! The room was gigantic and more than big enough to find space for luggage, to spread out, and probably still practice a dance routine.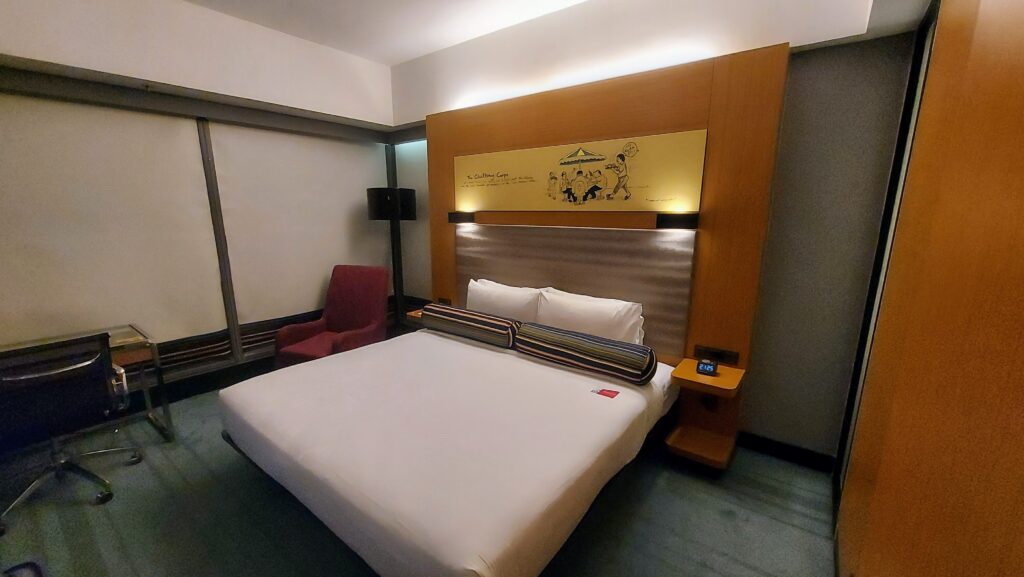 Similar to the guestroom we stayed in back in December, there was only blinds (i.e. no curtains), though they were more than adequate to darken the room for a great nights' sleep.
Into the equally generous bathroom area, and the suite came with double sinks, a large standing shower area, along with a shared sliding glass door for the adjacent toilet. Oddly, and somewhat unexpectedly, this is also where the cupboards were for storing clothes. I found it, at first, a little strange to be storing my clothes in the bathroom but it quickly became no problem.
Overall, once again, the guest accommodations more than met expectations and with a busy week ahead, I was delighted with the space and comfort afforded by the breezy suite.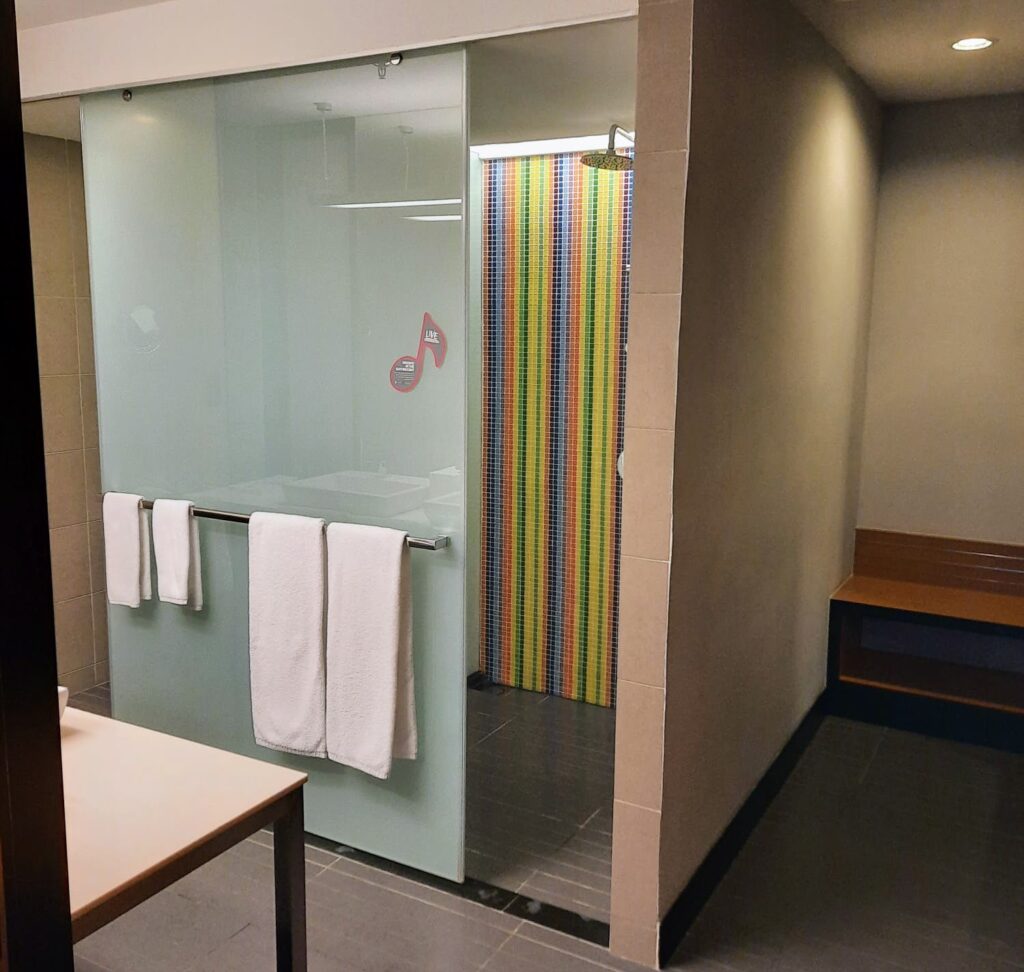 Breakfast once again had a wealth of choice, constantly replenished, with chefs on hand to prepare fresh roti, omelette's, etc.
With more time on our hands this time, we also sampled the rooftop bar – the bar has an absolutely beautiful setting, with panoramic views all across neighbouring KL Sentral and its various offices, and a lovely atmosphere, set right alongside the pool, for a bar.
However – and this is my one, but quite serious, piece of feedback. Attention to detail and service from colleagues was mixed – i.e. good at reception and generally at breakfast, but very poor bordering on ridiculous at the bar (such that the group I was travelling with eventually went off the idea of going there further) and similarly, we had an unusual encounter with some supervisor/manager/host-type, where we were informed sternly that breakfast wasn't included.
After I pointed out that it was, and we'd enjoyed it the day before, she promised to check and find out while we got started – evidently it was included, but she never came back to let us know definitively or to apologise for the earlier confusion.
At the bar meanwhile, on the first night, drinks took an eternal amount of time (mostly, as I could see into the bar, because they just sat on the bar with nobody taking them out to us) while the food was presented lukewarm – except for one of our guests' satay which was room temperature.
In the end, she had to request 3 times for it to be heated (eventually going so far as to having it translated into the local language) – the sheer audacity of the first two times the food being re-presented at the exact same temperature as it had left the table?! It was a very, very poor experience – that largely didn't improve massively on the second night we visited. Despite staying 4 nights, nobody was keen to revisit on nights 3 and 4.
In conclusion – I like the Aloft; their rooms are lovely, their cleanliness, comfort and price is all on par for a quick stopover in KL, while the location is tremendously convenient for easily getting around. But the inconsistent/disappointing service was a real let-down, especially after booking a group of multiple rooms in. The bar has all the elements needed to be a really special place, but the inability to get service or rectify issues like the cold food when needed would really make me reconsider staying again, if I was going to need anything beyond a basic room.