After a whirlwind pan-Asia tour, it was time head back from Singapore to an ever-cooling Autumnal Dublin, and once again, we were back on-board Etihad's business class – EY473 – from Singapore to Abu Dhabi, for the first half of our journey.
Changi is rarely anything but a pleasure, and after a brief check-in, a less brief stop at the exit immigration auto-kiosks – where it would appear nobody knows how to use the kiosks, but are confident enough to wilfully queue-jump all over the place – it was on to the appointed lounge, the Marhaba.
We've previously visited the other Marhaba lounge, closer to where Malaysia Airlines departs from, and it was very pleasant – quiet, well-stocked, if a little on the run-down side when it came to the showers. This one, on the other hand, was packed to the rafters with barely two seats to be had together.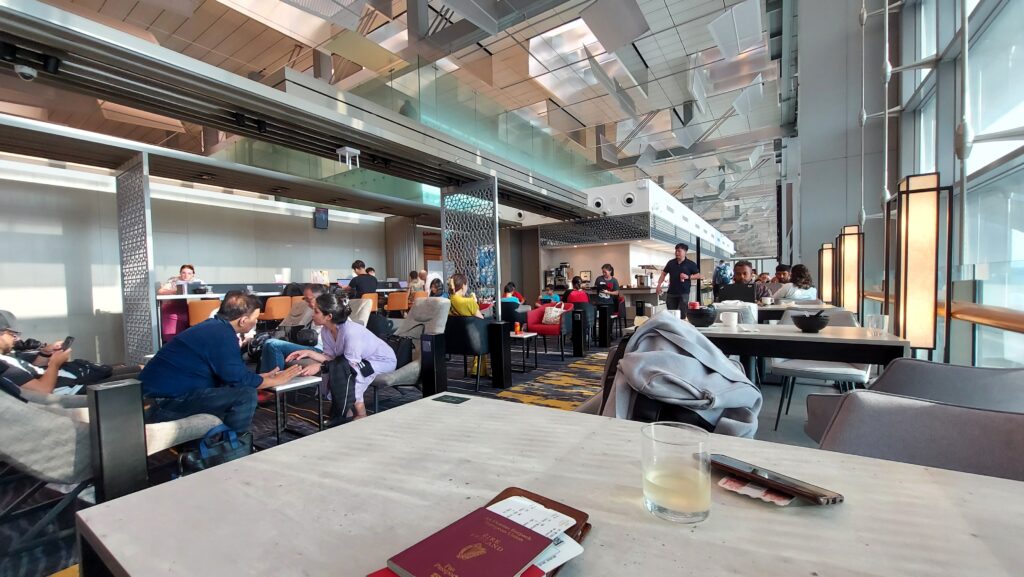 A warring family had decided to split up and sit in various seats and tables, and this caused further congestion, given that they couldn't decide whether to yield their additional tables to the incoming flux of passengers – ourselves included – or not.
Beyond that however, the lounge was pleasant – with reasonable food & beverage provisions, and showers in all the bathrooms I visited (leading to lengthy wait times for the bathroom, but great showers!).
As always, security for Changi is done far closer to, or at, the gate itself and before long, we found ourselves boarding our Boeing 787 for this evening's flight.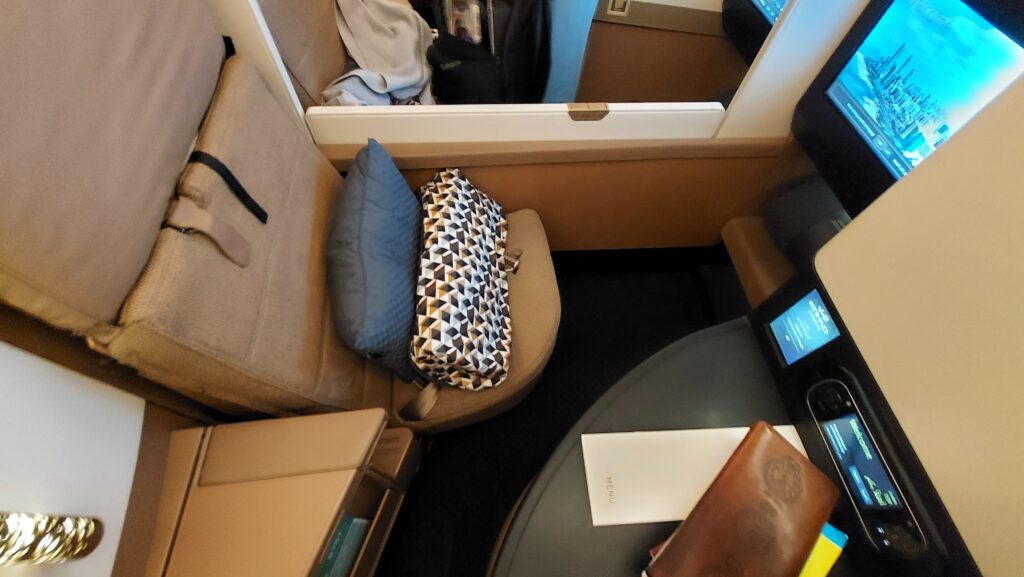 Although not as extravagant a business class cabin as Etihad's new A350's, their older-style Business Studio 787 product is still in many respects an industry leader – with a range of seat position options to suit all manner of tastes in terms of privacy, exposure to the aisle, and space.
Once again, a glass of champagne and the menu was brought with welcome haste, as we settled into our middle seats.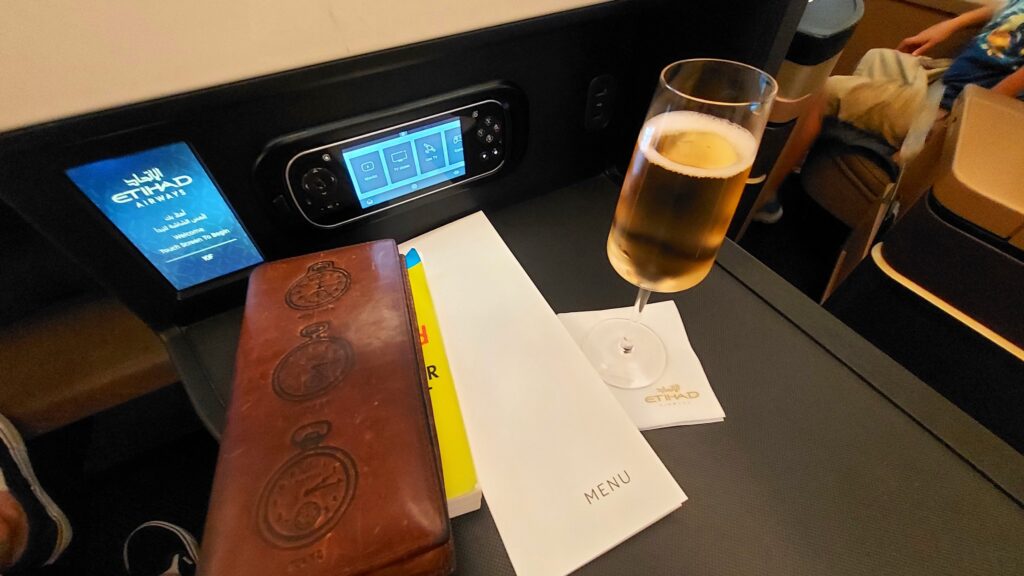 Though this cabin features no privacy doors from the seat into the aisle, it is still very private once you're sat either in the centre seats, or the seats alongside the window on either side of the cabin. Though feet slide into a cubby when in bed mode, it's very generously proportioned and nobody should have any major issues feeling 'trapped' when trying to sleep.
The seat comes with an array of features, alongside a reading lamp, table lamp, and one of the heaviest dining tables I've ever used on a plane. As before, a mattress pad, pillow and duvet was at the seat upon our arrival awaiting our use.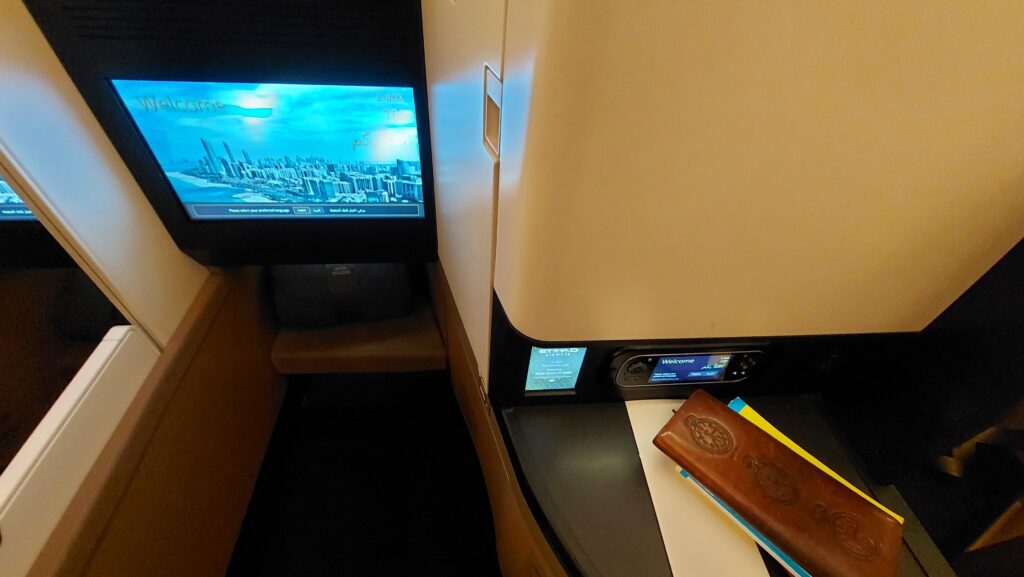 Overall, a really lovely, private cabin.
Service on this flight was severely disrupted by turbulence departing from Singapore, followed by what appeared to be a long gap of the seatbelt sign remaining on even though there was little to no turbulence for up to an hour. In the end, meal service only got going nearly halfway into the flight – many hours after take-off from Singapore.
To say meal service was slow would be a severe understatement – and was surely testament to how a good product is only as good as the crew. By the time the crew member on my side was slowly beginning to dish out main courses, the other aisle was having their desserts collected. Making the situation worse was that, as passengers' towards the front of the cabin asked for their plates to be cleared, another glass of wine, etc., the delay to those of us in the last several rows getting even to a main course became exponentially worse.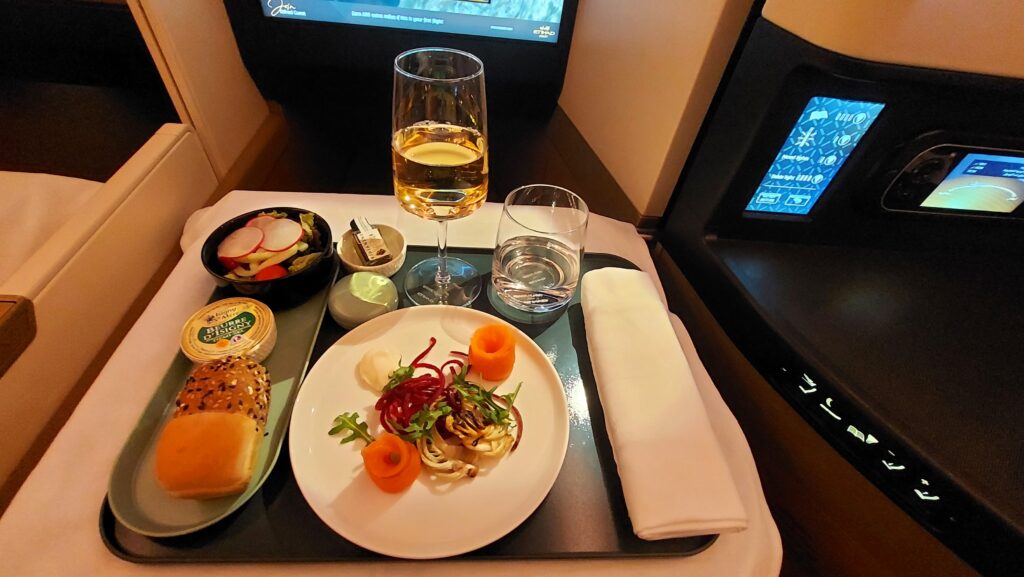 Though I stepped on the flight very hungry, I made it as far as the main course, which then proceeded to sit on my table for another hour uncleared and with no offer of dessert, before I finally asked a crew member from the other aisle to help clear it and bring me the glass of water I'd asked when I received the main course.
In truth, when she asked had everything been OK, I did let her know that there was an apparent severe delay on our aisle, and that I only wanted a glass of water and to go to bed. She let me know she'd speak with that crew member – who turned up shortly afterwards not with a glass of water, but instead with more wine. Goodness.
Overall, the Etihad 787 business class product is by no means past its prime – it's still a delightful cabin experience, in this case let down by a crew hindered by turbulence but then proceeding to move at glacial page and with alarming forgetfulness. Thankfully a few hours' very comfy sleep more than made up for the haphazard service – before our onward journey to Dublin.