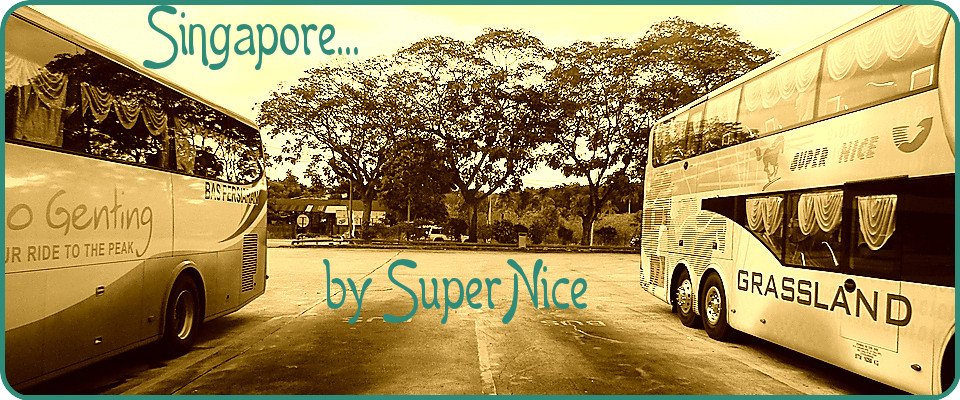 In the last installment, we waited to hear back from the venerable 'Mark' of Golden Green, a company with whom I had never realised existed until my arrival to the Berjaya Times Square hotel. Anyway, he eventually got back to us, a day before we were actually due to depart, in an e-mail (ask, and I'll be happy to post it) in which he berated us for not liking the place and not trying to get in contact sooner (which of course we had). The whole situation ended very awkwardly in the lobby with old Sharif again during which we both got very heated and he kept trying to use the excuse that his boss (this guy 'Mark' presumably) was very angry and upset and that I was somehow to blame for this. I've given these guys some great free publicity so I hope they'll take it all on-board though and we'll leave that story there. Suffice to say my final dealing with Sharif was sufficiently awkward that I'm sure neither side ever wants to go through it again.
Back to the Swiss-Garden Residence, check-out there of course was no problem and we were checked out and on our way in no time – once again, carting our luggage in the blazing heat behind us to the bus stop.
There's a whole heap of buses you can take to get down to Singapore (or fly, if you want) – however out of familiarity, we seem to always wind up taking the comically-titled "SuperNice". There are two classes of travel with the SuperNice (which always guarantee a few more chuckles); 'Deluxe VIP' and 'Royal VIP'. We travelled down to Singapore the last time in 'Super VIP' and it wasn't great to be honest – better than the average bus back home I suppose, but it didn't feel super by any means, let alone VIP. We had (by accident) 'Royal VIP' on the way back to KL previously and it felt a little bit more…Royal. So we went for the Royal VIP. Basically it consists of 2 absolutely gigantic armchair seats like you'd have in your living room, then another outsized piece of furniture across the aisle. There's also some tatty old-school seatback TV's that never seem to work. The seats also come complete with recline feature, footrest (which you can control) and some hilarious vibration feature which sits somewhere between electric massage and torture.
By far the best part of the SuperNice however, is that in spite of all these crazy features, it costs significantly less than any vehicle of a similar nature back home and would barely get you to Belfast one-way in Dublin. And that's before we get into the whole thing of having to stop in every hole in the hedge in Ireland on the way there.
The only major hang-up I have with taking the bus from Kuala Lumpur to Singapore, is there's an absolute kip stop-over about 2/3 of the way through the journey, not far at all from the crossing into Singapore itself. I've no idea where this place actually is in Malaysia, other than to say it must be near the border. Basically it consists of an old tin-roofed shed-like structure, the inside of which houses a myriad of crap eating options and a supermarket, which is just missing an entire side so you can walk out and in as many times as you may wish. Like all good transport stopovers, everything in the place comes with near-guaranteed food poisoning, the toilets always inexplicably have a heater placed inside them blowing at full power and the prices of everything in the place are always shockingly off the mark. The only option which we have come to conclude carries any degree of safety for our stomachs is the 'bakery' which has a 'today's special' of buy 2 items and get the third free on every occasion we've visited, so I imagine it's safe to conclude that the special is always on.
The remainder of the journey to Singapore was uneventful, and frankly pretty dull. There's only so much bus, no matter how SuperNice it is, anyone can take and I was more than pleased to roll off into Singapore. Now, first complaint Singapore – why do taxi's in Singapore decide where they want to go themselves? I've had this problem once or twice in Dublin, but not with much frequency.
One evening I was tipping out of a nightclub and straight into a taxi in the city centre (Dublin), hopped in and the guy was full of life and joy for a fare until I told him I wanted to go out to Shankill (circa 20KM from our then-present location). He huffed and puffed, seemingly evaluating every detail of this possibly journey in his mind before telling me he lived in Lucan, as if this was somehow supposed to indicate to me that my destination wasn't entirely compatible with his preferred trip. I asked if it was a yes or a no then, and he eventually agreed to take me, obviously sensing that my house couldn't really be moved to suit his preference at that moment. But anyway, back to the topic.
Every taxi we tried to get (for about 45 minutes) didn't want to go our way or else was busy, or else had some other excuse. Or in one particular case, despite multiple repetition using street names, the area, the hotel, the guy just didn't know and drove off. Singapore, I assure you, this is not the way tourists appreciate arriving to your city-state and left us a bit miffed with every taxi driver for the rest of our stay. Sort that out.
Our hotel meanwhile, the unusually-named V-Hotel Lavender, was pleasant – but not much more. It came with an overly-luxurious reception area which sort of built up expectations beyond what they should have been. It wasn't really their fault – it seems to be the same with everywhere in Singapore – but the rooms were literally the size of little shoeboxes. So small, you couldn't actually really unpack two people's worth of luggage in them. Not only that, but our air-con was some fancy Siemens unit that very arrogantly decided on behalf of both of us when it was cold enough during the night and no amount of playing with the settings tricked it into working for us. Rather, it worked on behalf of the hotel's energy bill at every opportunity and decided when it saw fit to suddenly drop off the level of fresh air being admitted to our room or raise the AC temperature a few notches. So after such a hairy journey, a ridiculous wait for taxi's and in a room that'd make a Clarke's shoebox look pretty luxurious, there was only one thing left – seek out food, and enjoy what ended up being the most delicious fried rice (up until then) of my life. Finally, something positive comes out of our first evening in Singapore!