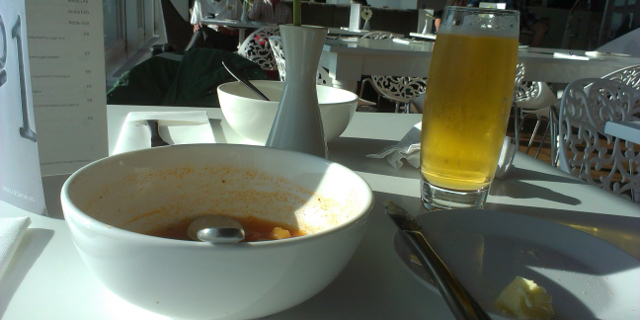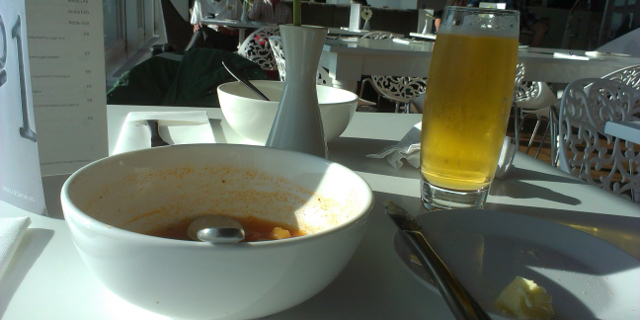 Having been a happy Aer Lingus Gold Circle member now for over a year, and having eventually come to terms with the varying quality of the lounges on offer throughout Europe, I feel it's almost a civic duty to share with you my personal top four, in order from absolute worst to debatable best.
It's worth mentioning though, only the Dublin lounge in this list is actually operated by Aer Lingus themselves, with the others all operated by their 'partners'.
Frankfurt Airport
This one will forever stick in my mind as one of the most awful lounges I've ever been. Secreted down the end of the main terminal corridor and hidden away behind an unassuming set of double doors that look like an emergency exit, the immediate assault on the senses is both at once and overwhelming. I think it's possibly down to the doors which don't permit any view of the place before you set foot inside.
Whatever it is, it'll go down in memory as the only lounge I've been to that was staffed by two of the most uninterested receptionists I've ever seen (one on Facebook at the desk the entire time). Meanwhile, there's a horrendous old wooden sort of bar that you can help yourself at; it sort of reminded me of something that might have been recovered from the Titanic, that's the vintage we'd be talking about. Meanwhile, a row of windows at one side of the lounge looks unfortunately across about an 8-foot gap to some Fraport offices. My own view while there was of some unfortunate sitting at his computer tapping away. A terrible experience – and the EI gate was the opposite side of the terminal after all that too.
Dusseldorf Airport
Perhaps it's a German thing to make lounges look like a dated throwback to the glory days of business travel, the 80's or what, I don't know, but this place isn't great either sadly. Up a set of hidden stairs so cleverly disguised along the main terminal corridor that you'll definitely miss them the first few times, I've seen this lounge quite a few times now.
I can't judge the staff to be honest as each time has been completely different; my first visit was remembered largely for a grumpy young man who I had to actually show on my tablet on the Aer Lingus site that I could bring in a guest. The second time though, the woman was most accommodating and let us use either side of the lounge (there seems to be two separate lounges either side of this staircase).
Likewise, the lounge on the right of the desk really is very poor; old chairs that looked like they were stroked from the duty free ferries to Holyhead of the 1990's, internal windows (now glazed over through age) that look awkwardly out over one or two of the gate areas and a general feeling of antiquity. The lounge on the left meanwhile is slightly more pleasant, more upmarket and I'm not really sure why this one is able to be such an improvement over the other side – nor if Aer Lingus passengers are really allowed use this side or what the deal is.
In my next (and final, unsurprisingly) episode, I'll give you my top two favourites and why – and trust me, they really are a huge improvement over these two horrors…