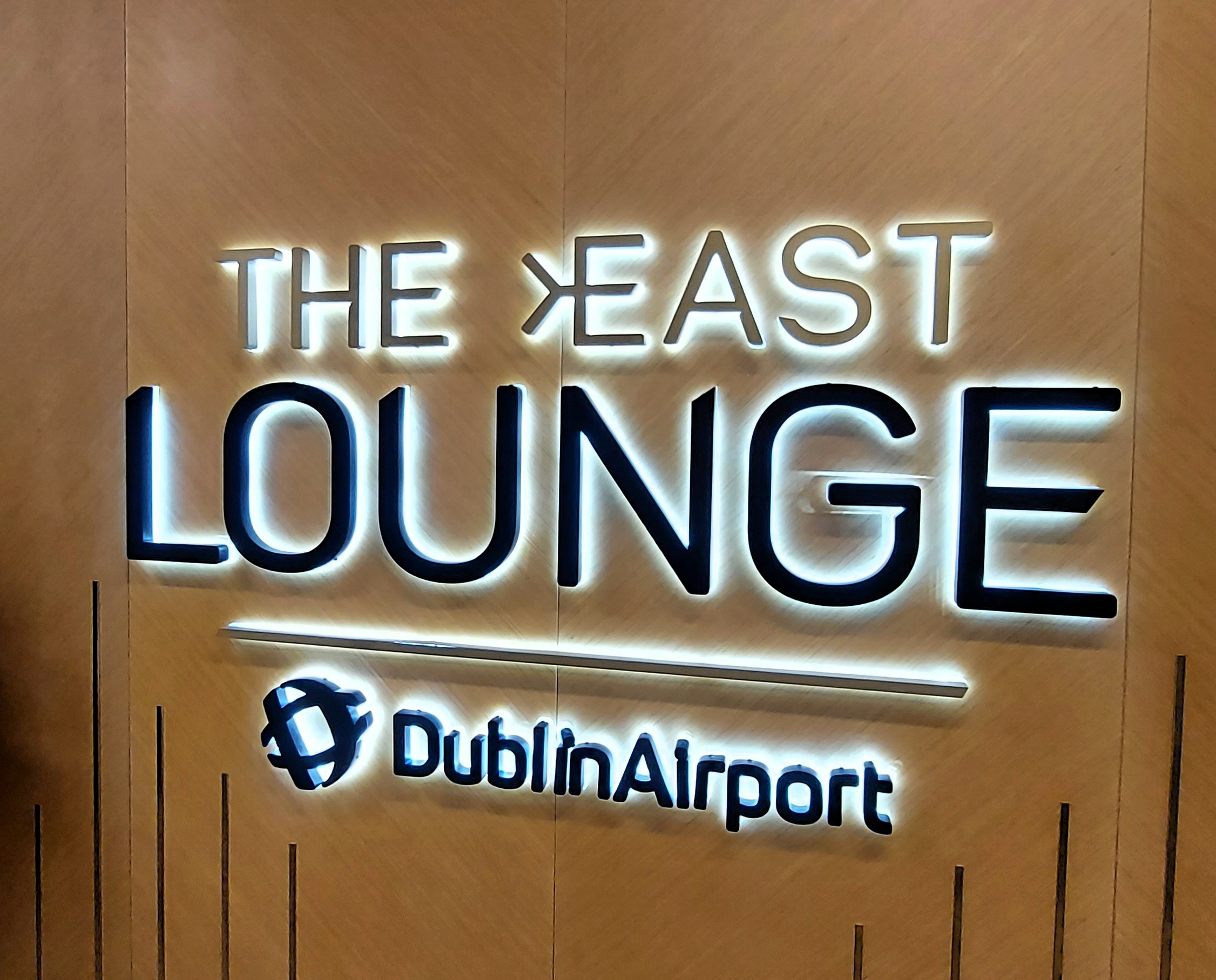 Ahead of our recent, and most enjoyable, Etihad voyage to Abu Dhabi, we were invited to Dublin Airport's The East Lounge, to relax ahead of the flight.
Though we didn't have heaps of time to spare, I was dying to get down there and see if the experience early morning was as cramped and uncomfortable as it had been mid-afternoon back in summer 2022.
The East Lounge serves Dublin Airport's east-bound routes (with the exception of Turkish Airlines' Istanbul frequencies, which continue to use the main Terminal 1 lounge), comprising the premium and status passengers of Etihad, Qatar and Emirates. From a quick review of Dublin Airport's website, it can also be pre-booked by passengers of any airlines and is located on the left after security, plus a brief hike down the gangway towards Terminal 2.
On my last visit – and repeated again on this visit – the entryway was mostly cluttered with clueless fellow passengers attempting to enter despite their eligibility being for the other, original lounge, which is actually much closer to security and up a set of stairs.
Admission took a few brief moments, and was a far more tranquil, welcoming experience than previously. We were warmly welcomed in, asked if we were familiar with the lounge, and advised (after I mentioned the crowd on the previous visit) that it was much quieter at this time of the morning.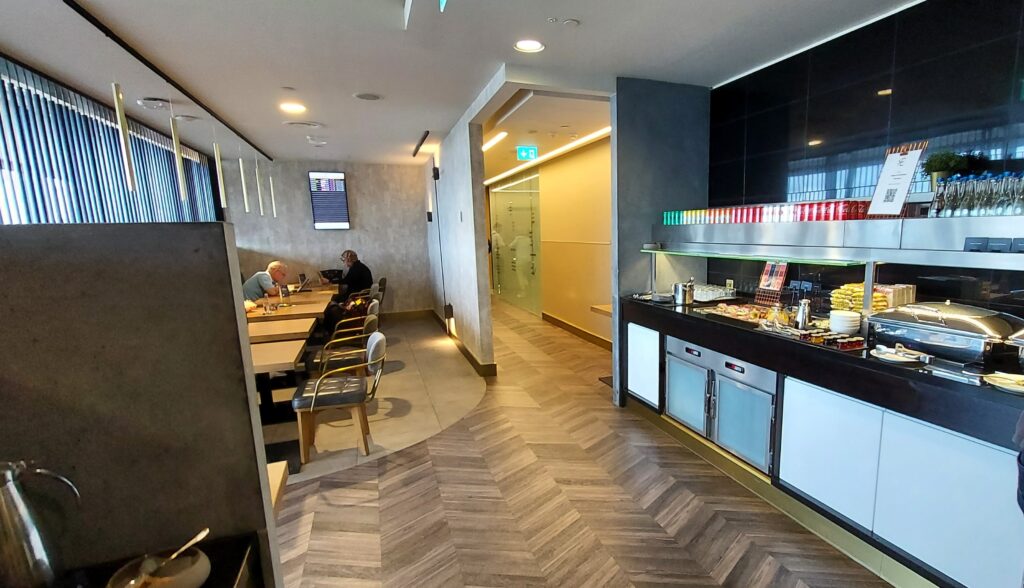 The lounge was much quieter, and a much more enjoyable space to be in considering the deluge of passengers milling about outside. The entryway leads down a long corridor, depositing passengers unexpectedly into an open buffet / coffee area, backed onto by the bar (if 7am drinks are your thing – I was saving myself for the flight very respectfully).
Plush armchair seats were quickly found – this lounge, unlike the main Terminal 1 lounge, comes with wonderful floor to ceiling window views out over the apron and across to the older runway – and we parked ourselves right by the windows.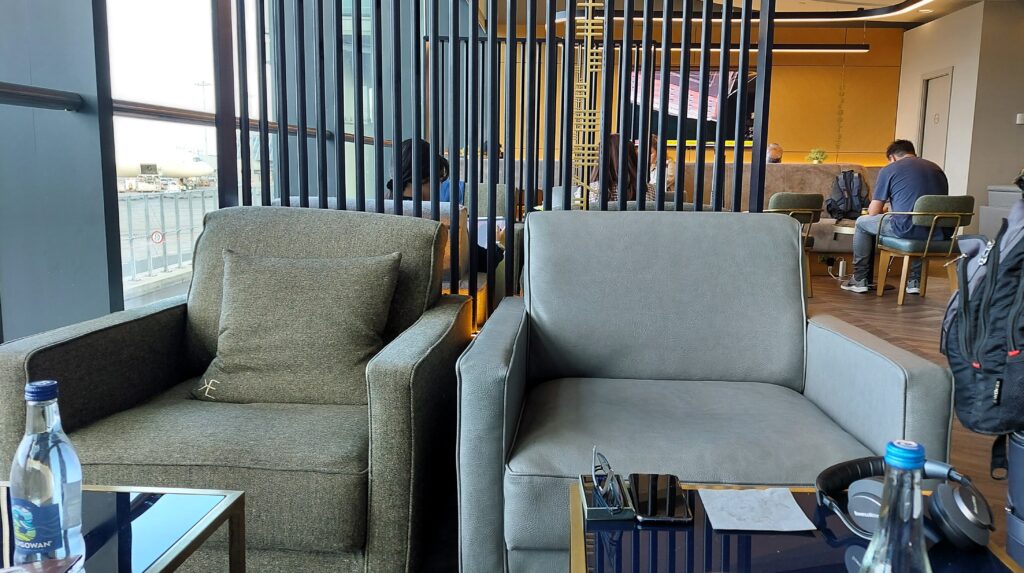 Everything is pretty self-serve – except beverages – and there's a bean to cup coffee machine, which I quickly made intensive use of.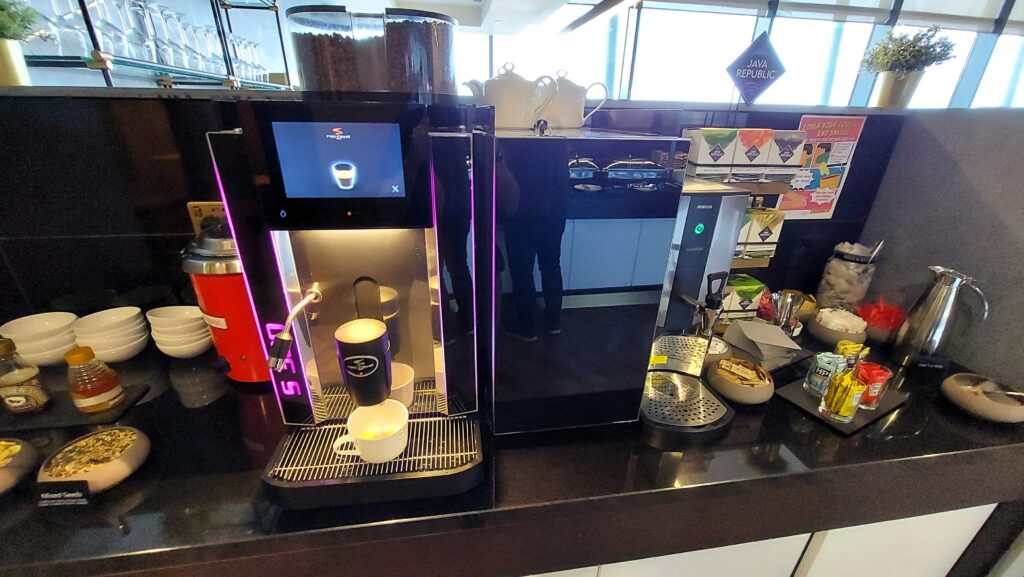 I'm quite certain I didn't come across this previously, but there was also a hearty selection of hot breakfast items, along with – as you can see in the picture below – more water bottles than one could ever need.
The space was being regularly cleaned, and finished cups, etc. collected. Again, I didn't have time (or peace) to really notice last time, but the bathrooms are also fitted with shower facilities – good to know for a future visit if needed (though, coming from Dublin, I'd have to really have had an alarm clock failure of some sort), and again, everything was pretty spick and span.
On the whole, I was left feeling so much more impressed than previously – it just goes to show the difference a year and a far lesser crowd makes. Overall, The East Lounge has everything you could want – plentiful food & beverage selections, fantastic views out over the airfield, plush comfy seating (and bar stools, if you prefer), and all kept clean and tidy.