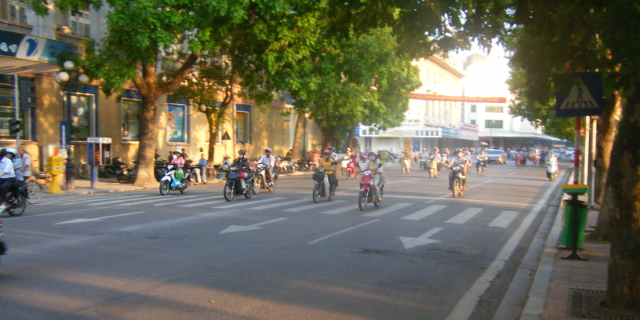 As I graduate increasingly further these days into the realm of staying in hotels over hostels and becoming marginally less of a penny-pincher (though still a cheapskate, by all accounts), living in Asia of course helping me massively with this goal, I felt like, even though I generally despise internet 'lists', it would be worthwhile (as well as a great way of possibly boosting website visits) to look back on some of my absolute worst hostel stays throughout the years.
I've also put them in order of least awful to most awful.
London, 2011 – Unknown
I don't know why, but for some reason hostels in Ireland, the UK and other cold climes tend to be heated up to incredible levels – which I hate, and this was no exception even though it was December. Topping that off, was a massive collection of Spanish students also evidently staying in the same hostel – I say evidently, because as everyone except the Spanish know, the Spanish often rank highly as amongst the loudest people you'll ever come across. Finishing off the excitement was that age-old feature of old British buildings, the sink in the bedroom. The sleep was very poor with millimetre-thin windows, an overbearing heat throughout the night and the Spanish students screeching and randomly running down the corridors, seemingly threatening the floorboards' collapse any moment. I've ranked this the least-worst though, because overall, nothing happened and it was liveable considering how much we paid, which was very little.
Kuala Lumpur, 2012 – Berjaya Times Square (Golden Green Holidays)
This was quite recent and actually, BTS is a full-fledged hotel that I believe is quite nice. In our case, though we booked through booking.com believing it to be the very hotel, it wound up being a private apartment owned by another company called Golden Green Holidays. We stayed about two nights – how it went was, we had to find some guy Sharif, who demanded to be paid in cash as soon as we arrived to our unit and before we had much of a chance to see it. The room stank of smoke and was filthy – ashtrays full to the brim and the cleaners apparently 'on their way'. In their credit, they did their best to clean the place but as we settled in later in the evening, with the stale smell of smoke still filling the room, mould in every corner, and having been told by our apartment neighbours that the place was frequently used by gangs who brought prostitutes (and more), we decided we wouldn't stay the full duration. Still, it could have been worse – but as I wrote at the time, I'd advise everyone to check and double-check never to book with this company, even possibly by accident.
Nice, 2005 – Unknown
2005 is a long time ago, I'd admit that, so it's a sign of how bizarre this experience was that it continues to stick in my mind. Myself and two other guys were travelling around Europe to celebrate finally finishing school, and after arriving to our original hostel, we found that not only had they abandoned ship, but they'd left us a handwritten notice on the counter telling us they were full and to go a neighbouring hostel that would be honouring our reservation. The room, as is popular in Europe, came equipped with one double bed and one single bed which practically guaranteed none of us would be able to get up to any hijinx or bring anyone back with us for an evening's entertainment. But more importantly, our receptionist, an overweight grumpy guy who was seemingly on the Mary Jane on a non-stop basis, begun the welcome with a long and lengthy speech on not bringing anyone back and on how our relationship (with him) was built on trust. Honestly, it was like being back in Irish College in 2001 and being caught by the Bean an Ti mitching off church on Sunday (For those not from Ireland – just know that it's the equivalent of being caught by your parents with magazines in your teenage years. You know what magazines). One of the following nights we returned to find him also waiting outside to make sure we weren't bringing anyone back. So you can imagine how this situation finished when one morning, a girl leaving our room after all (a friend, as it turned out) got caught by our receptionist.
Delhi, 2009 – Smyle Inn
From what I can recall, I stayed here purely on the basis of it being one of Hostelworld's high recommendations. It shouldn't have been, because it was dreadful – though I think being in Delhi was at least partly the problem. The hostel-organised lift from the airport was the first sign of trouble, with the driver pulling over midway and demanding a tip to continue. Our arrival was punctuated by the sight of someone taking a dump in the entrance archway to the place; which at least served as a suitable distraction while I legged it without giving a tip. The room had one tiny window overlooking an alleyway, there was no AC contrary to the booking reference, the receptionist/s had no interest in anything other than selling me tours and topping it off was the free internet. Back in 2009, to be fair, it was quite usual to have a quota in the internet café in a hostel – but they took it to a whole new level, literally walking over and turning off the screen in front of you after 15 minutes. I've never seen anything like it before or since. Delhi by the way could be done without too at any rate, so I'm fairly confident I'll not have to see this place ever again.
Kuala Lumpur, 2010 – Paradiso Bed & Breakfast
This remains as the only hostel that I actually checked out the following morning and refused to spend so much as a single night more. To say that this place should be condemned isn't a strong enough statement. We arrived very late in the evening and after checking in, which required waking up the receptionist who was sprawled out fast asleep on top of the reception desk, we moved along to the room which was, to say the least, filthy, clearly a former office with filled in holes where an internal window once was and a view of, no less, the back of a giant advertising billboard (that picture is taken from the other side – we actually faced the back of it). The bathroom saw some issues with a cockroach or two also looking to use the bathroom facilities at the same time as myself. With the lights out, it was time for a deep sleep to rectify all the wrongs of the evening – within an hour however, we were back up again as windows shattered, walls were drilled into and spotlights seared into our room. As it turned out, builders were installing a new signboard for the advertising outside, and this was due to continue unabated for 3 days at least. I have never left a place so quickly in my life.