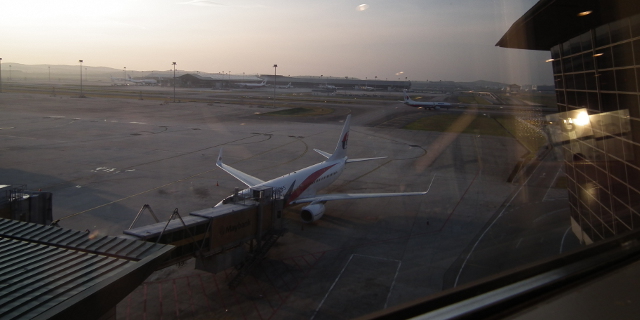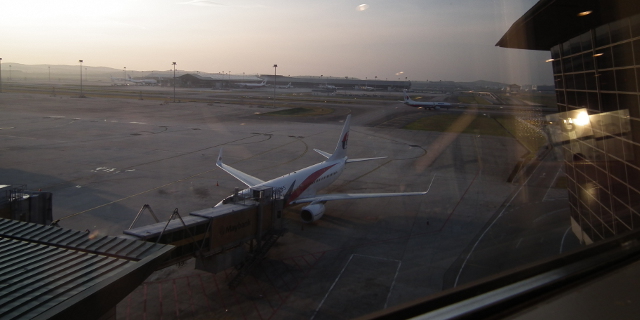 As you've possibly waded through the previous post in which I lamented the bland and unexciting experience on-board the supposed World's 5-Star Airline, getting to Phuket I can gladly assure you, was a markedly better experience overall.
As I always say (when I can afford to, which is nearly never), you have to live life right, so with that I booked us flights on Malaysia Airlines Business Class, partly just because I could that month and also, to see was it really worth it. As always with a journey to the airport in Kuala Lumpur, we kicked things off with a taxi journey supposedly to KL Sentral that quickly turned into a jaunt to the airport as we negotiated a fine price with the driver en-route.
Arriving at KLIA, we headed for check-in. Business Class for Malaysia Airlines gets most of one side of a counter row and service was very quick, pleasant and efficient. I will make a small criticism that it was a bit disorganised with no actual queue so we split up and stood behind a passenger already being checked-in each and waited to see who became next. We also received a bookmark for priority immigration, and with that, we were on our way.
I know this isn't Malaysia Airlines' fault but the priority immigration pass is effectively worse than useless. In our case, the red-carpeted priority lane had two officers (with nobody actually checking eligibility for the line or not) working very slowly through all business class passengers, while other lines moved far faster. Again, I know they may not be able to help this, but it is quite embarrassing and a complete waste of time to even give this card for something that doesn't help at all.
Into the lounge then, which was the domestic version in the main terminal. Actually, having tasted a number of lounges, I was really impressed – the coffee was among the best I've had in KL anywhere, the breakfast was of course very Malaysian with a few odd Western bits thrown in, but still delicious; while there was ample seating, showers in the toilet cubicles and beautiful panoramic windows across the apron to view the sunrise.
Through the security at the gate, boarding was unusually controlled very militarily and only those with families genuinely did board first, followed by myself, eager to spend as much time sitting in my seat as possible.
European airlines have shamefully done away with proper Business Class on short-haul flights I'm embarrassed to say, and these days I feel no jealousy passing through that part of the cabin while boarding, as it looks the exact same as the rest of the plane bar a few miscoloured headrests or a plastic table inserted hastily between the seats. Awful! Malaysia Airlines (and most Asian carriers) continue to do the honours though and the seats on this flight – despite being a little over an hour – were like the kind of plush armchairs I expect to find at my grandmother's house; only with a seatback screen in the back of them!
Drinks were served before take-off, after which our tables were quickly laid for breakfast. Malaysian breakfast for the uninitiated is generally something hot, mildly spicy, cheaply and rapidly prepared – basically, all the things that don't seem like they should be possible on a flight at 35,000 feet. So, although there was an omelette option, I went for some kind of Roti and chicken curry (at least, that was how it was explained to me!). OK, so it wasn't like the 2 Ringgit Roti from the shop next door, but it was a great effort for something someone tossed probably hours before. The chicken curry was really very nice – perhaps not everyone's breakfast choice, but really very delicious if I may say so.
Right up there with the humble (but essential) chicken stuffing sandwich on Aer Lingus that I frequently pine for late at night. And that's no joke, any of it.
Landing was very gentle and I passed the time by stretching out my legs and admiring the serious amount of legroom – certainly, while I would not frequently have the funds (nor the requirement) to travel in Business Class, I can see why you would, and would try to do so more often again.
In no time however, we were back on the ground, grabbing our belongings and heading into Phuket to brace ourselves for the searing heat outside and get the weekend started.