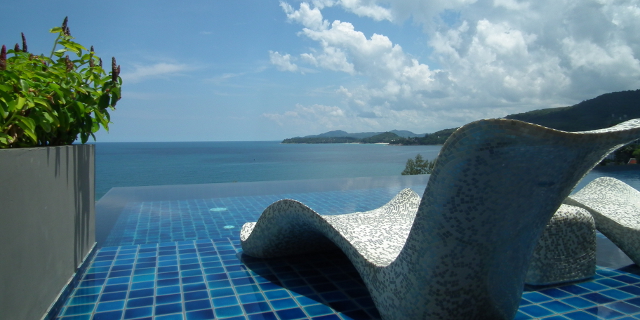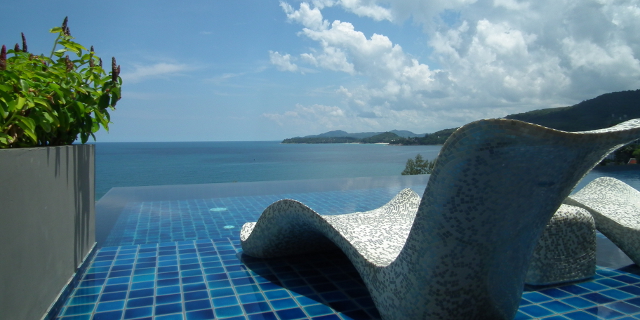 My trip to Phuket overall was a wonderful experience this time – certainly far more so than my previous visits, especially my visit to Patong earlier in the year – all kicked off by a very enjoyable flight up from KL with Malaysia Airlines.
Our stay for the few days was to be relatively-new Hyatt Regency Phuket Resort. I am openly disloyal to hotel chains, because I find the service to be so inconsistent from one property to another and because the benefits of being loyal are generally significantly less than with say, airlines; however, a good friend of ours has made Hyatt one of her first choices, and had only rave reviews to give about this property. With her birthday looming and her plans to celebrate there, it seemed only fitting for us to also depart Malaysia and head north for a few nights.
The hotel is a pretty solid 30-40 minute drive from Phuket Airport – which by the way is now in what can only be described as the final moments of life, it's so hectically busy and unappealing – mostly inland, before coming back out onto the coast for the final stretch around the bay. Before you've even arrived, the area itself looks impressive. The final road from the nearby town down to the hotel felt like we were getting closer and closer to a dead-end, rather than heading to a large-scale upmarket property.
Arriving to the hotel, we were greeted with a welcome drink and (this isn't a major complaint, but something a little unusual) rather unexpectedly, the full charge for the stay plus an additional safety 'deposit'. I'm sure there's a reason to charging all this before someone's even stayed, but it seems a bit hardcore – coupled with the extremely slow refund time afterwards (mine took a good 3 weeks to get refunded). I'd be keen to know the logic behind that all.
Check-in done and dusted, room not yet ready so we were escorted to the club lounge by golf buggy. You will absolutely not believe the angle of the hillside into which the property is set. As we departed reception, the gradient changed from flat to almost rollercoaster-like as our golf cart did its utmost to propel us and our luggage upwards without rolling back down. It has to be seen to be believed – it is extremely steep, but a fantastic workout if you were (as we did) to do it a few times each direction a day.
The clubhouse was perfect and just what you want to arrive into after a bit of a journey and when a room's not yet ready; immaculately presented, air conditioned, still plenty of offers of breakfast/eggs/etc., a help-yourself scenario with fresh bread, fruits and beverages and without a shadow of a doubt, the view to beat them all.
When the room became ready, we were loaded back into a golf cart and driven back a few hundred meters down the hills. The rooms are arranged in different clusters of buildings throughout the hillside – it was really something. Our room (as they all will) had a beautiful view out over the sea, looked absolutely spotless, and was just what we needed by that stage. In addition, our room had an internal bathroom that featured a huge pane of glass on the sea-facing side, at which you could leave the blind open to admire while you took a scrub; sadly, I only ever showered so never really made the full use of this feature.
As an aside, the hotel wasn't too busy and the pool at any rate is so large that you would need a large amount of uncontrollable children in it before you'd have a chance of hitting someone while swimming along. The club pool, while lovely, is more what I'd term a 'chill out pool' and you would likely drench everyone sitting outside the clubhouse if you were to really go hammer and tongs at doing lengths full-speed in it.
I'll be honest – we never left the place in the few days we were there. We wandered outside onto the footpath one day, looked up and down the road and then just went back inside – which says it all really, as that is very uncharacteristic of my normal stays anywhere. The eateries similarly were also top notch, from great personal experience. As I say, I am not someone who cares much for hotel loyalty (mostly of their own problem, as there's just no point/consistency), but as mentioned earlier, this one was so beloved by our friend and I really can see why, it was beautiful.
Hyatt are so lucky to have the setting and the landscape they have there, as that really gives the property its character I felt. I could write for pages about the place and still not have covered anything in full detail, but suffice to say I would highly recommend and wouldn't mind going again in the very near future – here's hoping…!