Angkor Miracle – Our Siem Reap Digs
Booking our hotel for Siem Reap, we were literally floored by the amount of wild choice available – there's a plethora of accommodation options with most hovering somewhere between 3 and 5-star. This is frankly insane for such an otherwise small place and just goes to show how serious the tourism business is over there. We wound up booking our stay in the Angkor Miracle Resort & Spa (by virtue of reviews and price) – so, how was it?
First things first, as is common in many hotels throughout The Reap, they'll pick you up and drop you off at the airport on the house. This is a huge plus for me because as I rapidly age far beyond my years, the arrival to an Asian airport is frequently something I'd put in a box right alongside hell itself; blazing heat, jostling taxi drivers and touts following you away from the arrivals hall like paparazzi and then the decision over which one you'll continue negotiations with to get to your property. I've been known recently to even pay the outrageous hotel transport prices just to not have this hassle on arrival. So, to have it for free is a massive, unspeakably wonderful bonus. Sure enough, the driver was there amongst the hordes.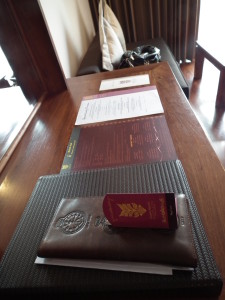 Check-In
Check-in was alright – we had a seat, no cold towel or juice, but it was relaxed and we were quickly over the usual credit card deposit hurdles (sadly, I have either an Irish credit card which is frequently stopped because of the various locations I try to use it in, or an array of debit cards across multiple countries that hotels refuse to take as they can't pre-authorise them). We were then shown to our room which was one floor up, down a very long corridor and nearly down to the end. When I walk that far in a hotel, I usually start to get nervous expecting the worst, but this was truly a pleasant surprise; we got a very nice room and in comparison with all the other floors above us, a far larger balcony, big enough for two full-length sunbeds.
The Room
As I say, the room was perfect for me – the air conditioning worked like a dream, they leave a plastic card in the electricity slot so you don't need to find yourself fiddling in the dark for your key-card when you arrive in at night, the balcony was lovely (and as we discovered later, facing into the pool is the way to go right now as there's major construction in front of all the rooms facing away from the property at the moment). Our bathroom equally was wonderful; with its own bathtub and separate shower cubicle and all immaculately clean.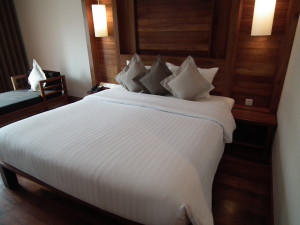 The hotel also provides two bottles of complimentary water daily, and I've had trouble in other hotels getting these replenished during the day – from being flatly refused to turndown service just not bothering even when the two empty bottles have been left out obviously for them. No such problems here, they were more than happy to provide as many bottles as I felt I needed (and in Siem Reap's blistering heat, the more the merrier) and replenish them at night whenever they noticed they were empty. There's also free WiFi although being critical here, while the speed was good, it certainly suffered at what I expect are the 'busier' times; evenings and mornings, when presumably others are also uploading their perfectly-filtered pictures across all social media sites. The internet dropped at times to pretty much unusable levels. Then again, this is Cambodia and to have high-speed internet in any form for free must surely be something?!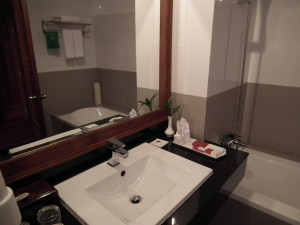 The Food
The first day we had some food down by the poolside bar. Honestly, it was 'alright' but I think perhaps this is the one serious area they need to re-look at; the poolside bar was just OK and really nothing special at all. Similarly, the breakfast the next morning (as you'll also see on all their TripAdvisor reviews) was nothing to write home about; for Europeans/Westerners, the choice wasn't very exciting, which I suppose makes some sense as the Asian options were much better and the restaurant was about 70% populated by Chinese families. Some things could be better without doing much though; there's an egg station with a chef but for some inexplicable reason he just continually fries eggs and throws them on a plate in front of him (not a hot plate either) and it seems you're expected to take these half-cold eggs rather than have them made fresh. Same for omelettes – although there is a work-around here, which is to ask him specifically for an omelette without some ingredient in the pre-made mix; chef was more than willing to oblige me on that. But I wondered about the logic of having him cook a bunch of food nobody immediately wanted when he was standing there anyway and could surely cook fresh on-demand.
The Pool & The Service
I'll be upfront with this; I was about 5 minutes away from home in KL when I realised I forgot my shorts for the pool. So the extent of my usage was dipping my feet in and sitting awkwardly on the side looking at everyone else. But the pool was more than big enough for anything other than Olympic swimming and rarely used, so pick your times well and you could more or less have the whole thing to yourself; perfect for those burning-hot late afternoons. As for the service, it was very good, the Cambodian people are generally very hospitable (note, not the immigration staff) and the hotel staff were no exception. Unfortunately on the last day, while they were busy painting the balconies next to mine, some spots of paint had landed on my sunbed and I ended up ruining my shorts (not noticing obviously) by lying there for an hour or so and getting the specks all over the shorts. While they didn't do anything 'material', i.e. comp our food bill or anything of the sort, which I thought was maybe a bit lacking considering I now need to buy a new pair of shorts, they did assemble a platoon of managers of housekeeping, maintenance etc. to all apologise one by one, which tells you something about how serious they took it.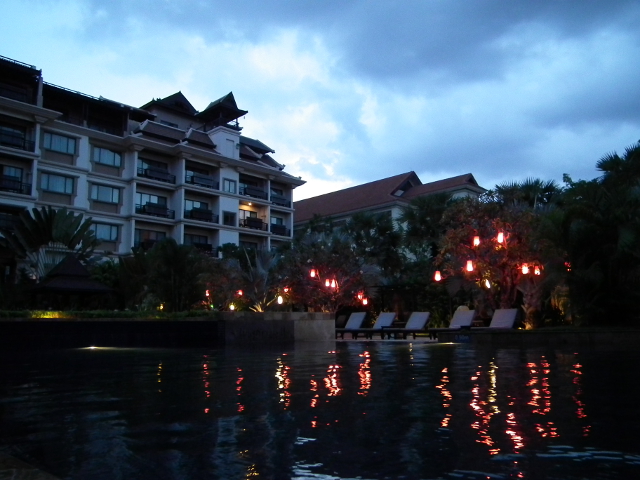 The Verdict
I liked Angkor Miracle a lot; it was very spacious, the service (which is sometimes half the battle) was excellent and if I overlook elements like the breakfast selection and the shorts-ruining experience, I'd rate it highly. The staff were honest and upfront; we were never coerced into an overly-expensive hotel taxi; they were always happy enough to get us a tuk-tuk off the street, the free airport transfers is surely worth its weight in gold and the hotel in spite of being a 'resort' had a perfect amount of quiet throughout the day and the evenings that you could sit out and relax on the balcony without the pool bar being annoying. Would definitely stay again.