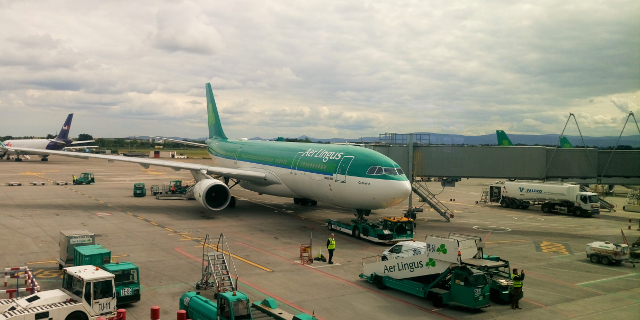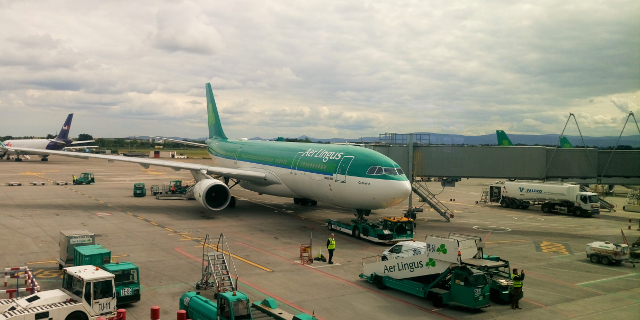 Even though I enjoyed British Airways all the way to Dublin from Kuala Lumpur, the return had a small complication. I could either fly out a solid 2 hours earlier with British Airways – which, given the very average flight from London to Dublin I'd experienced a few days prior, I was in no mood for – or leave (and therefore enjoy family time) 2 hours later and have a shall we say, 'minimal' connection time for the flight on to KL, but with Aer Lingus, connecting onwards from Terminal 2 to Terminal 5.
Aer Lingus has been one of my favourite airlines of the past few years – with only one exceptionally cranky weapon of their staff causing me some doubts – and they've really improved in unspeakable amounts. I'm a former member of their Gold Circle program and even though I've swapped the shamrock for the wau bulan of Malaysia Airlines as my home carrier, I still go out of my way to give them a try whenever I'm back that way.
For me, one of the best changes that happened to them – aside from them themselves – was moving into Terminal 2 in Dublin Airport. Having flown into what is now an unapologetically tired and drab-looking Dublin Airport Terminal 1, I was thrilled to be leaving via a more modern and upscale building. It looks the part and, though I really don't know what to think about all the new self-service bag tagging kiosks (though I'm of a vintage where I also remember the total mess that was their 'Area 14' underground dungeon in Terminal 1 which also had a very poor effort at self-service bag tagging), at least it's made a lot more space for passengers like myself who have been unable to check-in or need onward luggage transfer tags (the kiosk had a think about it and abruptly told me there was an error and to take a hike) and need to actually check in the old school way.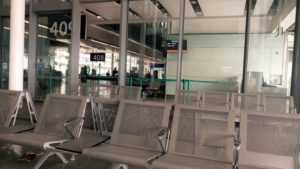 Boarding card issued (to London only sadly), it was on through a very brief security and out into the terminal-side. I'm sorry to say that it does seem like Dublin Airport have gotten a bit greedy in deference to passenger experience – where there was once only one of those hideous car sweepstake stands, there now seems to be additional clutter in the centre throughout that whole concourse. Honestly, there's more than enough retail and commercial in T2 already, I really feel considering how busy the whole place felt, that it would be nice just to have the supposed feeling of open-space and air that we were all told T2 would have. The effect it has on me is the opposite I suspect, to the intention – I grabbed a cheeky bottle of Jameson Signature Reserve and immediately headed to the relative calm of the gates as quick as I could.
I'm not sure how you'd actually 'describe' a flight as short as the one from Dublin to Heathrow. We were all on-board on time and as it was the middle of the afternoon, everyone was far more mannerly from the early morning businessman scrum or the holiday destination roll-aboard frenzy you sometimes come across. However, with my minimal connection time, I was saddened to be ready to go and be told by the captain we were going nowhere due to slot restrictions at Heathrow for another 40 minutes. This just didn't work at all. From the second we made a move, I was already plotting my transfer into the micro-detail.
Thundering into the air, we made a right turn around and back out over the Irish Sea, with me willing the plane along at supersonic speeds ideally.
I have an almost 'ritual' on Aer Lingus flights, and I wasn't planning to drop it just for such a short flight. It's very simple; judge the entire merits of your flight on how good the chicken & stuffing sandwich is. You'd be surprised – it's worked for me for years, and has entered almost into one of my 'travel traditions', along with searching out the dance playlist on long-haul flights as some kind of barometric indicator of the quality of the carrier. This time, I so boldly stepped it up with the addition of a pack of Tayto as well.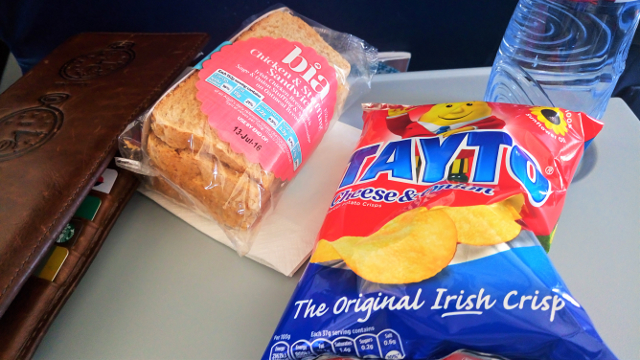 As flights go then, it was absolutely delicious. I remember – and again, this speaks to my travel vintage – a time long before Aer Lingus menus were being celebrity endorsed and came with a corner missing from what was presumably the kid who had been sitting in your seat just before you, and yet the humble chicken & stuffing sandwich was still being hurtled through the air at 40,000 feet.
By the time I'd scoffed it down – and anyone who knows me, knows I scoff at an alarming rate – it was already time to put everything away, put the seat upright, window blinds up, and go back to trying to initiate some level of conversation with the couple beside me, whether they wanted to or not (they really didn't, but tough). We touched down in Heathrow as I continued trying to hold the window view hostage unless I heard a full sentence out of either of them.
Since I've been away as well, Dublin flights no longer taxi nearly back to Dublin to offload passengers (anyone who remembers the hideous corrugated metal shanty that they'd ambitiously named 'Terminal 1' will get that) and like a normal group of people, you're allowed to disembark very kindly in a beautiful new terminal, Terminal 2.
Clearly, Aer Lingus flights arrive at the same gates because we taxied in with the speed of someone confident in where they were going. That was it – my final taste of home until next time.
With my connection time now running out rapidly, I belted it through Heathrow's expansive connections 'corridor' that more or less seemed to do a complete circuit of the terminal, down the escalator and wait – 10 FREAKING MINUTES – for the bus. Seriously, 10 minutes? I couldn't believe it. The connection, which I made by the way, was a nightmare as I gently alluded to in my last post; the wait for the bus, the ridiculous way the driver has to get out and open the doors, then lock them again, then drive at 30MPH (for the love and honour) to Terminal 5, then repeat the door process. Then up at security the queue was getting out of control and the absolutely delightful lady manning the connections entrance was more interested in barking out threats ('if your liquids aren't right, it'll delay you and everyone else massively') than really doing much to speed things up.
Heathrow; if you did chicken & stuffing sandwiches, they'd be disgusting and tough. But Aer Lingus, yours are still awesome!