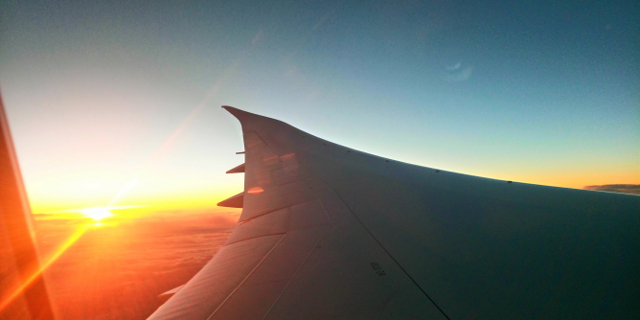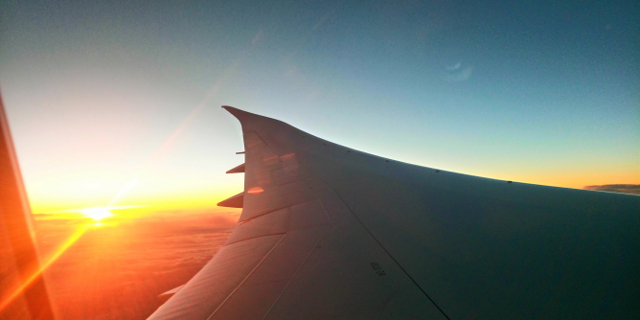 Though my experience to date of British Airways hasn't always been favourable (I won't link to them, but the posts can still mostly be found – to summarise; drunk racist passenger on one occasion, and staid, old aircraft on the others), an awesome airfare in World Traveller Plus, BA's effort at a premium economy cabin, plus an incredibly tight few days celebrating my best friend's wedding in Dublin meant that it seemed the way to go; plus, let's be honest, the inner geek in me also wanted to see what all the fuss was about with the 787, which the KL route got gifted very early on after the routes introduction.
So how was my first experience in premium economy? Well, I'll preface this by saying that BA had their work cut out with me – the KL to London route tips slightly over 12 hours on the way over, and a bit under on the way back so it's not an experience you can be over and done with quickly. First of all, it was great to see that, in KLIA anyway, there's a separate premium economy line for check-in and that formality was over and done with very quickly.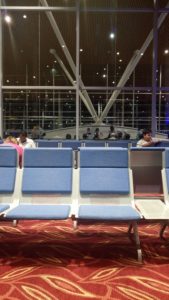 I've passed through KLIA so many times I'm pretty sure I could navigate it eyes closed but I will say this – they need to seriously look at outbound immigration around the time of that flight. The lines were scandalous and very haphazard, with some queuing only to find out that it wasn't for the right desk, or it was a VIP line. It strikes me that this is clearly a wild time for long-haul flights out of the airport and requires higher-than-usual staff to be on the desks. Since the process now also includes photograph-taking as well as fingerprinting, the queue's don't move quickly either and I eventually bailed into a very short 'check-out memo' queue, having no clue what it did but presuming I could safely play the dumb expat (tip: I could, and so did many others).
Finally through immigration, security, and onto the plane; first thoughts were both thank goodness for a very high-powered air conditioner on the plane, and secondly the windows really are much larger than usual. Because of the way you board, World Traveller Plus passengers pass through Club World (Business) first, then into the premium economy cabin. Somehow, I think due to that the initial thoughts are that it doesn't look that impressive (again, hint; if you don't think so, head down to normal economy as soon as you get a chance and you'll feel infinitely better about the premium economy cabin), but after settling in, I tried in vain to somehow have my knees in contact – as they regularly are on most flights – with the seat in front, but it was nigh impossible without doing some seat acrobatics. The legroom, if you're tall like me, is exactly what the doctor ordered.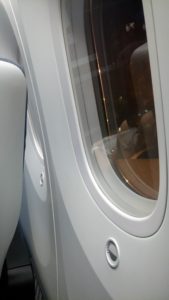 There was a cheeky round of pre-departure drinks – I'm pretty sure sparkling wine was one of the options, but knowing the few days of intense beveraging I had ahead of me, I went for the plain water. After that, we were off for a long taxi; another of the 787's supposed major plus points is the huge engine noise reduction; to be honest, engine noise doesn't usually bother me anyway, and I didn't really notice it being that massively much quieter.
For me, the huge plus points for the plane in general was that you noticeably don't 'dry out' as badly, and those oversized windows. The only thing I could say about the noise was no part of the 787 really seemed to sound like a normal plane; the take-off  noise was more commuter train and less the usual washing machine spin cycle; comically, even the toilet flush whistled more than sounded like it was devouring an old person, like the usual.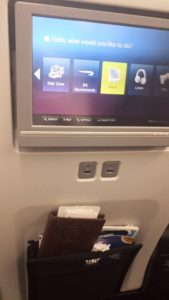 The evening meal offered was from the business class cabin, which adding to the leg space and general sense of peace and quiet in the WTP cabin (let's go with that, since I'm getting sick of writing out World Traveller Plus!) made it very hard to fault, and noticeably compared with their Middle Eastern competitors and very much in line with my findings with other carriers like Lufthansa, they weren't backwards about keeping everyone 'refreshed' with wine, beer, etc. during the meal.
One thing to really love about BA is, compared to the very sterile offerings of many of their competitors, they are decidedly cultural and strong in identity; the food really has flavour and is clearly influenced from their home, the entertainment strongly leans towards 'best of British' and the branding really shows, which for me anyway, makes for a great passenger experience.
I wish I could go on and wax lyrical about the in-flight entertainment offering; but to be honest, I watched one episode of The Night Manager, which was awesome, couldn't find any other episodes (another passenger kindly – if belatedly – showed me the next morning where to find them), tuned into Travelogue – Le Visiteur, which appears to be BA's dance playlist; and woke up next somewhere over Turkey.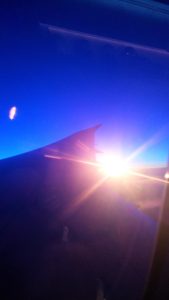 If premium cabins are premium for the quality of sleep, then I will say this; BA's World Traveller Plus was worth every penny. Out of the roughly 12 hour flights both ways, I slept for about 5 or 6 hours on the way over, and a solid 8 on the way back. And I normally can barely sleep if at all on long-haul flights so though we can probably apportion some of that success to the wine, it was a phenomenal nights' rest and leaving aside all the other niceties, I would very gladly do BA premium economy again for that alone. Sleep was so critical on this trip; I can safely say I only slept for about 12 hours in total the whole 5 days in Ireland, so it was wonderful to get such a good rest before and after.
Before long, breakfast was being served and I was getting to grips with the shock of finding out it was actually perfect daylight outside while our windows had been dimmed by themselves so that it had appeared night for far longer than it really was. This, I only figured out after a trip to the use the whistling toilet and seeing the bright daylight outside through the emergency exit door.
So, what were the downsides? Well, none really for WTP, but there can be no doubt no matter what's said; the economy cabin really is best described as 'compact'. I wouldn't fancy at all 12 hours cooped up back there, and I suppose that's reflected in economy being only about 1/3 the length of the entire plane.
My other gripe was that, British Airways works out for me as the fastest way to Dublin but that's only by maintaining a 2-hour connection time or so in Heathrow; and honestly, it's just so big (and not BA's fault at all) and long to get around, that you'd be doing well to manage it in that time. On the way over, I had just about the 2 hours but a late arrival plus the sheer gargantuan size of Terminal 5 – which is really more like 3 terminals than a single terminal – which necessitates a train journey from one place to another, plus the number of stops at the boarding card check counter, passport counter for UK/Ireland flights and then the very poorly staffed and slow-moving security lanes for connections (2 lines at 7am, which would seem like a prime time for connecting passengers – and 1 on the way back at 7pm, headed by a particularly aggressive line manager who seemed to lack the concept that many of the connections may not actually understand thick London English) had me arrive just about at gate closing. On the way back, I was the 7th last passenger to arrive at the gate it was that close.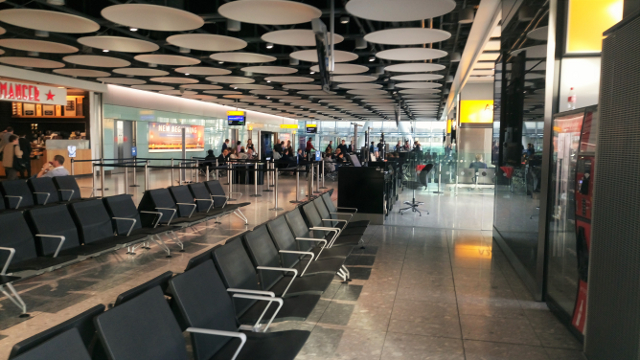 To be honest, it was very nerve-wracking and would make me think twice in future; even though as I say, I'd be happy out in World Traveller Plus any day!
Overall though, a great experience and so lovely to finally be able to put my previous 'episodes' with British Airways' finally to rest – and also give myself a new solid option for the long journey from Kuala Lumpur home to Dublin. Have you tried BA's – or any carrier's – premium economy? What did you think? Would you do it again?