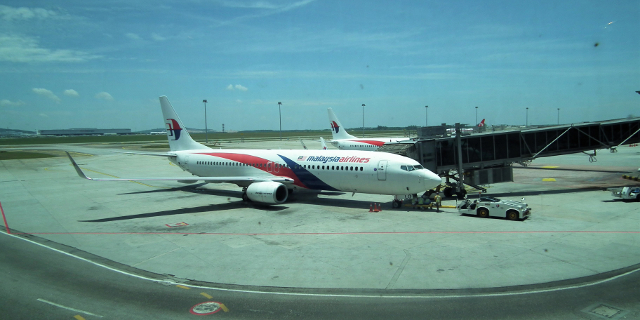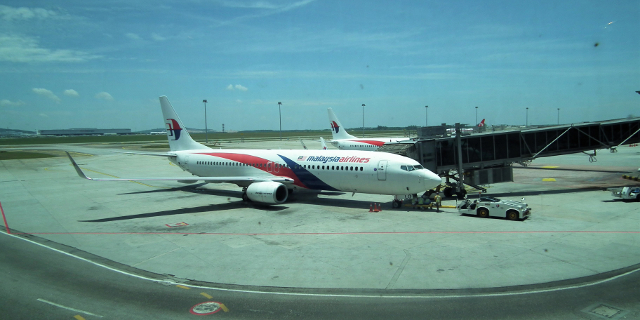 This year I've been incredibly lucky (and most uncharacteristic) not to have to 'partake' in any economy travel, barring the trip to Saigon back in February with AirAsia. This has largely come about due to some absolutely intense premium class price-warring going on between Malaysia Airlines and Malindo Air where they share routes, and MH Upgrade – the bidding system of Malaysia Airlines.
For our trip to Langkawi, I had already booked a Malaysia Airlines business class flight one way at an absolute steal – something like RM250 (let's say around €50) each. My initial intention was to just go in economy on the way up and hang onto the few extra ringgit – but as always, I ended up being wildly tempted by the 'don't miss your chance to upgrade' e-mail; and again, what a bargain, the minimum bid was something you just couldn't refuse.
I've developed a new trick that so far, has seen a 100% success rate. I check out the minimum bid, then head over to Expert Flyer (find it yourselves, I'm not linking to such an invaluable tool) and check the seat inventory for the flight – if it's already looking full a few days out, then forget it. If the occupancy of the business class is looking a bit heavy, then I consider maybe putting in the minimum bid plus around 30%. If it's mostly empty – as is, sadly, often the case with Malaysia Airlines – then I throw in the minimum bid plus 10%, based on the assumption many will just 'try their luck' with the absolute minimum bid.
So as always, the question is how was it?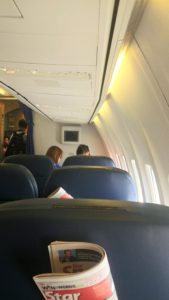 Well, I've talked about the domestic Golden Lounge before in KLIA. Honestly, it's a little outdated and not especially pleasant; but, for one or two hours to relax before a flight, I still think it's worth it. You get soft drinks, some beautiful views out over the apron, comfortable chairs and a pretty relaxed atmosphere. There was also some buffet food available, though I gave it a skip.
On-board meanwhile, it was yet another 'different' cabin to any I've seen before. If I had to have a small complaint about their product, it would really have to be across the board, the lack of consistency and the subsequent inability to 'have' an expectation. So far this year, I've sat in at least 3 different types of business class seat all on their 737's – combine that with the mediocre lounge in KLIA and the complete lack of lounge in Langkawi, and it really starts to become tricky to know what to expect in business class with Malaysia Airlines.
Thankfully though, as is my custom as much as it is that of Malaysia Airlines, I was able to avail myself of the guava juice once again – a drink, I don't think I'd even dream of drinking normally, but for some reason always develop a near-obsession to in-flight.
One thing I can never take away from MH is their staff however, who are, in spite of what has been and probably continues to be, some extremely challenging times. On both flights, the staff were wonderful. On our way up, there was a choice of either dim sum or some kind of vegetarian pie. Needless to say, the dim sum was long gone by the time they got to us but after seeing my disgusted effort with the dim sum – another pie was found and brought out piping hot to us. They'd already said they'd run out and for all I know one of them was hoping to have it or split between themselves, so major credit for going to the effort after seeing that the dim sum wasn't really doing the trick.
Similarly, on the way back, they couldn't have been friendlier and continued to keep the guava juice's coming for me as the meal service went on, even though it must already be tricky enough to do a meal service on a flight lasting less than 50 minutes with quite a heavy load in the business cabin.
The flights in both directions as I say are extremely short and you've barely found time to snap a few pictures of Penang as you pass over – don't worry I did;
…before you're either descending down into Langkawi or sitting with only another 20 minutes maximum before descending into KL.
So is business class worth it for such a short hop as this? It totally depends how you value your time. If it was breaking over into the €100/person amount, I'd say probably not for me. But using the great combination of super business class fares and/or MH upgrade and securing an awesome price, you really do get some benefits out of it like being able to relax in the lounge, check-in as leisurely as you can imagine, get on-board whenever you fancy, stroll off first and be out of the airport after arriving before others have even gotten off the plane. So I say, long live MH upgrade…!