For the short 50-minute return to Penang, I decided to take advantage of the relatively cheap 'MH Upgrade' program that Malaysia Airlines' uses to incentivise would-be business travellers to upgrade from their lowly economy reservation. I'm absolutely certain the program used to be based on flexible bidding, but that seems to have been replaced during the pandemic by a set fixed upgrade fee, with no option to 'set your own price' as there used to be. 
Penang Airport – frankly – is not a fun or enjoyable place to spend time. The airport looks so old, tired, unkept and unwelcoming. For example, the toilets right outside of arrivals extend such a stench (why is keeping toilets clean such a struggle?) – that it could still be smelled at the nearby sushi shop across the corridor. Departures' is equally unexciting – with a raft of check-in desks backed up along the wall, and international and domestic security extending out along the other edge of the terminal.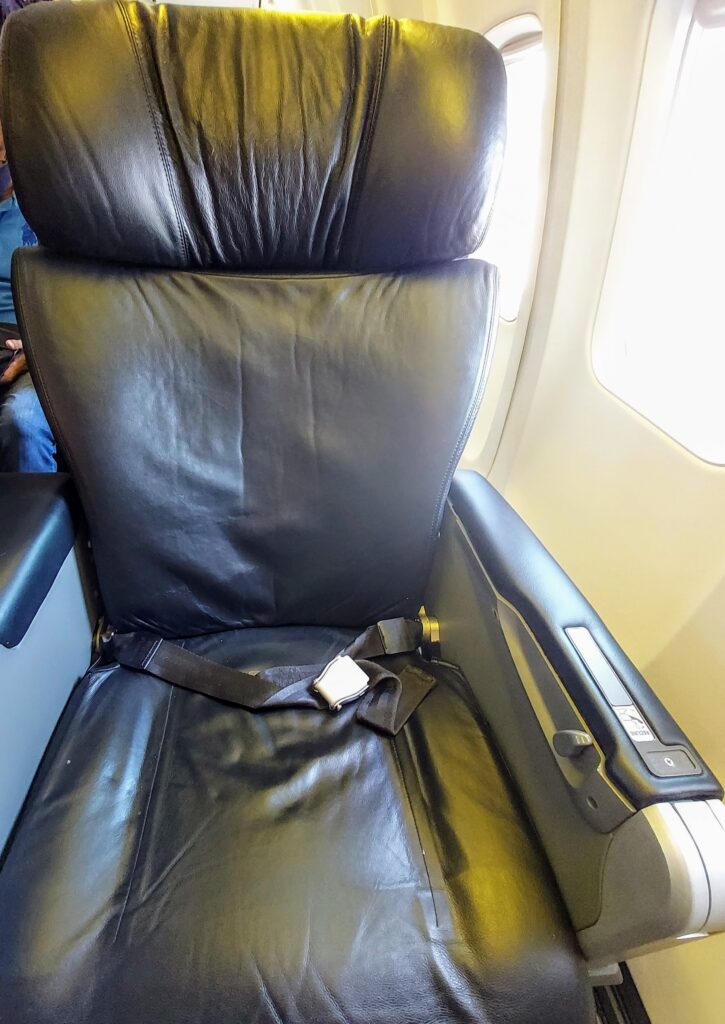 Checking in took moments, I was handed a Plaza Premium lounge voucher, and sent on our way. Domestic security similarly didn't take much time – in fact, the time was only increased because of a lack of trays in which to deposit my belongings and the complete lack of urgency or care to return empty trays by the security guards.  
I'm afraid things didn't improve airside – once again, horrible toilets were the hallmark. The Plaza Premium lounge, sadly, is just in such a dark, cavernous, triangular location – as I'm sure I've attested to before. The staff, while friendly and happy to help, can't make up for the oldness and general dungeon-like vibe of this particular lounge. 
Finally, it was time for boarding. Malaysia Airlines had dispatched one of their older 737's for the mission and this could be seen, firstly in the old livery painted along the aircraft, but then the very retro-looking business class armchair seat, which definitely had a touch of mid-90's about it.
However, on the bright side, something you just don't see anymore – not even on Malaysia Airlines' newer business cabins – was the outrageously generous amount of legroom devoted to those in Row 1.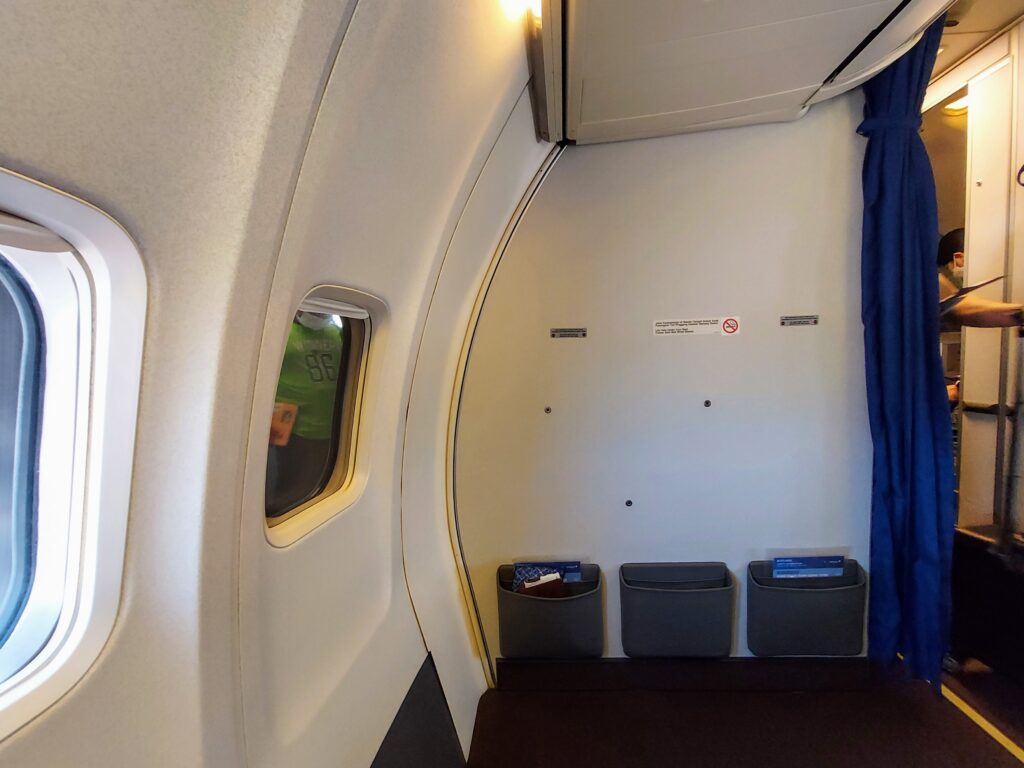 It was so over the top that I tried my very best to touch the wall with my foot, but alas, as you can see, it was nigh impossible…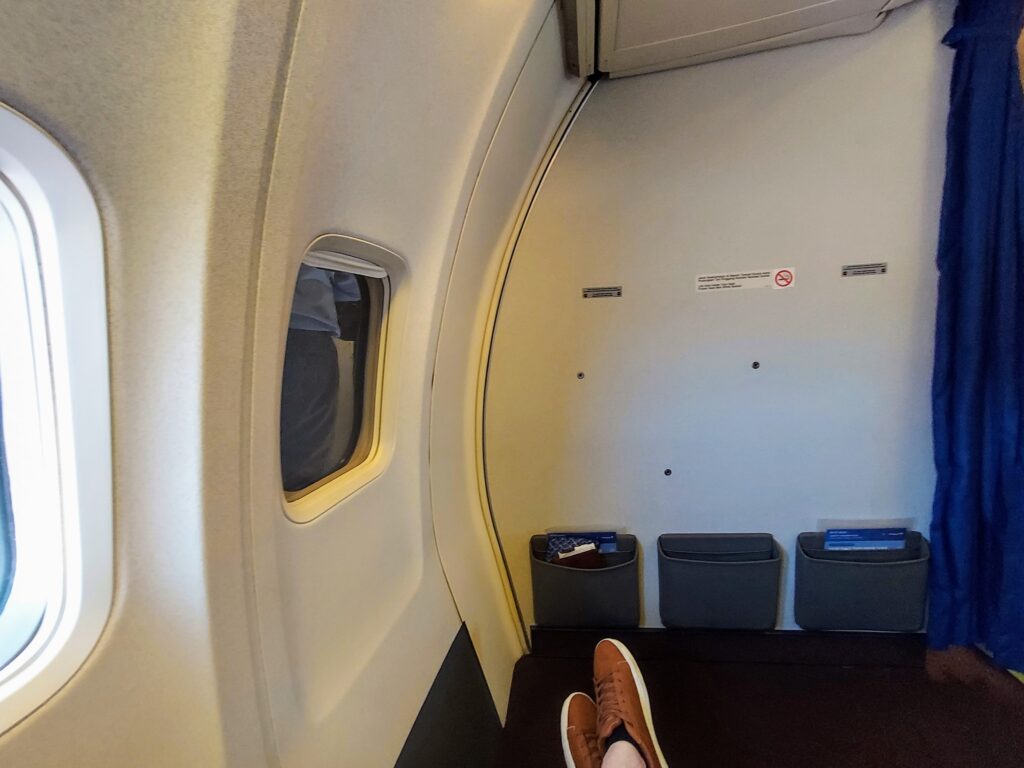 Pre-departure service on Malaysia Airlines came in the form of an offer of juices or water. Domestic flights – and I believe to this day flights' less than several hours long regionally – are not catered with alcoholic beverages.
We got a fantastic view taxiing out to our runway, and after a surprisingly long take-off roll, were airborne.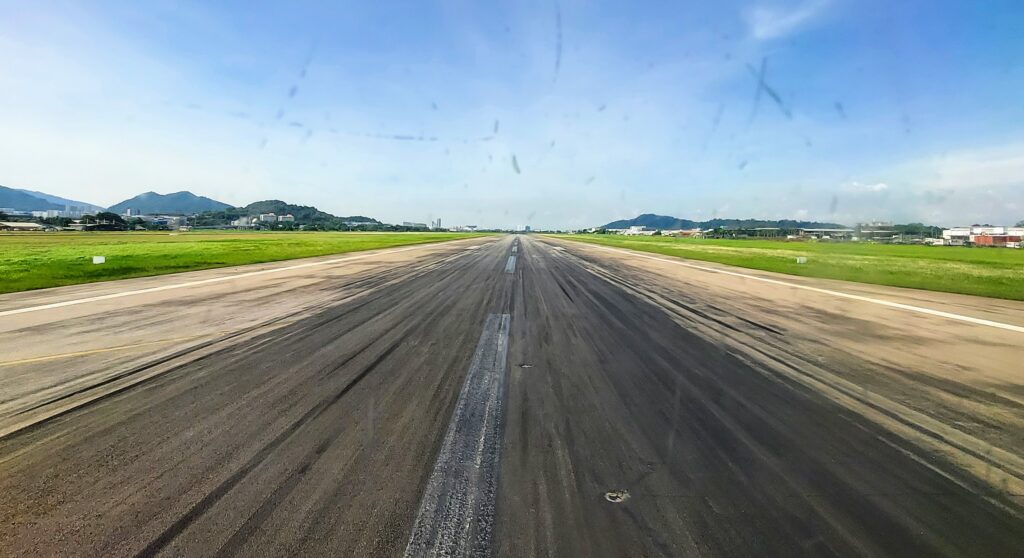 Somedays you can be very lucky and this was one of them – the views over Georgetown, across the causeway, and the bridge were fantastic as we ascended and made our 180-degree turn back towards KL.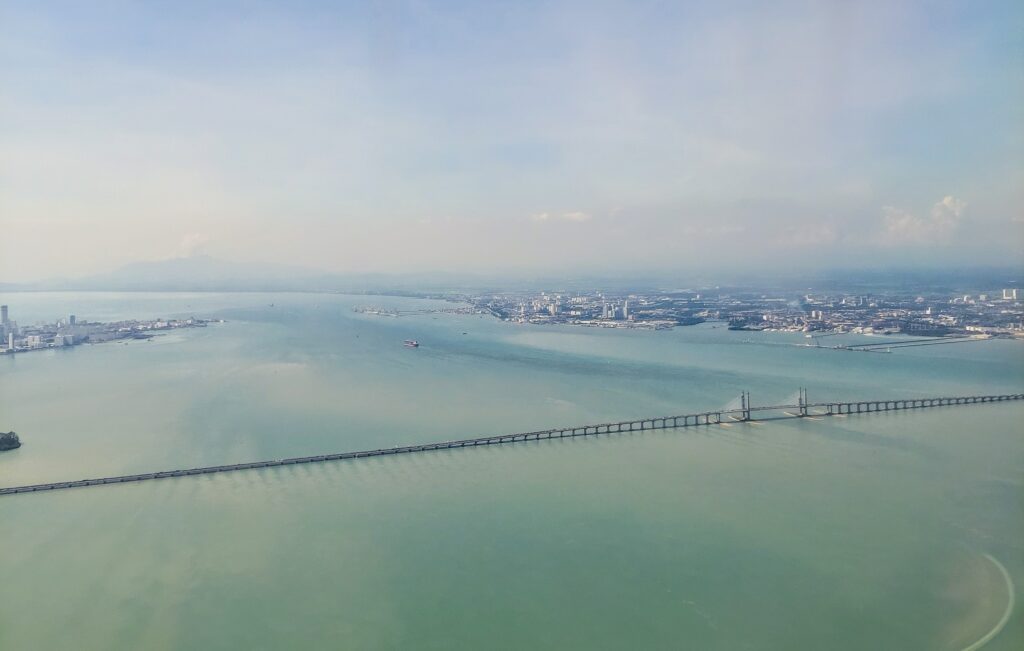 After that, our cabin manager unbuckled his seatbelt, and relaxed. This left our one other cabin crew member to assemble the trolley and – once again, for reasons unknown – begin service from the rear of the business cabin. Somewhere around Row 2, our reluctant cabin manager appeared once again to quickly dispense the meals for both that row, and ours in the first row. He also took the time briefly to explain to me – in particular, which I found a little awkward – what a Chee Cheong Fun was.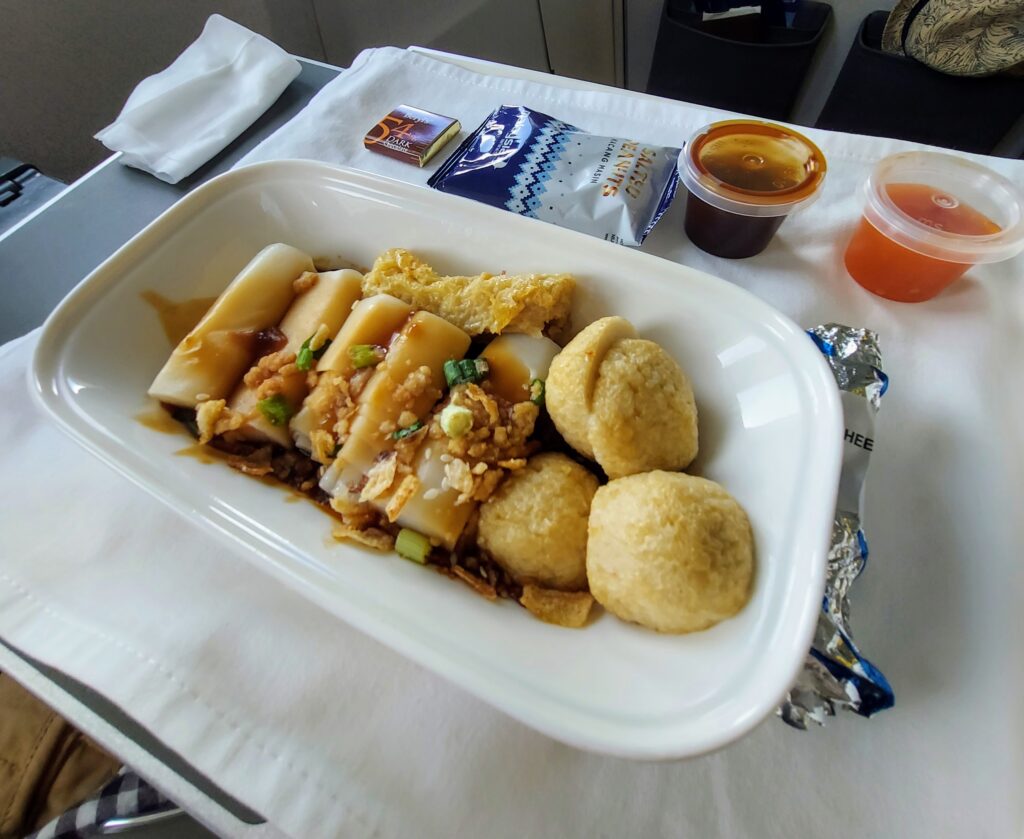 And just like that, he disappeared again without an offer of a drink or did we need anything else – never to be seen again until just before landing. In the mess of his unexpected interruption, the other remaining crew member, knowing that we'd been served meals (but apparently unaware we hadn't received drinks) immediately returned to the last row and began collecting up the finished meals.
By the time she arrived to our row, not only had I found the meal bland, stodgy and unappetising beyond belief (I'm sure a normal Chee Cheong Fun can't be that bland? No amount of chilli sauce seemed to liven it up beyond the first bite or two), but I was by now parched with thirst. There was time for 2 very quick, unapologetic, glasses of water before tray tables needed to be stowed and the cabin prepared for landing.
Overall, this was an unremarkable flight hardly worthy of (or able to, I'd imagine) commanding a hefty business premium – especially for such lacklustre service from a cabin manager who didn't really seem to want to be there to do anything helpful, and a meal and service that was unstructured, unappealing and all over the place. In short, if flying Malaysia Airlines from Penang to Kuala Lumpur (or vice-versa), economy is probably just fine.