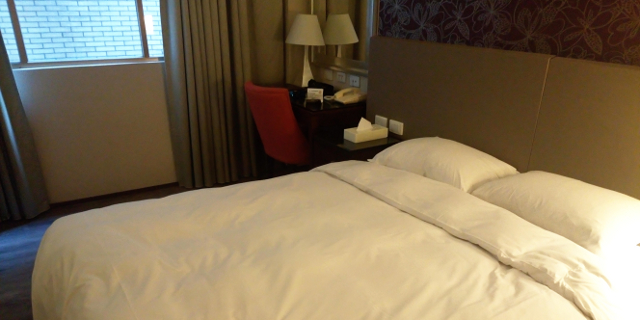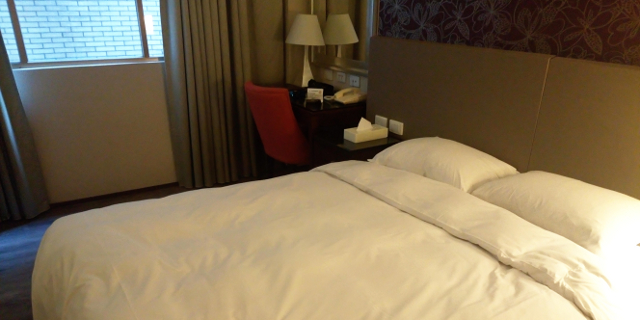 Let's take a break this time around from my adventures and cover the ambitiously-named Delight Hotel, which was my residence of choice for the few days break in Taipei. There's no point wasting time here with excuses; I picked this hotel straight up because of its reasonable reviews and the price-point versus other hotels in Taipei, which on a Malaysian budget, were just insane. Like, unjustifiably insane.
Thankfully, since I got off the bus way too early on my way to the hotel, I had memorised roughly the look of the place and its surroundings on Google street-view, so as I approached the pretty gaudy looking exterior, I could say with some confidence (and a sense of trepidation), that I'd arrived.
Reception was a total mixed bag. Thankfully, when I arrived, the two staff were quite approachable and friendly although there was one particular receptionist who talked far too loudly and was constantly laughing with her colleagues every time I seemed to be nearby, which got annoying over the few days. Similarly, there was another who just seemed irritated by the sight of me; incidentally, she was always the one that had to give me my breakfast coupon every morning – yes, they issued you your breakfast 'coupon' (a system that I already detest to be honest) only in the morning of the day it was to be used. As opposed to, you know, all at check-in, which makes sense for everyone.
Onto the room, which was on the 4th floor. Opening the room, the air conditioning was already on at full tilt and the room was pretty chilly. Facing me, which came to be the biggest blessing in disguise there ever could be, was a large panorama window facing out directly onto…the bricks of a neighbouring building. I was pretty irritated by this at first, but you know what, I was there for city exploring and it actually saved me – by my reckoning – heaps of street noise from the busy main roadway out front.
Besides, it also made a good backdrop for selfies, I like to think anyway…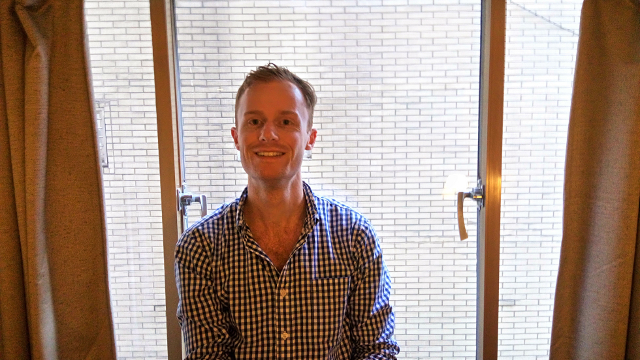 What I will say for the place though, and this carried on throughout the entire stay – it was absolutely spotless, permanently. Even one day when I didn't venture out until pretty late and reckoned the room may not get cleaned, I returned to find it had been immaculately put back together. Likewise, all the bathroom amenities got replenished daily and the shower had insane pressure; I actually nearly away with scorch marks from the mixture of incredibly hot water and super-high pressure. You can't ask for much more right?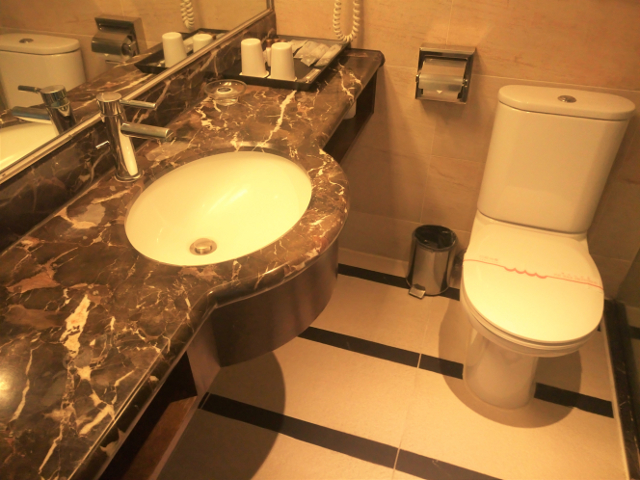 Now, we need to talk about the breakfast. I had already been greatly irritated by the coupon situation, which seems laughable when it's clear from your booking that you'll be staying for a few days. Anyway, down I went into the basement. I won't lie – it was a little bit sad. Don't get me wrong, the Chinese selection was absolutely massive; one whole long counter-length. The 'Western' section if you could call it that though, was essentially two toasters, a coffee machine and some bread selection (I think there was fruit too – though on my first morning, I'd been beaten to it and there was only a few sad pieces left). The main redeeming factor was every morning except the first, the waitress did her best to make friendly welcoming conversation, despite her very broken and limited English. Fair play.
Likewise, the gym was a little bit sad and lacking. But for the value for money, the opportunity to take professional-hipster-looking-selfies in front of a brick wall (doubling as a great way to get to sleep at night) and the almost-clinical levels of cleanliness, would I do it again if I was in Taipei? Actually, yes I would. You could almost say it was a delight. Almost…