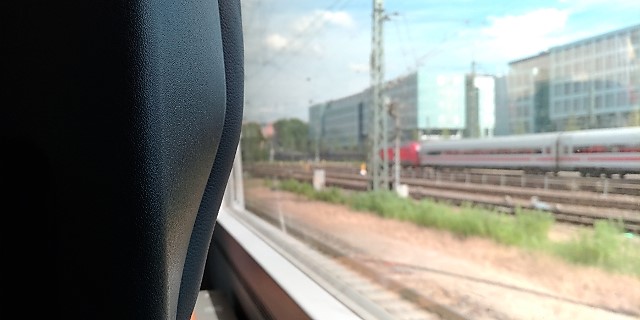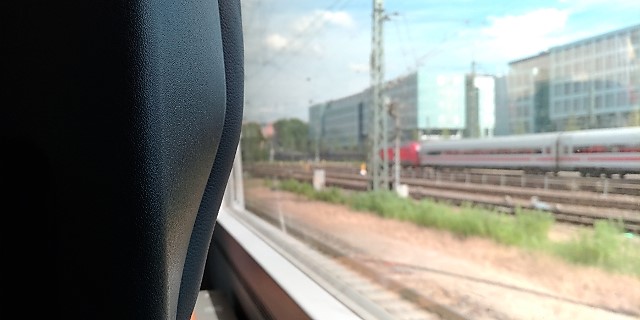 The final stage of my recent pan-German epic required getting from Munich (near, but not exactly, where the wedding had taken place I'd been attending) onwards to Karlsruhe, home of a dear friend I used to work (and laugh a lot) with, when I worked in Germany around 2012.
Somehow, whether through a combination of unpopular times/dates or something more questionable with DB's technology, I ended up finding that first-class fares were more or less on par with the standard fare 'flexpreis' (Deutsche Bahn have to have been one of the first train companies to cop onto the idea that you can charge a lower price like airlines and then penalise people for changing plans, along with charging for seat reservations – which I find particularly punitive considering there can be a solid chance on a train you may end up standing, which doesn't exist on a plane whether you pay for a seat or not).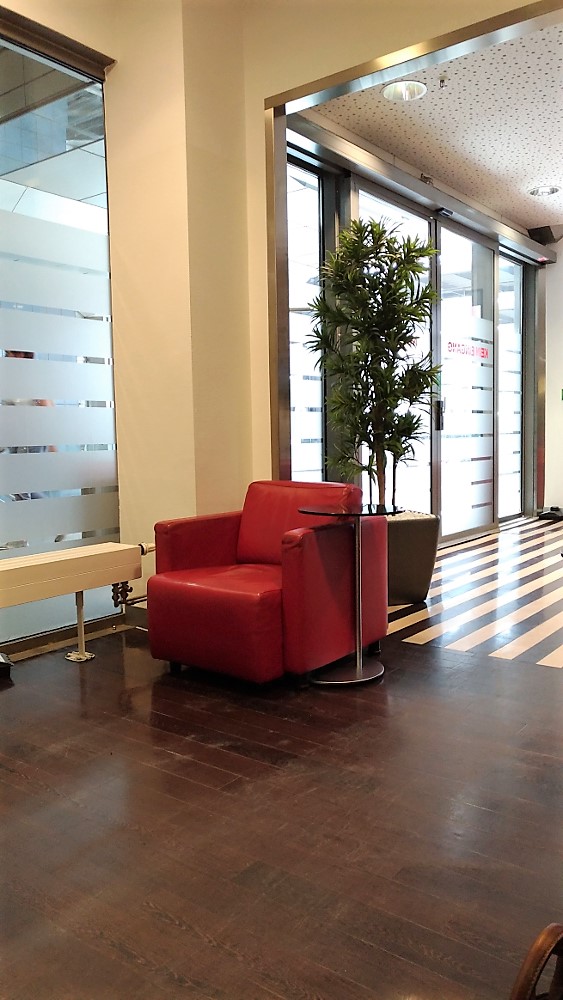 Onwards – Munich's main train station is the standard German city main station affair; sporadic gangs of drinking homeless, a huge lengthy run of platforms that seem to always start at 20 something from wherever you walk in, a few random croissant/bratwurst outlets, definitely a book shop, and a breeze that's somehow stronger inside the building than back out on the street.
Unaccustomed as I am to first-class European rail travel, I gave the DB Lounge a try and found myself welcomed warmly in. I will say, as with airlines lounges it may have been the time I was there, but it was very busy and the only seating area I could have to myself was right behind the reception desk awkwardly in a corridor. Likewise, I was pretty unsure what the situation was with drinks but after asking for one, I was given a glass of water and never asked for any money for same, so presume that this is all complimentary. So how about a DB Lounge? Well, it wasn't beautifully furnished by any stretch, the girl came around once and was never seen again – but it was actually a perfect way to avoid the train station for the 40 minutes or so while I waited for the train and not have to sit in the draft.
Onto the train, the key difference is mainly (having done standard class a few days later) having only 3 seats per row (2 on one side, 1 on the other) and perhaps better legroom. In fact, the legroom was so good and the table so completely unable to slide out that my last post took about twice as long to write since I had to nearly lean out of my seat to hunch over the table. Nevertheless for a long journey, it was definitely the way to go and with no apparent luggage racks in the carriage, I was at least able by virtue of aisle width to have my large suitcase alongside my chair throughout the journey.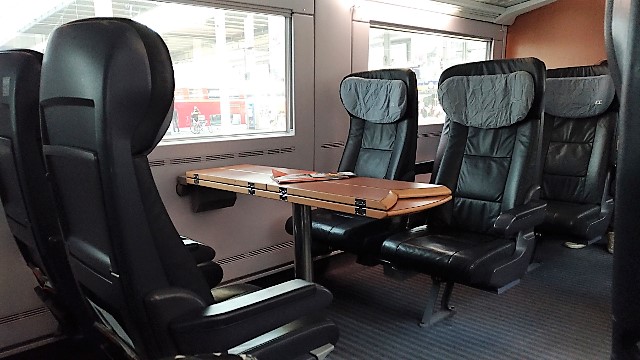 We got going on the dot and shortly thereafter our train 'host' – I'm not sure what you might officially call them – came around and asked if we'd like a drink or something. As I say, the seats were comfortable and I worked nearly the entire way through the journey. About halfway through the journey (bearing in mind I was only travelling from Munich to Stuttgart) we were all given a complimentary pack of Haribo sweets, which though a free drink might have been a bit more upscale, was a nice touch all the same I thought.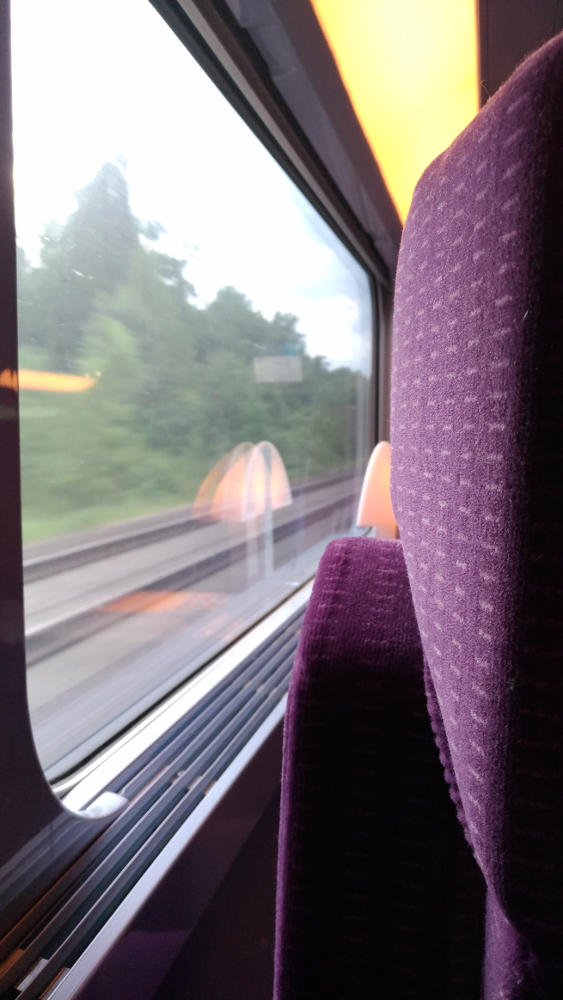 Unfortunately though we arrived a few minutes late in Stuttgart and I came to learn of a huge drawback – in this particular case – of first-class. The carriage from our train was absolutely to the very rear of the trainset, while the first-class carriage of my next train was to the absolute front of the train. In other words, with about 2 minutes to spare, I needed to run from the complete far end of my platform down into the station, and then back out the far end of the platform.
The next train meanwhile was by chance a French TGV, my last journey on which was a long time ago and co-incidentally, also in first class. To digress for a moment; my primary school class went on a French exchange when I was about 12 and while we merely organised a coach to ferry the young French students around Dublin, they laid on TGV First Class for us when we arrived over – all while they sat in second class themselves, to great laughs from my class.
Anyway, that was when I was 12 and I'm now 30 and to be honest, while this first class was still perfectly pleasant, all announcements made in French, German and English, and hardly anyone else on my carriage – the train itself and its interior felt a bit 'past it' I suppose we can say. Given the choice in future, I'd try to keep it to DB first class only where possible. The TGV is still perfectly pleasant and quick (it also had luggage racks, even in first) but the huge outsized armchairs and colour scheme reminded me of airline business class back in the 90's.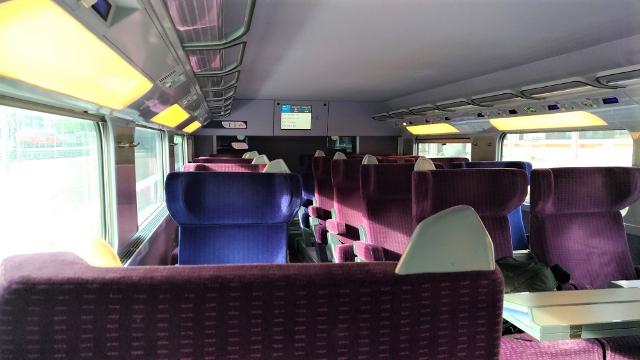 So what do I think of travelling first-class rail around Europe? Well, you know, if it wasn't 'much extra' (you decide on what that is, based on the length of your journey) then it's almost surely worth it just for the extra space, relative peace and comfort. But airline business or first, it is definitely not – there's no free food or drink, or over-the-top lounge to bask in pre-departure. Also, probably of more importance, when tickets are being sold like this on connecting transport providers, it seems even more important to have a consistent experience across journeys and in this case, I'd have far preferred Deutsche Bahn's trains to SNCF.
Having said all that, what a way to travel for a couple of hours – all while seeing the spectacular ever-changing European landscape outside the window!