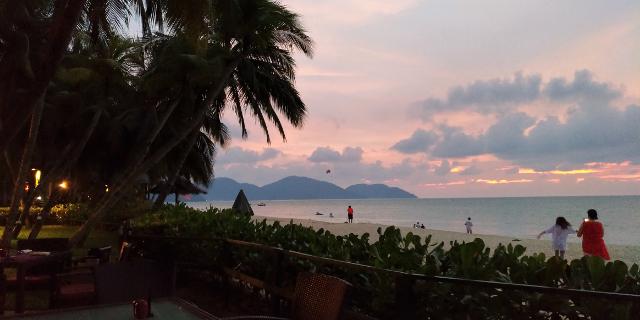 An Average Stay at Shangri-La Rasa Sayang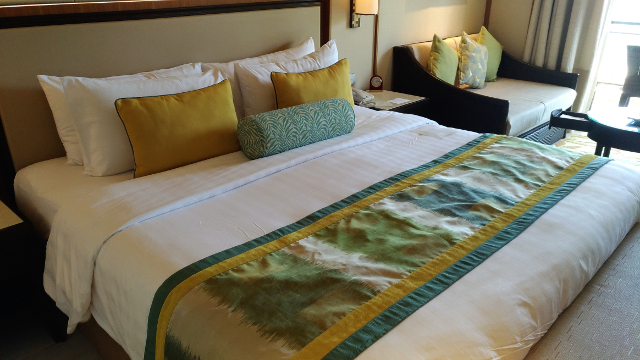 As you know, I've been back and forth to the Shangri-La Rasa Sayang many times just in this year alone; I celebrated New Year there, went back again around March for a break, and with a few days off in a run kicking off September, decided to head back once again.
If you live in KL it's so convenient; just an hour's flight and as long-time readers will know, I love the consistency and attention to detail of the usual Shangri-La service, from property to property. So, it's always a bit tricky to slate a particular place, but I will say that over the past year, this visit above all others stood out for making me question whether Rasa Sayang is undergoing extreme (visible) cost-cutting, or if attention to detail just isn't what it was in the past.
We arrived at Penang Airport and, as always, were collected by the airport representatives. Shangri-La at this station have outsourced the transport to some external provider and to be honest, it's very hit and miss. Last time it went well, the time before the rep couldn't be bothered taking even my grandmothers' bag and just rocketed off by himself. This time there were two girls and they also weren't really troubled – registered us and walked off miles ahead. When we did get to our Hyundai Starex, I found to my disappointment no bottled water or cold towels in the car; something I've complained about before. As first impressions go, it doesn't make for a good one and would really make me reconsider booking the hotel transport here in future.
Our assistant at check-in, Tomoko, made up for it massively though and escorted us straight to our Garden Wing room for in-room check-in. To be sure, one thing you can always say about the Rasa Sayang whatever about anything else, is that it is a stunning property and so beautifully-kept and maintained. Just look at that view…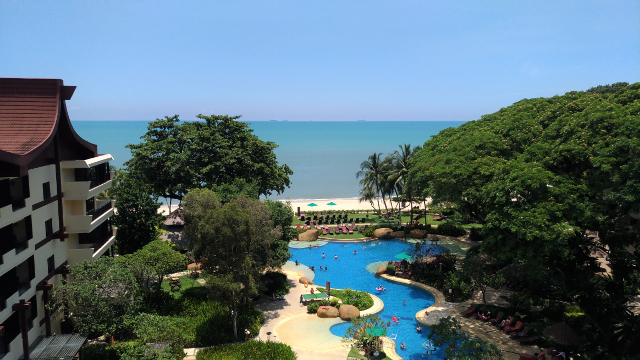 Later on though, the service began its most noticeable decline. Our turndown service housekeeper arrived – of course, I only wanted a supply of bookmarks and water as usual – and we requested a harder pillow. So he called the service centre (I heard him) and one would be up shortly we were told. That never happened.
Next, we called service centre ourselves to book a beach-side table at the Pinang Bar & Restaurant, a la carte. Not a problem, and not a problem was the general reply so we headed down at 7:30 on the dot to find that first of all, there was no table full stop anywhere with our name on it and second of all, there was no a la carte option on that particular evening. I rarely get animated in-person, but this really seemed to be ridiculous. Shangri-La hotels are not cheap in the slightest and I began to wonder who was pocketing all this money, because it doesn't seem to be going to staff training or guest experience.
Thankfully, the supervisor down in the bar very kindly got us menus from the restaurant indoors and we were all sorted. He profusely apologized, remembered us and looked after our dinner reservations personally for the rest of our stay; thank goodness and what a great example of a person really looking after his guests.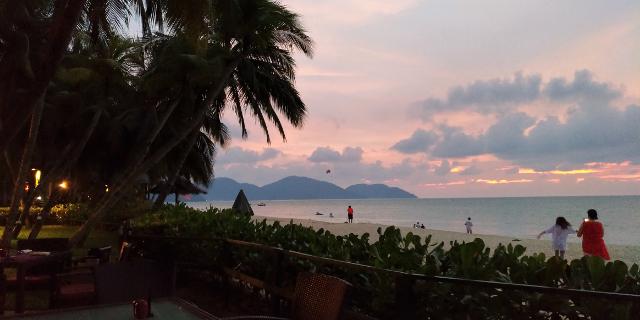 Later on, we returned back to the room where to no surprise, the pillow still hadn't turned up, so we called again and waited. And waited. And waited. And finally, someone turned up from housekeeping but guess what – not to bring a pillow; just to offer some bottled water or sweets for bed. Once again, in-person, he was visibly uncomfortable to know that we'd been waiting so long for this pillow and went off and got it by himself without delay. By now I began to wonder what is at all the point of the service centre in this hotel?
Next morning, after a lengthy keyboard-warrior like Twitter rant, I headed off downstairs for breakfast. What I discovered was just further disappointment; a lengthy 15 minute queue for breakfast even though what appeared to be happening I realized was that some guests just walked into the restaurant from the sides or back and the waiting staff were just seating them without sending them back around to join the queue (I witnessed an amazing amount of this behavior – and without fail, staff would seat the queue-jump party without a word). While the hotel was busy, from what I saw, the amount of tables being 'silently' filled would've mostly kept the queue to a minimum.
In the meantime, I had a missed call from one of the front-office colleagues regarding my online rant the night before. So I took up the opportunity after breakfast to go and meet him and relay my findings to date – as opposed to venting it all much later online for the first time, when it would be too late to do anything. Anyway, in fairness to him, he listened to it all, we had a good chat, he was very pleasant, looked disappointed in all the right places; though in the interests of full disclosure, I didn't hear anything from him again, so no idea what action was taken, if anything was solved, etc. In fact, I didn't hear anything about my complaint again – compare this with the Rasa Ria who sent up some kind of box of chocolates after the room door locked me out by itself one time. Again, consistency across properties…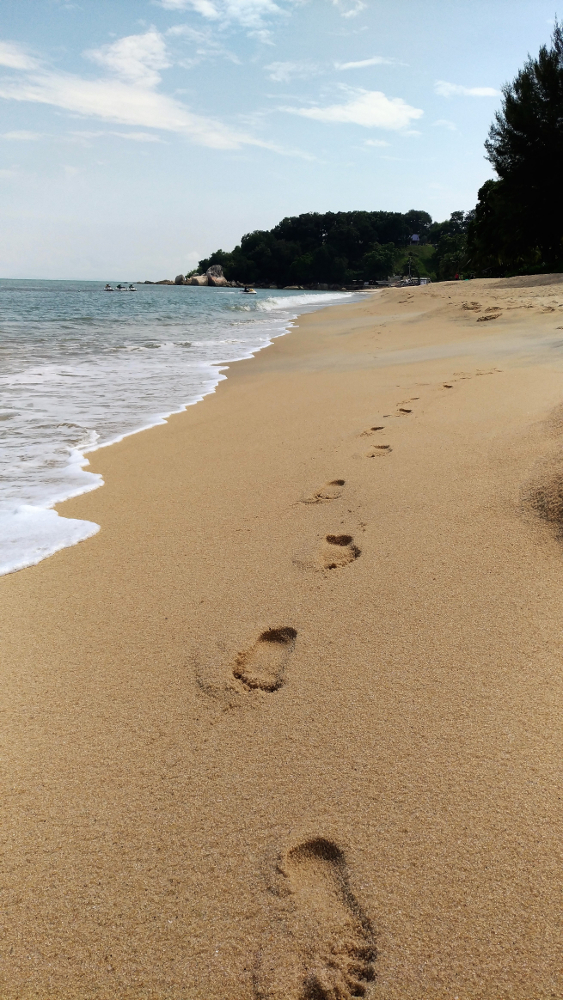 I don't know how they do it, but the beach in front of the Shangri-La Rasa Sayang is without doubt the most beautiful stretch of that beach and I had a great time wandering up and down it. It's also been improved massively by a change to the parasailing activities that now launch on/off the boats themselves, so you're not faced by two people nearly landing in on top of you every few minutes or sprinting towards you trying to get airborne. Great improvement.
Topping off my disappointment was my discovery that there seems to be no more automatic refills or resupplying of toiletries; during the whole trip they were never changed (despite being obviously empty) once and I had to track down the housekeeping cart in the corridors twice to ask for more shower gel and shampoo. Further, where someone used to come along once a day with a pineapple with cocktail sticks of fresh fruits by the pool has been clearly abandoned; it didn't happen not even once during the entire few days. Lastly, and to my total horror (because this is a bit…off – even in a budget property), we saved up the free sweets they leave in the room every evening, especially the banana chips which I'm a big fan of. Guess what? On the last night, housekeeping removed them all from the room – what?! I couldn't believe it. I know they're a free gift but what housekeeping in the world actively removes anything from your room once it's put there unless it's in the bin? Especially on the last night; if you're not sure we're going to eat them, why not wait until check-out and then check again.
Finally it was time to head back and while I was still delighted with the beach, facilities and food of Shangri-La (and the one or two stand-out staff), the overall lacking attention to detail and poor staff experience made me more than happy to say goodbye and strike this one off the list for a few years at least.
By means of a final last surprise, we were swapped – of course, without being asked – from the Hyundai Starex we booked to some kind of minivan bus. Since my partner has recently had back surgery (which was the point of requesting the harder pillow as I had told the front-office assistant manager), climbing into this van and then bumping all the way along the roads in this case was really inappropriate and served only as one final disappointment that we were not even asked – rather, we were shown the vehicle 15 minutes late after the time we had asked it to be there, so we really needed to get going.
In conclusion, I always love Shangri-La properties for their consistency, luxury and attention to detail but in this case, whether through massive cost-cutting, lacking staff training or what, this trip reminded me of a cut across between a top-end property with farcical staff attention to detail and focus. So, looks like Penang is out for some time…