Every few years usually, I get taken by some absolutely lunatic idea; Hong Kong (from Dublin) for a weekend, flying to Singapore in Oman Air business class, that sort of thing. This year seems to be no exception and hitting 30 seems to have strongly lowered my threshold for actually going ahead with idiotic ideas.
So with that in mind, it was with absolutely zero reluctance whatsoever that I accepted a friend's invitation to fly from Kuala Lumpur to Germany for 3 nights to basically get drunk at Oktoberfest.
When I lived in Germany, there seemed to be no shortage of people talking it down; it's dangerous at night, it's expensive, etc. So what better way to find out how expensive, dangerous and disorderly it is than to travel to it and spend the time there truly jetlagged out of your mind and broke from the flight in the first place? Well, here we go…
Honestly, first confession, as a city, Munich is one of the few places I love every part of. It retains the important essential German things I love and know; doner kebabs, cheap alcohol and a party spirit like no other. In addition, it adds in stunning architecture, a strong sense of culture and, like myself, a sense of belligerence towards anyone who doesn't like it.
For cost reasons I flew into Frankfurt and then took the train down, before meeting up with my friends at – where else – a bar one or two stops from hauptbahnhof. This entirely kicked off the experience and, as I sat there in my t-shirt and light cotton pants from Malaysia, set the tone not only in terms of drinking but watching the city descend into night and that stunning architecture come to life.
Back to our hotel – the Novotel Messe, which was pleasant if forgettable – a quick change of clothes later and straight back out to continue the important events of the visit; drinking.
Next morning we had the main show; Oktoberfest. Honestly, as with that German stereotype, you will never have seen such a well-policed, carefully-organised mass attraction event in your life. Inside our tent there was literally one-way streets for the staff to circulate around. We began drinking as soon as was possible and it goes without saying that, as you would expect, one thing to watch for is the fact that as the morning wears on, so too does your inability to look at natural light without feeling absolutely stocious.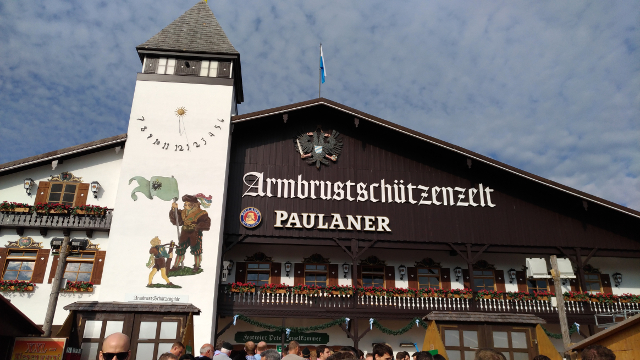 To be honest, as the evening sets in, yeah sure I can see where it might get the reputation as a disorganized dangerous drunken affair; but overall, I've seen far worse on any given night in Dublin. And I'll tell you something else; until you become involved in a fight (which I never did), it's a lot of fun.
So that takes us swiftly and silently (read; nearly passed out) through the night to the next morning and my last day in Munich. It all started off so promisingly; onto the hop-on hop-off bus tour for a nice, calm tour of the city. Until of course, we stopped at the English Gardens where, as we were told on-board, you can find the worlds' largest beer garden. Ehm – all off…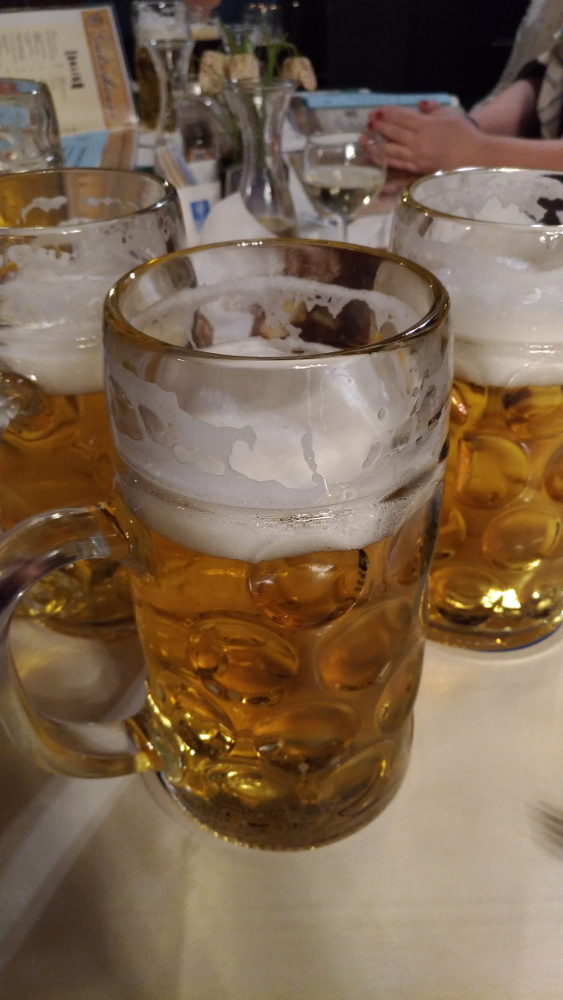 Honestly, one of the things that I realized you can so easily miss about not living in Germany, is just that open prevalence of respectful (most of the time) outdoor drinking. Being able to sit out in a park of a cold September mid-morning with a beer has to be one of life's simple pleasures. Here in Malaysia it's pretty much a total no-no, while in Ireland, public drinking unless it's some kind of massive organized event like a festival, is also a big no-no. I don't know why – the Germans prove it can actually work for the most part.
Of course, while it worked and we stayed respectful, we did however carry on – wandering back into the city before finding another (by the way, a huge thank you to the city for pre-empting the weak bladders of most international visitors and placing porta-toilets all over) small beer-serving kiosk in the city, at which point I more or less totally abandoned any sense of my gym regime and decided to go max thrust on the whole Oktoberfest thing.
Once again though, it's a testament to Germans overall that they can get away with having a kiosk in the middle of the city serving beer that is not overrun by louts and the focal point of inner-city violence. It can work, folks.
On we went until late in the night – I won't lie, I had to start my long journey back to Malaysia at 6am the next morning and by way of explaining the rest of the evening, suffice to say I have never faced into a long journey feeling so terrible and on so little sleep; all while staring into an entirely empty minibar fridge as well, which had been emptied out in a fit of last-minute beveraging only a few hours before.
Munich, thanks for the memories – you know what, you're not so dangerous or disorderly; or at least not until we all arrived. So a huge thumbs up for Oktoberfest; but book a table, get there early and forget anything other than swilling beer 🙂