By way of my mother's belated birthday, I flew from Kuala Lumpur back to London, where we met up and continued – in the spirit of seeing something I haven't seen before once again this year – to Prague, Czech Republic.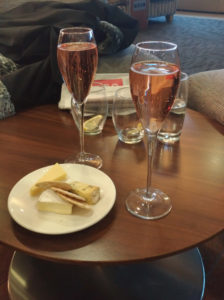 For our flights over, I arranged for us to meet up in London Heathrow and head for the T3 First lounge
The arrival seemed to immediately prove at least one point we'd heard about the place; that Prague natives are a pretty unfriendly bunch. Our driver turned up late (we were already wandering around the arrivals hall for some time) and seemed intent on answering everything – even my mother's 'I'm really looking forward to seeing Prague' with a simple "Yes". We put this down to lack of English, but he would suddenly come alive to point out some football stadium or a bridge that was closed due to heavy traffic. Nevertheless, as large cities go, the drive from the airport to Prague city centre is remarkably short and before long we were standing outside our hotel with our driver speeding away like his life depended on it.
After a quick freshen up (more on the hotel another time), it was out into Prague downtown to check out the city by night.
Honestly, the place in the evening looks fantastic and so picturesque. You could actually skip the sightseeing altogether and just go around taking pictures.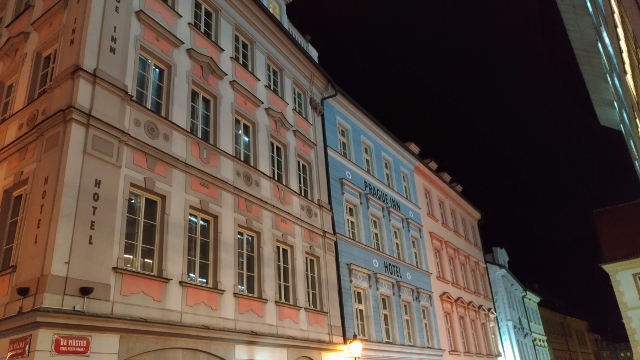 With the pleasantries out of the way however, there are two things we quickly discovered Prague-ians love. It appears fleecing tourists wherever possible was one, with 'tips' being a firm second favourite. Our first night we dined at the restaurant underneath the Prague Inn – I'll go out on a limb and say it was called something like "Svejk" – and our tourist lesson was quickly learned after being hit with an €8 charge for bread we didn't actually get to eat, plus some average bland food ("stodgy food geared more towards keeping you alive in the cold" I believe was my mother's critique) from menu sections like the "Burgery" for burgers.
Next morning, we were up bright and early and to be honest, while there are plenty of tour bus options and sightseeing walks, we actually just used a map, covering ground down the side of the river towards the Jewish Quarter (honestly, one of the tackiest most souvenir-oriented 'quarters' I've ever seen – in fact, I can't even think of the last time I saw souvenir shops literally underneath a cemetery), before shuffling on towards the Town Square, which was really something – and I mean that, not just for the €1 cups of hot wine…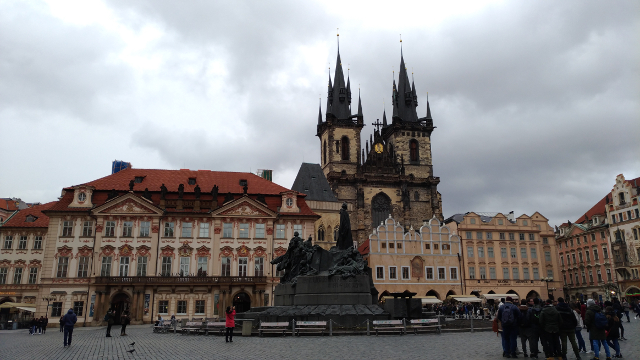 One of the things I think I was probably most surprised by – as apparently was my new travelling comrade, my mother – was the apparent abundance of weed shops. At first we paused over one, had a few shared childish giggles at the hash cookies, while very diplomatically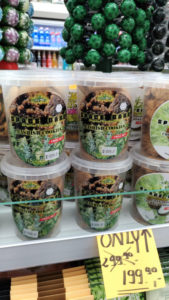 answering my mother's question about whether the glass objects in the window were like my hookah pipe from Ireland; 'I think they're actually more for smoking…substances…from what I hear'. It wasn't long at all before we actually took to venturing into one and checking out the wares, while continuing to dispute the legality of cannabis in the Czech Republic.
Meanwhile, after a brief 6000-step hike to see Prague Castle and get some stunning views out across the whole city, we also learned somewhat comically to begin upping the ante in our responses to the forthcoming aggression. We commenced our new aggression tactics at a restaurant for lunch after being more or less dictated to, to sit at a nearby table for 2 where one seat was entirely blocked off by some ignorant fat fellow customer. We stood our ground, flat out refused unless the waiter could illustrate how this might work and – friendliness forever more. It appeared by day 2 we'd even cracked the local Czech's stubborn aggression with our very own sarcastic brand of the same thing!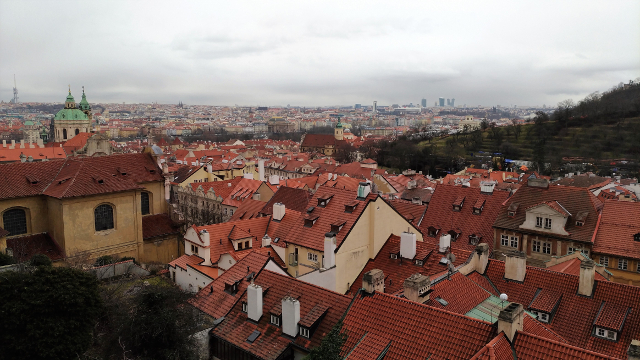 On the final day or two, we managed to pack in a boat trip (and associated walk up the river bank, due to being unable find the actual departure point of the boat) and a visit to a bar 'U Fleku', which had the kind of service I mostly appreciate – forced drinking unless you heavily insisted you could take no more. Plus, of course, more 'stodgy food' to keep people alive in the cold, as according to my mother.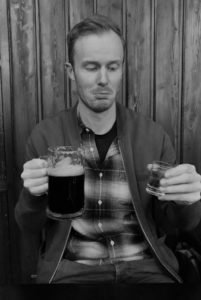 It's hard not to love such a walkable, drinker-friendly, visually stunning city – especially with family that we perhaps don't always get to see so much on a trip back home where everyone sometimes seems to be vying for time – and as we discussed during our many, many walks, would either of us want to consider going there to live or work? Certainly not. Perhaps visit again? No, probably not.
Even have one more trdelnik? Definitely, definitely not. But it was such a walkable, weekend break city that it was hard not to almost lovingly embrace the fact that I wouldn't be giving tips, the people always greeted with aggression and yet, here we were in such a beautiful place sipping Negroni's like they were not only going out of fashion; but had gone so far out of fashion, they'd come back into style again.