One Night in Bangkok; Movenpick Sukhumvit 15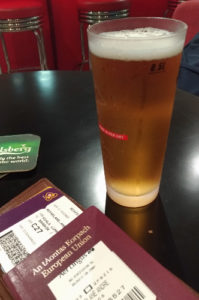 Barely a week back in Asia after my lengthy trip back home and on to the US, I decided to fly – as cheaply as possible, which to be honest wasn't cheap at all – up to Bangkok to bid farewell to a friend over his final weekend in Asia, before returning back to Europe. The Movenpick Hotel Sukhumvit 15 was the destination for this meet-up and 'one night' stay.
Thai hotels, for me, have traditionally had outstanding levels of hospitality, cleanliness and service irrespective of star-rating or budget range. I tend to go so far as to consider that a 4-star hotel in Thailand will often have better maintenance, cleanliness and staff friendliness than a 5-star hotel in Malaysia. I'm not sure how this is, or how the Thai's have managed to so specifically nail down the tourism and hospitality sector, but they surely have.
As a result though, my expectations now for a stay in Thailand is trending on the higher end, regardless of length of stay or hotel brand. Bangkok, in particular, is an Asian city that is literally swamped with hotel brands at every end of the spectrum. So, as a result, considering Movenpick's general positioning as a brand, expectations were soaring shall we say.
For its price and positioning, I'll be honest and say it was a pretty big let-down.
The arrival and check-in process went off as you'd expect. Oddly, nobody offered to show me to the room or help with luggage. I didn't have much so I hoped that that explained it, but I still found it a little odd.
The room, 2304, was back across the entrance lobby, past the main restaurant and up the lifts. It is not something that without explanation you could easily find on your first visit, making the lack of an escort at least to the lifts all the more puzzling. Though it was specifically requested a non-smoking room, the room seemed to be absolutely drenched in the smell of stale smoke. I honestly was of the opinion that the room had to have been a 'very smoking' room rather than non-smoking.
Nevertheless, I was in a rush out and hoped that perhaps I had been imagining things so dropped my rucksack, took what I needed and hoped it would be better when I came back later, perhaps after a few hours of air conditioning. It definitely wasn't – if anything, the air conditioning seemed to have only exacerbated the problem.
Adding onto this, it seemed that maintenance was somewhat lacking. The 'Master' switch in the room did nothing much, while the under-cupboard ambient lighting just couldn't be turned off. In the end, the only way to resolve the 'Master' switch issue that seemed apparent was to go around and turn off all the lights one by one. While for the under-cupboard light, there seemed to be no clear solution whatsoever. Can you imagine? Having to use an airplane eye mask in a hotel costing around €100 a night? Even if there is a switch hidden away somewhere, you wouldn't think it would need to be so carefully hidden. MI5 could learn from them.
The next morning, after quite a late night out in Bangkok City, it was very unfortunate – I do note that this surely isn't the hotel's fault, but nevertheless something to be actively aware of – to be woken to the sound of intense construction activity. Yes; there's a major project underway just directly across the tiny street from the front of the hotel. As a result, you will absolutely need to ask for a room facing to the back of the hotel, as it seems like the operating hours for this construction project are considerably 'flexible'.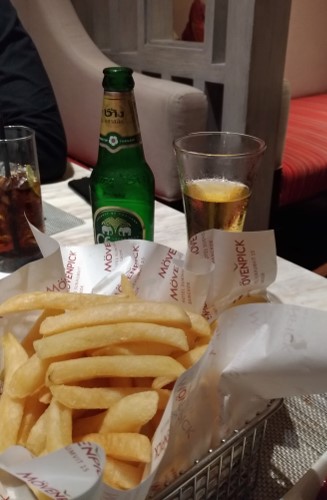 The service – especially when myself and my friend had decanted into the ground floor bar/restaurant for some fries and a beer or two before bed – had been good, but nothing really outstanding or especially pro-active. Breakfast service however brought with it a new level of pro-activity in terms of trying to get us out; on arrival at an admittedly late 10:15, we were straight away told to take one big plate in one round because they were closing soon. All this kind of pushy attitude did was make us want to hang around even longer. I found it – for somewhere that's not a prison camp or low-grade hostel – to be a very low-quality way of informing guests of the closing time.
Needless to say as I bid farewell to this property, I stopped by reception to let them know of my thoughts and feelings (don't they always say, try to raise your problems in person first?). On the smell of smoke in the room, the receptionist absolutely insisted it was a non-smoking room and she would have 'someone check it out'. On the issue of the construction noise, maintenance and the service, she basically apologized very curtly and otherwise shut the conversation down as quickly as possible.
So in conclusion? The Movenpick Hotel Sukhumvit 15 was a very nice hotel for a 2 or maybe 3-star in terms of service, with a room and facilities that could perhaps make it 4- or 5- with some proper attention to detail, genuine caring from staff and customer focus. As a result, in Bangkok, unless it was on some kind of amazing special nearly on-par with a much more budget-focused hotel, I would skip it in favour of some of the more reliable properties at that end of the spectrum and price range. Certainly for me, I will be avoiding not just that hotel, but the brand overall until I see any evidence that this was a total once-off…
What are your thoughts? Have you stayed at a Movenpick before, and how was it?