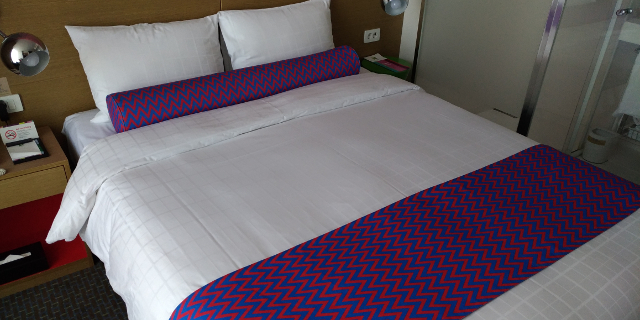 A Review – Ibis Styles Ambassador Myeongdong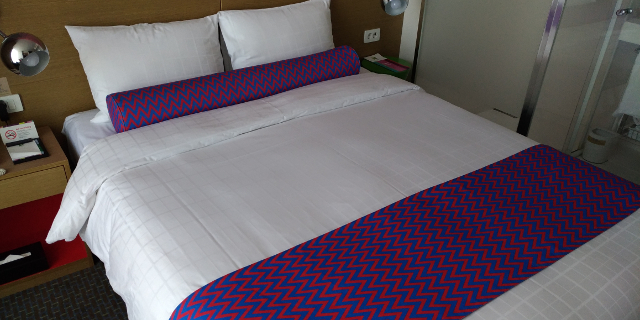 As many of you will recall, my last stay in an Ibis was around 2011 in Hanover, Germany – where the space-shuttle all-plastic bathroom represented about the peak of my memory of the place. So my original plan for Seoul was to actually book into the Pullman Ambassador, but the price just kept moving a bit further out of my reach so it had to become the Ibis Styles Ambassador.
First impressions; the building, if you look on Google Maps, looks oddly boxy and ill-fitting of the area and one travel blog I read suggested they had circled the street numerous times before finding it; I won't lie, due to the aforementioned boxy-ness, I had no such problems and the building, second or third in from the end of the street, is almost unmissable once you know what to look for. It's by far the most modern-looking tower on the street. Considering the usual budget-nature of an Ibis anywhere in the world, I was delighted to receive such a warm welcome and be checked-in early (room key to be released, she hoped from 12 noon) by Susan.
As always seems to be something my audience would like to know – no, there was no credit card deposit in this case, but I did need to show the same payment card I used to pay in advance, and it was definitely matched against what I had given them beforehand.
Moving along, the room; spotlessly clean, with two complimentary bottles of water (by the way, it appeared they stepped that up to at least 3 in my case after realizing I drank the full 2 every day). I'm never a big fan of glass bathrooms in case you've a partner or significant other with you and in this case thankfully, while the shower is behind frosted glass (the sink is more or less exposed), the toilet is in its own room – and guess what, I was delighted to see the plastic space-shuttle toilet look come to the fore once again, at least in a more spacious environment this time! Further to that, the toilet – which may be of interest and benefit to some – was one of those strange Japanese toilets that has a plethora of options and thankfully, given the temperature, had a pre-warmed seat…too much information, perhaps!
As the first day wore on, fatigue massively took hold of me and for my lunch, against usual practice, I ended up bailing to the restaurant on the 21st floor, Le Style, for lunch in a moment of totally lacking adventurous spirit. Hotel restaurants are – I frequently find – boring, expensive and bland. Le Style broke a few new rules for me; it tended to be not a whole lot more than the neighbouring food joints, and the prep and the food itself tasted great. For lunch, I went with some kind of traditional Korean sliced steak; it was absolutely delicious.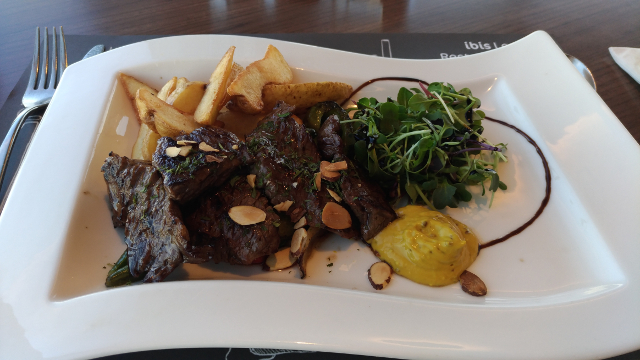 As it turned out, and as my flu worsened, this was far from my last visit to Le Style restaurant; breakfast was also served there in my case (though there does appear to be another eatery down on B1) and I ended up enjoying dinner there twice; both times opting for the crazy 48,000KRW BBQ set, that includes – yes, I couldn't believe it either – unlimited beer. In fact, for a hotel restaurant, it seemed to be a buffet dinner that nobody could decide on the main selling point; it had a really good all-you-can-eat buffet selection; that was one thing. Then, oddly it also came with a freshly-cooked sausage and steak platter. Then, on top of that there was the unlimited beer. As I say, like a buffet where nobody could decide on just one single unique selling proposition. But I was delighted!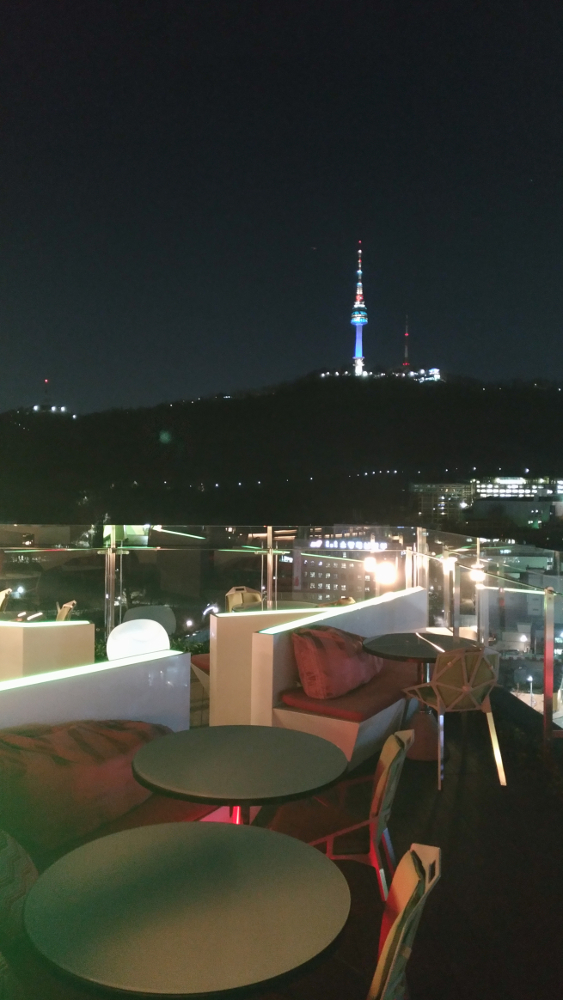 While the season wasn't quite right for it (and I never actually figured out how much or when to book a trip to their hot tub), they do also have a spectacular rooftop bar right outside Le Style restaurant with amazing views down towards Myeongdong and up towards the N-Seoul Tower. If the weather had at least broken the 0 degree benchmark, I might have considered it; but as it was, not a chance.
OK – being honest for a moment, the breakfast there did however get tiresome pretty quickly and perhaps could have used a little bit more variation. The major options were all Asian with a small pastries/toast selection down the end and some very damp scrambled eggs. In the end, I tended to make a few cups of coffee, take some fried rice and anything else that looked appealing from the Asian selection (worth bearing in mind their most likely customer demographic though I suppose), followed by a few pain au chocolat's to finish.
A final word on the staff here who were super hospitable and had the service befitting a property way beyond the usual Ibis standards.
So overall I left the Ibis Styles Ambassador Myeongdong highly impressed and with a new stance on Ibis properties; less snarkiness towards plastic bathrooms and a wish that every dinner buffet came with steak and unlimited beer!