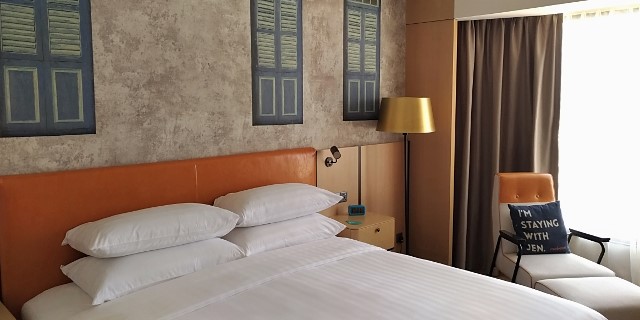 Thoughts on Hotel Jen Penang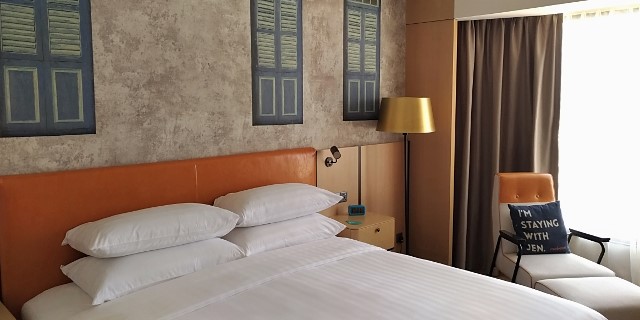 I haven't stayed at a single Shangri-La property this year so far – I know that'll come as a surprise, if not a massive turn-around – and with points expiring at the end of the year, I went for one big weekend redemption on a Club Deluxe room at the Hotel Jen in Georgetown, Penang.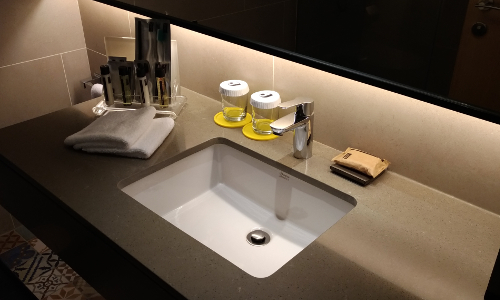 As some of you will recall, Hotel Jen the brand mildly freaks me out, because everything is worded as if Jen were a real person, ready to come creeping into your room at night to watch you sleep. Postcards come from her, you are invited to call "her" staff if you need anything, and even words of thanks end with "for staying at my hotel". It's a dashing touch of personalization that sometimes feels like it maybe went a bit too far.
The Hotel Jen in Penang was formerly a Traders', and the exterior of the building hints at its age. Indoors meanwhile, the place has received the 'Jen' treatment, with chic furnishings, casual uniforms and a coffee shop greeting us. Another thing that greeted me though, was a receptionist standing at a counter who just said "no I'm closed" and shuffled us towards the queue line of zero people to wait for the 1 (of 3) receptionists who appeared to be already dealing with clients.
To be honest, it's no mistake that I've taken a year off Shangri-La properties and this first impression reminded me why – overpriced, bloated projections of luxury that frequently do not match the actual service with some notable exceptions.
In the end, check-in got done on the club floor and it was onwards to the room. In fairness, the room was spotlessly clean, in great condition and with views – about as beautiful as they possibly can get – across Georgetown and out to the sea. One thing Shangri-La do very well has tended to be thoughtfulness in presentation and cleanliness/maintenance of rooms, and this was no exception. I especially liked how, in Penang, the rooms had a touch of the local neighbourhood up on the walls.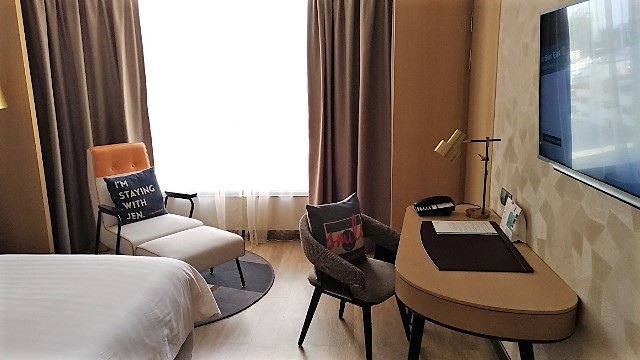 There was very little time to check the views out though, as cocktail hour started at the Club Lounge about 4 minutes after I had checked in, and always wanting to make sure my points redemption delivered maximum value, I was keen to get stuck in with all urgency.
The Club Lounge was tastefully done, but really odd – basically reminiscent of 3 guest rooms put together in long classroom-like corridor. A selection of wines were out on display (one of the guests had oddly turfed the red in on the ice as well though), along with some snacks and liquors. One thing that I much prefer about the Hotel Jen Club Lounge cocktail hour vs. more upmarket hotels is the self-service aspect. On my last stay at the Shangri-La at Batu Ferrringhi, it was near-impossible to get hold of a waiter to get you a top-up and the cocktail hour became more of a nuisance trying to get someone's attention than it was a chance to relax. Of course, that may also say something about my speed of drinking, but not to worry…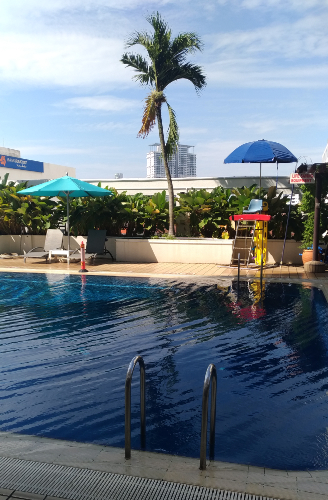 By the way, a tip for anyone staying there, there is a lovely 2-seater area if you go through the sliding doors at the end of the lounge – assuming people aren't already there – which gives lovely views out over Georgetown and towards the bridge back to the mainland.
Parts of the Hotel Jen definitely screamed "old building" and nowhere was this more obvious than the pool/leisure centre floor in totality. The lift doors opened to a load of old wood paneling, a bit of a garden feature, and a piano hidden under a blanket in the corner. It was a very odd first sight.
The pool itself though, while small and a little lacking in atmosphere, was perfectly pleasant. There's also a nice little garden deckchair area up the staircase on the right when you come outside, up away from the pool, if you fancy catching a few hours sun.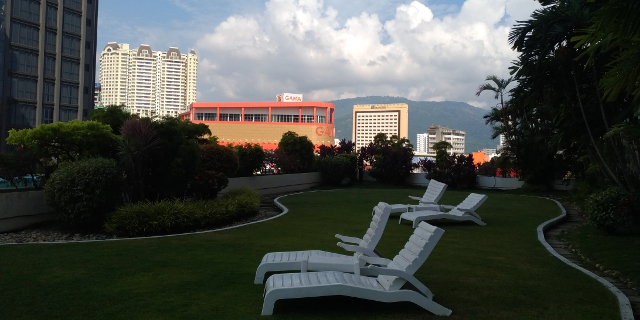 Speaking of the notable exceptions to shady service, after a fantastically lucrative – my liver might disagree – evening spent at the Club Lounge, I ended up ordering room service both evenings and first of all, I will say the food (for hotel food) was really very good, but secondly, the guy winging it in came full of the joys both times – much as I'm sure he was wondering why I didn't want to bother getting food from outside somewhere.
So would I stay again? Honestly, I don't know what's going on with Shangri-La properties generally – the service the last year has just been so on and off, sometimes great, sometimes woeful and the delivery so inconsistent, I feel like I will continue my abstention for the moment considering the price point.
But at the end of the day, this was a points redemption and it did give me good views over Georgetown, a spotlessly clean room, a classroom-like lounge well-stocked every evening and a pool to chill out in, right in the heart of Penang…