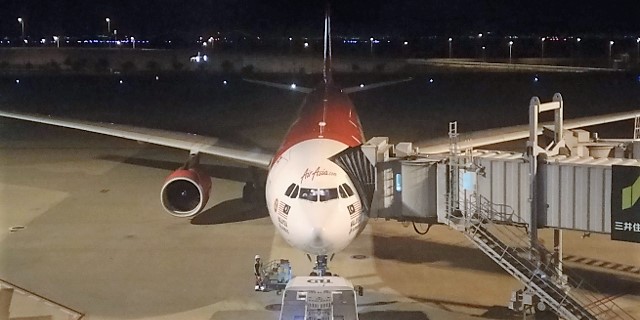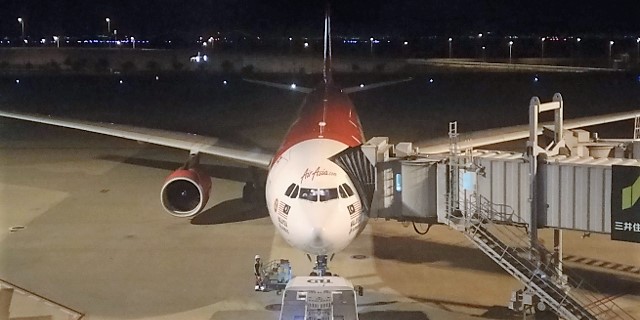 For my recent trip to Hawaii, the price with AirAsia X just could be not be argued with no matter what way I looked at it; in spite of my deep loathing of KLIA2 and AirAsia's overall experience as an airline, the price to get to Honolulu in one of their Premium Flatbed seats was only slightly more than the economy fare for most legacy airlines, to say nothing of their far more convenient schedule.
KLIA2, unfortunately, fails to improve and looks so old beyond its years at this stage, that it is really a crying shame. Already the check-in hall is so packed to capacity that queues double-back on each other, the corridors leading to different aisles are far too narrow and the AirAsia police trying to check everyone's luggage sizes right before the passport and pass check just leads to needless congestion. Meanwhile, despite my best efforts to check-in online (during which AirAsia's website told me I was getting the departure city wrong, when in fact you are unable to check-in online for flights to/from Honolulu – AA, please update your error message for this case), I ended up trying to find a Premium Flatbed 'dedicated counter' as instructed. There wasn't one at my check-in area, and eventually after asking what to do, I was just barged in front of existing economy passengers. Certainly not a premium experience by any means.
Long-time readers may remember that similarly, I am not a keen fan of the AirAsia Red Lounge and this occasion was no different; the colleague had left her place to go and clean up some tables, leaving one of the contract cleaners in-situ instead who took my boarding pass, but then confessed to having no idea what to do next. So at any rate I ended up waiting for the colleague to return to her place and let me in.
Boarding however, was surprisingly orderly and far less chaotic than I had anticipated; perhaps because of the length of flight, but despite gate crowding, the boarding sequences were strictly enforced by staff and I was settling into my seat, 2A, in no time. A word to the wise; in my mind, there is no one 'winner' seat in their premium cabin. I would normally pick – yes, yes, in spite of my blog and social media handle – an aisle seat for a flight of this duration, but was determined to have a window seat flying into Hawaii. The front-rows should be avoided if you're like me, as they have a bulkhead but no clear storage space, while they are also far closer to the galley. Row 2 meanwhile is just in front of the economy 'Quiet Zone', but note in a window seat if the person on the aisle is fully reclined, you will need to do a bit of 'climbing' if you can't disturb them and need to get out.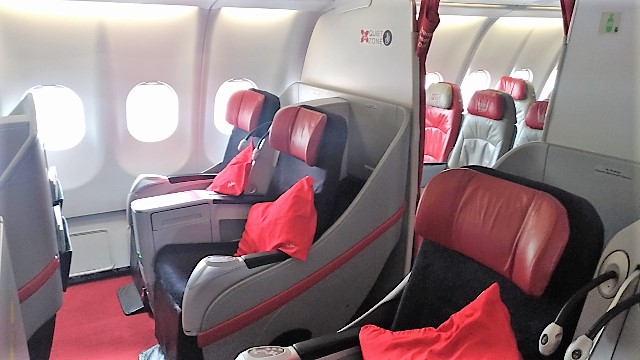 But you know – if you strip away the awfulness of KLIA2 and the ground experience from the airline, my only complaint that I could honestly find myself making about the flight was the temperature and the absolutely laughable portion of the meals. I'm not sure what was happening with the on-board temperature; presumably some kind of effort to make people fall asleep, but in both directions it got unbearably hot. There was certainly no need whatsoever for the provided blanket – if anything my only regret was even wearing trousers.
Regarding the meals; I understood from the outset that AA's Premium Flatbed product is ultimately that – a flat bed with a few niceties thrown in like access to that awful lounge and a dedicated check-in counter that doesn't exist. But what I would have really valued more than anything else is to remove perhaps 1 of the 2 'free' changes allowable to the ticket in exchange for a slightly more substantial meal. Instead, with the ticket, you get one complimentary meal and a bottle of water (a 350ml bottle too, not even a full size bottle) – but quite honestly, I ended up buying another meal and bottle of water later in the flight. And it feels like, in something approaching a premium cabin, at least the bottles of water should be complimentary within reason. Similarly, for an airline that relies on upselling ancillaries, they served my meal and then pared off to help with the economy service behind the curtain; but all the while I couldn't get anyone's attention easily – nor were we ever asked with the meal service if we wanted to – to buy an overpriced bottle of wine to go with my meal.
There is an entertainment tablet passed out, along with a sheet of paper upon which everyone signs their names beside their details (how privacy-focused is that?), however as I often do, I gave the entertainment a pass and moved onto having a nap. You know what? The seats may be a bit clunky and not the widest or flattest (for example, there is definitely a tilt to them and the collection of blankets and serving of last meals 2 hours out is very un-premium), but I had a pretty solid snooze across both flights in my seat. I came away able to gladly survive the first full day in Honolulu. So in terms of comfort alone, it was quite impressive.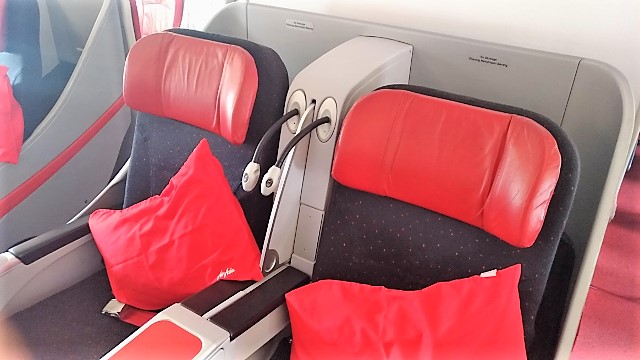 Moving along to the connection, this being one of AirAsia's main 'one-stop' long-haul flights if not still the only one. What I had read turned out to be true; the crew swaps, the passengers nearly all swap, but you don't and neither does the plane. However, you are still booted off and need to take a train right back to the main terminal to re-clear security, just to take the same train back to the same terminal as the plane. Osaka Airport, I felt, is not yet ready for 'connection airport' prime-time just yet in this regard.
While I was glad of the walk, the need to traipse between terminals to re-clear security and the general unawareness of their transfer security (they actually called presumably AA on my return as they were not sure where I had come from, which seemed unpolished to say the least), along with the blandness of the terminal from which the aircraft arrives and departs – there was really very little to nothing to do there while waiting – made me less excited to spend any amount of time in the airport or transit through it again if I can avoid it.
So with mixed messages throughout my review, what was my key take-away? No matter what I do, I cannot love neither KLIA2, which looks old beyond its year and not fit for purpose, nor the AirAsia X ground experience, which is unpolished and just generally feels not done with the passenger in mind at any stage. Similarly, Osaka Airport has a way to go as a transit hub. But the Premium Flatbed cabin, temperature, inability to pay for and procure a bottle of wine, and meals aside, is actually a surprisingly strong product; the seat is not the newest for sure, but it is decent and you can get a solid sleep and there is a meal thrown in, a baggage allowance, and a far more pleasant on-board experience. I would do it again if I found a good price for sure; it certainly beats an economy or even premium economy cabin on any other airline.