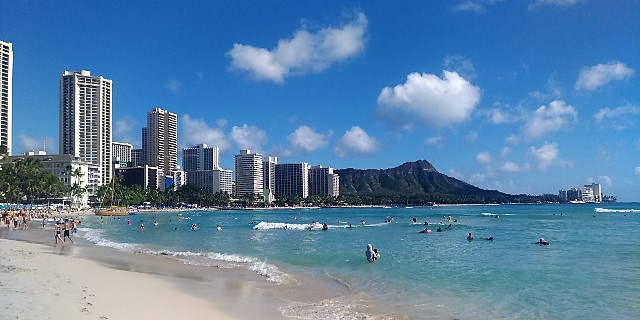 Thoughts on Waikiki; Hiking & Hangovers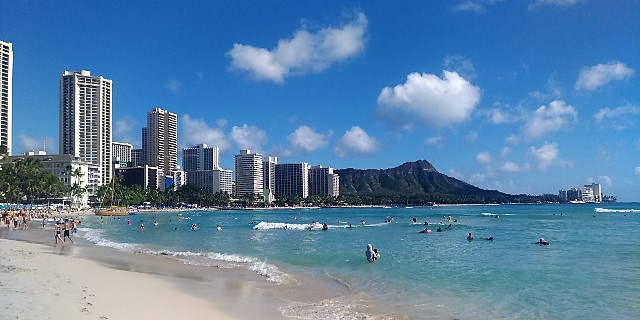 Following my AirAsia X 'Premium flatbed' experience I detailed last time, it was into Hawaii and straight to my waiting shuttle down to Waikiki. One of my permanent pet peeves with the US that comes to mind the second I leave an airport is the tipping culture, and to be honest, more the ambiguity around it; do you tip the airport shuttle driver? I mean, he loaded the bag sure, but then he loaded a whole bunch of Japanese tourists' bags who I know haven't tipped after getting off before me? Was that just being rude? Does it matter anyway, since I should presumably never see the guy again?! (I decided not to – and sheepishly grabbed my luggage and ran, in classic Irish conflict avoidance manner).
Waikiki, even now having had a week or two to digest it, is still so hard to describe. It felt like a very odd recipe with ingredients containing; a very, very beautiful beach; on one end, a run of extremely expensive designer and high-end retail stores; the ends of a functioning city; hordes of American retirees and honeymooners (which in itself is an odd combination really); a laughable over-supply of ABC convenience stores; and lastly, gangs of Japanese tourists.
It was an incredibly odd place, punctuated by the sights of people of all ages and nationalities consuming Mai Tai's, trying not to get too badly sunburned on the beach (I did not succeed in this regard, at all) and beautiful sunsets.
I'd be lying if I didn't say I haven't told friends since that I would probably skip Honolulu in future if I re-visited Hawaii, and head straight on to Maui instead, if I possibly could.
On about the second or third day, we gave Diamond Head a go. Diamond Head is the large volcanic cone standing at the very end of the peninsula along Honolulu and was something I was definitely determined to have a go at. Incidentally, this would also be one of my first introductions to a staunch Donald Trump-supporting-Uber-driver. During our drive out to the entrance, he made sure to keep informing us how 'Donald may have a point' about the migrant caravan currently making its way towards the border. Considering I am Irish living in Malaysia and had already said so, I found this to be an incredibly bizarre conversation to have to participate in (actually that's a lie, once I realized where the conversation was heading, I didn't participate).
The trail start for Diamond Head was very much different from any trail start in Malaysia; it was marked by a small toll booth collecting $1 per person, followed by some small stands to purchase drinks and ice cream, followed by some of the cleanest public toilets at a hike trail I have ever seen – and probably will ever see – in my life. The trail itself meanwhile continued the trend and felt more like a very well-planned sedate mountain walk than an actual hike, although the view as we neared the peak really were something to behold…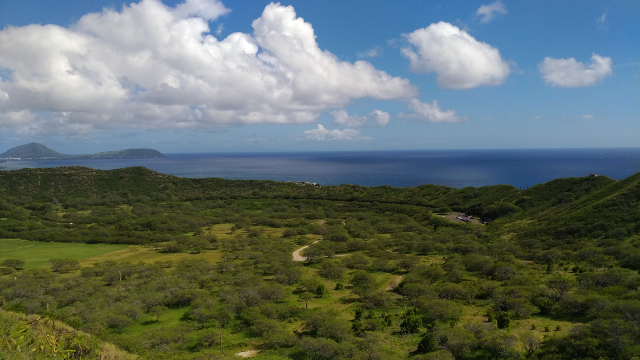 Advice for those going for it, for a proper good hiking experience of any sort, definitely take the steps to the right when you get near the top; it'll leave you in a bit more of a sweat, make you feel more like you've done something productive and the first view you get when you reach the top will be something like this;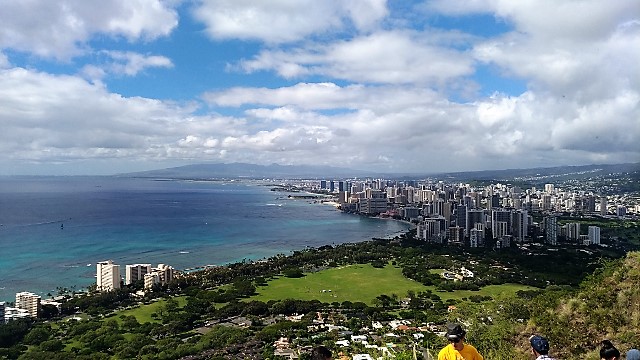 Of course, after the return from Diamond Head, it turned out we were all just in time for another of Hawaii's Happy Hours and so started the rich trend of doing one day of good hiking, followed by drinking, followed by a far more sedate hangover day of lounging around. In this case, we spent the next day visiting Pearl Harbour – preceded by another uncomfortable Uber encounter – which despite the incredible heat and tight confines of the ship, was amazing to see and try to understand the lives of those aboard.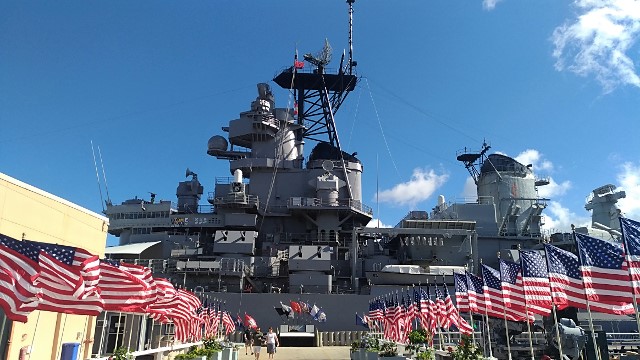 Making a group pact that this would not be a major 'drinking' evening, considering our flight the next day to Maui, everything quickly went downhill with the 'sinking' of a bottle of whiskey, a few pool-side cocktails and a 6-pack of beer – and that was before dinner, which saw at least another several drinks and a lingering taste of Mai Tai that would haunt me through until about 4pm the next day.
Next morning was a very grim scene indeed; a veritable war-zone of urgent packing, ordering an Uber and trying not to get sick in it – and I wasn't alone at all. For our flight, we had very deliberately opted to fly with Mokulele Airlines, a small Hawaiian carrier with tiny 9-seat planes, in the hope of getting stunning views of the coast and the islands – and incidentally, we did, but it came at the very real expense of nearly throwing up a few times and a terrible paranoia-like fear enveloping me every time we hit a patch of cloud.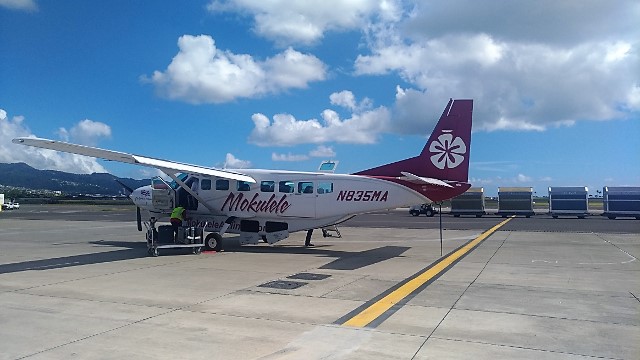 The flight – in good health – would have been truly spectacular with beautiful scenery, low-flying and a fairly smooth journey (bar one or two major clouds that nearly caused major issues in a few seats) but it was literally all I could do to cling to life, chain-chewing Airwaves' chewing gums my mother had left me for just such a purpose a few months ago and taking the odd picture whenever the aircraft felt at its most stable.
As you can see, the scenery was absolutely unbeatable and in another world, would have been amazing – but not since a very rough flight to Singapore in September have I so anxiously counted the minutes of a flight duration remaining! (Unfortunately, spoiler alert, the return journey was no better)
So what to say about Waikiki, and Honolulu generally? It was really one of the oddest experiences; big-box brand hotels lining the seafront, the mixture of tourists and visitors and that stunning beach. But as I would come to see, Hawaii generally has many stunning beaches and many more great hiking trails; so I come away feeling that while I definitely wouldn't complain if someone sent me to Honolulu again, I would probably try to give it a skip if I could and move straight on to some of the other smaller islands.