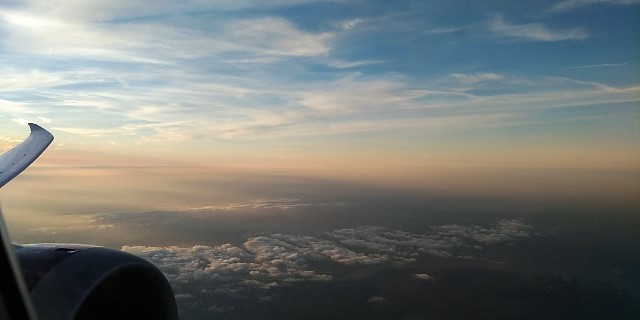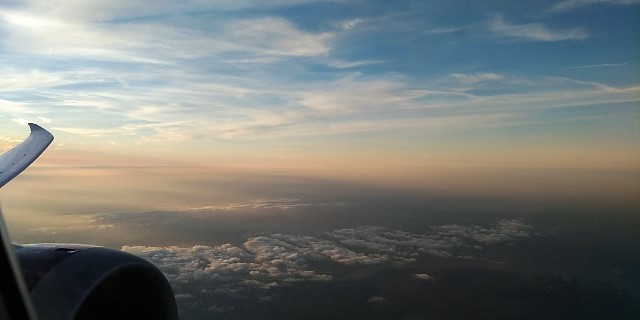 For my annual pilgrimage home this year (all but a distant memory now), I had two key goals in mind; have the most comfortable possible journey, and score as many BA miles as I could in advance of the renewal of Exec Club membership (although, despite getting Silver in August, I've strangely yet to receive the card or tags, due, I expect, to an incredibly shady Malaysian postal system). So, with the remnants of some leftover travel funds from last year, I waited for the MATTA fair and scored a very respectable fare home to Dublin BA's Club World.
Say what you will about British Airways' business class proposition, but I quite like it overall. Sure the seats feel a little like coffin boxes after more than 10 hours, things can be a little inconsistent and the meals and offerings are a little less than super-premium, but it has the kind of understated sophistications and personable service that I prefer – vs. say, the ridiculous OTT bling of the Middle East carriers. Also, no matter where you sit, you get something approaching a much more proper "bed" – legs straight out and no limited foot room like on so many other carriers' seating configurations. So for me at least, British Airways is actually a preferred option.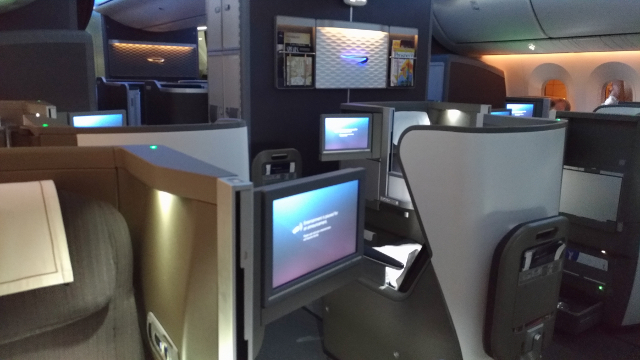 That, and of course it gets me to Dublin in one of the fastest and most direct routings – via London Heathrow, which is only about another 1 hour flight onwards and comes with the benefit that if I somehow miss the flight, there's another one within an hour or two maximum. Try missing a Dublin flight in Dubai or Abu Dhabi and see how long you have to wait for the next!
Anyway, so on we go – I'll split the review across both directions, since there's a few important differences. For example, one thing, which I really didn't appreciate, is that no welcome champagne was served on the ground in Kuala Lumpur (just juice or water), while it was on the return to KL from London Heathrow. I'm not sure what that's about, but with consistency being key I thought it was a bit unfortunate. Likewise, due to the way the boarding gate in KL is set up, priority boarding is incredibly difficult if not impossible to enforce and it seems to always end up being a 100% free-for-all.
On the plus side, out of KL, the crew did get us going with some proper drinks and a pack of nuts (not as delicious as the salted nuts that used to be served though, I will say) as soon as they could post-take-off before we were individually asked what we would like for our meals to start. For me, the smoked salmon dish – which to be fair was the same options as my previous journey nearly a year before – is the absolute winner for the starter, while satay and fried rice seemed the most appropriate mains on a flight out of the home of satay!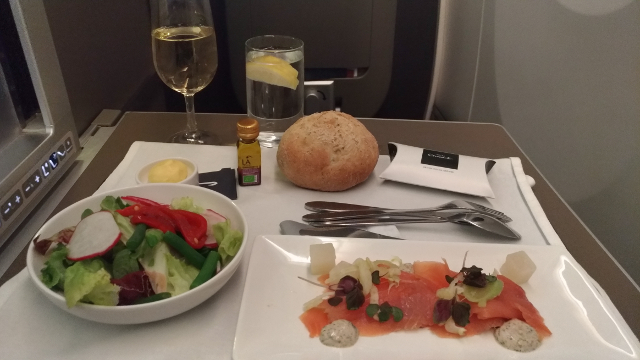 While BA's breakfasts (in any cabin) I have to say are unpleasant to say the least, their evening meals nearly always tend to be very hearty, homely and quite delicious – both directions. In addition, we were kept amply topped up with whatever beverage we'd chosen throughout the meal service and for the hour afterwards, along with replenishment of our waters. For me, that level of service attention to detail far outdoes handing out a large bottle of water at the start of the flight (we did however also get a bottle of Highland Spring for the journey) and then leaving us to ask for whatever we want for the remainder of the journey.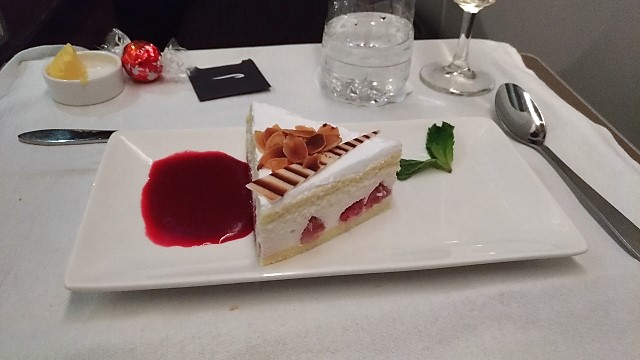 BA's seating configuration is the stuff of mixed legend; some love it and some hate it, it would seem mostly down to its perceived age and lack of aisle access. Full disclaimer; through deliberate effort, I've always scored a seat with aisle access, usually one of the row 7 window or centre seats or the row right before premium economy, in this case 7A (7K being preferable, but it is reserved for crew on this marathon journey).
Anyway, as a result of my luck with seating perhaps, I can agree with those who say that the lack of direct aisle access is problematic, although looking at it, I do still think it is easier to get to the aisle from a non-aisle access seat than it is on many other business class configurations – e.g. with BA, you would be crossing over your fellow passenger somewhere near their feet, much more so than on say Emirates, where you are crossing much closer to their legs (since the feet fit it in underneath the seat in front). And, you do make that – in my opinion – highly positive trade to get much better 'foot room' than on many direct aisle access configurations, where your feet get shoved into a narrow footwell down the end.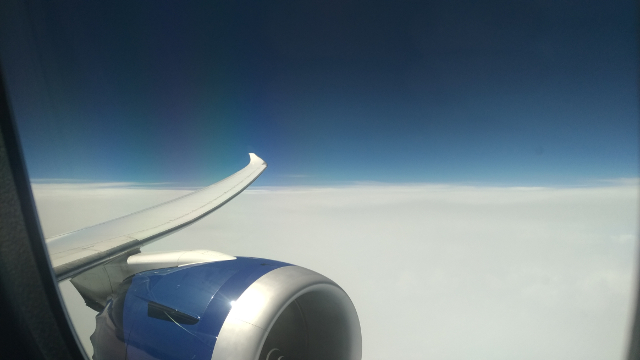 In both directions, the crew as well showed much more genuine hospitality and warmth than the aspiring-models jet set of the Middle East carriers – with the cabin manager on the way to London Heathrow even going to the trouble, extremely kindly, of writing me a note of suggestions for a trip I said I wanted to make to Lombok and leaving it with me the next morning. That kind of genuine service, as I say, I value far more highly than so many other 'instruction manual' editions of hospitality.
Overall, I enjoyed my BA Club World experience; for me, the weak link in any journey with BA is the same-same food and super-compact cabin of Club Europe on the leg to Dublin, which as I say is only around an hour, so I can't imagine what it is like to need to do that for a few hours after a long journey. But having said that, the sophisticated and genuine warmth of the crew, the convenience of getting as close to home as possible and a cabin that – in my opinion – has degraded as gracefully as can be hoped for considering aisle access was not something anyone valued as highly when it was introduced as they do now.
In short, no doubt I will see the inside of the Club World cabin a good few more times all being well 🙂