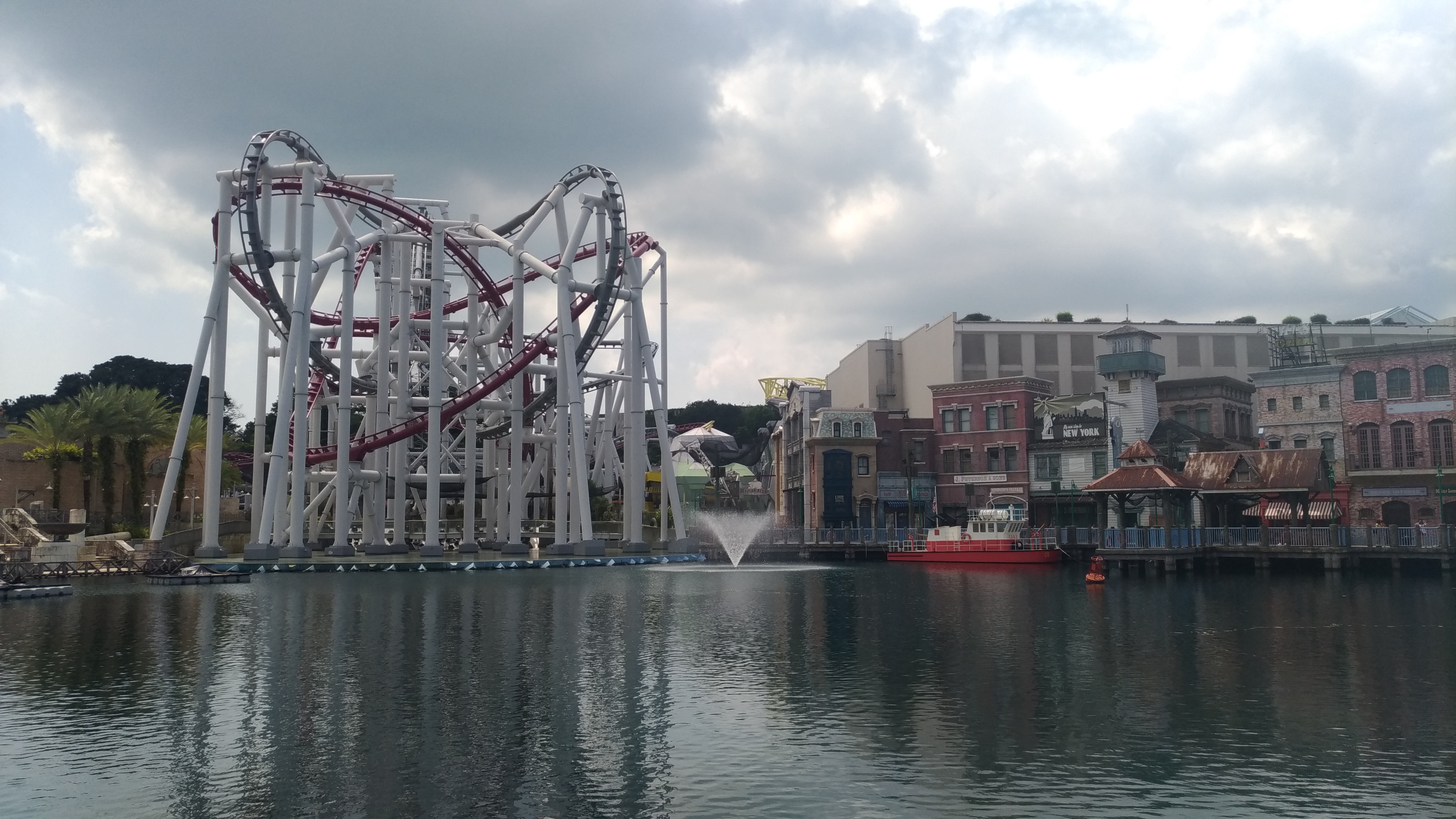 Having been to Universal Studios Singapore now a handful of times, I was keen to check out what else could be enjoyed there with – ideally – a method of skipping the Sunday afternoon queues I was confident of seeing. Enter the 'VIP Experience'; a 5-hour guided tour of the park,
with Universal Express Unlimited, a 'lounge with complimentary refreshments', all-day pass, and a few other mementos such as a lanyard and 'limited-edition' pin. It's certainly not cheap, but seemed worth the experience at least once in a lifetime.
Arriving to the park, the initial impressions were a little – less-than-VIP. The 'Group Sales Counter' handed me over the day passes and reconfirmed the time of the tour (1pm, although this was 10am) and sort of told us to go on our way, with no indication where to collect the Universal Express wristbands, or anything else. The VIP 'Lounge' is actually next door, although the door is only opened when they see someone standing outside – it's not automatic, so we joined the few other people standing awkwardly outside waiting to be let in.
I wouldn't say the lounge would be the most amazing space you've ever encountered; by the time we arrived in, the 2 hosts were seriously overwhelmed with the tours starting at 10am and the few of us arriving early to collect our wristbands. In addition, there was nowhere to sit anymore. Thankfully the hosts were very gracious and quickly organized the wristbands, lanyard and everything else needed to make an 'unattended' tour of the park first, before showing us in through one of the gates.
Universal Singapore is undoubtedly South East Asia's premier theme park; as a kid, I visited plenty of theme parks, and it still remains – although a little small, and with very little to no new attractions ever – one of my favourites. Also, compared with other parks, the maintenance is always up to scratch and because Singapore enjoys year-round hot weather, there is no 'bad' time to visit.
By the time 1pm rolled around, we had covered off all the main attractions at least once including back- or front-row seating on both Battlestar Galactica roller coasters, Transformers and Jurassic Park River Adventure, had lunch (a very cool benefit of the VIP Tour that definitely encourages you to spend some extra time at the park is that you get about $30 worth of free food/beverage vouchers to use, so basically a meal and some snacks or an ice cream is included) – and of course, made it back to the VIP Lounge.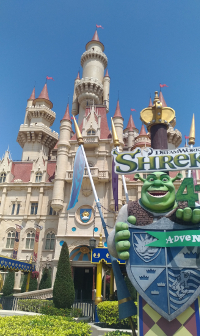 Our guide, Rezak, got us all together before setting off. First thing on the agenda was a vote; white-knuckle rides earlier in the tour, or later in the tour? Well – I'd just had lunch and another trip on Battlestar Galactica did not seem like a good idea – thankfully the others on the tour didn't seem to have any strongly-held opinion, so before they had a chance to say anything, I more or less shouted to cover milder rides first!
So with that, we went from the entrance into Madagascar and worked our way backwards around the park, covering the likes of Shrek 4D, Enchanted Airways, Donkey Live, etc. before pushing further into Jurassic Park.
I had no concept of what a 'VIP Tour' of a theme park would be like, and to be honest, I'm not sure I would do it ever again – but I will say for our guide, he seemed prepared for every eventuality (he had a ready-prepared collection of ponchos for everyone in the ground at Jurassic Park River Adventure, for example), he shamelessly made sure we got either front- or back-row seating to every rollercoaster or thrill ride, he took as many pictures as we asked him to, and he was always standing at the exit of every attraction with my bag (also meaning I didn't need to use a locker). What more can you ask for?
Two more secret perks came in the form of a purpose-built VIP Lounge at the Waterworld Show, which came with – at that stage of the day – very delightful air conditioning and centre-line views of the 'stage', if you can call it that. Secondly, Rezak knew the where and when of every single character appearance; and whenever a queue had already formed, our whole tour group was marched right to the front of it to be very first in line for a picture.
On the flipside – and I definitely don't blame our guide for this – a bit of me had expected the tour to be slightly more insightful beyond walking from attraction to attraction. Considering our guide was so lovely and he did personally answer every question around the park, future developments, what it was like to work there, etc., I felt like I didn't miss out – but I had sort of hoped the tour generally would have included some information on the attractions, some facts around the park, its construction, etc. Instead, it was less of a tour and more of a concierge service to walk you to the back entrance of attractions and hold your stuff for you.
One other major issue with the VIP Experience did highlight itself to me though as the day wore on; that doing this job as a guide must be somewhat like herding cats. One group just decided to leave by themselves without telling anyone (meaning we could've otherwise been hanging around looking for them), while another group casually showed up around 3.30pm and expected to be shown everything all over again from the start. It felt like branding this VIP Experience so highly sort of gave everyone the feeling they could do whatever they wanted, whenever they wanted – I had never really seen such ignorant behavior (especially when there were others in the group, like myself, having to wait, etc.) before.
So would I do it again? Realistically, probably not – it was a great experience and I'm glad I did it, but I feel like in future I could nearly replicate the main benefit by just purchasing the Universal Express Unlimited wristband. Sure, I'd need to put my stuff in lockers and look up character appearance times, but those were the other most exciting benefits. Our guide was fantastic, but it seemed like the experience generally wasn't geared towards any 'insider' information on the park.
By the way, check out my video I put – threw, would probably be the more accurate word – together of the experience all summarized in a few minutes;