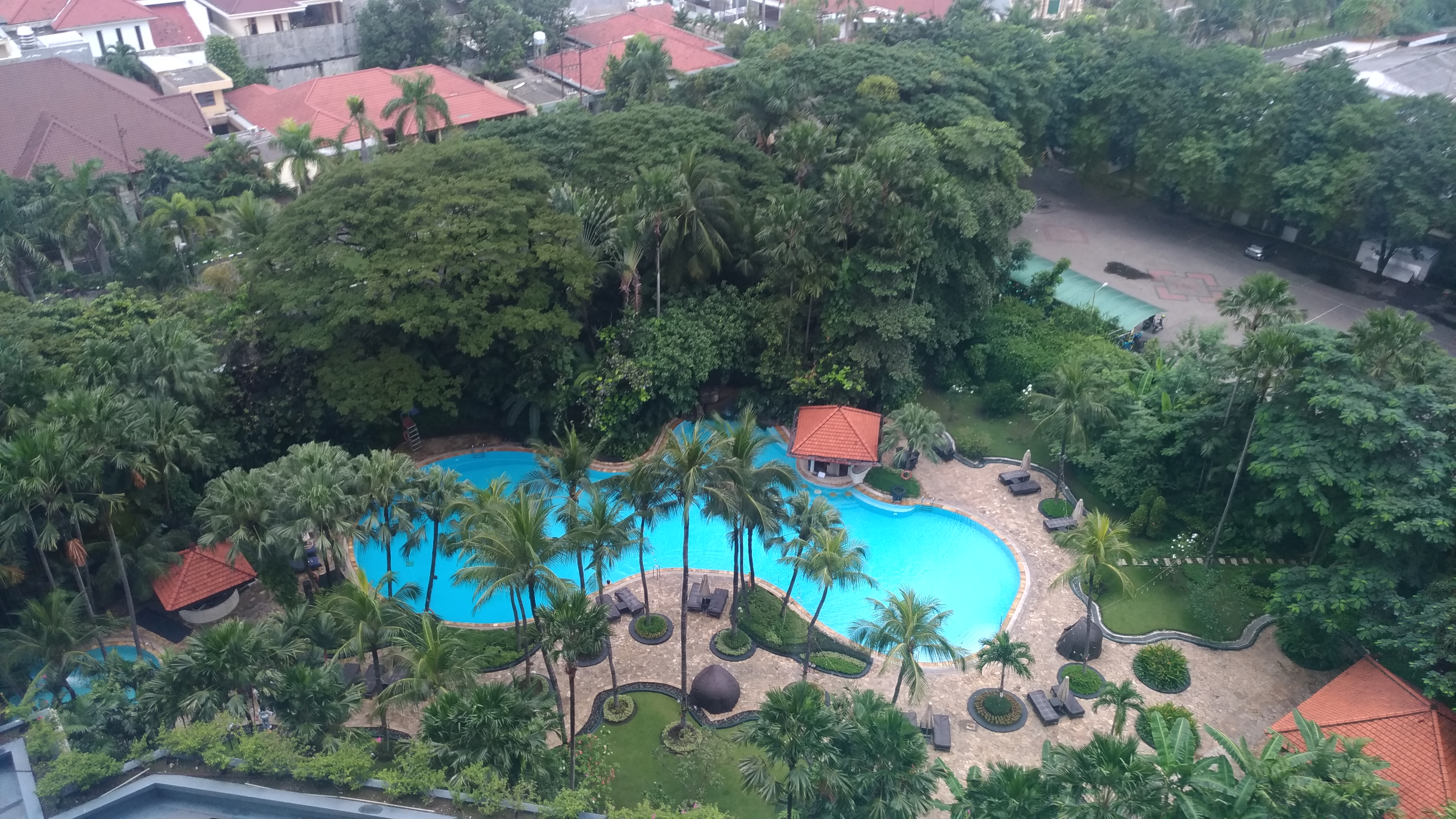 After the laughable experience that was the Bumi Surabaya City Resort, I had begun to worry deeply for what lay in store for me at the Shangri-La Hotel, Surabaya. As long-time suffering readers will know, my experiences at Shangri-La properties have broadly fallen into one of two categories; totally blown away, mesmerizing and enchanting – or, just very vanilla and average, which would be fine had I not ever had my expectations raised, but as I have, comes across as disappointing.
The Shangri-La Hotel, as Shangri-La's worldwide seem to be, is set back away from the main road behind as much greenery as they can possibly manage. Pulling up to the lobby, there was an x-ray and metal detector that every guest and their belongings needed to pass through. I'll admit, I really didn't appreciate this step but as we now know, only two weeks later, the Sri Lankan bombings (including at a Shangri-La) goes to show that this is probably something we'll all need to live with more, rather than less.
As always, check-in was handled at the Club Lounge, and was swift. First impressions of the Club Lounge; Shangri-La maintains their executive floors and spaces incredibly well, though I do feel in spite of the great maintenance, the age of some of these areas are now clearly showing and this was one of them. Masses of wood, old-style lanterns and armchairs and sofas like you might expect to find in my grandparents' house have now begun to really look pretty old-age and in need of some freshening up. If anyone from Shangri-La is reading this, if you really love wood and bling so much, I suggest taking a look at the majority of Emirates' business class lounges, which manage to stay looking reasonably fresh and modern, while packing in the wood.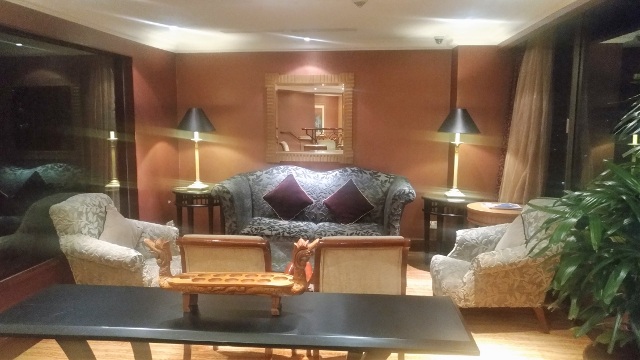 Moving along to the room, my birthday was approaching and suffice to say the hotel had been well tipped off to this fact, such that the bedroom came suitably dressed up for the occasion! Well done to the staff – and of course, to the person who tipped them off 😉 – the place looked amazing!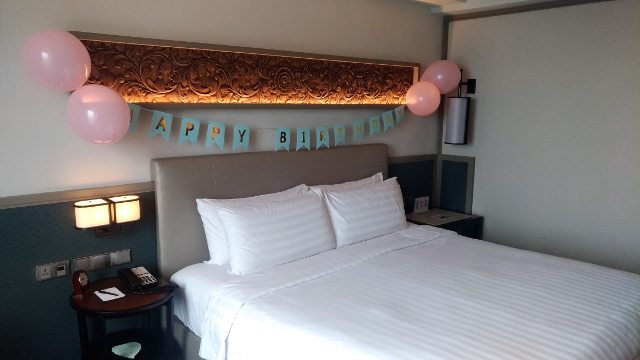 Not only that, but I certainly couldn't have gone hungry as a very solid chocolate cake had been left out as well. Not that I would expect anything less, but it was some seriously premium chocolate as well and I was loathe to check-out before finishing it.
Interestingly, the bedroom seemed to come from the newer, renovated range of interiors and looked much fresher than the lounge. The only thing I continue to fail to appreciate with the Shangri-La room make-overs is the occasional leftovers of old furniture – a table perhaps, or the wooden clock. In this case, the bedside clock and the side-table on one side were the only reminders of former vintage decoration.
After a long and tiring hike that morning, followed by the questionable trip to the waterfall, it was time for one of my favourite service consistency checks; room service, for a club sandwich, before turning in for a nap (#joysofbeingover30). It definitely did not disappoint…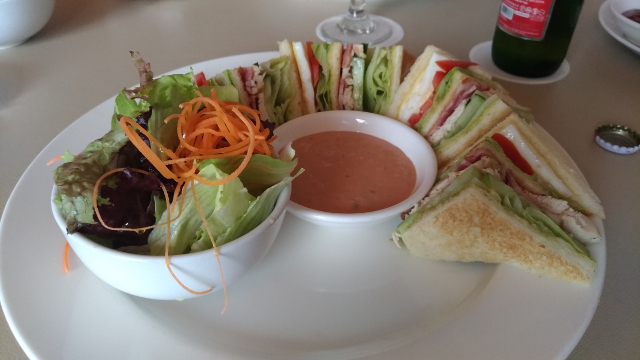 Naptime over – as I say, my only all-nighters on a weekend now are to go for a hike and catch sunrise – and it was just 20 minutes before one of my favourite times of any hotel club floor stay; Cocktail Hour! One thing that has not changed between my 20's and 30's is my ability to still get very excited by the prospect of complimentary alcohol despite the inevitable bad feeling the next morning after only about 3 drinks. Nevertheless, I tore out of bed faster than if someone had pulled the smoke alarm and put on clothes like some kind of national emergency was happening outside.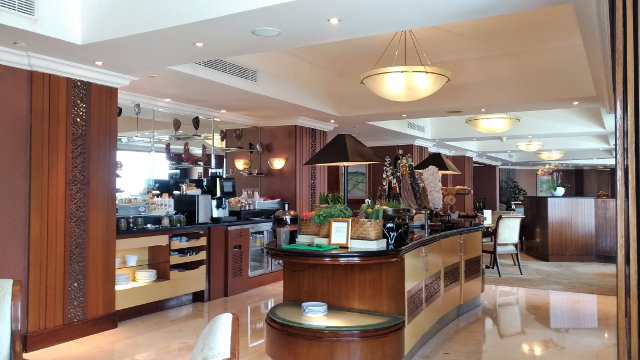 Cocktail Hour was pretty decent; before I had a chance to get too close to pouring my own drink, one of the Club Lounge attendants came over and offered to get us whatever we wanted (I suppose, on the pretext that we'd go and sit down, and get out of her way). The wine was very decent and at least for the first one or two glass pours, the staff were very attentive. But then something happened.
There are two things I very deeply value in Club Lounges; privacy and relative silence. The first rule had already been broken to my great disappointment by an elderly couple, with the whole lounge available to them, choosing to sit at the table nearest us (presumably, because we had a window seat). Aside from continually staring over, they eventually halted our attendant – bottle of wine in hand – from getting back to me, by, to my total horror, asking her did she worship Jesus; had she been to church lately; would she like to be blessed on the spot, etc.
I have nothing against any religion, but ramming this stuff down someone's throat, who's at their place of work – and who's probably been told to agree and do whatever guests want? Are you kidding me? So we sat there – getting progressively more parched by the second – waiting for this never-ending all-holding-hands blessing to take place (it was about 35 minutes by the way, from start to finish). I began to really think there needed to be some addition to the Shangri-La hospitality guidebook that allows staff to politely excuse themselves when paying attention to the ridiculous, ill-placed whims of one couple irritates the rest of us. Not that I could fault her, I'm not sure how I would have escaped this predicament either – in the end, I asked her colleague at the far end of the lounge could she politely retrieve the bottle of wine from the situation, if not her colleague (which she did, very gracefully).
To my even greater disappointment, once they had gotten a blessing out of the way for the evening, they both left their wine glasses on the table and headed off. As I say though, less the hotel and more the absolutely whacky guests.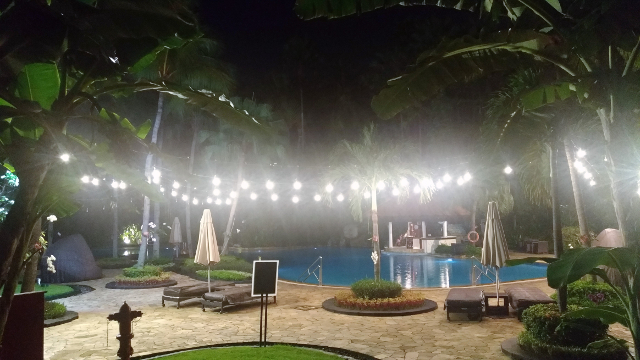 Moving on, breakfast next morning was a serious treat; I ordered 2 or 3 courses off the menu and ate to my hearts' content, once again with that beautiful window view and all washed down with some great coffee. Without any more blessings on the horizon for staff, service was much better and really nothing was too much trouble – until I nearly had to be rolled out of there and back to the room.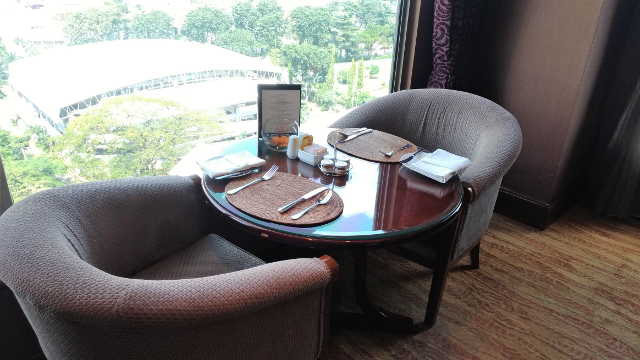 After that, there was just time to hit the pool for a dip – and of course, pause for 5 minutes trying to decide whether I was allowed use the slide or if it was just for the children (for anyone else out there, it's not just for children – go ahead) before miserably heading back upstairs to pack and make a move.
Shangri-La Hotel, Surabaya, restored my confidence in Surabaya's ability to execute luxury hotels – while the Shangri-La is showing its age in some places, it continues to deliver amazing service, great food and drink, and wonderful experiences. Just watch out for any unexpected blessings that may impede service! Have you stayed at Shangri-La Surabaya? What did you think?