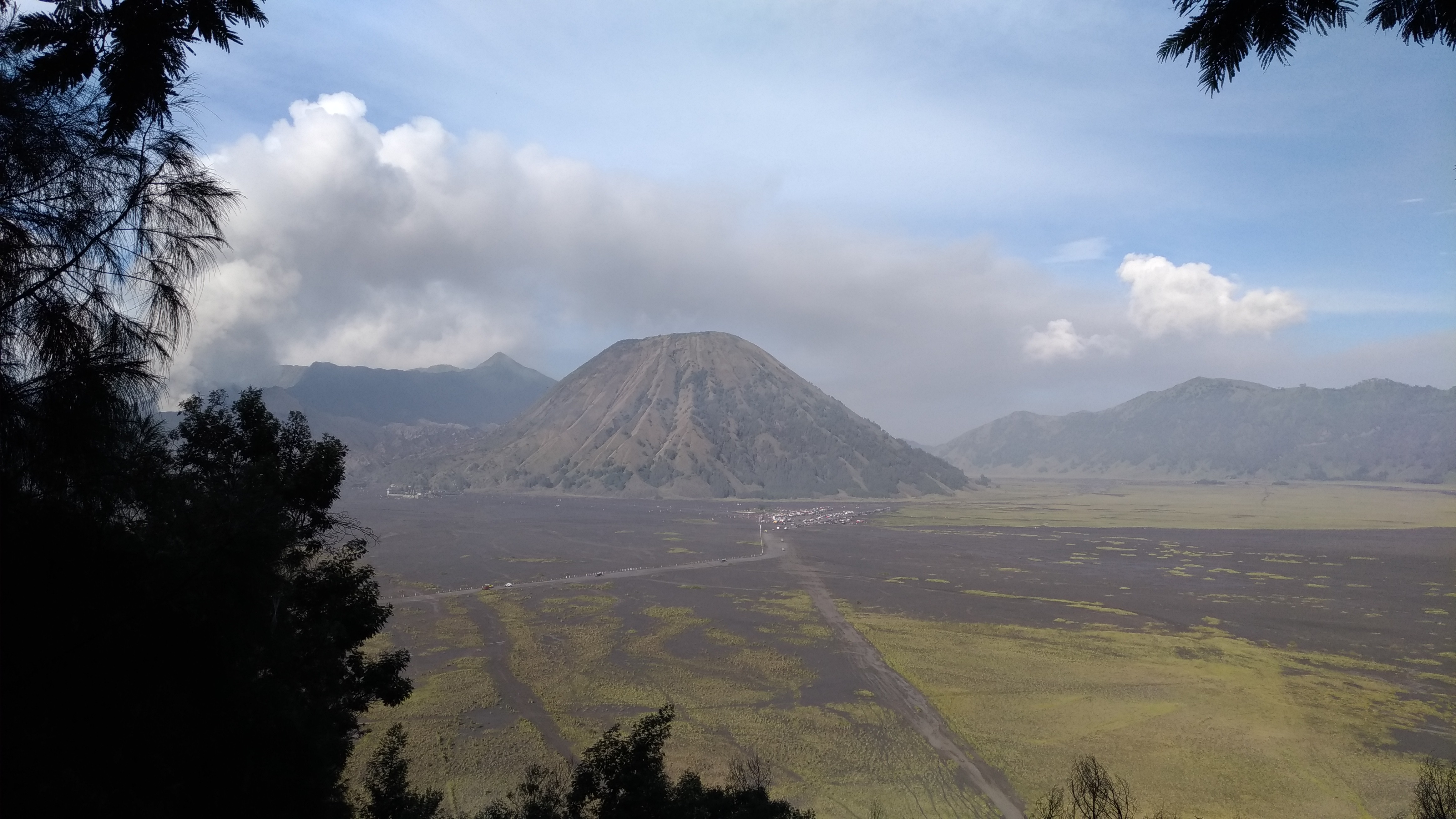 After the hilarious comedy of errors at the Bumi Surabaya City Resort, it was with delight that we made a move onwards for Cemoro Lawang, the town nearest to the epic Mount Bromo, an active volcano a few hours' drive away.
First impressions of Cemoro Lawang; this town is not long for the world unfortunately. It felt like they have failed so spectacularly to evolve it into somewhere that people would actually want to stay, that what is left is a number of substandard guesthouses and 'hotels' (and I use the term charitably) ranging from do-able to outright ghastly. Throw into that mix a selection of less than a handful of decent restaurants (we actually just went to the same place over and over), and add locals' who are hell-bent on extracting every last dollar from anyone passing through – and you get a feel for what the place is like.
However, not to put anyone off, that's not to say that people are not friendly; they are reasonably friendly – but they are friendly in the same way the ticket inspector on the train is, before asking you to pay a penalty fare. The whole place has the views, the climate and the location – but unfortunately seems to have gown down the 'build anything, they will come' route and as a result, it's easy to see why a lot of suggestions are based on staying further away.
On the bright side, one can get very stunning views out towards Mount Bromo from one end of the town (incidentally the end closest to my accommodation) and this is also the place you want to be staying if you intend to try to hike for the view of Mount Bromo the next morning – and like ourselves, not actually pay the entrance for the national park, which seems haphazard at best anyway.
The nights' sleep was relatively short; first of all, as is told in countless other blogs, the rooms are all pretty cold and moldy, while the noise of passing jeeps and even security guards talking outside (and singing karaoke, at one point) makes sleep an impossibility – then coupled with the need to rise and shine extra early to have a chance at hiking to a suitable viewing point for sunrise.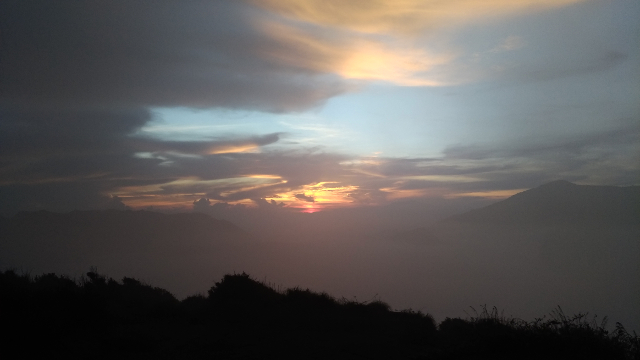 Up the next morning and we decided to try to follow the 'free' entrance tucked around the back of our accommodation. This was one time when reading hundreds of other travel blogs helped me out a ton so here's how we did it, in 2019;
If you're going in the dead of night, which you should be, I couldn't recommend more an offline maps app. On others' suggestions, we used maps.me. Even if you don't follow a trail, you will need this app just to know you are pointing in the right direction, as passing jeeps travel well away from Mount Bromo so following them may not be a wise, or safe option.
Since it's a bit of a no-no to use this entrance, sneak out of your accommodation and towards the Cemara Indah hotel. I would go so far as to suggest trying to stay even close to that hotel. Employ SWAT team-like stealth.
It's true. There's a very small, secret entrance near Cemara Indah hotel at one end of the town (to validate if you've got the right place, go there during the day and from the car park you should be able to see Mt. Bromo in the distance across the sea of sand).
When you walk up the driveway into the hotel, keep to the extreme right, almost up against the building opposite of the hotel. There's a small security guard hut dead ahead, and you will need to keep to the right of it where the path leads downwards and disappears into forest.
Once you're past the guard hut and down the path, the path disintegrates into trail pretty quickly and winds down and down.
At the end of the trail, even though it's terrifying, ignore the warning signs and follow straight forward (maps.me identifies two trails to the left and right also, but I suggest to keep straight directly into the sea of sand)
I can't say it often enough; this was one of the most disorienting night hikes ever and would've been a round-and-round-in-circles occasion if not for the app. You are effectively walking in something close to desert and there is no obvious waypoints or landmarks as you make your way through the sand. In addition, the blowing of the sand from time to time reduces visibility down significantly at times to maybe 20 feet ahead, depending of course on the strength of your light.
As is often the case walking in pitch darkness, half the time was consumed just taking some of the most indirect routes to my desired trail, which was called something like 'Mount Bromo sunrise for tough guys' in maps.me. The entire experience of course was punctuated by random terrifying moments; a huge ditch in the darkness that appeared it had to be jumped over (it was about 2 foot deep in truth in the brightness of day), random dogs barking a short distance ahead during a sandstorm that we were unsure were leashed or not.
Eventually, winding up in what appeared to be someone's back garden, we picked up the trail upwards for the 'Mount Bromo sunrise for tough guys' hike and followed it. What we didn't realise was that this trail – which is very worth doing by the way – actually takes you right up neighbouring Mount Batok, which is actually even higher than Mount Bromo and will have you looking down on the volcano (and inhaling all that delicious Sulphur, so bring a mask unless you want to be croaking for weeks afterwards). Oh – one last tip, all of your belongings without doubt will be covered in volcanic ash, even things you placed in a backpack. So pack wisely.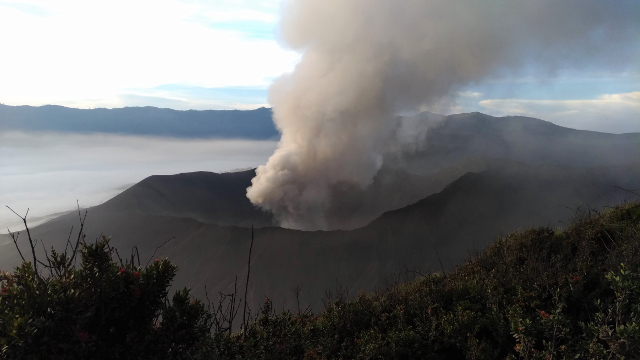 The hike was long and arduous, with some small drops either side of the trail (cancel that, they were actually sheer drops when we saw the trail the next morning) and at the top, as the first light of the day crept through, there was general disquiet when we thought we had seen another random figure standing around nearby.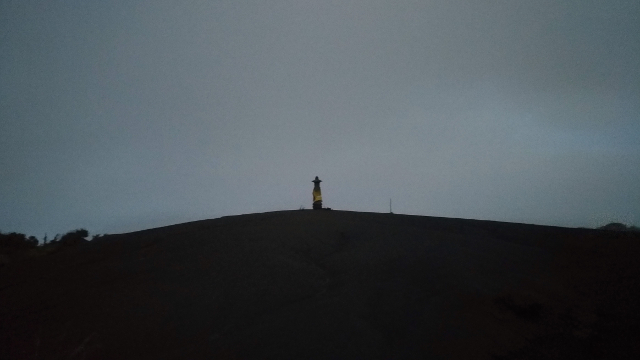 Thankfully, it turned out to be no more than a shrine of some sort. As the sun came up, the early morning, the cold shower, the effort of hiking in pitch darkness half terrified and the long, sweaty hike up Mount Batok really proved itself to be worth it. The sunrise was something truly spectacular, and we shared the mountain with absolutely nobody else.
Quite why anyone would go to Mount Bromo by jeep just to take the same pictures of the sunrise with a few hundred others, I'm not sure. While Mount Batok was perhaps not the intended final destination, it was peaceful, stunning and a view that literally nobody else captured that morning.
On the other side, the volcano, Mount Bromo, grumbled away, showing us the strength and precariousness of an active volcano.
After a few hours and once the sun was finally up, it was time to head back down and of course, in light, this took far less time than the way up – and also, comically, allowed us to see the random zig-zags made the night before as we weaved back and forth across the Sea of Sand. Before long, we were back in Cemoro Lawang, returning to our one and only trusted diner – exhausted, but delighted.