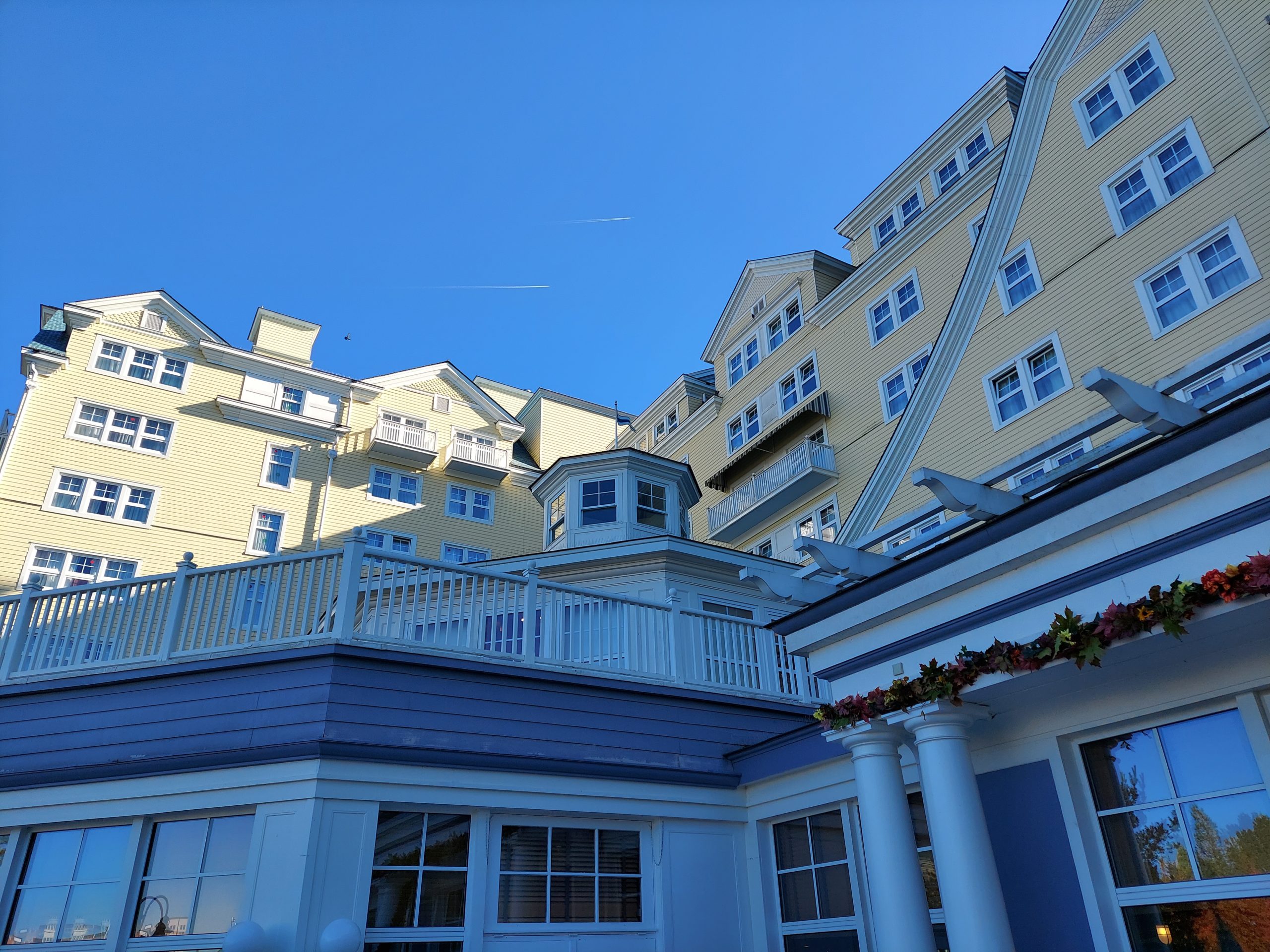 With our absolute stay of perfection at the Hyatt Regency Paris now in the rear view mirror, we moved on to our next stop; the Newport Bay Club, at Disneyland Paris.
I've never been 100% convinced of the benefits of staying at an on-property Disney hotel, but when I was in Disneyland Paris previously, it definitely had a convenience aspect to it – plus other apparent benefits such as optional upgrade to a half- or full-board rate that allowed for meals to be had in the parks themselves at a choice of restaurants, in addition to early park access.
I don't know why, but I expected Disney to have some semblance of consistency throughout the resort for hotel guests. But no, not really.
On arrival, luggage had to be sent through an x-ray, guests had to pass through a metal detector, while all guests had to present their covid digital pass (or equivalent, for non-EU citizens, I imagine) in exchange for a wristband. We were told the wristband was good for the day only, and would need to be exchanged for a new one the following morning – to me, that seemed a bit pointless, given – at the time – passes for double-vaccinated guests were valid without limit. In fact, it led to us both doing our utmost to avoid being checked at any of the entrances, given the hassle of going back out the front to get it done.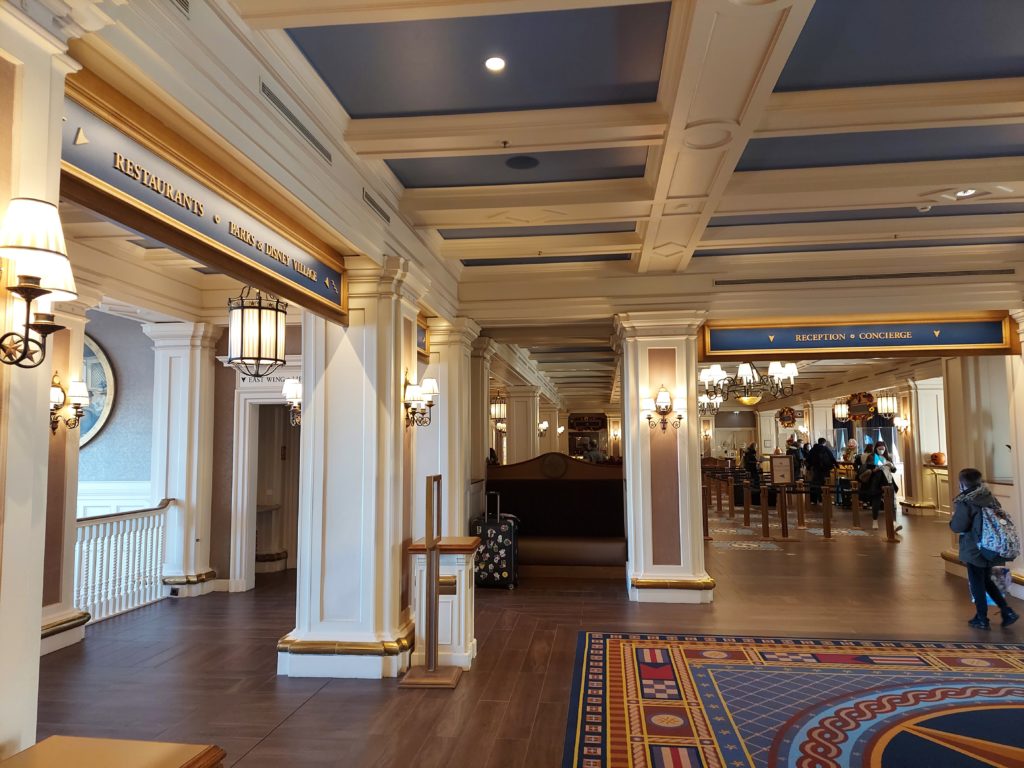 On to reception, which was understaffed and the queue – in what was a sign of things to come – was improperly constructed such that one queue led to one window, and the other led potentially to two. Instead, either one queue for all, or three, would have been preferable.
Check-in was quick, with 'magic passes' issued that worked for both park admission and guest room access. Our receptionist was unable to really provide any confidence-inspiring information in response to questions like how did half-board work ("just go to a restaurant and use your magic pass for your meal", which was very economic with the facts) or getting the airport bus back ("here's a timetable, just turn up then and there should be seats"), so we shuffled on.
The hotel itself is nicely positioned, down the far end of the lake away from all the mayhem and noise. Unfortunately, the walkway was partitioned off on the closer side to the parks, so guests needed to take the slightly longer walkway past the other hotels (see the red balloon in the below picture, that was sort-of the entrance to Disney Village).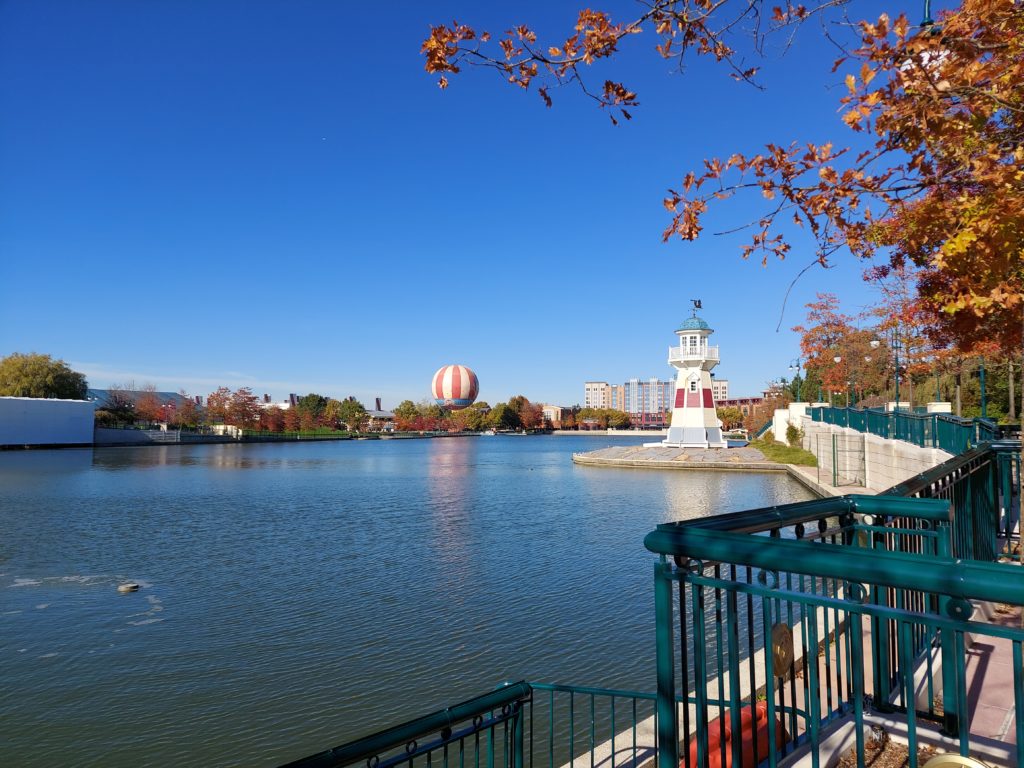 Upon return to the hotel after learning that our room was ready, we took our luggage and began what would turn out to be an absolutely unreasonably long haul to the room. First up, the lifts – all of which had signs, wisely proclaiming that they should be inhabited by only one family at a time – which were more akin to an uncontrolled rugby scrum as guests clashed, queue-jumped, ignored the signs, and sulked due to the wait. Imagine trying to bag a lift that for some reason, despite a queue, at least two other families are also trying to go for – except you've got all your luggage with you; agility unfortunately wasn't in my favour.
After that stress-inducing trip in the elevator, the walk was – I don't know how to even put it. It was absolutely ridiculous. For such a classy-looking hotel, it is absolutely huge and packed with rooms. The walk – at unburdened, no-suitcase pace – was around 10 minutes, and with a suitcase felt like a genuine hike. By the time I arrived to the room, I had actually, and this speaks volumes about the arduousness of the journey, gone off even having a pre-bed glass of wine.
Overall, the room was pleasant and definitely 'does the job' given most guests presumably go to the room to sleep, and no more. If it was any other hotel elsewhere, I don't really think 4-star would be appropriate however.
As you can see below, the linen wasn't in wonderful condition necessarily and was frayed and ripping. Not really something 'magical' considering the price, I'd suggest.
In terms of amenities, there was a quite old-school bathroom with a sink outside near the hallway tucked behind a shower curtain, a safe, and no fridge unfortunately (that also helped put pay to the wine situation).
Up and out next morning for breakfast – and after being confidently (the only confident answer I received in fact) told at check-in that reservations for breakfast were no longer in operation because there wouldn't be a problem, I was horrified to be confronted by a crowd of hungry, sleepy guests from the staircase down to the restaurant level. Beginning with the compulsory health check-in, which I hoped was the cause of the delay, before joining an ongoing, slow-moving queue into the breakfast hall.
When I say the breakfast was chaos, I mean it was like a warzone. Food couldn't be replenished quickly enough, for some reason water came from the same machine as juices and thus required a wait time, the coffee machines entailed even more queueing, all forms of social distance and covid self-protection needed to be immediately abandoned in order to have any chance at securing some kind of feed.
And then, suddenly, right in the middle of it all, an announcement came on that the Disneyland Park was now open to hotel guests. Hang on, how come this piece of information, the most critical of all for a hotel guest at a Disney resort, couldn't be the one piece of information relayed at check-in?
We scoffed whatever we'd manage to grab, and ran for the park. As I say, consistency was an issue – the hotel wanted a covid check done every day in order to have a differently-coloured wristband, but yet, Disney village also did the exact same thing and that was compulsory to pass through to actually reach the park. Why is that necessary if guests already have a wristband from the hotel? Or vice-versa?
By check-out time, I didn't delay to haul my suitcase awkwardly along the 5,000-mile carpeted corridors. Would I pay so much extra for a Disney on-property hotel again? Certainly not. Was the hotel 4-star? With a great many doubts.
Perhaps my expectations for a Disney hotel had gone a bit wild, but I found the covid pass multiple checks, the scandalous amount of queues and waiting and then at the end of it all, the barren room miles away from reception all too much. Would definitely give it a skip next time – and to be honest, probably Disneyland Paris the park too – unless I develop a fetish for waiting and lengthy queues, which seems highly unlikely.