Views For Days at Hyatt Regency Paris
After a short, but hunger and thirst-inducing flight to Paris with Air France, the first stop on the itinerary was our chosen city centre hotel, the Hyatt Regency Paris.
My experience with accommodations in France has not been successful to date – the first place I stayed in in Paris, when I was 18, was run by a very aggressive geriatric who gave out to us every time we made too much noise hauling our luggage around, standing on the staircase, or basically doing anything beyond sleeping.
My second experience, not long after, in Nice was marred by the receptionist accusing us of bringing people over to stay because a friend came to visit us one morning before he'd arrived – we subsequently endured a lecture on the importance and value of integrity and trust in a hotelier/guest relationship.
So, as you can imagine when in France, even at a property as upscale as a Hyatt Regency, I was on high alert – but that needn't have been so.
The hotel occupies an absolutely gargantuan tower block, with a reception lounge more akin to a spacious VIP airport terminal than a city centre hotel lobby. We were checked-in very quickly and sent on our way, to our Eiffel Tower view room.
Again, full disclosure, I half expected the 'view' to be passable only from a very acute or sharp angle – but no, there it was, the Eiffel Tower, right in the dead centre of the view out the room window. No head turning, or using a mirror to find it in the backward distance. It really was an incredibly impressive view, even on a cold Paris morning…
So how about the room? It was suitably spacious, spotless beyond belief, and tastefully furnished to a modern standard. I admittedly spent more time than the designers ever probably imagined was possible staring at the wall art of bicycle components trying to figure out if a bicycle could be put together using all the parts.
The bathroom was cosy but again, more than adequate, boasting a power shower, toiletries, and a toilet tucked in almost into a separate cubby.
Even for a natural cynic like myself, there was really very little to complain about. Or perhaps I'm getting a bit soft in my old age and lack of travel over such a prolonged period. That must be it.
And just take another look at that room view of the city by night – it's a rarity for me to say, but this was really worth the splurge to this room type.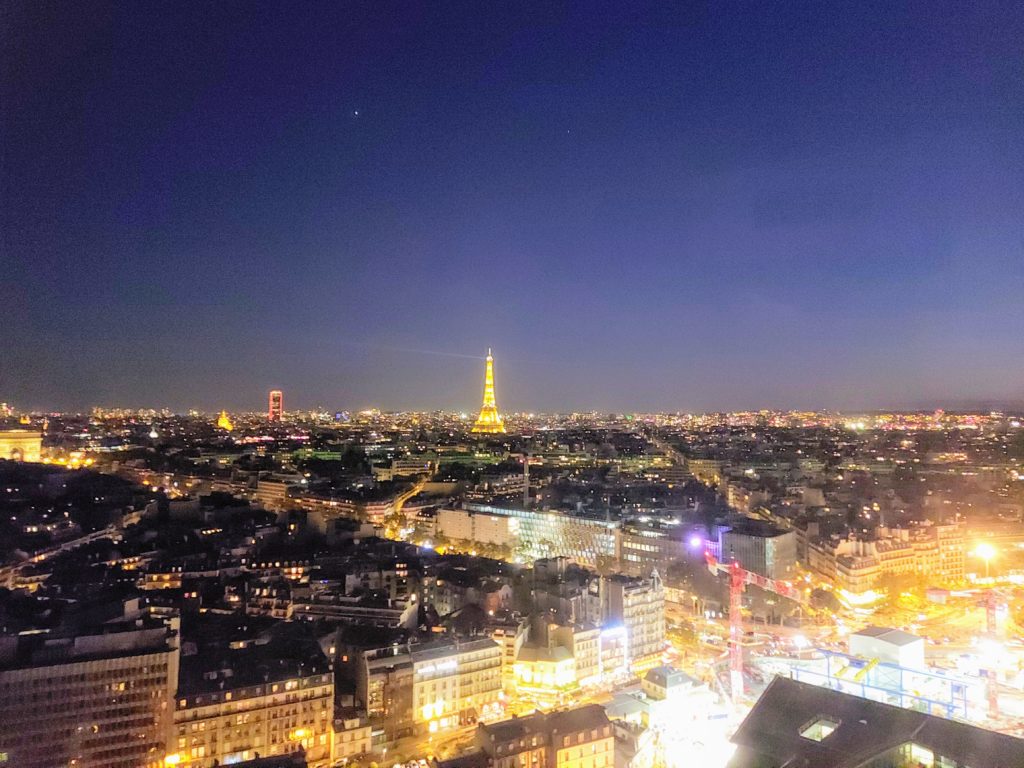 Anyway, continuing on, breakfast was also very decent the next morning – with the notable exception, not the hotels' fault at all – of our next door neighbours who added more people to their table until they were nearly on top of us, chatting minus masks which gave me the spooks.
Overall though, there were plenty of good quality coffee machines to go around, a fairly constant stream of replenishing of the buffet, and a wide selection of fruits, meats and cooked food. There was even a selection of juices, including something called a 'detox' which I sampled having also sampled nearly 2 bottles of wine the night before – hmm, the jury's still out, but I suppose it did help me arrive to Disneyland ready to tackle the day.
Hyatt Regency Paris was a great choice – a little on the pricier side as one might expect, but the view was spectacular, location was great, the service was exceptionally friendly across the board, and there was – much to my near-disappointment – nothing at all to complain about! Would definitely stay here again if I was back in Paris.