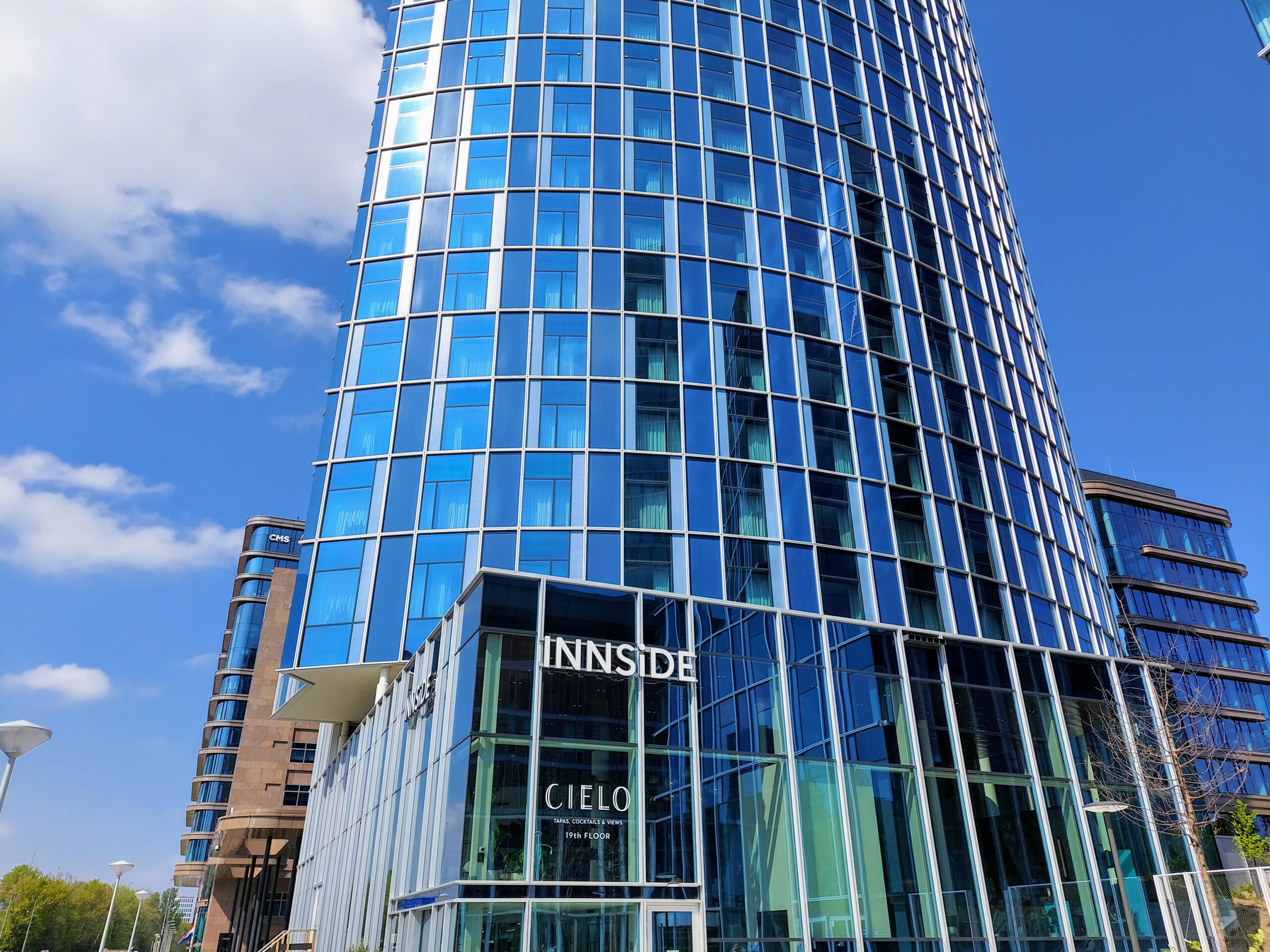 For our quick one-night visit to Amsterdam, we shored up at the relatively new Innside by Melia Amsterdam – conveniently (about 7 minutes by train) located from Schiphol Airport, mess that it is, in Amsterdam Zuid.  
Amsterdam Zuid itself is something of an odd area; lined on both sides of the railway track with modern office tower blocks, it quickly recedes back into residential housing areas one or two blocks back from the motorway and rail lines. From the train itself though, you'll easily spot Innside Amsterdam. The hotel is also very convenient to the city centre, taking 15 minutes or so by (regular) train if even, so perfect for city visits.
Entering at the ground floor, there's a short flight of steps up into the main lobby area, which includes the 'Tierra' café bar. Check-in was reasonably quick – though the positioning of the reception desk seems to lend itself awkwardly to guests' attempting to ask 'quick' questions or make requests at the side of the desk (facing the lifts), rather than joining the non-existent queue; which ended up making our check-in undoubtedly longer than it needed to be.
There are multiple lifts available, which are allocated based on the intended destination floor. There's also a very cute almost movie theatre-like seating area and poofs to sit on behind the lobby area, which looked perfect for informal chats or – and I'm not sure what the actual use case is for these – some form of short drama or theatrical performance. Hey, you never know!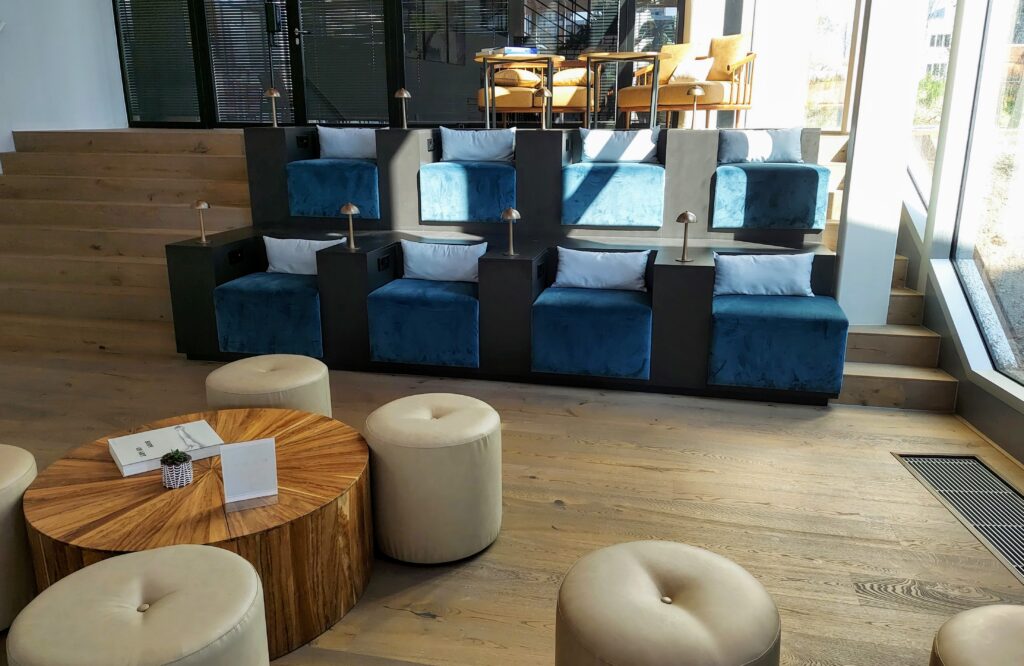 Into the room meanwhile and you can see that – while the rooms are kept immaculately and very well thought out to maximise available floor area – immediately, space is at a premium. While there's sufficient space for everything to have a place, you won't either end up with an abundance of unused room.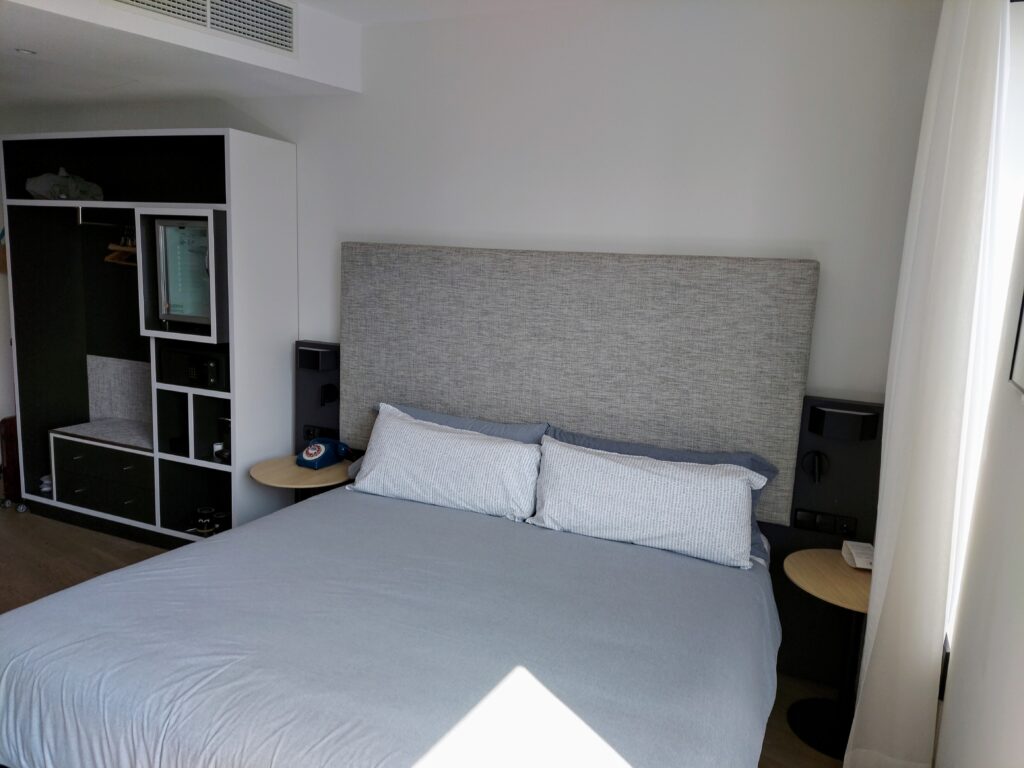 Similarly, this is one of the 'new' modern-style bathrooms that hotel chains seem to have decided we all want and need in our lives, where the toilet is behind another door, but the sink is otherwise in the bedroom with just a full-height mirror separating the sink from the bed area.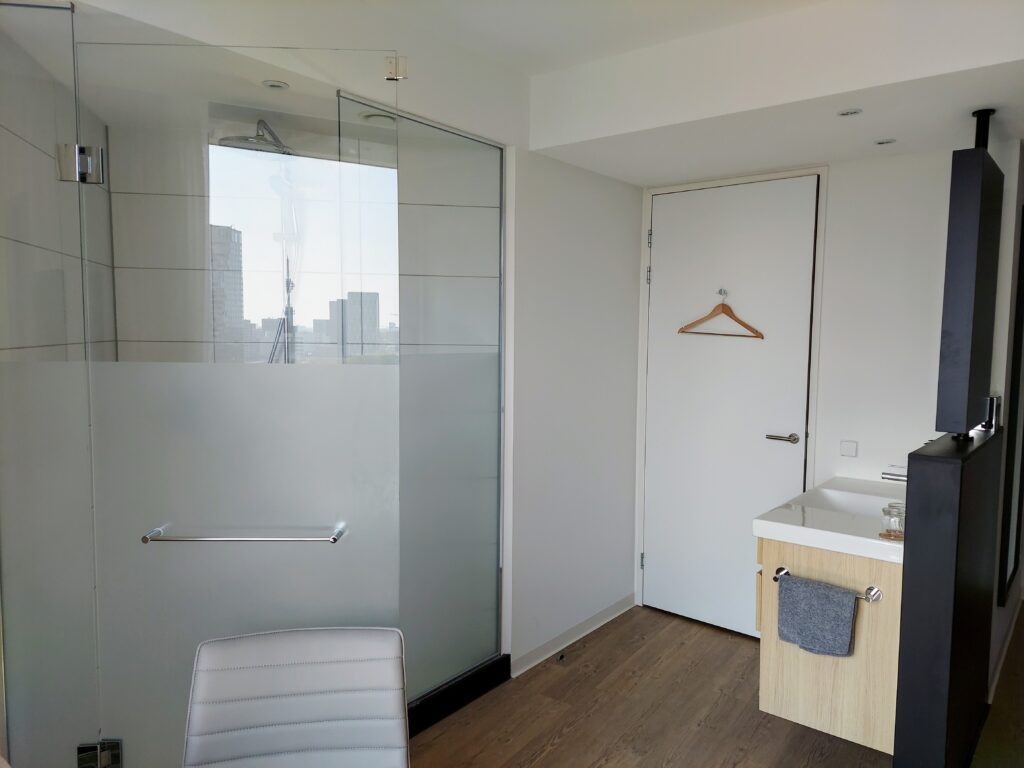 The shower meanwhile was even a little closer for comfort and was located right beside the TV, effectively in full view (though the window was frosted to just chest height) of anyone else in the room.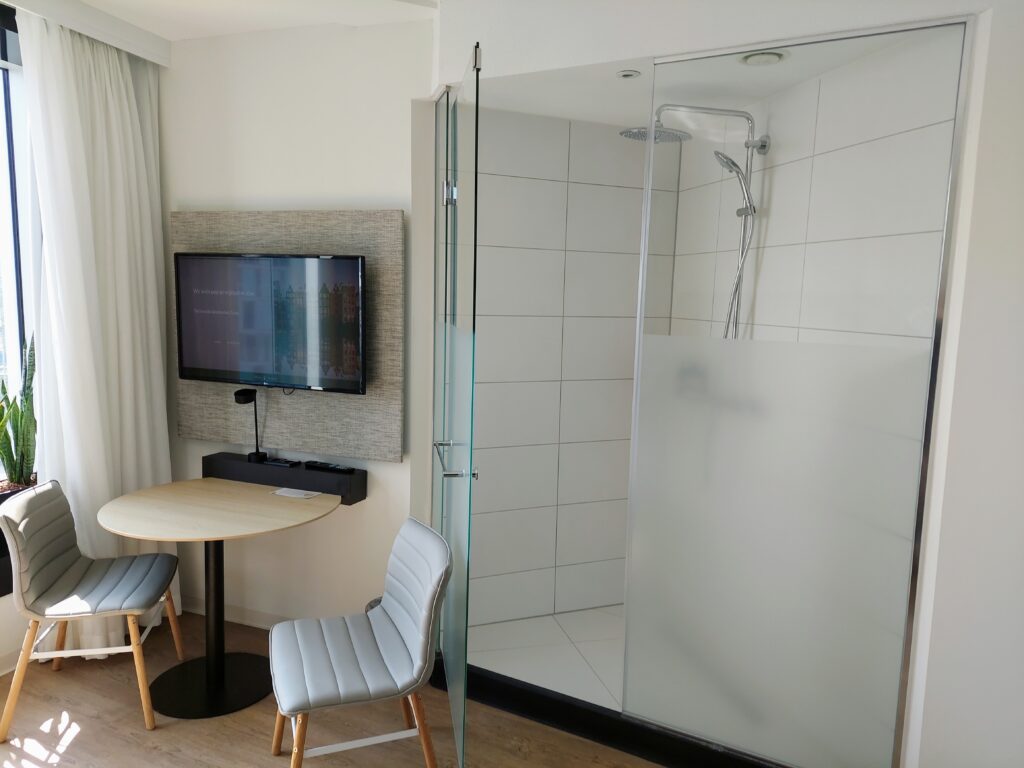 When you have such a lovely, well-kept property, it annoys me that hotels (generally, not specifically this property) keep trying to be more 'creative' with bathrooms, which are entirely a separate function of a stay as distinct from sleeping. Why do they need to co-exist without any separation whatsoever? Would hotel designers be OK having their bedroom in their kitchen? I wouldn't think so and yet, this trend keeps popping up.
Nevertheless, for a one-night stay, it was absolutely workable and as I say, the room was otherwise very well kept, clean and more than adequate.
Our room, 1217, was towards one end of the building and was a triangular shape with great views out over Amsterdam Zuid and the surrounding areas.
Lastly, worthy of some note – and a little touch that impressed me no end – was that upon my return to the property later in the evening, we discovered a birthday card (it was also my birthday) with a very kind and thoughtful note, and what turned out to be some delicious chocolate brownies. I really like when hotel teams go to some effort for guests and this was a great example.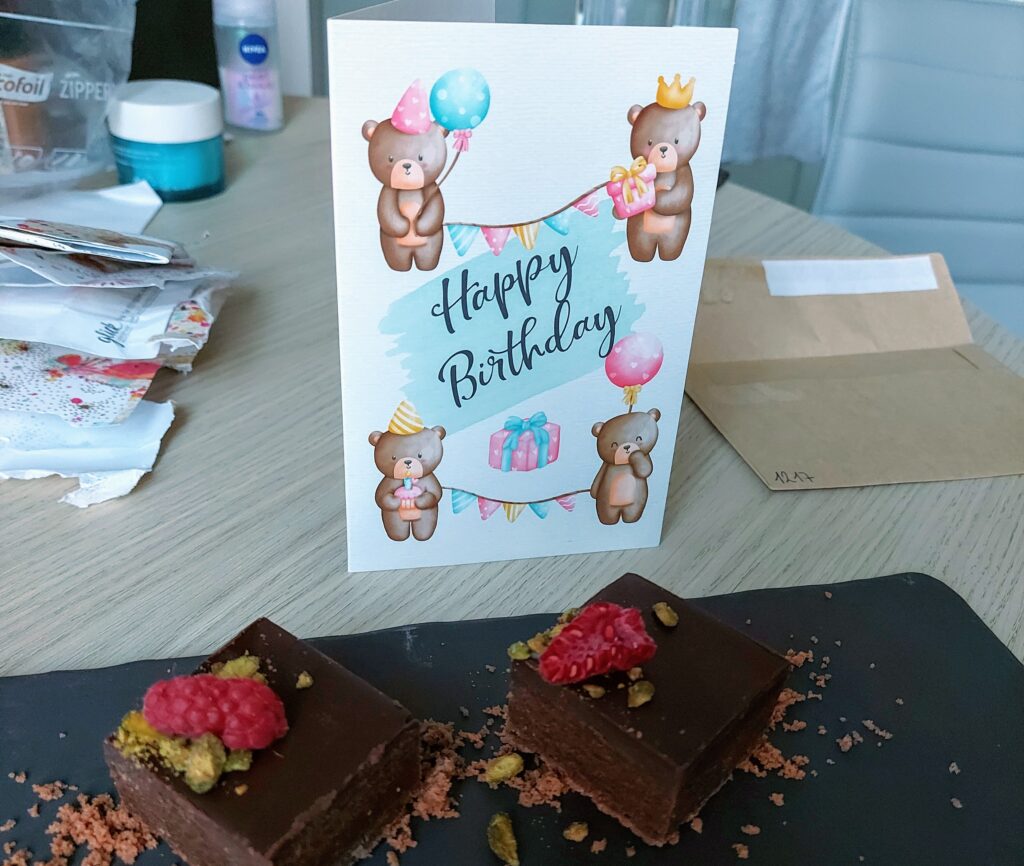 Up early the next morning, it was time for breakfast. Since our stay, breakfast now seems to have defaulted to Tierra, on the ground floor, but during our stay, breakfast was served at the rooftop restaurant, Cielo. While the breakfast was absolutely satisfactory and had plenty of options, the crowds were shocking with no sense of thought apparently being given to guests per tables capacity.
After we were admitted at the entrance, we were just welcomed in – to discover there were no seats available and we had to wander around until another kindly couple left; by now even more newly-arrived guests were also milling around looking for a place. That was a real let-down in experience, although as I say, I do the hope the move to Tierra has somewhat helped mitigate or spread the load of that capacity crunch for what would otherwise have been a most enjoyable breakfast.
Overall, Innside by Melia Amsterdam had everything you could need for a lovely weekend stay; friendly staff, clean and well-kept (if a little space-efficient) rooms, and great location. Hopefully the full-house crowd at breakfast isn't usual, other than that definitely one to keep on the list for a weekend in Amsterdam!